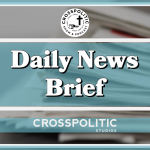 This is Garrison Hardie with your CrossPolitic Daily News Brief for Tuesday, September 20th, 2022. Hope you all had a great weekend with you and yours! Before we get to the news… we are really getting there when it comes to our conference…
FLF Conference Plug
Do you like Jesus & beer? Then you and your family need to come to the Fight Laugh Feast Conference in Knoxville Tennessee, on October 6-8. The topic of this conference is Lies, Propaganda, storytelling, and the serrated edge. Satan is the father of lies, and the mother of those lies is a government that has rejected God. Christians haven't been reading their Bibles, so we as a society are more susceptible than ever to satan and his lies. So join us, October 6-8, as we fight, laugh, and feast, with beer & psalms, our amazing lineup of speakers, including Pastor Doug Wilson, George Gilder, and Pastor Toby Sumpter, and more… AND, stuff for the kids too, like jumpy castles, and accidental infant baptisms! Sign up to attend with you and yours, or become a vendor at fightlaughfeast.com.
https://www.foxnews.com/politics/president-biden-nears-100-executive-orders-estimated-to-cost-taxpayers-almost-1-5-trillion
Biden nears 100 executive orders estimated to cost taxpayers almost $1.5 trillion
President Biden has issued nearly 100 executive orders, which will cost taxpayers up to $1.5 trillion, as the national debt nears $31 trillion, according to an expert.
Biden currently sits at 99 executive orders since taking office. His torrent pace came primarily within his first year, when he issued more than any president since the 1970s. Memos show at least one outside left-wing group financed by millions from liberal billionaire George Soros has influenced some of Biden's orders and regulatory items.
A budgetary impact analysis, meanwhile, accompanies each order but does not include actual monetary costs. Instead, they contain vague language such as whether an order will have no impact, increase or decrease federal costs.
This makes it difficult to pinpoint the actual price tag of Biden's actions. However, a federal budget expert told Fox News Digital that they estimate the costs to be north of $1 trillion.
"President Biden's executive actions have cost taxpayers more than $1 trillion so far," the Heritage Foundation's Matthew Dickerson told Fox News Digital in an interview. "That's taking into account the recent student loan executive action, which could cost up to $1 trillion."
Biden's student loan forgiveness is a large chunk of the costs. In August, he announced plans to forgive $10,000 in student debt for borrowers making less than $125,000 annually, while Pell Grant recipients will receive $20,000 in handouts if their income falls below $125,000.
The student loan handout was initially estimated to cost taxpayers upwards of $500 billion, but a recent Penn Wharton Budget Model analysis shows it could reach upwards of $1 trillion.
Inflation is even impacting the U.S. Army, which recently released guidance for soldiers as they fight inflation, including a suggestion that they take advantage of the Supplemental Nutrition Assistance Program, commonly known as food stamps.
A vast majority of Biden's executive orders came within his first year in office. During that time, he issued 77 orders — more than any president since Gerald Ford's 1970s administration, an American Action Forum (AAF) study found.
https://www.foxnews.com/politics/mayor-eric-adams-says-nyc-considering-legal-action-against-texas-response-migrant-buses
Mayor Eric Adams says NYC considering legal action against Texas in response to migrant buses
New York City Mayor Eric Adams said Sunday that the city is considering taking legal action against Texas over the busloads of migrants sent from the Lone Star State to the Big Apple.
"Our legal team is looking at legal challenges we could do with Texas," the Democrat told CBS 2. "We believe there are some options we have, because when you involuntarily place someone on a bus, we believe that actually skates the law… We're not leaving any stones unturned to make sure that New Yorkers are [not] being treated in an unfair way."
This comes as more buses arrived in New York City from Texas Sunday morning.
Adams has also suggested the city may use cruise ships to house the thousands of migrants who have been entering homeless shelters in the city. He said former mayor Mike Bloomberg considered cruise ships as temporary housing to address homelessness but never followed through.
Since May, at least 11,000 migrants have entered the city's homeless shelters, including 2,500 who arrived on buses sent by Texas. New York City has opened 23 emergency shelters and is expected to open an additional 38, Adams said.
In other TV interviews on Sunday, Adams called on Texas Republican Gov. Greg Abbott to at least notify the city about migrant buses being sent.
City Hall officials called Abbott's office and asked to coordinate the arrival of buses to allow time to contact family members and sponsors of new arrivals and to prepare shelter space.
Abbott has said Texas will continue sending buses of migrants to sanctuary cities like New York City, Washington, D.C. and Chicago until the federal government secures the southern border.
Fox News' Bill Melugin said a Department of Homeland Security source reported that the El Paso, Texas, sector experienced 1,967 illegal crossings with only 335 Title 42 expulsions during a 24-hour window from Saturday to Sunday.
Adams said in two additional TV interviews on Sunday that Abbott and Florida GOP Gov. Ron DeSantis, who flew migrants to Martha's Vineyard in Massachusetts, were relocating migrants as a distraction from their "erosions of basic human rights," citing the Republicans' stances on abortion and guns.
https://bongino.com/more-illegals-are-heading-to-martha-s-vineyard-soon
More Illegals Are Heading to Martha's Vineyard Soon
Martha's Vineyard may have become the first place in the United States to achieve a 100% deportation rate last week – but more could be coming soon.
https://rumble.com/v1kln51-florida-lt-gov.-hints-marthas-vineyard-libs-are-about-to-get-more-bad-news.html – Play Video
Florida Gov. Ron DeSantis is promising more flights packed with illegal aliens will be sent to Martha's Vineyard, Massachusetts. and other liberal enclaves.
During a press conference last week, DeSantis vowed to Floridians that he will send more flights of illegal aliens to the homes of the Democrat party's wealthiest communities.
The remarks came after the "all are welcome" crowd in Martha's Vineyard brought in the national guard to deport an illegal alien population (50) that amounted to 0.28% of the island's total population (17,265). Oddly, while the residents of Martha's Vineyard said that they didn't have the infrastructure to accommodate them, they do have the infrastructure to accommodate tourists over the summer, when the island's population balloons to nearly 200,000.
https://rumble.com/v1kapfv-marthas-vineyard-libs-are-panicking-over-50-illegal-aliens.html – Play Video
Oh well there you heard it from one of the locals… We were also told that Martha's Vineyard didn't have any employment options available for the illegals, which is in stark contrast to the argument that they're willing to do the jobs that Americans apparently "won't do" – and also the island's local paper, which lists over 50 low-skilled job openings.
Boniface Woodworking LLC:
Boniface Woodworking exists for those who enjoy shopping with integrity; who want to buy handmade wooden furniture, gifts, and heirloom items that will last for generations. From dining tables and church pulpits to cigar humidors and everything in between; quality pieces that you can give your children's children, tie them to their roots, and transcend the basic function of whatever they are!
So, start voting with your dollars, and stop buying cheap crap from people who hate you! Visit www.bonifacewoodworking.com to see our gallery, learn our story, and submit your order for heirloom quality wood items.
Alright guys it's time for my favorite topic… sports!
https://hotair.com/jazz-shaw/2022/09/18/the-atlantic-asks-if-sex-segregated-school-sports-are-fair-to-girls-n497355
We had a lot of football taking place over the weekend, as both the NFL and college ranks were in action, so here are the scores!
NCAA SCORES

#3 Ohio State def. Toledo 77-21

#23 TAMU def. #25 Miami 17-9

#20 Florida def. USF 31-28

#7 USC def. Fresno St. 45-17

Washington def. #11 Michigan St. 39-28

#15 Oregon def. #19 BYU 41-20

#1 Georgia def. SC 48-7

#6 OU def. Nebraska 49-14
NFL SCORES

Packers def. Bears 27-10

Cowboys def. Bengals 20-17

49ers def. Seahawks 27-7

Broncos def. Texans 16-9

Cardinals def. Raiders 29-23 (OT)

Pats def. Steelers 17-14

Lions def. Redskins 36-27

Rams def. Falcons 31-27

Jets def. Browns 31-30

Giants def. Panthers 19-16

Dolphins def. Ravens 42-38

Bucs def. Saints 20-10
This has been your CrossPolitic Daily News Brief. If you liked today's show, go ahead and click that share button down below. If you want to sign up for a club membership, sign up for our conference with that club discount, and then sign up for our FLF magazine, you can do all of that at fightlaughfeast.com. And as always, if you want to email me a news story, ask about our conference, or sign on as a corporate partner for CrossPolitic, email me, at garrison@fightlaughfeast.com. For CrossPolitic News, I'm Garrison Hardie. Have a great day, and Lord bless.