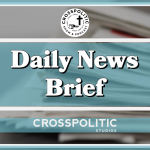 This is Garrison Hardie with your CrossPolitic Daily News Brief for Tuesday, September 27th, 2022. I hope you and your family had a great weekend with you and yours, so here's what you may have missed, over the weekend!
First…
FLF Conference Plug:
In the beginning was the Word, and the Word was with God, and the Word was God, and the Word didn't stay in Heaven. The Word became flesh and dwelt among us, and we beheld His glory, the glory of the Father, full of grace and truth. Grace and Truth became flesh. The Word became flesh. The story of God's grace became flesh. And it is that Word, that truth, that story that will fill the world. That is why this year's Fight Laugh Feast Conference in Knoxville Tennessee is on Lies, Propaganda, storytelling, and the serrated edge. The Word is a sword. The Word is our glory. So join us, October 6-8, as we fight, laugh, and feast, with beer & psalms, speakers including Pastor Doug Wilson, George Gilder, Ben Merkle, Jared Longshore, and Pastor Toby Sumpter, Chocolate Knox will be doing a round table with the Wilsons and Merkles on why stories are so potent for building family cultures that wine, all culminating in a live show with Megan Basham and Jason Whitlock talking Lies and Journalism. And we just announced a one day Saturday-only pass for 99$. Find out more and register or become a vendor at fightlaughfeast.com.
https://www.foxnews.com/world/vladimir-putin-grants-full-russian-citizenship-edward-snowden
Vladimir Putin grants full Russian citizenship to Edward Snowden
Russian President Vladimir Putin granted full Russian citizenship to U.S. whistleblower Edward Snowden on Monday.
Snowden, 39, fled the United States to Russia after revealing information about extensive surveillance operations being conducted by the National Security Agency (NSA). He is now a Russian citizen by presidential decree, Reuters reported Monday.
The announcement comes roughly two years after Russia granted Snowden permanent residency in the country.
The country first granted Snowden asylum in 2014 and has since resisted calls to extradite him to the U.S. Snowden faces espionage charges that could land him in prison for up to 30 years in the U.S.
Strategic intelligence expert and author of "Putin's Playbook" Rebekah Koffler says the move likely signals that Snowden is working more closely with the Russian government. She says he is likely now subject to Putin's mobilization order but will be assisting Russian intelligence rather than serving on the front lines.
Snowden stated in 2019 that he would be willing to return to the U.S. on the condition that he got a fair trial.
"That is the ultimate goal, but if I'm going to spend the rest of my life in prison then my one bottom-line demand that we all have to agree to is that at least I get a fair trial," Snowden told "CBS This Morning" at the time.
Former President Donald Trump had stated he was considering Snowden's case for a potential pardon in 2020 but never took action.
Sen. Rand Paul, R-Ky., has been one of Snowden's major allies in the U.S., saying the whistleblower unveiled schemes by the U.S. government to surveil American citizens both here and abroad.
https://www.foxnews.com/politics/congress-flirts-government-shutdown-manchin-permitting-bill-drag-down-funding-package
On to our government here at home: Congress flirts with government shutdown as Manchin permitting bill may drag down funding package
The government is days away from shutting down, and the Senate may not have the votes to pass the initial version of its funding bill as top Democrats press ahead on a deal with Sen. Joe Manchin that may fail Tuesday.
Manchin, D-W.Va., agreed to help Senate Majority Leader Chuck Schumer, D-N.Y., pass Democrats' social tax and spending bill last month. In exchange, Schumer promised Manchin a vote on an energy permitting reform to speed new projects. They are combining that with a government funding bill that must pass by Friday night or else trigger a government shutdown.
However, with a major test vote with a 60-vote threshold set for Tuesday night, the legislation may not have the support to pass, with opposition coming from both parties. Manchin's office says he is still optimistic.
Schumer has also insisted he will follow through on his deal with Manchin. He said Thursday he is "working hard to have it pass."
If the vote fails, Congress will be forced to scramble to pass a government funding bill before midnight Friday. That could be a tall task with three legislative days to spare.
It is possible that Manchin's permitting reform provision will be stripped from the funding bill if it fails Tuesday night, so lawmakers can advance the rest of the package later in the week. However, that timing could be close.
Among options to help avert a shutdown, lawmakers could pass a one-day or two-day funding bill before passing a bigger package to keep the government funded until after the elections. Another possibility would be both parties in the Senate could cooperate to speed along the funding bill and beat the Friday night buzzer.
Other issues may also impact votes on the funding bill. According to a source, the package will include disaster relief for Jackson, Mississippi, winter heating assistance, Food and Drug Administration user fee reauthorization and more than $12 billion in new assistance for Ukraine.
Sen. Bernie Sanders, I-Vt., is pushing fellow liberal Democrats to oppose the bill because he does not want to speed along new fossil fuel projects. Sen. Elizabeth Warren, D-Mass., says she wants permitting reform and the funding bill voted on separately. Additionally, the more moderate Sen. Tim Kaine, D-Va., said he is upset about language that would give special treatment to the Mountain Valley Pipeline project in West Virginia.
None of those Democrats have explicitly said yet that they will vote against the government funding package over the permitting reform bill.
Even if more Republicans break ranks and vote for the funding bill with Manchin's permitting reform, it is still unclear if it will be enough for the bill to clear the 60-vote filibuster threshold.
Smart Pricing Table:
Do you own a business and write a lot of proposals? If so, you should check out SmartPricingTable.com.
Smart Pricing Table allows you to create quick and accurate proposals; and it's loaded with features like recurring fees, quantities and line item upsells. When your prospect is ready, they can e-sign and you're off to the races.
Visit SmartPricingTable.com and mention Cross Politic to get 25% off your first 2 months
https://thenationalpulse.com/2022/09/26/gates-foundation-funds-clinton-china-initiative/
Gates Foundation Funds Clinton Initiative to Force China Reliance On Developing World.
The Bill & Melinda Gates Foundation is funding a Clinton Health Access Initiative aimed at making developing countries reliant on China for healthcare and medical products, The National Pulse can reveal.
The Microsoft co-founder's foundation authorized a $560,021 grant to the Clinton Health Access Initiative in September, which will run for 18 months.
The Clinton Health Access Initiative was originally a part of the controversial Clinton Foundation started by former President Bill Clinton but spun off into a separate organization in 2010 though Chelsea Clinton – the daughter of the former president and his wife Hillary – joined the initiative's board in 2011.
The purpose of the grant is "to leverage manufacturing capabilities in China to increase supply security and enhance the supply of key health commodities in low- and middle-income countries."
While the foundation omitted any further details on how the objective would be accomplished, the grant will likely boost China's manufacturing capabilities and make countries reliant on the communist nation for "key" healthcare items.
The grant comes amidst China rolling out its controversial "Belt and Road" initiative, a key component of the regime's efforts to expand its control globally through predatory infrastructure loans.
As the U.S. State Department has warned, Beijing "uses the Belt and Road Initiative and other undertakings to expand foreign markets for Chinese companies and as a means of drawing nations, particularly their political and economic elites, into Beijing's geopolitical orbit."
China has been accused of using similar tactics amidst the COVID-19 pandemic, engaging in "healthcare diplomacy" to broaden its influence over developing countries. Products manufactured in the country also often have poor efficacy and are tainted with toxic chemicals.
The Gates Foundation grant appears to aid the Chinese Communist Party's ambitions to intertwine itself within the healthcare infrastructure of countries across the world.
The unearthed grant follows Bill Gates's long history of working with the Chinese Communist Party on business and philanthropic ventures. His foundation appears to demonstrate a similar affinity for the Communist regime, sending sizable grants to additional Chinese entities, including those with ties to the lab believed to be the birthplace of COVID-19.
https://thepostmillennial.com/alex-baldwin-likely-to-face-charges-in-shooting-death-of-cinematographer-halyna-hutchins?utm_campaign=64487
In entertainment news… Alex Baldwin likely to face charges in shooting death of cinematographer Halyna Hutchins
Alec Baldwin is likely to be charged for shooting and killing cinematographer Halyna Hutchins on the set of his low budget movie Rust in Bonanza City, New Mexico on October 21, 2021.
The Daily Mail reports that Santa Fe District Attorney Mary Carmack-Altwies submitted a letter on August 30 to the New Mexico financial board, asking for funding to indict four defendants and that it was recently approved. In the letter Carmack-Altwie wrote, "One of the possible defendants is well known movie actor Alec Baldwin."
Carmack-Altwie asked for $635,000 to prosecute and said that murder charges were on the table along with other weapons related offenses. She said that a "final piece of evidence" was Baldwin's phone, as authorities were waiting results from its analysis.
After the shooting, Baldwin had issued a statement: "There are no words to convey my shock and sadness regarding the tragic accident that took the life of Halyna Hutchins, a wife, mother and deeply admired colleague of ours."
The movie was filming at the Bonanza Creek Ranch, a popular production location south of Santa Fe. Baldwin was also a producer on the film and previously said he doesn't blame himself for the accident.
"I feel that someone is responsible for what happened, and I can't say who that is, but I know it's not me," Baldwin previously said. He said that 24-year-old armorer Hannah Gutierrez Reed handed him the gun and he thought it was prepared properly.
Gutierrez-Reed has denied she did anything wrong but she was named by Hutchins' family in a wrongful death lawsuit as being responsible for the tragedy
In August, an FBI analysis concluded that Alec Baldwin pulled the trigger of the gun that killed cinematographer Hutchins and wounded director Joel Souza.
And now… it's time for my favorite topic, sports!
https://mynorthwest.com/3614418/rantz-sounders-fans-coach-throw-player-under-bus-over-different-political-opinion/
Sounders fans, coach throw player under bus over different political opinion
An online mob of radical Seattle Sounders FC fans went after the team's star defender. And his coach threw him under the bus.
Xavier Arreaga (ARI-AGA) posted a political cartoon to his Instagram account. It depicted a TV sending rainbows into the brains of two kids, while handing the boy a dress, and the girl men's pants. Behind the kids, two parents are tied up. The point was to call out the media for trying to influence or confuse kids on gender identity.
Intolerant fans slammed Arreaga for not holding a position they disagree with. Some pretended the cartoon was "violence," while others criticized him for being religious. Some want the Sounders to kick him off the team. And his fate may be determined by how he reacts to shameful, intolerant re-education attempts by the head coach.
Arreaga's position, in as much as the comic represented it, is mainstream.
While culture warriors on the Left aim to bully folks into submission, there is widespread concern that the media (along with educators and activists) is pushing adult issues on children. They're indoctrinating kids with extreme left-wing views on gender, claiming gender is fluid and biology doesn't matter. Whether or not you subscribe to this criticism is immaterial: it's a common position that people of all political stripes hold.
But in Seattle, you must hold the "right" position — the one the city's most extreme activists demand you hold. Sounders fans are disproportionately progressive and socialist. A subsection of the group is irredeemably aggressive in their demands that you think exactly as you do.
The overwhelmingly white group of activists gets especially angry when a racial or ethnic minority strays from the script. And they came out in full force against Arreaga.
After Twitter uproar, and what some speculate was a conversation with the Sounders communications staff, the Ecuadorian defender responded with an apology.
"Dear Fans – Last night I reposted a post of a famous Christian artist in my Instagram stories which at the time seemed normal to me and without thinking that this image was going to cause [sic] and hurt the people of our community, which never it [sic] was my intention. I want to express that I respect the way of life and thinking of all people. Thank you," Arreaga wrote.
Head coach Brian Schmetzer is a nice guy and a talented coach. But when he spoke to bloggers demanding he react to Arreaga's post, Schmetzer came off as a condescending, ideological bigot. He's the literal White Knight who is demanding the Ecuadorian think differently.
https://www.facebook.com/watch/?ref=external&v=620965259559336 – Play 0:00-1:04
This has been your CrossPolitic Daily News Brief. If you liked the show, hit that share button for me down below. If you want to come to our conference next week, if you want to sign up for a club membership, or sign up for a magazine subscription, you can do all of that at fightlaughfeast.com.