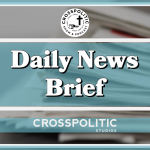 This is Garrison Hardie with your CrossPolitic Daily News Brief for Tuesday, September 6th, 2022. Happy Tuesday everyone! I hope your weekends were filled with restfulness and bonding time with your loved ones… and you know what would be another good way to bond with family? Our conference!
Do you like Jesus & beer? Then you and your family need to come to the Fight Laugh Feast Conference in Knoxville Tennessee, on October 6-8. The topic of this conference is Lies, Propaganda, storytelling, and the serrated edge. Satan is the father of lies, and the mother of those lies is a government that has rejected God. Christians haven't been reading their Bibles, so we as a society are more susceptible than ever to satan and his lies. So join us, October 6-8, as we fight, laugh, and feast, with beer & psalms, our amazing lineup of speakers, including Pastor Doug Wilson, George Gilder, and Pastor Toby Sumpter of the CrossPolitic Show, and more… AND, stuff for the kids too, like jumpy castles, and accidental infant baptisms! Sign up to attend with you and yours, or become a vendor at fightlaughfeast.com.
https://hotair.com/jazz-shaw/2022/09/04/bizzarro-world-ny-gop-gov-challenger-within-4-points-n494400
Bizzarro World: NY GOP Gov challenger within 4 points?
When unelected New York Governor Kathy Hochul recently told all 5.4 million registered Republicans in her state to move to Florida, I pointed to her statement as evidence that she is brimming with confidence that there is no possible way she could lose to a Republican in November. While that still may turn out to be the case, the picture is nowhere near as clear as it seemed to be a couple of months ago. In early August, a SurveyUSA poll had Hochul ahead of Republican Lee Zeldin by a whopping 52 to 28 margin. But this week, a Trafalgar poll dropped and they have Zeldin hot on Hochul's tail, with the Governor's lead dropping to a 47.8 to 43.4% advantage. That's still outside the poll's margin of error, but not by very much. So is this real? (NY Post)
Republican Rep. Lee Zeldin is closing in on incumbent Gov. Kathy Hochul in New York's tightening gubernatorial race, a poll released Saturday found.
The survey, conducted by the independent Trafalgar Group, found Hochul with just a 4 percent lead over the Long Island congressman — a significant narrowing in a race that has seen Hochul with a lead of up to 24 points.
The poll of 1,091 likely general election voters, conducted on Wednesday and Thursday, pegged Hochul at 47.8% — and Zeldin, at 43.4%, nipping at the Democrat's heels.
It's still entirely possible that this is just a rather extreme outlier and Hochul's numbers will spring back in the next couple of surveys. After all, the RCP average still shows Hochul with a nearly 15-point lead even after this Trafalgar poll was factored in. But then again, all of those other polls were conducted well before her speech where she demanded that more than 5 million people leave the state.
Further, the SurveyUSA poll I mentioned above may have given Hochul a 24-point lead, but there were still 14 % undecided. If those undecided voters all started shifting in Zeldin's direction, the race could actually be tightening considerably. If you see two consecutive polls, with similar results, that could translate into actual momentum.
I'm not even close to getting my hopes up yet because we've been burned too many times before. New York hasn't elected a Republican governor since George Pataki's third victory in 2002. And even that race was very close, with Pataki benefitting from an unexpectedly strong showing for a third-party candidate who drained votes away from the Democrat. The generic ballot has only gotten worse for New York Republicans since then. There would need to have been a massive sea change in a very short period of time for these latest figures to be real.
But I don't think we can say that it's flatly impossible. Crime in the state – particularly in New York City – has been out of control for a while now and the state is hemorrhaging residents. Hochul and her party have done nothing to fix the "bail reform" policies they instituted and a majority of New Yorkers see that as one of the leading drivers of increased crime rates. Taxes have continued to go up on a number of things, even as high prices make it harder for people to get by. Is it possible that the Democrats are finally losing support, even in the blue stronghold of New York City? Zeldin should do well in the upstate region, but he can't win unless he can gain some significant traction in the Big Apple.
Put a bookmark on this race and we'll come back to it in a few weeks. If we see one or two more surveys producing similar results, we could have an actual race on our hands. And the down-ballot races for both Congress and the state legislature might deliver some very unpleasant surprises for the Democrats if that turns out to be the case.
https://thepostmillennial.com/abortion-pill-providers-seek-to-bend-or-break-pro-life-state-laws?utm_campaign=64487
Abortion pill providers seek to bend or break pro-life state laws
To circumvent pro-life laws in many states, abortion activists, including those in the medical community, are pursuing questionable legal methods of delivering abortion drugs to women who are seeking the procedure.
According to the New York Times, Elizabeth Nash, who works for the pro-abortion Guttmacher Institute said, "We're going to see these different approaches by organizations as they assess what the laws say and develop their rationale for how to provide care."
"We just don't have a road map about how to provide medication abortion post-Roe, so it's all being created right now," Nash added.
The solutions to get around pro-life laws include prescribing medications that induce abortion past the 10-week limit set by the Food and Drug Administration. Another option is that physicians are providing telemedicine appointments to abortion seekers and not asking about their state of origin. In other instances, physicians are simply giving out abortion inducing medication to anyone who asks, regardless of whether they are pregnant or not, in a hope to saturate the market and disseminate the drugs en masse.
As the Times reports, abortion via medication "typically involves two drugs: mifepristone, which blocks a hormone necessary for pregnancy development, followed 24 to 48 hours later by misoprostol, which causes contractions that expel pregnancy tissue."
Medication-induced abortions made up over half of the abortions in the US by 2020.
11 Republican-led states, Alabama, Arkansas, Georgia, Mississippi, Missouri, Oklahoma, Ohio, South Carolina, South Dakota, Tennessee, and Texas, had strong strong pro-life legislation go into effect right away with many other states, like Indiana, following suit. The current practices around the dissemination of medicine that induces abortion creates a legal grey area for many of these states as their legislation mostly focuses on abortion clinics and their providers.
Christie Pitney, a "midwife" who works for Europe based pro-abortion company Aid Access said preliminary prescription was the solution, calling it "advance provision," and that women should get the medication wherever they can and hold on to it. Pitney said getting medication that will kill an unborn child was like getting "medication for traveler's diarrhea."
According to Pitney, Aid Access has received 10,000 requests for the medication after the overturn of Roe.
Redballoon
Not so long ago, the American dream was alive and well. Employees who worked hard were rewarded, and employers looked for people who could do the job, not for people who had the right political views. RedBalloon.work is a job site designed to get us back to what made American businesses successful: free speech, hard work, and having fun. If you are a free speech employer who wants to hire employees who focus on their work and not identity politics, then post a job on RedBalloon. If you are an employee who is being censored at work or is being forced to comply with the current zeitgeist, post your resume on RedBalloon and look for a new job. redballoon.work, the job site where free speech is still alive!
www.redballoon.work
https://www.breitbart.com/local/2022/09/04/stranded-tourist-dead-electric-car-helped-west-virginia-coal-miners/
Stranded Tourist with Dead Electric Car Helped by West Virginia Coal Miners
The electric vehicle of an unfortunate Washington, DC, tourist ran out of battery in the middle of a remote West Virginia road on Friday. Thankfully, a few unlikely good Samaritans were nearby to rescue the stranded traveler.
The wild sequence of events was recounted by Tucker County State Sen. Randy Smith (R) on Facebook, which occurred near a coal mine on Mettiki Coal access road U.S. 48, a few miles outside of Davis, West Virginia, according to WTRF.
"Today at our mine off Corridor H an electric car from DC ran out of battery at the road entrance to the mine," Smith wrote.
The state senator noted that the vehicle was stranded in the middle of the haul road, meaning that workers had to act fast to not impede incoming traffic.
As a few coal miners came to assist, it was soon realized that the vehicle could not be moved by a tow truck since the bottom of the car was all plastic with nothing to hook onto.
With few options left, the coal miners worked with the driver to push the vehicle up the road to the mine where the traveler could recharge his car.
"If you look closely you can see our coal stockpile and load out in the background," Smith noted as the five coal miners and driver are seen pushing the vehicle in a photo.
While electric vehicles have recently symbolized an elitist shift away from natural energy resources such as coal, natural gas, and oil to renewable energy sources, that narrative was set aside on Friday as the coal miners were more than willing to help the unfortunate traveler.
Smith added that one of the good Samaritans even gifted the D.C. driver a "Friend of Coal" license plate to take home with him.
Alright before we wrap up, we have to end with my favorite topic… sports! And man do I love college football. For those of you who follow me on social media, saw a picture of my dad and I at the WSU and U of I game, so here's the full run down of scores over the weekend:
#2 Ohio State defeats #5 Notre Dame 21-10

#3 Georgia defeats #11 Oregon 49-3

Florida defeats #7 Utah 29-26

#8 Michigan defeats CO State 51-7

#19 Arkansas defeats #23 Cincinanati 31-24

#17 Pitt defeats WVU 38-31
This has been Garrison Hardie with your CrossPolitic Daily News Brief. If you liked the show, hit that share button down below. If you want to sign up for a club membership, then sign up for our conference with that club discount, and THEN sign up for a magazine, you can do all of that at fightlaughfeast.com. And as always, if you'd like to email me a news story, ask about our conference, or become a corporate partner of CrossPolitic, email me, at garrison@fightlaughfeast.com. For CrossPolitic News… I'm Garrison Hardie. Have a great day, and Lord bless!