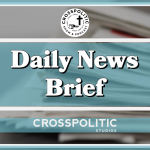 This is Garrison Hardie with your CrossPolitic Daily News Brief for Tuessday, August 14th, 2023.
Bohnet Music Academy
Isn't it about time to take action on how you're going to give your children and grandchildren a good music education? Moses, David, and all the Saints of the church have worshiped God with musical might, so let's be confidently found doing the same.
Bohnet Music Academy instructs children and adults in how to be musically literate. That's everything you need to know and do as the musician God made you to be. Lessons are available locally in Moscow, ID and online. What's great is that in addition to getting vocal training, you can also study the piano, guitar, violin, cello, drums, or the trumpet.
Visit Bohnetma.com/crosspolitic for more information on how to equip your family to serve God's musical commands. B-O-H-N-E-T MA.com/crosspolitic
We start today's newsbrief by heading to Hawaii.
https://www.reuters.com/world/us/how-did-hawaii-wildfires-start-what-know-about-maui-big-island-blazes-2023-08-11/
Wildfires on Hawaii's Maui have killed at least 96 people, forced tens of thousands of residents and tourists to evacuate the island and devastated the historic resort city of luh-hai-nuh. It's the deadliest U.S. wildfire in more than a century. The Big Island of Hawaii is also battling wildfires, which have caused no fatalities.
Firefighting crews were still battling flare-ups. The largest fire in Lahaina is 85% contained and has burned 2,170 acres (880 hectares), Maui County said. Another fire in upcountry/Kula is 60% contained and has charred 678 acres (270 hectares). Smaller fires elsewhere are now 100% contained.
The fires, which started the night of Aug. 8, wreaked widespread destruction in Lahaina. The city of about 13,000 people on northwestern Maui was once a whaling center and the Hawaiian Kingdom's capital, and now draws 2 million tourists a year.
Cadaver dogs searched Lahaina's charred ruins for victims, and officials said it was likely the number of dead would rise.
The Federal Emergency Management Agency (FEMA) estimates it will cost $5.5 billion to rebuild the town.
The Maui blaze is the deadliest U.S. wildfire since 1918, when northern Minnesota's Cloquet Fire, which raged for more than four days, claimed 453 lives, according to the National Fire Protection Association (NFPA). The deadliest wildfire in U.S history, Wisconsin's Peshtigo fire in 1871, killed 1,152.
Hawaii's fires also constitute the most lethal disaster to hit the islands since a tsunami that killed 61 people in 1960, a year after Hawaii became a U.S. state.
Some Maui residents have questioned whether more could have been done to warn them. Witnesses said they had little warning, describing their terror as the blaze destroyed Lahaina in what seemed like minutes. Some people dove into the Pacific Ocean to escape.
Sirens stationed around the island – intended to warn of impending natural disasters – never sounded, and widespread power and cellular outages hampered other forms of alerting.
Hawaii Governor Josh Green vowed on Sunday to investigate the response and emergency notification systems.
The causes of the fires have not yet been determined. The National Weather Service had issued warnings for the Hawaiian Islands for high winds and dry weather – conditions ripe for wildfires.
Nearly 85% of U.S. wildfires are caused by humans, according to the U.S. Forest Service. Natural causes include lightning and volcanic activity.
In Hawaii, less than 1% of fires are due to natural causes, according to Elizabeth Pickett, co-executive director of the Hawaii Wildfire Management Organization. The Hawaiian Islands have six active volcanoes, including one on Maui.
The spread of flammable non-native grasses in areas of former farmland and forest has created large amounts of small, easily ignited materials that increase the risk and severity of fire.
Record-setting heat this summer has contributed to unusually severe wildfires in Europe and western Canada. Scientists say climate change, driven by fossil fuel use, has led to more frequent and more powerful extreme weather events.
What was Biden's response to all this?
https://nypost.com/2023/08/14/biden-slammed-for-no-comment-response-to-maui-wildfire/
Biden slammed for silence on Maui wildfire catastrophe
President Biden had yet to offer a verbal statement Monday evening in response to the mounting death toll in the catastrophic Maui wildfire — the deadliest US blaze in more than a century — after spending the weekend sunning himself on the beach near his Delaware vacation home.
The 80-year-old commander-in-chief avoided reporters upon his return to Washington Monday morning, walking directly across the White House lawn to the Oval Office without approaching the press to give a statement on the tragedy, as US leaders often do.
The White House later put out a statement on X, the platform formerly known as Twitter, taking note of the carnage in Maui and detailing government resources on offer to beleaguered residents.
"As residents of Hawai'i mourn the loss of life and devastation taking place across their beautiful home, we mourn with them. Like I've said, not only our prayers are with those impacted – but every asset we have will be available to them," read the statement attributed to Biden.
A day earlier, the president offered a stony-hearted "No comment" when asked about the death toll, which has climbed to at least 96. During a bike ride Sunday morning, Biden gave a similar unfeeling answer when asked about the tragedy.
"We're looking at it," he said when asked if he planned to visit the Aloha State.
Biden is currently scheduled to visit Wisconsin Tuesday and travel to Camp David Thursday to meet with the leaders of South Korea and Japan the following day. He is then due to travel to Lake Tahoe, Nev. and remain there until Aug. 24.
Bloomberg reporter Justin Sink posted a photo of Biden lounging with a group of people on Rehoboth Beach Sunday afternoon, triggering outrage on social media.
"I campaigned for you," raged former Hawaii legislator Kaniela Ing early Monday. "Now, when I lose dozens of my friends, family, and neighbors. This?"
"You'll hear from the president on this," Jean-Pierre promised. "I don't have anything to announce at this time, but certainly, he's the president and you're going to hear from him."
https://www.breitbart.com/border/2023/08/13/exclusive-40k-migrants-apprehended-along-southwest-border-in-first-10-days-of-august/
40K Migrants Apprehended Along Southwest Border in First 10 Days of August
Border Patrol agents apprehended nearly 40,000 migrants along the southwest border during the first ten days of August. The Tucson and Rio Grande Valley Sectors reported more than 10,000 each.
Unofficial reports obtained from law enforcement by Breitbart Texas reveal that during the first ten days of August, Border Patrol agents apprehended 39,324 migrants who illegally crossed the border between ports of entry. This is an average of 5,708 apprehensions per day.
The Tucson and Rio Grande Valley Sectors reported 10,867 and 10,465 migrant apprehensions, respectively. The five Texas-based border sectors accounted for 23,119 of the 39,324 migrant apprehensions.
Following a sharp drop in June, migrant apprehensions reportedly spiked again in July with the arrest of more than 130,000 migrants, the Washington Post reported. If the current apprehension rate in August continues, U.S. Customs and Border Protection could report the apprehension of nearly 177,000 migrants in August.
Now this!
https://www.reuters.com/article/uganda-lgbt-president-idAFL8N39R0ZU
Uganda president defiant after World Bank funding suspended over LGBT law
Uganda's President Yoweri Museveni on Thursday denounced the World Bank's decision to suspend new funding in response to a harsh anti-LGBTQ law and vowed to find alternative sources of credit.
The World Bank said on Tuesday that the law, which imposes the death penalty for certain same-sex acts, contradicted its values and that it would pause new funding until it could test measures to prevent discrimination in projects it finances.
The World Bank has an existing portfolio of $5.2 billion in Uganda, although these projects will not be affected.
The anti-LGBTQ law, enacted in May, has drawn widespread denunciation from local and international rights organisations and Western governments, though it is popular domestically.
Museveni said in a statement that Uganda was trying to reduce its borrowing in any case and would not give in to pressure from foreign institutions.
"It is, therefore, unfortunate that the World Bank and other actors dare to want to coerce us into abandoning our faith, culture, principles and sovereignty, using money. They really underestimate all Africans," he said.
Museveni said that if Uganda needed to borrow, it could do so from other sources, and that oil production expected to start by 2025 would provide additional revenues.
He added he hoped the World Bank would reconsider its decision.
In June, the United States imposed visa restrictions on some Ugandan officials in response to the law. President Joe Biden also ordered a review of U.S. aid to Uganda.