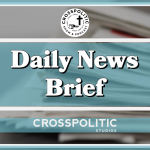 This is Garrison Hardie with your CrossPolitic Daily News Brief for Tuessday, November 14th, 2023.
Fight Laugh Feast Magazine
Our Fight Laugh Feast Magazine is a quarterly issue that packs a punch like a 21 year Balvenie, no ice. We don't water down our scotch, why would we water down our theology? Order a yearly subscription for yourself and then send a couple yearly subscriptions to your friends who have been drinking luke-warm evangelical cool-aid. Every quarter we promise quality food for the soul, wine for the heart, and some Red Bull for turning over tables. Our magazine will include cultural commentary, a Psalm of the quarter, recipes for feasting, laughter sprinkled through out the glossy pages, and more. Sign up today, at fightlaughfeast.com.
https://pjmedia.com/victoria-taft/2023/11/12/us-news-outlets-must-answer-if-they-knew-about-hamas-terror-attacks-on-israel-before-october-7-n4923834
Media in Panic Mode Over Questions About Whether They Knew in Advance About Hamas Attack on Israel
On October 7, four photojournalists who provide reporting and photos for the likes of the Associated Press (AP), CNN, the New York Times, Reuters, and other outlets were allegedly at the Israeli border with Hamas terrorists who committed acts of atrocities against innocent Israeli civilians that shocked the world. Since an Israel-supporting news watchdog website reported the claim, everyone wants to know if these Gaza-based reporters knew in advance about the attack and, more importantly, if they could have saved lives by alerting the world about it. The question arises: Did the AP, CNN, the New York Times, and Reuters know about the Hamas terror attack in advance?
The allegations have sent major media into panic mode and generated even more mistrust in the corporate press.
The website HonestReporting, which chronicles coverage of Israel by an increasingly one-sided press to contrast the "Pallywood" and crisis actor coverage by Hamas and its agents, asks: "Is it conceivable to assume that 'journalists' just happened to appear early in the morning at the border without prior coordination with the terrorists? Or were they part of the plan?"
Hamas terrorists paraglided and drove into the civilian populations that day and committed acts of horrific brutality. They wanted their murders and acts of terror chronicled for the world, which is why they wore GoPro cameras and apparently arranged for these traditional media photographers to go in with them.
HonestReporting reported that "four names appear on AP's photo credits from the Israel-Gaza border area on October 7: Hassan Eslaiah, Yousef Masoud, Ali Mahmud, and Hatem Ali." The news watchdog took a close look at Elsaiah, a "freelancer who also works for CNN, crossed into Israel, took photos of a burning Israeli tank, and then captured infiltrators entering Kibbutz Kfar Azza."
Elsaiah "did not wear a press vest or a helmet," the website reported. He posted a video of himself on Twitter/X saying that "everyone who were inside this tank were kidnapped, everyone who were inside the tank were kidnapped a short while ago by al-Qassam Brigades [Hamas' armed wing], as we have seen with our own eyes."
The website later featured an older photo of Elsaiah with the Hamas leader who planned the attack.
In war reporting, journalists are often given a heads-up and allowed to chronicle American troops heading into battle, for example. But this wasn't an act of war — it was terror. It was murder for murder's sake. There hadn't been an Israeli offensive to which the Gaza terror organization was responding. Indeed, if Hamas had been wearing uniforms and acting as an "army" they would be accused of war crimes. As it is, they're accused of crimes against humanity.
https://www.foxnews.com/world/uk-infant-indi-gregory-dies-legal-battle-british-government-treatment-options
UK infant Indi Gregory dies amid legal battle with British government over treatment options
A terminally ill baby in the United Kingdom, who was the focus of a legal battle involving her parents, British health officials and the Italian government over treatment options, died Monday morning in hospice care.
Christian Concern, a group supporting the family, said 8-month-old Indi Gregory died after her life support was withdrawn on Sunday, according to The Associated Press.
The infant had suffered brain damage because of a rare condition known as mitochondrial disease.
The child's doctors said her life support should be removed to allow her to die at a hospital or in hospice, but her parents, Dean Gregory and Claire Staniforth, continued to fight for her to remain on life support, hoping that experimental treatments may extend her life.
The Italian government had solicited permission for her to be treated at Bambino Gesu Children's Hospital in Rome. Italian officials even granted citizenship to the baby amid the legal battle over her health care.
Doctors claimed that Indi was not aware of her surroundings and was suffering as they argued she should be allowed to die peacefully. Legal challenges supported by Christian Concern were rejected by British judges.
Indi's case is the latest in a series of legal battles in the United Kingdom between parents and doctors over treatment for children with terminal illnesses. British judges have repeatedly taken the side of doctors in cases about the best interests of the child, despite parental objections to a proposed treatment option.
Court of Appeal Justice Peter Jackson said on Friday that doctors treating Gregory and other critically ill children were put in an "extremely challenging" position by the legal battle. He also criticized "manipulative litigation tactics" that attempt to frustrate orders made by judges after careful consideration.
https://www.dailyfetched.com/over-70-of-americans-unwilling-to-be-drafted-if-ww3-breaks-out-poll/
Over 70% of Americans Unwilling to Be Drafted If WW3 Breaks Out, Poll
A new poll has found that 72 percent of Americans would be unwilling to volunteer to serve their country if WW3 breaks out, compared to just 21 percent who said they would.
As the US becomes deeply embedded in the ongoing Israel-Hamas war and the Russia-Ukraine war, the Echelon Insights findings suggest most Americans hold a more 'America First' view of foreign policy than the political establishment.
Since 1987, the US military has shrunk by 39 percent, and the Army and Air Force missed their recruitment targets in 2023 by 10,000.
Meanwhile, the Navy missed its target by 6,000.
The lack of troops could pose a big problem for America's war readiness.
While infantry soldiers are relatively easy to train in a crisis, pilots and naval specialists require years of instruction.
As The National Pulse noted, the traditionally conservative-leaning young people the military has often relied on for manpower may also have been deterred by its intolerant attitude towards unvaccinated Americans in recent years and senior officers' promotion of far-left interests such as drag and "white rage."
Meanwhile, with the prospect of WW3 is becoming more likely, Americans may not have to worry about being drafted as nuclear weapons would destroy most countries.
Last week, President Donald Trump warned that Mexico could be at risk of nuclear destruction in the Event of WW3 breaking out from the war in the Middle East.
Trump said the potential ramifications of another nuclear war could involve the total destruction of Mexico.
"The biggest threat is nuclear weapons," Trump said.
https://dailycaller.com/2023/11/12/former-national-champion-texas-head-coach-jimbo-fischer-fired-poor-performance/
Former National Champion Head Coach Jimbo Fischer Fired For Poor Performance
Texas A&M has fired head football coach Jimbo Fischer, bringing his six-year tenure with the Aggies to a close while netting himself $76 million.
The firing comes on the heels of a 51-10 victory of Mississippi State, moving Texas A&M to 6-4 on the season, according to CBS Sports.
Fisher took the Texas A&M head coaching position in 2018, coming off a successful tenure at Florida State, where he won a national championship in 2014, per the outlet. While the Aggies did manage to go 9-4 in 2018, Texas A&M has struggled over the past two seasons, barely cracking eight wins in 2021 and going 5-7 in 2022, per the outlet.
When Fischer became head coach of the Aggies, he signed a 10-year, $75-million contract, which was later extended through 2031. The contract also came with a massive buyout clause worth $76 million, which he is now owed by Texas A&M, per the outlet.
"After very careful analysis of all the components related to Texas A&M football, I recommended to President Welsh and then Chancellor Sharp that a change in the leadership of the program was necessary in order for Aggie football to reach our full potential and they accepted my decision. We appreciate Coach Fisher's time here at Texas A&M and we wish him the best in his future endeavors," Texas A&M athletics director Ross Bjork said in a statement.
The Aggies will finish off their regular season with Abilene Christian University and top-25 LSU.