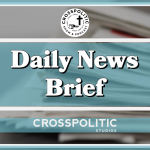 This is Garrison Hardie with your CrossPolitic Daily News Brief for Wednesday, April 12th, 2023.
https://nypost.com/2023/04/11/truck-carrying-soil-from-east-palestine-overturns-on-highway/
Truck carrying toxic soil from East Palestine train derailment overturns on highway
A truck carrying about 40,000 pounds of toxic soil from East Palestine, Ohio, overturned on Monday, spilling roughly half its contents onto the highway before it even got out of the state.
The open-top tractor-trailer was traveling north on SR-165 in Columbiana County when the accident occurred, CBS News reported.
Driver Phillip Falck, 74, went off the right side of the road and hit a ditch and a utility pole before overturning, the outlet said.
Officers who responded found the truck "on its side,'" per the Ohio State Highway Patrol.
The local fire department and the Ohio Environmental Protection Agency also responded.
It was decided that the 20,000 pounds of spilled soil was contained and did not threaten any waterways.
Falck sustained minor injuries and was cited for operating a vehicle without reasonable control, WFMJ reported.
The soil onboard was being transported away from East Palestine, where a Norfolk Southern train derailed on Feb. 3, releasing multiple hazardous substances into the surrounding area.
Residents were evacuated, and thousands of fish reportedly died from exposure to the toxins.
More than two months later, the process of removing contaminated soil and water from the site remains ongoing.
On Monday, state officials said approximately 11.4 million gallons of wastewater had been hauled out of the area, in addition to 19,900 tons of soil.
A new health clinic, the East Liverpool City Hospital East Palestine Clinic, also opened in the area on Monday.
It will replace the temporary assessment clinic that opened in the wake of the derailment.
https://www.foxnews.com/politics/manhattan-da-alvin-bragg-sues-rep-jim-jordan-trump-indictment-subpoena
Manhattan DA Alvin Bragg sues Rep. Jim Jordan over Trump indictment subpoenas
Manhattan District Attorney Alvin Bragg on Tuesday filed a federal lawsuit against Rep. Jim Jordan, alleging that the Republican lawmaker is trying to wage a campaign of intimidation over his prosecution of former President Donald Trump.
In his lawsuit, the Democratic D.A. said he's taking legal action "in response to an unprecedently brazen and unconstitutional attack by members of Congress on an ongoing New York State criminal prosecution and investigation of former President Donald J. Trump."
Bragg is asking a judge to invalidate subpoenas that Jordan, the chair of the House Judiciary Committee, has or plans to issue as part of an investigation of Bragg's handling of the Trump case.
"The Manhattan D.A.'s Office focuses on the law and the evidence, not political gamesmanship or threats. We look forward to presenting our case in court to enjoin enforcement of the subpoena."
The case is assigned to U.S. District Mary Kay Vyskocil, a Trump appointee who previously served as a federal bankruptcy court judge.
In recent weeks, the Judiciary Committee issued a subpoena seeking testimony from a former prosecutor, Mark Pomerantz, who previously oversaw the Trump investigation. The committee has also sought documents and testimony about the case from Bragg and his office. Bragg has rejected those requests.
Trump was indicted late last month on 34 felony counts of falsifying business records related to hush-money payments made during the 2016 presidential campaign to bury allegations that he had extramarital sexual encounters. The 2024 presidential contender has denied wrongdoing and pleaded not guilty at an arraignment in Manhattan last week.
The House Judiciary Committee is scheduled to hold a hearing in Manhattan on Monday on crime in New York City and what it alleges are Bragg's "pro-crime, anti-victim" policies. The D.A.'s office, however, points to statistics showing that violent crime in Manhattan has dropped since Bragg took office in January 2022.
https://justthenews.com/government/state-houses/newsom-stockpiles-2-million-abortion-pills-so-californians-can-access-them
Newsom stockpiles 2 million abortion pills so Californians can access them after judge's ruling
California Democrat Gov. Gavin Newsom is stockpiling as much as 2 million misoprostol pills used to terminate a pregnancy – after a federal judge's ruling last week sought to halt the FDA's approval of another abortifacient, mifepristone.
"We will not cave to extremists who are trying to outlaw these critical abortion services," Newsom said Monday in announcing his plan. "Medication abortion remains legal in California."
Mifepristone is used in conjunction with misoprostol to terminate a pregnancy through 10 weeks of gestation, according to the FDA. Misoprostol still can effectively terminate a pregnancy when used alone, according to a National Institutes of Health study but the Food and Drug Administration has not approved it for abortions.
The Biden administration is appealing the ruling from the Texas-based federal judge that brought mifepristone's status into question. The case is expected to be heard by the Supreme Court.
https://bongino.com/15-days-to-slow-the-spread-ends-after-1120-days
"15 Days to Slow the Spread" Ends After 1,120 Days
https://dailycaller.com/2023/04/11/governor-shut-down-church-pay-fee-kentucky-andrew-beshear/
On Monday, Joe Biden signed a GOP-led resolution that brought the national emergency over the COVID-19 pandemic to an end.
And just like that, "15 days to slow the spread" was over….. after 1120 days.
As the New York Post reported:
Biden signed the legislation behind closed doors on the eve of his trip Tuesday to Northern Ireland and the White House acknowledged the milestone without fanfare in a brief late-afternoon email that read: "On Monday, April 10, 2023, the President signed into law: H.J.Res. 7, which terminates the national emergency related to the COVID-19 pandemic."
The legislation drafted by Rep. Paul Gosar (R-Ariz.) passed the House 229-197 in February, with a handful of Democratic supporters, and then the Senate 68-23 last month with about half of the chamber's Democrats voting in favor.
In January, the White House said that Biden would end both the national emergency and a separate public health emergency on May 11 after more than 1 million Americans died from the respiratory disease that originated in Wuhan, China.
If the national emergency and the powers it afforded the government prevented even a single person from contracting COVID, the evidence has yet to be seen.
Matt Palumbo is the author of Fact-Checking the Fact-Checkers: How the Left Hijacked and Weaponized the Fact-Checking Industry and The Man Behind the Curtain: Inside the Secret Network of George Soros
https://dailycaller.com/2023/04/11/governor-shut-down-church-pay-fee-kentucky-andrew-beshear/
Dem Governor Who Shut Down Churches During COVID Ordered To Pay Over $270,000 In Attorney's Fees
A federal appeals court ruled Monday that three individuals who sued the Kentucky governor for their right to assemble for worship during COVID-19 must be paid over $270,000 in attorney's fees.
Randall Daniel, Theodore Roberts, and Sally O'Boyle sued in August 2020 after they received notices logging their attendance at Maryville Baptist Church's Easter Service and informing them they must quarantine or face "further enforcement measures." The group alleged Democratic Governor Andrew Beshear's bans on religious gatherings and interstate travel violated their constitutional rights, which the Sixth Circuit affirmed in May 2020, according to court documents.
On Monday, the Sixth Circuit upheld a district court ruling awarding the congregants $272,142.50 in attorney's fees, rejecting the governor's challenges.
"I know a lot of people who are outraged that the TAXPAYER is on the hook for ANDY'S constitutional violation," said Roberts in a tweet. "I share this outrage, but this outrage must be aimed at Beshear. If the people of Kentucky want to quit being taxed to pay for these court judgments, Kentucky MUST elect a governor who will actually follow the constitution."
Republican Kentucky Rep. Thomas Massie responded to the ruling on Monday, congratulating attorney Chris Wiest and TJ Roberts on the win.
The Sixth Circuit previously barred the governor from enforcing a prohibition on in-person services, disputing the lower court's ruling which upheld the ban.
"[The] unexplained breadth of the ban on religious services, together with its haven for numerous secular exceptions, cannot co-exist with a society that places religious freedom in a place of honor in the Bill of Rights: the First Amendment," the court found in May 2020.
"Here in Kentucky, there are so many different ways to worship, and all but one church in this commonwealth are engaged in them," Beshear said after the initial lawsuit was filed, according to WDRB. "You can do it virtually. You can do it in a drive-in service, and in many states they are not allowing those drive-in services like we are. So this work — this opportunity to worship, which is so important, is still there. We just ask people to choose one of the versions that doesn't spread the coronavirus, and I think that's what our faith calls us to do."
Beshear did not immediately respond to a request for comment.