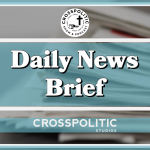 We just got back from our Liberty Tour stop in Rapid City, SD and we are already setting our sites on Folks are you coming to our next stop May 19th in Phoenix, AZ. Did you know Jeff
Delano Squires will be joining us? Some of you don't know Delano, so here is a little fire from him about six months ago on the Tucker Carlson show: Roll clip: Start at 3:33 mark https://video.foxnews.com/v/6279292801001#sp=show-clips
If you want more of this fire, than sign up at FightLaughFeast.com, ticket sales will go fast.
Speaking of Education:
Classical Conversations supports homeschooling parents by cultivating the love of learning through a Christian worldview in fellowship with other families. We provide a classical Christ-centered curriculum, local like-minded communities across the United States and in several countries, and we train parents who are striving to be great classical educators in the home. For more information and to get connected, please visit our website at ClassicalConversations.com. Classical. Christian. Get Connected. Get Community. https://www.classicalconversations.com/
DeSantis signs bill investing $70 million into programs to support fatherhood
https://thepostmillennial.com/breaking-desantis-signs-bill-investing-70-million-into-programs-to-support-fatherhood?utm_campaign=64487
According to the Post Millennial:
Florida Gov. Ron DeSantis signed a bill on Monday investing $70 million into programs to support "responsible fatherhood" in a statewide awareness campaign. DeSantis signed HB 7065, a child welfare bill that promotes responsible fatherhood in the state and encourages their "active participation in their children's lives."
The measure requires the Department of Children and Families and Department of Juvenile Justice to identify and meet the needs of Florida's dually-involved children within a specified timeframe, according to local news.
Among the funded initiatives, the bill supports case managers who help fathers find employment and transition from incarceration to private life. In addition, the bill also creates mentorship programs for at-risk youth to help children develop social and emotional life skills through the presence of father figures.
The month of June will be designated, "Responsible Fatherhood Month," before the law takes effect on July 1, according to local outlet WPEC.
DeSantis was joined by two of his three children when he signed the legislation while other kids gathered around the Florida governor. In front of a podium with a sign reading "Strong Fathers, Strong Florida," the Republican leader pushed back on the media narrative attempting to disrupt the nuclear American family.
"In Florida, we are not going to be following this propaganda," DeSantis declared, citing necessary programming that will help families stay engaged with each other."
Well file this under "why conservatives can't own anything nice". Didn't Delano just say that the government needs to stay in its lane? If the government wants to incentivize fatherhood, than make sodomite marriage illegal again, stop funding public schools, stop incentivizing single parent households.
Nuclear Energy is the way of the future:
Roll clip: Start through the 2:47 mark
https://twitter.com/AlexEpstein/status/1513970207068282882?s=20&t=lb8pTBIWFVvGY15ytYWgFQ
I have been involved in the energy sector on the economic side of things for decades, and then the last five years I have researched this from a political and business standpoint. The climate loons, who want to regulate everything down to cow farts, are not serious about, you know, addressing what they call man made climate change, until nuclear is a legitimate free market option. In the northwest it cost about 18 cents per kilowatt to produce electricity, while hydro dams are about 3 cents per kilo. Now I think that is a low estimate, but regardless it is 6 times more expensive for wind turbines to produce electricity, than other options.
ABC reported this past week that:
"A subsidiary of one of the largest U.S. providers of renewable energy pleaded guilty to criminal charges and was ordered to pay over $8 million in fines and restitution after at least 150 eagles were killed at its wind farms in eight states, federal prosecutors said.
Prosecutors said the company's failure to take steps to protect eagles or to obtain permits to kill the birds gave it an advantage over competitors that did take such steps — even as ESI and other NextEra affiliates received hundreds of millions of dollars in federal tax credits from the wind power they produced.
NextEra spokesperson Steven Stengel said the company didn't seek permits because it believes the law didn't require them for unintentional bird deaths. The company said its guilty plea will resolve all allegations over past fatalities and allow it to move forward without a continued threat of prosecution."
God designed the world in such away, that everything we do has an "environmental impact". This is what it means to take dominion. Now the question is, is it a biblical environmental impact or a dumb one, like wind turbines. I can't wait to start a company in 20 years, and get paid to down all these silly wind turbines.
Trump Endorsed Dr. Oz in the Primaries for Pennsylvania Senate race?
This is what Dr. Oz said back in 2020 when the pandemic started:
Roll clip: https://twitter.com/JackPosobiec/status/1513912363115859972
Wait! Did Dr. Oz just say we should have followed China's lockdown strategy?
New York Lieutenant Governor Arrested on Bribery Charges in Alleged Campaign-Finance Scheme
https://www.nationalreview.com/news/new-york-lieutenant-governor-arrested-on-bribery-charges-in-alleged-campaign-finance-scheme/
According to the National Review:
"New York lieutenant governor Brian Benjamin was arrested and charged with bribery — among other federal offenses — on Tuesday. The charges are related to a scheme in which Benjamin is alleged to have funneled state funds to a Harlem real estate developer in exchange for illegal campaign contributions.
The indictment adds that Benjamin and "others acting at his direction or on his behalf, also engaged in a series of lies and deceptions to cover up his scheme," such as "falsifying campaign donor forms" and "falsifying information in vetting forms" he completed during the lieutenant governor selection process."
So New York is a dumpster fire of democratic corruption, and New Yorkers keep voting for that corruption.
Grace Agenda plug:
"When a man and woman say, "I do," they are launched together into a grand adventure with numerous unexpected twists and turns. Along with all the blessings from marriage, there are also sleepless nights with crying babies, expensive car repairs, burnt dinners, potential drama with extended family, and turmoil in the world. The world thinks that when a marriage is confronted with hardship, either spouse can push the emergency eject button and simply move on due to "irreconcilable differences." But Christian couples are commanded, in sickness and health, riches and poverty, good times and bad, to display the glory of Christ and the church. To do this takes gritty faith, covenant fidelity, and joyful forbearance.
Grace Agenda 2022: Marriage Bootcamp aims to equip Christian couples to ride into the turbulence of the world in which we live with a fearless resolve to glorify God in their home and so advance the kingdom of God in the midst of the smoking crater that is Western Civilization." Go to https://www.graceagenda.com to sign up, and we will see you in Moscow.
Closing
This is Gabriel Rench with Crosspolitic News. Support Rowdy Christian media by joining our club at fightlaughfeast.com, downloading our App, and head to our annual Fight Laugh Feast Events. If this content is helpful to you, would you please consider becoming a Fight Laugh Feast Club Member? We are trying to build a cancel-proof media platform, and we need your help. Join today and get a discount at the Fight Laugh Feast conference in Knoxville, TN and have a great day. Have a great day. Lord bless