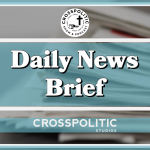 This is Gabriel Rench with your CrossPolitic Daily News Brief for Wednesday April 14th 2021: 
Folks- we have 15 days until our Fight Laugh Feast Rally in Rapid City, SD. Still time to sign up and see us on the ground at the conference. Get signed up, go to FLFNetwork.com/Rally to find out about the hotels we get a discount to, agenda details, and more. We can't wait to see everyone at the end of April. Now if you can't make it to the conference, but still want to catch the talks, well only club members will get access to all the talks as they are streamed live, and following the conference. So if you are not a club member, and can't attend the conference, well don't worry, sign up as a club member and you will still get access to all the great talks from the conference. Go to FightLaughFeast.com to sign up!
FLF CA
Resistance and Reformation
And more!
The FDA tweeted this out today:
"Today FDA and @CDCgov issued a statement regarding the Johnson & Johnson #COVID19 vaccine. We are recommending a pause in the use of this vaccine out of an abundance of caution."
According to CNN:
https://www.cnn.com/2021/04/13/health/johnson-vaccine-pause-cdc-fda/index.html
"The US Centers for Disease Control and Prevention and the US Food and Drug Administration are recommending that the United States pause the use of Johnson & Johnson's Covid-19 vaccine over six reported US cases of a "rare and severe" type of blood clot. One of the cases was fatal and one is currently in critical condition.
The six reported cases were among more than 6.8 million doses of the Johnson & Johnson vaccine administered in the United States.
All six cases occurred among women between the ages of 18 and 48, and symptoms occurred 6 to 13 days after vaccination, according to a joint statement on Tuesday from Dr. Anne Schuchat, principal deputy director of the CDC and Dr. Peter Marks, director of the FDA's Center for Biologics Evaluation and Research.
"CDC will convene a meeting of the Advisory Committee on Immunization Practices (ACIP) on Wednesday to further review these cases and assess their potential significance," the statement said. "FDA will review that analysis as it also investigates these cases. Until that process is complete, we are recommending a pause in the use of this vaccine out of an abundance of caution. This is important, in part, to ensure that the health care provider community is aware of the potential for these adverse events and can plan for proper recognition and management due to the unique treatment required with this type of blood clot."
President Trump's responded in an email saying:
"The Biden Administration did a terrible disservice to people throughout the world by allowing the FDA and CDC to call a "pause" in the use of the Johnson & Johnson COVID-19 vaccine. The results of this vaccine have been extraordinary but now it's reputation will be permanently challenged. The people who have already taken the vaccine will be up in arms, and perhaps all of this was done for politics or perhaps it's the FDA's love for Pfizer. The FDA, especially with long time bureaucrats within, has to be controlled. They should not be able to do such damage for possibly political reasons, or maybe because their friends at Pfizer have suggested it. They'll do things like this to make themselves look important. Remember, it was the FDA working with Pfizer, who announced the vaccine approval two days after the 2020 Presidential Election. They didn't like me very much because I pushed them extremely hard. But if I didn't, you wouldn't have a vaccine for 3-5 years, or maybe not at all. It takes them years to act! Do your testing, clean up the record, and get the Johnson & Johnson vaccine back online quickly. The only way we defeat the China Virus is with our great vaccines!"
Biden's Infrastructure Plan Update:
Play video: https://twitter.com/Reuters/status/1381801816237694976
Biden's infrastructure plan is vague and all over the place. He is trying to crowd test what he can pack into this bill. Clean water? Isnt that a state issue? How did the internet become a presidential issue and a federal infrastructure issue?
It is also important to note, that the democrats are being very misleading as they pitch this infrastructure plan to the public.
Roll Buttegige video: https://youtu.be/CiYY6VYjLCo
Plug:
Did you wrap up your Easter thinking, "I'm tired of being the congregational mumbler" or, "I need to give my kids the music training that I never got?" Or just maybe you said, "If something like the Canadian Gestapo comes to shut down my church, I want them to tremble before God's praises."
If so, it's time for music lessons with Sean Bohnet. Learn to read, create, and understand the craft that our reformed forefathers cherished.
Beginning with voice and piano, Sean teaches kids and adults how to be musically literate. Lessons are available locally in Moscow, ID or online. Oh yeah, he makes the process a lot of fun too.
Contact him at 702-477-9090 for a consultation.
The Whitehouse Defends Michigan:
Play Video:
Idaho lawmakers hear pitch to absorb three-fourths of Oregon
https://www.khq.com/news/idaho-lawmakers-hear-pitch-to-absorb-three-fourths-of-oregon/article_1f7d1056-d3f2-53b4-a42b-3aecc6a45f8a.html
This is fun. According to KHQ:
https://www.khq.com/news/idaho-lawmakers-hear-pitch-to-absorb-three-fourths-of-oregon/article_1f7d1056-d3f2-53b4-a42b-3aecc6a45f8a.html
Idaho lawmakers appeared intrigued but skeptical on Monday when pitched a plan to lop off about three-fourths of Oregon and add it to Idaho to create what would become the nation's third-largest state geographically.
Representatives of a group called Move Oregon's Border For a Greater Idaho outlined their plan to a joint meeting of Idaho lawmakers from the House and Senate on Monday.
The Idaho Legislature would have to approve the plan that would expand Idaho's southwestern border to the Pacific Ocean. The Oregon Legislature and the U.S. Congress would also have to sign off.
Supporters of the idea said rural Oregon voters are dominated by liberal urban areas such as Portland, and would rather join conservative Idaho. Portland would remain with Oregon.
"There's a longtime cultural divide as big as the Grand Canyon between northwest Oregon and rural Oregon, and it's getting larger," Mike McCarter, president of Move Oregon's Border for a Greater Idaho, told Idaho lawmakers.
If everything falls in line with Oregon, supporters envision also adding adjacent portions of southeastern Washington and northern California to Idaho. Backers said residents in those areas also yearn for less government oversight and long to become part of a red state insulated from the liberal influence of large urban centers that tend to vote Democratic.
Idaho Higher Ed Budget
This week the legislatures in my state rejected a budget proposal for our higher education system, because the budget did not address social justice funding. In other words, the legislatures do not want to fund social justice indoctrination through our University system, and this has caused quite the uproar. So the president of University of Idaho, my alma mater, sent out an email obviously unhappy with the legislatures actions.
"In an unprecedented action, special interests have been actively working against passage of the higher education funding bill in the Idaho Legislature…These interests represent a libertarian-based ideology, the principles of which generally do not believe that any public funding should be used for public education. The misinformation and half-truths spread are directly impacting higher education funding by the Idaho Legislature."
President Green goes onto say in his letter:
"They have targeted and tried to redefine issues of diversity, inclusion, and social justice to create an illusion that higher education in Idaho is actively pushing a political agenda wrought with "leftist" indoctrination. You already know, based on your experience and relationship with the University of Idaho, that this is a completely inaccurate description of our institution. Yet, with the help and financial support of interests inside and outside of our state, this narrative gained enough traction to lead our legislators to defeat the higher education funding bill this week."
Well here is my response:
President Green's letter is full of serious errors. I'll give him the benefit of being a newer president, but my experience at University of Idaho was absolutely full of liberal indoctrination in the classroom. I had teachers that would not even respond to my questioning, and I had teachers who outright refused to allow for differing views to be presented in the classroom.
Every year U of I calls me for a donation, and every time I answer that call, I tell the student asking for money, that I am glad to donate to get more conservative speakers on campus. Without fail, the students laugh, not in a condescending way, but in away that they know that will never happen. I always have a good conversation with the fundraising student about the lack of conservative opinion on campus, and they have pretty much always agreed with me, that liberalism is the only accepted dogma allowed to be taught in the classroom.
If President Green is serious about this issue than he should deal with the liberal agenda and social justice movement on his campus, before complaining to the legislatures. And either he should be get informed about what is going on in his classrooms or stop sending out letters that are fraught with factual errors.
Mainstream media has to go, and I can't thank our club members enough for you support in helping us take on this behemoth media world. By God's grace we are hopefully starting to make a dent, and so please tell your friends to join the Fight Laugh Feast club member ranks, share our shows, text them to your friends, and we look forward to seeing you in either South Dakota at the end of this month, or at our national conference in Tennessee September 9th-11th.
Closing
This is Gabriel Rench with Crosspolitic News. Support Rowdy Christian media by joining our club at FightLaughFeast.com, downloading our App, and head to our annual Fight Laugh Feast Conference next fall. With your partnership, together we will fight outdated and compromised media, engage news and politics with the gospel, and replace lies and darkness with truth and light. Go to FightLaughFeast.com to take all these actions. Have a great day. Lord bless