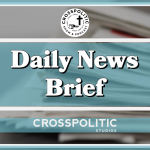 This is Garrison Hardie with your CrossPolitic Daily News Brief for Wednesday, April 19th, 2023.
Let's just start with on this day in history…
On this day in history, April 19th,
1770 British explorer Captain James Cook first sights Australia. Writes in his log book that "what we have as yet seen of this land appears rather low, and not very hilly, the face of the Country green and Woody, but the Sea shore is all a white Sand."

1775 American Revolution begins in Lexington, Massachusetts. The "Shot Heard Round the World" takes place later that day in Concord

Minutemen Capt John Parker orders not to fire unless fired upon

In the early hours of April 19, 1775, Capt. John Parker was alerted to mobilize the Lexington Company of the Middlesex County Brigade, Massachusetts Militia, in anticipation of a British 700-man force that was marching to Concord to capture provincial arms. By 2 a.m. Parker had mustered his company on the Lexington Green. The Lexington Company of militia was typical of the period. The youngest militiaman was 18, the oldest 63; eight fathers and sons served together. Most were farmers, while some were veterans of the French and Indian War. Just after sunrise Parker and his 77 militiamen stood in defiance of the British advance guard. "Stand your ground," Parker ordered. "Don't fire unless fired upon. But, if they want to have a war, let it begin here." Maj. John Pitcairn, commander of the British advance guard, ordered the militiamen to lay down their arms. Realizing that his company was outnumbered, Parker ordered his men to disperse. As the militiamen began to break ranks, a British officer fired his pistol. Without orders, the British troops opened fire. Although greatly outnumbered, the militiamen returned the fire. The battle went on for several minutes, all around the Green. When it was over, eight Americans lay dead and nine were wounded.

1775 New England militiamen begin the siege of Boston, hemming in the British army garrison

1775 Paul Revere, William Dawes and Samuel Prescott are captured by British troops riding from Lexington to Concord, Prescott escapes to warn Concord

1782 John Adams secures Dutch Republic's recognition of the United States as an independent government, a house he purchased in The Hague becomes America's first embassy

1874 Barracks on Alcatraz Island destroyed in fire

1909 Joan of Arc receives beatification by the Roman Catholic Church

1910 Halley's comet seen by naked eye 1st time this trip (Curacao)

1926 30th Boston Marathon won by Canadian Johnny Miles in 2:25:40.4

1943 Jews refuse to surrender the Warsaw Ghetto to SS officer Jürgen Stroop, who then orders its destruction, beginning the Warsaw Ghetto Uprising

1951 General Douglas MacArthur ends his military career
And that, was on this day in history…
Now let's get to current news:
https://www.military.com/daily-news/2023/04/17/us-sails-warship-through-taiwan-strait-after-chinas-drills.html
US Sails Warship Through Taiwan Strait After China's Drills
The United States Navy has sailed a warship through the Taiwan Strait in its first known transit since China carried out an encirclement exercise around self-ruled Taiwan.
The U.S. 7th Fleet said the transit through the strait by the USS Milius on Sunday was routine. The cruisers "transited through a corridor in the Strait that is beyond the territorial sea of any coastal State," the statement said.
Last week China concluded large-scale air and sea drills in the strait in retaliation for Taiwan's President Tsai Ing-wen meeting with U.S. House Speaker Kevin McCarthy on April 5 in California. China said Wednesday that the exercises simulating an encirclement of Taiwan were intended as a "serious warning" to pro-independence politicians on the self-governing island and their foreign supporters.
China protested the transit Monday, saying the U.S. transit was a "public hype" and that the Eastern Theater Command was ready at any time to "resolutely safeguard the country's sovereignty, safety, and regional peace and stability," according to a statement from the Eastern Theater Command's spokesperson Shi Yilu.
China has stepped up its military pressure over Taiwan in recent years, sending fighter jets and navy vessels towards the island on a near-daily basis. After former House Speaker Nancy Pelosi visited Taiwan last August, China sent more and more military vessels over the midline of the Taiwan Strait, an unofficial boundary that had been accepted for decades. That increasing pressure from China has given greater attention to Taiwan globally.
Taiwan's military confirmed a French navy vessel had transited the middle of the Taiwan Strait last week. However, it did not elicit a public protest by the Chinese military.
China earlier had sanctioned the organizations involved with Tsai's visit in the U.S., including the Ronald Reagan Presidential Library, where her meeting with McCarthy and other members of Congress were held. It also sanctioned U.S. Rep. Michael McCaul, the Texas Republican who chairs the chamber's Foreign Affairs Committee, for visiting Taiwan.
On Sunday, China launched a rocket carrying a satellite that dropped debris into waters north of the capital Taipei. While the satellite launch had no obvious military purpose, it disrupted travel, delaying flights.
https://www.newsmax.com/newsfront/chauvin-murder-appeals-court/2023/04/17/id/1116489/
Chauvin Murder Conviction Upheld in George Floyd Killing
The Minnesota Court of Appeals on Monday upheld former Minneapolis police officer Derek Chauvin's second-degree murder conviction in the killing of George Floyd, and let his 22 1/2-year sentence remain in place.
Chauvin's attorney had asked the appeals court to throw out the ex-officer's convictions for a long list of reasons, including the massive pretrial publicity. He also argued that legal and procedural errors deprived Chauvin of a fair trial. But the three-judge panel sided with prosecutors who said Chauvin got a fair trial and just sentence.
Floyd died on May 25, 2020, after Chauvin, who is white, used his knee to pin the Black man's neck to the ground for 9 1/2 minutes. A bystander video captured Floyd's fading cries of "I can't breathe." Floyd's death touched off protests around the world, some of which turned violent, and forced a national reckoning with police brutality and racism.
Minnesota Attorney General Keith Ellison, who assembled the prosecution team, said in a statement that he was "grateful we have a system where everyone, no matter how egregious their offense, is entitled to due process and fair treatment."
"The Court's decision today shows once again no one is above the law — and no one is beneath it," Ellison said.
A voicemail and emails were sent to Chauvin's attorney, William Mohrman. He argued on appeal that the trial judge should have moved the case out of Minneapolis because of extensive pretrial publicity and unprecedented security precautions due to fears of violence.
But Neal Katyal, a special attorney for the state, argued that Chauvin got "one of the most transparent and thorough trials in our nation's history."
Hennepin County Judge Peter Cahill sentenced Chauvin to 22 1/2 years after jurors found him guilty of second-degree murder, third-degree murder and second-degree manslaughter. Chauvin later pleaded guilty to a separate federal civil rights charge and was sentenced to 21 years in federal prison, which he is now serving in Arizona concurrent with his state sentence.
Local defense attorney Mike Brandt, who has followed the case closely, said he was not surprised that the appeals court affirmed Chauvin's conviction and found no errors that would have changed the outcome. Appellate courts give judges wide discretion and are loath to micromanage how they run trials, he said. He added that Cahill created a solid record to justify the decisions he made in a "high-pressure case where literally the eyes of the world were on him."
The appeals court declined to address whether it was legally permissible to convict Chauvin of third-degree murder. The defense said a 2021 Minnesota Supreme Court decision in a different police killing case that clarified the definition of that crime meant the law no longer fit the facts of Floyd's killing. But the appeals court noted that the trial judge never formally adjudicated that conviction nor did he sentence Chauvin on that count.
https://www.theguardian.com/us-news/2023/apr/18/fox-dominion-settle-us-defamation-lawsuit
Fox and Dominion settle for $787.5m in defamation lawsuit over election lies
Fox and the voting equipment company Dominion reached a $787.5m settlement in a closely watched defamation lawsuit, ending a dispute over whether the network and its parent company knowingly broadcast false and outlandish allegations that Dominion was involved in a plot to steal the 2020 election.
The settlement came before scheduled opening statements and after an unexpected lengthy delay Tuesday afternoon just after the jury was sworn in. Neither party immediately disclosed the terms of the settlement other than the dollar amount, and attorneys for Dominion declined to answer questions about whether it requires Fox to issue a retraction or a formal apology.
Opening statements were scheduled to start on Tuesday after a lunch break, but the judge and jurors did not return to the room until close to 4pm. During the more than two-hour delay, attorneys huddled and left the courtroom to convene in adjacent meeting rooms.
After returning to the courtroom, Davis thanked the jurors for their service, and called the efforts by the lawyers on both sides "the best lawyering I've had, ever" in his career on the bench since 2010.
The anticipated six-week jury trial was originally set to begin on Monday, but Davis, the judge overseeing the case, postponed the start of trial by a day as the sides worked to reach a settlement agreement.
The trial in Wilmington, Delaware, was set to be a blockbuster media trial. Rupert Murdoch, the 92-year-old chief executive of Fox, was called to testify in the case, along with top Fox talent including Tucker Carlson, Sean Hannity, Jeanine Pirro and Maria Bartiromo.
Dominion, a relatively obscure company until the 2020 election, sought $1.6bn in damages in the case. It challenged repeated claims made on Fox's air after the general election that Dominion switched votes, paid government kickbacks, and was founded in Venezuela to rig elections for Hugo Chávez.
In the press conference Tuesday, Dominion CEO John Poulos called the settlement historic because of Fox's admission that it was telling lies.
https://townhall.com/tipsheet/katiepavlich/2023/04/17/the-climate-fanatics-have-a-new-food-target-n2622039
The Climate Lunatics Have a New Food Target
Climate change lunatics who want to ban beef and force everyone to eat bugs have a new target.
According to AFP news, climate "scientists" are targeting rice farming as a "dangerous," emissions heavy practice. They say flooded rice fields, which then naturally ferment hay and other plants, produce too much methane.
According to National Geographic, rice is a main and key food source for 3.5 billion people.
"Rice is a food staple for more than 3.5 billion people around the world, particularly in Asia, Latin America, and parts of Africa. Rice has been cultivated in Asia for thousands of years. Scientists believe people first domesticated rice in India or Southeast Asia. Rice arrived in Japan in about 3,000 years ago. The Portuguese most likely introduced it into South America in the 16th century," the magazine reports. "Today, the world's largest rice producers are China, India, and Indonesia. Outside of Asia, Brazil is the largest rice producer. Rice grows in warm, wet climates. It thrives in waterlogged soil, such as in the flood plains of Asian rivers like the Ganges and the Mekong. "Deepwater rice" is a variety of rice that is adapted to deep flooding, and is grown in eastern Pakistan, Vietnam, and Burma."
Meanwhile, Sri Lanka recently adopted a number of climate change policies on reducing fertilizer and caused a major food crisis.
"In April 2021, then-president announced an abrupt ban on the import of chemical fertilisers to force the country of 22mn to embrace organic farming. The prohibition lasted only about six months, but analysts said the ill-fated policy not only stoked an economic crisis, it would leave Sri Lanka's agricultural sector hobbled for years," the Financial Times reports. "Over the past 18 months, the country has become a cautionary tale for global agriculture. Vital inputs such as fuel and fertilisers are in short supply, with prices soaring. Yields from rice and other staples have halved in many areas and the once largely self-sufficient Indian Ocean island now depends on international aid to combat a hunger crisis."
There's no doubt a new climate attack on rice will have a catastrophic impact.