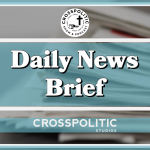 Daily News Brief for Wednesday April 20th, 2022
So Biden told Obama that he is planning on running in 2024, and he probably has already forgotten that… Microsoft, Apple, and Google are in bed with the FBI, nothing new…and the federal transportation masks mandate was illegal this whole time, but who cares.
But first:
Folks are you coming to our next stop May 19th in Phoenix, AZ. Did you know Jeff
Delano Squires will be joining us? Sign up at FightLaughFeast.com, ticket sales will go fast.
Sen. Chuck Schumer celebrates Ketanji Brown Jackson's confirmation from the pulpit of AR Bernard's NYC megachurch during "Resurrection Sunday"
Roll Clip: https://twitter.com/WokePreacherTV/status/1516422087480594440?ref_src=twsrc%5Etfw%7Ctwcamp%5Etweetembed%7Ctwterm%5E1516422087480594440%7Ctwgr%5E%7Ctwcon%5Es1_&ref_url=https%3A%2F%2Fnotthebee.com%2Farticle%2Fchuck-schumer-in-a-pulpit-on-easter-sunday-compared-the-confirmation-of-ketanji-brown-jackson-to-the-resurrection-of-jesus-
Schumer is glad the Johnson amendment does apply anymore! Actually the liberals never followed that rule, only conservative Christians are silly enough to separate pulpit and politics.
Boniface Woodworking DNB:
Boniface Woodworking exists for those who enjoy shopping with integrity; who want to buy handmade wooden furniture, gifts, and heirloom items that will last for generations. From dining tables and church pulpits to cigar humidors and everything in between; quality pieces that you can give your children's children tie them to their roots and transcend the basic function of whatever they are, becoming gifts!
So, start voting with your dollars, and stop buying cheap crap from people who hate you! Visit www.bonifacewoodworking.com to see our gallery, learn our story, and submit your order for heirloom quality wood items.
DOJ secretly spied on Apple and Google accounts of Project Veritas and its security detail
https://reclaimthenet.org/doj-spied-project-veritas-apple-google-accounts/
According to ReclaimtheNet:
"Just a few weeks after Microsoft revealed that President Joe Biden's Department of Justice (DOJ) has been secretly spying on investigative reporting outlet Project Veritas, Apple and Google have revealed that they were also subject to secret surveillance orders that required them to hand over information from the professional and private accounts of Project Veritas and its security detail.
Apple and Google received nine secret subpoenas and warrants from the DOJ between November 2020 and March 2021. These secret subpoenas and warrants required these tech companies to hand over information about Project Veritas and its security detail. The DOJ also compelled Apple and Google not to disclose that they were secretly providing this private information to the government.
Google provided highly sensitive personal information on several Project Veritas employees to the DOJ including their payment information, browsing history, and device media access control (MAC) address (which can be used to identify devices and track their activity).
Two of the DOJ's subpoenas demanded highly sensitive personal information on two Google accounts, one of which was connected to a separate non-Google email address. These subpoenas demanded the account holders':
Names
Addresses
Primary and alternate telephone numbers
Primary and alternate email addresses
Social security numbers
Records of session times and durations
Records of any internet protocol (IP) addresses used by the subscriber at the beginning, end, and at any time during these sessions (which can be used to monitor a subscriber's location and their web browsing activity)
Browser and operating system information
Device media access control (MAC) address
Means and source of payment for services (including any credit card or bank account numbers)
Account notes and logs, including any customer-service communications or other correspondence with the subscriber
Length of service (including start date) and types of service utilized
Investigative files or user complaints concerning the subscriber"
You can find the subpoena here: https://docs.reclaimthenet.org/project-veritas-subpoena-gmail-address.pdf
Lies, Propaganda, Story Telling, and the Serrated Edge DNB:
This year our national conference is in Knoxville, TN October 6th-8th. The theme of this year's conference is Lies, Propaganda, Storytelling and the Serrated Edge. Mark your calendars for October 6th-8th, as we fight, laugh and feast with fellowship, beer and Psalms, our amazing lineup of speakers, hanging with our awesome vendors, meeting new friends, and more. Early bird tickets will be available starting in the middle of March. Head to Fight Laugh Feast dot com to sign up!
WEF Speaker Yuval Noah Harari: "Covid is critical, because this is what convinces people to accept, to legitimize total biometric surveillance…. The next phase is the surveillance going under our skin…. We are really acquiring divine powers"
Roll Clip: https://twitter.com/FMnews_/status/1515446659294982144?s=20&t=uzSSYkPinw7scTg9u-B22A
These people are crazy.
CNN+ looks doomed
https://www.axios.com/discovery-cnn-plus-marketing-layoffs-jobs-b088c03c-b202-4756-8f5f-e64ee77b5095.html
CNN+ launched on Tuesday, March 29 and According to Axios:
"Warner Bros. Discovery has suspended all external marketing spend for CNN+ and has laid off CNN's longtime chief financial officer as it weighs what to do with the subscription streaming service moving forward, five sources tell Axios.
CNN+ executives were originally hoping to attract 2 million subscribers in the first year and 15-18 million over four years, as Axios has previously reported.
Around $300 million has been spent and hundreds of jobs have been created to support the service.
CNN's original plan was for CNN+ to become profitable in four years by investing $1 billion into the service.
CNN+ has roughly 150,000 subscribers so far."
That has to be low, because according to Sensor Tower, CNN+ received only 18,000 downloads on day one, and it is averaging about 9000 per day.
Just look at the money the liberals are throwing at their technology and content. Our network, by the grace of God, has, compared to CCN, drop in the bucket money and we are getting more listens per month than CNN+ right now. This is why we implore you to join the club and support what we are doing, because as we build our club memberships, we really have an opportunity to take over mainstream media in this new digital media world.
Kansas' Governor Just Vetoed Transgender Bill That Bans Men From Competing In Women's Sports
https://notthebee.com/article/kansas-governor-just-vetoed-transgender-bill-banning-men-from-competing-in-womens-sports
According to Not the Bee:
"The Republican legislature in the state of Kansas just passed a bill that would ban men who claim to be transgender from competing against actual women in sports.
These sorts of bills have been passed in many conservative states and Kansas has joined that list of states where Republicans are actually using their legislative powers to fight back in the culture war."
And the New York Times reports:
"Kansas Gov. Laura Kelly shot down two hotly debated Republican bills — one banning transgender athletes from girls' sports, and another forcing schools to let parents challenge classroom curriculum — setting up a fierce campaign conflict for the first-term governor who faces re-election in November.
"We all want a fair and safe place for our kids to play and compete," the Democrat wrote in a Friday veto message on the trans athlete ban. "However, this bill … came from politicians trying to score political points."
What? It is amazing to me, that women politicians are vetoing these bills. Doesn't she know she is a woman? This shows you that sin is blinding, illogical, and destroys itself.
Chocolate Knox gave an explanation on Jason Whitlock's show Fearless on some of the cultural problems at play with free speech and transgenderism:
Roll clip: https://twitter.com/WhitlockJason/status/1516381026645381124
Closing
This is Gabriel Rench with Crosspolitic News. Support Rowdy Christian media by joining our club at fightlaughfeast.com, downloading our App, and head to our annual Fight Laugh Feast Events. If this content is helpful to you, would you please consider becoming a Fight Laugh Feast Club Member? We are trying to build a cancel-proof media platform, and we need your help. Join today and get a discount at the Fight Laugh Feast conference in Knoxville, TN and have a great day. Have a great day. Lord bless