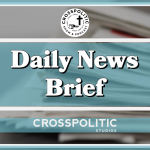 This is Garrison Hardie with your CrossPolitic Daily News Brief for Wednesday, April 26th, 2023.
Before we get to the news today… how about a little on this day in history?
On this day in history… April 26th.
1514 Copernicus makes his 1st observations of Saturn

1564 William Shakespeare is baptized in Stratford-upon-Avon, Warwickshire, England

1607 Jamestown expedition makes first landing in America at a place named Cape Henry, in what would become Virginia, but they quickly depart for a better site

1654 Jews are expelled from Brazil – this was known as the "Capitulation Protocol" -According to the terms of the capitulation protocol of January 26, 1654, Portugal decreed that Jewish and Dutch settlers had three months to leave Brazil. Approximately 150 Jewish families of Portuguese descent fled the Brazilian city of Recife, in the state of Pernambuco. By September, twenty-three of these refugees had established the first community of Jews in New Amsterdam.

1755 1st Russian university opens in Moscow

1859 Dan Sickles is acquitted of murder on grounds of temporary insanity – 1st time this defense used successfully in the US

1865 Confederate General J E Johnston surrenders remaining forces to Union General William Sherman at Bennett Place in Durham, North Carolina, ending the US Civil War

1904 General Kuroko leads the Japanese Army against the large Russian force at the Yalu river during the Russo-Japanese War

1968 Students seize administration building at Ohio State – In 1968, two months before Martin Luther King's assassination, students seized the administration building in a dispute over the right of the campus newspaper to criticize the policies of the university president.

1982 Argentina surrenders to Great Britain on South Georgia Island, near the Falkland Islands – The Falklands War was a ten-week undeclared war between Argentina and the United Kingdom in 1982 over two British dependent territories in the South Atlantic: the Falkland Islands and its territorial dependency, South Georgia and the South Sandwich Islands. The conflict began on 2 April, when Argentina invaded and occupied the Falkland Islands, followed by the invasion of South Georgia the next day. On 5 April, the British government dispatched a naval task force to engage the Argentine Navy and Air Force before making an amphibious assault on the islands. The conflict lasted 74 days and ended with an Argentine surrender on 14 June, returning the islands to British control. In total, 649 Argentine military personnel, 255 British military personnel, and three Falkland Islanders were killed during the hostilities. The conflict lasted 74 days and ended with an Argentine surrender on 14 June, returning the islands to British control.

1982 Rod Stewart is mugged, gunman steals his $50,000 Porsche on Hollywood Boulevard, Los Angeles, California

1986 World's worst nuclear disaster: 4th reactor at Chernobyl nuclear power station in USSR explodes, 31 die, radioactive contamination reaches much of Western Europe
And that… was on this day in history.
https://www.theblaze.com/news/city-of-chicago-forced-to-rehire-pay-lost-wages-to-workers-fired-for-refusing-covid-vaccine-mandate
City of Chicago forced to rehire, pay lost wages to workers fired for refusing COVID vaccine mandate
A Chicago judge recently ordered the city to rehire and pay lost wages to workers who were fired for refusing to comply with Democratic Mayor Lori Lightfoot's 2021 COVID vaccination mandate.
On April 19, administrative law Judge Anna Hamburg-Gal ruled that Chicago violated the Illinois Public Labor Relations Act by failing and refusing to bargain in good faith over COVID vaccine requirements for city workers.
The city was ordered to "make whole" unionized workers who refused the mandate and lost pay and benefits. The affected employees will also receive 7% annual interest on lost wages.
The order applies to city workers, including carpenters, bricklayers, plumbers, electricians, machinists, and operating engineers, represented by trade unions or by the American Federation of State, County and Municipal Employees.
The judge's ruling does not affect police officers. However, the Fraternal Order of Police has its own pending case before the state board.
Lightfoot stated in 2022 that 16 police officers were placed on no-pay status after failing to abide by the vaccine mandate.
In response to the judge's recent ruling, AFSCME spokesperson Anders Lindall told the Chicago Sun-Times, "We think it's a strong decision and favorable for worker rights generally."
A Chicago Federation of Labor spokesperson stated that the judge's order "defends the rights of workers to have a say in their workplace through collective bargaining."
Lightfoot announced in 2021 that all city employees must be fully vaccinated by October and warned that those who refused would face "consequences."
According to Hamburg-Gal's ruling, "multiple" city employees were placed on non-paid leave for missing the October deadline, and some were terminated.
In a statement to Fox News Digital, a spokesperson for the mayor's office said, "The record before the Administrative Law Judge tells a completely different story. Yesterday's ruling was an erroneous decision that does not follow the law, facts nor importantly the science. We are currently reviewing the ruling and evaluating next steps."
Lightfoot, the first Chicago mayor to lose a re-election bid in 40 years, will be replaced by Democrat Brandon Johnson on May 15.
https://www.theepochtimes.com/fbi-faces-growing-pressure-to-release-nashville-school-shooters-manifesto_5216890.html?utm_source=partner&utm_campaign=BonginoReport
Officials Face Growing Pressure to Release Nashville School Shooter's Manifesto
Law enforcement officials are facing increasing pressure to release the manifesto of Nashville, Tennessee, school shooter Audrey Hale, with a U.S. lawmaker accusing the federal government of delaying its release.
Local officials said that Hale, a female who used transgender pronouns, left behind a suicide note, journals, and other materials. However, none of that has been released to the public, and a motive hasn't been publicly identified in the case.
MNPD "is leading this investigation … any and all information that may or may not be released will be at the direction of MNPD," an FBI spokesperson told The Epoch Times on April 24.
MNPD officials didn't respond by press time to a request by The Epoch Times for comment.
Rep. Tim Burchett (R-Tenn.) and several other Republicans have also called for the document to be released to the public.
The shooter's notes "could maybe tell us a little bit about what's going on inside of her head," Burchett told the New York Post. "I think that would answer a lot of questions."
Meanwhile, Rep. Andy Ogles (R-Tenn.) told the paper that if the documents don't make it to the public, "then we need to investigate why."
Hale, 28, was a former student at The Covenant School, where she fatally shot three children and three adults on March 27.
Hale was killed by police within minutes of the first call of an active shooter.
Since the shooting, a range of conservative commentators have publicly called for Hale's manifesto to be made public and have accused the federal government of delaying its release as part of a coverup to keep the public from knowing about the dangers of transgenderism. About a week after the Nashville mass shooting, a 19-year-old male who reportedly identified as female was arrested in Colorado with detailed plans for several school shootings.
Days after the shooting, Nashville Police Chief John Drake said that Hale was suffering from mental health issues and was under a doctor's care for an unspecified emotional disorder. Her parents didn't know that she had multiple weapons hidden in the house, Drake added.
The Metro Nashville Police Department said in a statement earlier this month that Hale's writings would be "under careful review by the MNPD and the FBI's Behavioral Analysis Unit based in Quantico, Virginia," while the "motive for Hale's actions has not been established and remains under investigation by the Homicide Unit in consultation with the FBI's Behavioral Analysis Unit."
From that statement, it isn't clear when—or if—Hale's writings will be released. But the department said that Hale "considered the actions of other mass murderers," without elaborating.
FBI officials didn't respond by press time to a request by The Epoch Times for comment.
https://thepostmillennial.com/antifa-members-arrested-after-allegedly-attacking-protestors-outside-of-fort-worth-family-friendly-drag-show?utm_campaign=64487
Antifa members arrested after allegedly attacking protestors, police outside of Fort Worth 'family-friendly' drag show
On Sunday, three members of Antifa were arrested outside of a Fort Worth, Texas family-friendly drag show after allegedly attacking protestors of the event.
Samuel Fowlkes was arrested on charges of resisting arrest, search, or transport, assaulting a peace officer, evading arrest or detention, and four counts of assault causing bodily injury, according to booking documents.
https://twitter.com/i/status/1650261782542315520 – Play Video 0:00-0:25
What you just heard in that audio clip, was another antifa member being arrested after they attempted to "de-arrest" a fellow antifa member from the back of a police cruiser.
Fowlkes, who is being held on $22,500 bail, has been revealed to identify as nonbinary.
Meghan Grant was arrested on charges of resisting arrest, search, or transport, and interfering with public duties.
Christopher Guillott was arrested on charges of assaulting a peace officer and interfering with public duties.
The incident occurred outside Fort Brewery and Pizza, which held the drag brunch on Sunday. In an event description, the brewery stated, "This is the perfect event to celebrate a special occasion with your friends, family, or coworkers, or to simply indulge in a fun-filled day out with your loved ones."
The three arrested are reportedly part of the Elm Fork John Brown Gun Club, members of which are frequently armed at protests and riots. The group is currently advertising its CashApp account on Twitter to raise bail for the arrested members.
A CashApp spokesperson told The Post Millennial, "Customer security is our number one priority. Our team takes all security concerns seriously and will take action when appropriate."
The group claimed that the arrested members were "trying to aid an injured drag defender."
Protect Texas Kids, one of the groups protesting the event, said that Antifa members "were outside assaulting police officers and macing members of [the New Columbia Movement] who were peacefully praying.
On to politics…
https://www.washingtonexaminer.com/news/white-house/biden-will-veto-mccarthys-debt-limit-package
Biden will veto McCarthy's debt limit package, White House announces
President Joe Biden will veto House Speaker Kevin McCarthy's (R-CA) debt limit bill, should it pass both chambers of Congress.
Biden's Office of Management and Budget released a Statement of Administration Policy Tuesday morning indicating that the administration "strongly opposes the Limit, Save, Grow Act of 2023, which is a reckless attempt to extract extreme concessions as a condition for the United States simply paying the bills it has already incurred."
"The President has been clear that he will not accept such attempts at hostage-taking. House Republicans must take default off the table and address the debt limit without demands and conditions, just as the Congress did three times during the prior Administration," the statement continued. "The bill stands in stark contrast to the President's vision for the economy. The President's Budget invests in America, lowers costs for families, grows the economy, and reduces the deficit by nearly $3 trillion by asking the wealthy and large corporations to pay their fair share. Therefore, if the President were presented with the Limit, Save, Grow Act of 2023, he would veto it."
https://thepostmillennial.com/tucker-carlsons-executive-producer-follows-him-in-exit-from-fox-report?utm_campaign=64487
Tucker Carlson's executive producer follows him in exit from Fox
Tucker Carlson's executive producer Justin Wells is also leaving Fox News, according to Jack Posobiec.
The announcement of Carlson's leaving was made on Monday, after his last show was on Friday, April 21. Fox News Tonight will now feature rotating personalities as an interim show until a new host is named.
Carlson's departure comes just weeks after a former booker, Abby Grossberg, sued Fox, citing "vile sexist stereotypes" working for Carlson. Grossberg claims that she was fired after filing a lawsuit that claimed Fox lawyers coerced her into giving misleading testimony in the Dominion case.
Fox maintains that she was fired for divulging privileged information.
The decision to part ways with Carlson came less than a week after the broadcaster and Dominion Voting Systems reached a $787 million settlement, although his show was not a main focus of Dominion's lawsuit.
Carlson's show was frequently the top-rated show on cable news, often surpassing 4.5 million viewers per episode.
The show premiered in November 2016 and took over the coveted 8 pm EST time slot in 2017. Fox News Media is currently the number one network in all of cable and reaches nearly 200 million people each month.