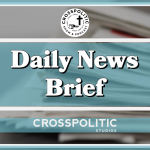 News Brief for Wednesday 04/27/2022
Twitter Twitter Twitter. It is the news cycle! But first,
CWWI DNB:
This ad is for those looking for something other than a four-year college degree. College is great! But it's not for everyone. Cornerstone Work & Worldview Institute seeks to fill that gap. Their mission is to build kingdom culture in the workplace through their integrative program of worldview instruction and on-the-job skills training under the guidance of mentors. They offer courses in Bible, theology, and economics as well as business, project management, and marketing and more. They also provide their students with internships with one of their business partners so they can learn and gain practical skills. Cornerstone Work & Worldview Institute invites you to join their mission to provide Christians another educational opportunity. Together we can help our students grow confident in their faith and competent in their labor. Visit them at cornerstonework.org to learn more, to enroll, or to partner with them.
By now you know Elon Musk has purchased, actually closes in about six months, twitter! I asked my friend, David Bahnsen, why did Twitter sell, and here is what he said:
"Because once he secured the financing and then went for a tender, they were cornered. They then were stuck with a fiduciary duty to do what is best for shareholders. Before he had financing they had no fiduciary duty to reply. To make the case that the offer under-valued the company was too risky. All the social media companies are getting hammered. Twitter will surely announce an awful quarter this week (they know that). If he didn't get the financing (binding) and didn't force a tender offer, they had the leverage. Once he did, they had only one choice and it was to find another buyer at that price or higher. They couldn't do so."
Well here is what the liberals think about this.
Roll Clip: https://twitter.com/libsoftiktok/status/1518828430988435456?s=20&t=CFz_qe7kDXOTegCHb7xm3g
You know we have said that the reason why liberals do not condemn communist China, is because communist China is the direction they want our country to head. A lot of these videos are being recorded on TikTok, which is owned by the chinese. So, they run from twitter, because capitalist Elon Musk believes in free speech, all the while they cozy up to communist China and TikTok.
One thing Elon needs to do once he gets the reins over at twitter, and that is to fire all 12 floors. Take a look at this graph. This graph comes from Vox, which in 2018 found that over 98% of Twitter employees donated to democrat campaigns. In fact, of the top 20 tech companies, their employees overwhelmingly donated to democratic campaigns. The most interesting finding, you may or may not be surprised, is that as a company, not speaking of individual employees, but as a company Tesla about 80% of their PAC donations went to democrat pacs.
https://www.vox.com/2018/10/31/18039528/tech-employees-politics-liberal-employers-candidates
Fight Laugh Feast Magazine
https://flfnetwork.com/product/fight-laugh-feast-magazine/
Look if you are going to survive the liberal-twitter-meltdown apocalypse, you need two things: 1) your bible, and 2) Our Fight Laugh Feast Magazine. Our magazine is a quarterly issue that packs a punch like a 21 year Balvenie, no ice. We don't water down our scotch, why would we water down our theology? Order a yearly subscription for yourself and then send a couple yearly subscriptions to your friends who have been drinking luke-warm evangelical cool-aid. Every quarter we promise quality food for the soul, wine for the heart, and some Red Bull for turning over tables. Our magazine will include cultural commentary, a Psalm of the quarter, recipes for feasting, laughter sprinkled throughout the glossy pages, and more.
The liberals are already talking about shadow banning and social media's influence on elections. Listen to
Roll Clip: https://twitter.com/bennyjohnson/status/1518777886668374016?s=20&t=p7PMbznjx9SrJmMI1ZOEow
Wait. Which party's president was banned on Twitter? Remember Hunter Biden's laptop story was banned on twitter. The liberals are fine doing this when they are in charge, which tells you that liberals will do anything to remain in power, including owning the hypocrisy.
Yesterday Twitter had a company wide meeting, where I am sure they handed out coloring books, and kittens to relieve stress from dealing with job insecurity.
https://www.politico.com/news/2022/04/26/twitters-top-lawyer-reassures-staff-cries-during-meeting-about-musk-takeover-00027931
Well according to Politico:
"Shortly after billionaire Elon Musk bought the powerful social media platform, top Twitter lawyer Vijaya Gadde called a virtual meeting with the policy and legal teams she oversees to discuss what the new ownership could mean for them.
Gadde cried during the meeting as she expressed concerns about how the company could change, according to three people familiar with the meeting. She acknowledged that there are significant uncertainties about what the company will look like under Musk's leadership.
Twitter spokesperson Trenton Kennedy said Gadde became emotional when discussing her team's impact and the pride she feels in them.
Sources confirmed that she spoke at length about how she is proud of the work her team has done and offered employees encouragement, urging them to keep striving to do good work at the company.
Gadde, who has worked at Twitter since 2011, is the key executive charged with overseeing Twitter's trust and safety, legal and public policy functions. She is seen internally as Twitter's "moral authority" and the executive tasked with handling sensitive issues like harassment and dangerous speech.
Gadde played a leading role in negotiating the deal between Twitter and Musk, according to one person familiar with the dynamics.
She has shepherded Twitter through some of its most contentious political battles, including the decisions to remove all political advertising and to boot former President Donald Trump from the platform in the wake of the Jan. 6 attack on Capitol Hill — a position that has earned her devoted fans within Twitter, as well as a large contingent of right-wing critics."
Now think about this. Elon pays $54 million for Twitter, CNN spent over $300 million on the failed launch, and Netflix spend hundreds of millions on content. My big takeaway from all this, is that liberals understand the power of platforms and discipleship, and they willingly put millions and millions into funding these platforms. Christians are missing out on the strategic nature of platforms, and I will tell you this, that I am grateful to our club members because I believe you get this. Some of you have been club members since 2017, and are in this for the long hall with us. And if you are not a subscriber, join the Fight Laugh Feast army and become a subscriber. By the grace of God, He has given us a platform and our goal is to grow and produce Christ-centered content for the whole family. Join the club, join the army, join the fight!
https://flfnetwork.com/product/fightlaughfestclub/
Closing
This is Gabriel Rench with Crosspolitic News. Support Rowdy Christian media by joining our club at fightlaughfeast.com, downloading our App, and head to our annual Fight Laugh Feast Events. If this content is helpful to you, would you please consider becoming a Fight Laugh Feast Club Member? We are trying to build a cancel-proof media platform, and we need your help. Join today and get a discount at the Fight Laugh Feast conference in Knoxville, TN and have a great day. Have a great day. Lord bless