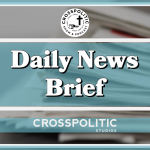 Daily News Brief for Wednesday April 6th, 2022
I am traveling today to Rapid City with the fellas to do a God and Government workshop and a live show with Uncle Gary and Comedian John Branyan will be opening! Please be in prayer for this trip. You can still go here: https://crosspolitic.com/rapid-city/ to sign up! With that said, tickets are now for sale for our show in Phoenix, AZ May 19th! Go here to sign up for that show: https://flfnetwork.com/product/crosspolitic-liberty-tour-phoenix-arizona/. We got some fun guest joining us for that show, and announcements will be rolling out next week. Our live show in Dallas/Fort Worth sold out, so don't wait, go sign up now!
Well, you are probably coming off your March Madness high, Kansas came out with a historic victory, overcoming a 15 point deficit against North Carolina beating them 72 to 69. My bracket was an utter failure
Colorado Governor Signs Bill Codifying the Right to Abortion With No Restrictions
https://www.theepochtimes.com/colorado-governor-signs-bill-codifying-the-right-to-abortion-with-no-restrictions_4383783.html
According to Epoch Times:
"Colorado's governor on April 4 signed a bill into law that makes permanent the right for women to get abortions.
Colorado Gov. Jared Polis, a Democrat, signed HB 22-1279, also known as the Reproductive Health Equity Act, after the Democrat-controlled state legislature approved the legislation.
The bill states that "every individual has a fundamental right to make decisions about the individual's reproductive health care, including the fundamental right to use or refuse contraception" and that "a pregnant individual has a fundamental right to continue a pregnancy and give birth or to have an abortion."
Additionally, the legislation says fetuses, or unborn babies, do not have "independent or derivative rights" in Colorado.
Polis and other supporters said the legislation will help ensure women's rights are upheld even if the Supreme Court strikes down Roe v. Wade.
"No matter what the Supreme Court does in the future, people, women in Colorado will be able to choose when or if they have children," the governor said before signing the bill. "That includes assisted reproduction like IVF and it includes the legal ability to terminate a pregnancy without having to worry about being jailed.""
Oklahoma legislature approves abortion ban
https://justthenews.com/government/state-houses/oklahoma-legislature-approves-abortion-ban
According to Just in the News:
"The Oklahoma House on Tuesday approved a bill that would make performing an abortion punishable by up to 10 years in prison in all cases except to save a mother's life.
The bill passed 70-14 in the state House without any debate, the Associated Press reported. The legislation now heads to Republican Gov. Kevin Stitt, who has said before that he will sign all pro-life bills he can.
The abortion bill passed the state Senate last year. If enacted, a person convicted of performing a medically unnecessary abortion will face a maximum of ten years in prison and a $100,000 fine.
"The penalties are for the doctor, not for the woman," said the Republican sponsor of the bill, Rep. Jim Olsen, the AP reported.
The Oklahoma House passed a near-total abortion ban last month modeled off of the Texas law by allowing private citizens to sue those involved in abortions.
The ACLU decried Oklahoma's abortion legislation on Tuesday."
Iron Apples DNB:
The world in which we live is moving towards total techno tyranny at an incredible rate. This tyranny includes spying, censorship, data theft all through electronic means. Iron Apples is a small cybersecurity consultancy firm seeking to give churches, organizations, businesses, schools and individuals the education, resources and tools needed to be able to circumvent techno tyranny. Over the next year, Iron Apples will be hosting a series of virtual meetings to inform, educate and equip attendees with actual solutions to the problem we find ourselves in. Visit ironapples.com, and click events, in the bottom right corner of their site, to sign up today! That's ironapples.com.
Elon Musk buys huge stake in Twitter
https://www.independent.co.uk/tech/elon-musk-twitter-buy-cost-stock-b2050414.html?utm_content=Echobox&utm_medium=Social&utm_campaign=Main&utm_source=Twitter#Echobox=1649069126
According to the Independent:
"Tesla CEO, Elon Musk, has bought a large stake in Twitter, paving the way for potential turbulence over the social media platform's stance on free speech.
The billionaire bought 9.2 per cent of the company, which is worth almost $3bn (£2.3bn), according to a filing with the US Securities and Exchange Commission.
"Oh hi lol," has been his only tweet since the announcement, which sent shares in Twitter up more than 25 per cent.
Mr Musk is one of Twitter's most popular users, with more than 80 million followers. He is also particularly prolific, using his account to share memes as well as update on his life and his companies."
Do you think Elon will lobby to get Trump back on Twitter?
In other news, Resident Joe Biden invitee former President Barack Obama to the Whitehouse to celebrate Obamacare, and Biden is still not with us:
Roll clip: https://twitter.com/disclosetv/status/1511406895264931840
And then after the talk, apparently everyone wanted to talk to Obama, while no one wanted to talk to Biden:
Roll clip: https://twitter.com/RNCResearch/status/1511410171364454408
Closing
This is Gabriel Rench with Crosspolitic News. Support Rowdy Christian media by joining our club at fightlaughfeast.com, downloading our App, and head to our annual Fight Laugh Feast Events. With your partnership, together we will fight outdated and compromised media, engage news and politics with the gospel, and replace lies and darkness with truth and light. Go to fightlaughfeast.com to take all these actions. Have a great day. Lord bless