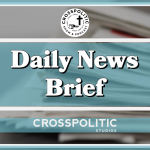 This is Garrison Hardie with your CrossPolitic Daily News Brief for Wednesday, August 10th, 2022. We've got some crazy news to get to today, so let's dive right in…
https://www.politico.com/news/2022/08/08/trump-fbi-maralago-search-00050442
Trump's Mar-a-Lago home searched by FBI in unprecedented move
The FBI executed a search warrant at the Mar-a-Lago estate of former President Donald Trump on Monday as part of an investigation into the alleged mishandling of White House records, including potentially classified material, according to two people familiar with the matter.
The Florida raid, which one of the people said took "hours," resulted in the seizure of paper records, according to one person familiar with the development, who also noted that Trump attorney Christina Bobb was present during the search. It was a historic step by the Justice Department and FBI to investigate the residence of a former president, who is battling an increasingly complex thicket of legal threats. No former president — particularly one who is openly considering another bid for the Oval Office — has faced such a public law enforcement action, which immediately led to calls among his allies for recriminations and even the elimination of federal law enforcement agencies.
"They even broke into my safe," Trump himself said in a lengthy statement decrying the FBI search and comparing it to Watergate. Trump, who was the first to confirm the FBI action, said in a statement that his resort was "under siege, raided, and occupied by a large group of FBI agents."
"After working and cooperating with the relevant Government agencies, this unannounced raid on my home was not necessary or appropriate," Trump said.
The former president was not present at Mar-a-Lago. Instead, he was at Trump Tower in New York City, according to a person familiar with the situation. His son Eric Trump informed him of the raid.
The FBI and the U.S. attorney's offices in Washington didn't immediately respond to requests for comment. Spokespeople at Justice Department headquarters in Washington declined to comment. The U.S. Attorney's Office for the Southern District of Florida, the Secret Service and the Palm Beach Police Department deferred comment to the FBI. Two sources familiar with the matter said top Biden White House officials were not given advance notice of the raid, which could potentially alter the course of both the upcoming midterms and an eventual Trump-Biden rematch in 2024.
Though the investigation of Trump's handling of presidential records has been percolating for months, it has largely remained in the background while the Jan. 6 select committee built a case that Trump committed crimes to disrupt the transition of power after his defeat in the 2020 election. The National Archives and Records Administration had confirmed in February that it had sought to recover 15 boxes of records from Mar-a-Lago that it deemed improperly removed, including some marked as "classified national security information." The Archives confirmed at the time that it had been in touch with the Justice Department about the recovered documents. At the time, the Archives said it had had "ongoing communications" with Trump's team about recovering missing presidential records.
The Archives also indicated that it was working to recover un-archived social media messages and that it had evidence that Trump tore up and destroyed some papers, not all of which were recovered. The Archives also confirmed in December that it was reviewing whether Trump chief of staff Mark Meadows had properly stored records from his personal phone and email accounts.
That investigation has also become an increasingly public threat to Trump, with some of his top allies and former White House officials facing grand jury subpoenas and FBI searches. Earlier in the day, the Justice Department defended its decision to seize the cellphone of John Eastman, the attorney who helped devise Trump's strategy to seize a second term he didn't win.
Federal investigators have pursued evidence that Trump's administration mishandled presidential records and even removed some boxes to Trump's Mar-a-Lago resort.
An executed search warrant would require the signoff of a federal judge or magistrate, who would issue the warrant based upon evidence of a potential crime.
The law enforcement moves at Trump's residence came as lawyers and other observers have been bracing for action this month in politically sensitive Justice Department investigations as prosecutors approach a traditional quiet period for such probes in the lead-up to elections.
Unbelievable… before I get to my next story:
Club Membership Plug:
Let's stop and take a moment to talk about Fight Laugh Feast Club membership. By joining the Fight Laugh Feast Army, not only will you be aiding in our fight to take down secular & legacy media; but you'll also get access to content placed in our Club Portal, such as past shows, all of our conference talks, and EXCLUSIVE content for club members that you won't be able to find anywhere else. Lastly, you'll also get discounts for our conferences… so if you've got $10 bucks a month to kick over our way, you can sign up now at flfnetwork.com
https://www.theepochtimes.com/irs-stockpiles-more-than-5-million-rounds-of-ammunition_4636607.html?welcomeuser=1
IRS Stockpiles More Than 5 Million Rounds of Ammunition
Apparently, the IRS needs a little firepower to help with those audits.
The IRS has stockpiled five million rounds of ammunition and spent $725,000 on bullets this year, according to Florida Congressman Matt Gaetz, who has introduced a bill to block future ammunition purchases by the agency.
The Republican lawmaker announced his sponsorship of the Disarm the IRS Act in a July press release. The bill would ban the IRS from acquiring ammunition through direct purchase or otherwise. The bill awaits a potential vote in the House Ways and Means Committee.
The issue drew national attention after Gaetz appeared on Fox News' Jesse Waters Primetime last week, saying that the IRS had spent $750,000 in 2022 alone on ammunition.
"Call me old-fashioned, but I thought the heaviest artillery an IRS agent would need would be a calculator, not $725,000 worth of ammunition," Gaetz said during his appearance on Fox News.
While people may not think of the IRS needing weapons and ammunition, it has a criminal investigation division with armed law enforcement to pursue tax felons.
A 2018 report from the Government Accountability Office said the IRS's Criminal Investigation Division had 2,148 law enforcement officers, 4,461 weapons—including 15 fully automatic firearms—and 5.05 million rounds of ammunition.
According to the Officer Down Memorial Page, four officers with the IRS have died since 1989 from medical conditions or accidents. None was firearm related.
But the IRS isn't the only governmental agency building up massive caches of guns and bullets.
OpenTheBooks.com, a nonprofit government watchdog group, released a report called "The militarization of the U.S. Executive Agencies" in December 2020, detailing how agencies that people wouldn't normally associate with law enforcement were stockpiling weapons and ammunition.
The Environmental Protection Agency owns 600 guns. At the same time, special agents at the National Aeronautics and Space Administration are equipped with machine guns and AR15s. Even the Smithsonian Institution employed 620-armed "special agents," up from zero officers in 2008, according to the report.
Adam Andrzejewski, CEO & founder of OpenTheBooks.com, told The Epoch Times via email that the public should question why these agencies are armed to the teeth. Not only do they wield legal power, but they are also amassing firepower.
"Just who are the federal agencies preparing to battle?" Andrzejewski wrote.
Andrzejewski said there is no public purpose for rank and file, paper-pushing federal agencies to load up on guns, ammunition, and military-style equipment.
"Our data shows that the federal government has become a gun show that never adjourns. Taxpayers need to tell Washington that police powers belong primarily to cities and states, not the feds," he stated.
Armored Republic
The Mission of Armored Republic is to Honor Christ by equipping Free Men with Tools of Liberty necessary to preserve God-given rights. In the Armored Republic there is no King but Christ. We are Free Craftsmen. Body Armor is a Tool of Liberty. We create Tools of Liberty. Free men must remain ever vigilant against tyranny wherever it appears. God has given us the tools of liberty needed to defend the rights He bestowed to us. Armored Republic is honored to offer you those Tools. Visit them, at ar500armor.com
https://hotair.com/jazz-shaw/2022/08/08/the-media-begins-to-notice-that-were-running-out-of-cops-n488242
The media begins to notice that we're running out of cops
Let's say there's a violent intruder at your door or someone is breaking into your house in the middle of the night. Who ya gonna call? Assuming that you don't have the number for the Ghostbusters, you'll probably dial 911. But in a number of cities, the odds that anyone will be available to respond quickly enough to save you have been dropping. The problem has grown serious enough that even the Associated Press has been forced to cover the story. They begin with an interview with George Spaulding of Portland, Oregon. Five years ago, his son Brian was shot to death in his apartment. Though George checks in with the detective assigned to the case frequently, the police say they still have no leads. But even George admits that the police are simply overwhelmed and they probably just don't have the manpower to assign anyone to really work the case full time. And it's not just Portland where this is happening. Response times to emergency calls are rising and the number of criminal cases being closed are falling in many cities.
From Philadelphia to Portland to Los Angeles, killings and gun violence are rising at the same time officers worn out by the pandemic and disillusioned over the calls to divest from policing that followed George Floyd's murder are quitting or retiring faster than they can be replaced.
Departments are scrambling to recruit in a tight labor market and also rethinking what services they can provide and what role police should play in their communities. Many have shifted veteran officers to patrol, breaking up specialized teams built over decades in order to keep up with 911 calls.
If you read through that entire report, the AP cites statistics and provides quotes from various officials in five cities. Take a look at this list of names and see if you notice anything in common. Portland, Seattle, Los Angeles, Philadelphia, and Baltimore are all cited. It should come as no surprise to most of our readers that these are all cities that were subjected to violent BLM riots during the Summer of Love and all of them later attempted to "defund the police" in various ways.
Now crime rates are up in each of those cities, particularly violent crime rates. Response times are up and case closure rates are down. The police forces in each of those cities have been depleted and they are struggling to find qualified recruits to replace the officers who have left. (Along with the officers who were killed or too seriously wounded to return to duty in some cases.)
Is there any honest person who is having trouble connecting the dots here? The Associated Press gamely quotes one professor from the Crime and Justice Policy Lab at the University of Pennsylvania. He claims that you can't blame the protests and the defunding movement because "crime is up in many areas," even where those things didn't happen. That much may be true, but it's definitely a lot worse in the cities on this list. How can anyone continue to deny this?
Today, we're hearing complaints from disgruntled and frightened citizens. That's understandable. But we should also remember that many of those complaining the loudest also helped elect the municipal officials who put all of these policies in place to begin with and bent to the will of the mob. Now they are reaping what they have themselves sown. If you don't like what's going on in the streets, take some responsibility yourself and work to put new people in charge who will deal with the situation in a serious fashion. Once you do that, you just might be able to convince some new aspiring law enforcement officers to come to work in your cities.
Well, let's shift our eyes over seas now. Did you know that China, is one of the freest countries in the world?!
Nancy Pelosi: "China Is One Of The Freest Societies In The World…" – Play Video
https://thepostmillennial.com/watch-pelosi-says-china-one-of-the-freest-societies-in-the-world?utm_campaign=64487
Pelosi says China 'one of the freest societies in the world'
She cited Freedom House as a source, but Freedom House, however, does not list China as a free country, calling its government an "authoritarian regime" that has "become increasingly repressive in recent years."
Freedom House writes: "The ruling Chinese Communist Party (CCP) continues to tighten control over all aspects of life and governance, including the state bureaucracy, the media, online speech, religious practice, universities, businesses, and civil society associations, and it has undermined an earlier series of modest rule-of-law reforms. The CCP leader and state president, Xi Jinping, has consolidated personal power to a degree not seen in China for decades."
Freedom House considers the small island nation of Taiwan, however, to be "free," ranking 94/100 on its freedom scale. Perhaps this is what Pelosi was referring to, as she just returned from a trip to Taiwan. Pelosi's Taiwan trip was a huge issue for China, which took the opportunity to engage in a massive show of force over the island.
The self-ruling island has faced increased threats of violence from the CCP in recent days following Pelosi's visit to there, to repeated condemnation by the communists. US officials have made clear, though that they do not support an independent Taiwan, despite comments from President Joe Biden that the US would "militarily defend" it.
https://twitter.com/i/status/1554169482242916354 – Play Video
That was John Kirby for those wondering.
https://www.outkick.com/oklahoma-cale-gundy-didnt-want-resignation-football/
'VAST MAJORITY' OF OKLAHOMA PLAYERS DIDN'T WANT CALE GUNDY TO RESIGN: REPORT
Many members of the Oklahoma Sooners reportedly didn't want Cale Gundy to leave the program.
The longtime Sooners assistant resigned from his coaching position after he admitted to reading a "shameful and hurtful" unknown word off a players iPad during a film session.
He announced his resignation late Sunday night after more than two decades as a coach with the program.
Despite his resignation, it sounds like many members of the team didn't want him to leave. Gabe Ikard reported "the vast majority" of players on the roster didn't want Gundy to leave.
However, it sounds like they couldn't sway his mind.
After more than two decades as a coach with the Sooners and several seasons as a dominant QB in Norman, Gundy is gone because he read a player's iPad during a film session.
As Gundy claimed in his statement, they weren't his words. He was reading a message on the iPad.
""I want to be very clear: the words I read aloud from that screen were not my words. What I said was not malicious; it wasn't even intentional. Still, I am mature enough to know that the word I said was shameful and hurtful, no matter my intentions. The unfortunate reality is that someone in my position can cause harm without ever meaning to do so," the former Oklahoma coach told fans in his resignation announcement.
Overall, it seems like this situation spiraled out of control before most people even realized what happened, and that's backed up by the fact most players didn't want him to resign.
What an incredibly bizarre and strange situation within the Oklahoma football program.
This has been your CrossPolitic Daily News Brief… If you liked the show, share it. If you want to sign up for a club membership, for our conference with that club membership discount, or sign up for our magazine, head on over to fightlaughfeast.com. And as always, if you'd like to send me a news story, ask about our conference, or approach us about corporate partnership with CrossPolitic, you can email me at garrison@fightlaughfeast.com. For CrossPolitic News, I'm Garrison Hardie. Have a great day, and Lord bless