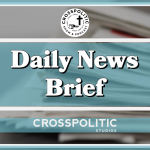 CrossPolitic Daily News Brief for Wednesday August 17th, 2022
While Jill Biden is on her second round of COVID, Joe just got done with his, and Quadruple vaccinated U.S. Defense Secretary Lloyd Austin infected with COVID for the second time this year.
A new Icelandic study shows COVID reinfection rate rises with number of vaccine doses.
The study shows that for most age groups, those who have received two doses or more are more likely to become reinfected than those who have received no vaccination or one dose.
https://jamanetwork.com/journals/jamanetworkopen/article-abstract/2794886
Club Membership Plug:
Let's stop and take a moment to talk about Fight Laugh Feast Club membership. By joining the Fight Laugh Feast Army, not only will you be aiding in our fight to take down secular & legacy media; but you'll also get access to content placed in our Club Portal, such as past shows, all of our conference talks, and EXCLUSIVE content for club members that you won't be able to find anywhere else. Lastly, you'll also get discounts for our conferences… so if you've got $10 bucks a month to kick over our way, you can sign up now at flfnetwork.com
Australian Chief Health Officer says the opposite thing four months apart:
https://twitter.com/Lukewearechange/status/1559334189907947520?s=20&t=nBoDUy2s_WYPBRu-qXp2cQ
COVID CASES USA 7-DAY AVG
101,455 AUG 15 2022
130,871 AUG 15 2021
DEATHS 7-DAY AVG
484 AUG 15 2022
662 AUG 15 2021
Election Day Kicks Off In Wyo. & Alaska
https://www.oann.com/election-day-kicks-off-in-wyo-alaska/
Yesterday Republican voters headed to the polls for primary elections in Alaska and Wyoming. Two highly contentious races are taking place in these states Tuesday.
Alaska Sen. Lisa Murkowski (R-Alaska) is facing opposition from Donald Trump-endorsed Kelly Tshibaka. Murkowski was one of seven senators who voted to impeach the 45th President the second time.
Meanwhile, experts are wondering if Wyoming Rep. Liz Cheney (R-Wy0.) can secure her seat against Trump-endorsed Harriet Hageman. She's one of 10 House Republicans who voted to impeach Trump and she's also one of two Republicans on the January 6 panel. Rep. Adam Kinzinger (R-Ill.) is the other who has come to her defense often.
California church that was fined over $200K for defying COVID-19 restrictions gets fines dropped
https://www.foxnews.com/us/california-church-fined-200k-defying-covid-19-restrictions-fines-dropped
A California church that continued to hold services in defiance of county health orders that it close down during the COVID-19 pandemic has had its fines dropped after a nearly two-year battle.
"This is a significant victory for churches and pastors across this country," Robert Tyler, president of Advocates for Faith & Freedom, said in a press release after the California Court of Appeal reversed an injunction against Calvary Chapel San Jose. "We are honored to represent pastors and churches who are willing to take the heat in defense of liberty because it benefits everyone."
At issue was the church's refusal to comply with health officials in Santa Clara County, who obtained a temporary restraining order and injunction in November 2020 against Calvary Chapel and two pastors, Mike McClure and Carson Atherly, after the church failed to follow pandemic health orders that included restrictions on in-person services, mask mandates, and a submission to the county of the church's social distancing protocols.
The defiance eventually resulted in over $200,000 in fines for the church, which continued to hold worship services as the monetary penalties mounted.
Calvary Chapel's persistence eventually paid off. The California Court of Appeal reversed the injunction, contempt orders, and fines on Monday.
"For the reasons stated below, we conclude that the temporary restraining orders and preliminary injunctions are facially unconstitutional pursuant to the recent guidance of the United States Supreme Court regarding the First Amendment's protection of the free exercise of religion in the context of public health orders that impact religious practice," the court said in the ruling. "As the underlying orders which Calvary Chapel violated are void and unenforceable, we will annul the orders of contempt in their entirety and reverse the orders to pay monetary sanctions."
Dime Payments
Dime Payments is a Christian owned processing payment business. Every business needs a payment process system, so please go to https://dimepayments.com/flf and sign your business up. Working with them supports us. They wont cancel you, like Stripe canceled President Trump. They wont cancel you, like Mailchimp canceled the Babylon Bee. Check them out. At least have a phone call and tell them that CrossPolitic sent you. Go to https://dimepayments.com/flf.
Biden signs $739 billion Inflation Reduction Act into law, slams GOP for voting against the tax, climate deal
https://www.foxnews.com/politics/biden-signs-739-billion-inflation-reduction-act-law-slams-gop-voting-against-tax-climate-deal
President Biden signed the Inflation Reduction Act into law on Tuesday, saying "the American people won, and the special interests lost" with the new legislation and touting Democratic support while slamming Republicans for not backing the bill.
The president returned to the White House after a week-long vacation in Kiawah Island, South Carolina. Biden was joined by House Majority Whip Jim Clyburn and Senate Majority Leader Chuck Schumer during an event in the State Dining Room at the White House.
"With this law, the American people won, and the special interests lost," Biden said Tuesday. "This administration began amid a dark time in America … a once-in-a-century pandemic, devastating joblessness, clear and present threats to democracy and the rule of law, doubts about America's future itself — and yet we've not wavered, we've not flinched, and we've not given in."
Biden said, instead, the law will "deliver results for the American people."
"We didn't tear down. We built up. We didn't look back. We look forward," Biden said. "And today, today, offers further proof that the soul of America is vibrant. The future of America is bright, and the promise of America is real. And just beginning."
The bill, which was passed by the Senate earlier this month and the House of Representatives last week, costs an estimated $437 billion, with $369 billion going toward investments in "Energy Security and Climate Change," according to a summary by Senate Democrats.
Vice President Kamala Harris cast a tie-breaking vote to allow the legislation to pass, 51-50, in the Senate, and the House passed the legislation a few days later.
"I am confident this bill will endure as one of the greatest legislative feats in decades," said Schumer, D-N.Y. "In normal times, getting these bills done would be a huge achievement, but to do now, with only 50 Democratic votes in the Senate over an intransigent Republican minority, is nothing short of amazing."
Schumer thanked Biden for his leadership during the Tuesday event, and he thanked his Democratic colleagues, including Sen. Joe Manchin, D-W.Va., for joining together to pass the package, saying it shows "how dedicated and persistent our caucus is."
Democrats project that the legislation will reduce the deficit by bringing in $737 billion. This includes an estimated $124 billion from IRS tax enforcement, the projected result of hiring 87,000 new IRS agents who will ramp up audits.
The bill also imposes a 15% corporate minimum tax that the Joint Committee on Taxation predicts will raise $222 billion, and prescription drug pricing reform that the Senate estimates will bring in $265 billion.
The Congressional Budget Office said the bill will have "a negligible effect" on inflation in 2022, and in 2023 its impact would range between reducing inflation by 0.1% and increasing it by 0.1%.
Judge declines request to block Georgia's fetal heartbeat law that bans some abortions
https://justthenews.com/nation/states/center-square/fulton-county-judge-declines-request-block-georgias-fetal-heartbeat-law
Fulton County Superior Court judge declined a request to block Georgia's fetal heartbeat law that bans most abortions after six weeks.
Georgia lawmakers passed House Bill 481, the Living Infants Fairness Equality Act, in 2019. However, a federal judge initially blocked the law, commonly called the "Heartbeat Bill," because the U.S. Supreme Court had previously upheld the 1973 Roe v. Wade ruling.
After the U.S. Supreme Court overturned Roe v. Wade, Georgia officials asked the 11th Circuit U.S. Court of Appeals to reverse the district court decision, and a federal appeals judge ruled the law could take effect. The move officials prompted a group of pro-abortion doctors and advocates to file a lawsuit in Fulton County Superior Court.
"The court's decision today declining to block the abortion ban is extremely disappointing and leaves in place a law that severely compromises the quality of women's healthcare in the state of Georgia," Andrea Young, executive director of the ACLU of Georgia, said in an announcement. "Ultimately, the power is with Georgia voters to affirm our right to privacy and to make personal, private and intimate decisions without government interference."
Opponents of the law said the ruling is not final and that it denied immediate "emergency relief" to block HB 481. In a news release, opponents said they planned to continue their fight.
Kara Richardson, a spokeswoman for Attorney General Chris Carr, declined to comment, saying the case is ongoing. Katie Byrd and Andrew Isenhour, spokespeople for Georgia Gov. Brian Kemp, a Republican, did not respond to a request from The Center Square for comment.
This is Gabriel Rench with Crosspolitic News. Support Rowdy Christian media by joining our club at fightlaughfeast.com, downloading our App, and head to our annual Fight Laugh Feast Events. If this content is helpful to you, would you please consider becoming a Fight Laugh Feast Club Member? We are trying to build a cancel-proof media platform, and we need your help. Join today and get a discount at the Fight Laugh Feast conference in Knoxville, TN and have a great day. Have a great day. Lord bless