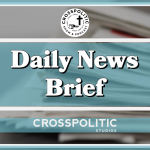 COVID is targeting evangelicals?, Russel Moore and Pastor Walter Kim are turning vaccines into a virtue, and the Afghan debacle is just getting worse. 
I want to introduce you to a new partnership we have with Redballoon.work:
Plug: Redballoon
Not so long ago, the American dream was alive and well. Employees who worked hard were rewarded, and employers looked for people who could do the job, not for people who had the right political views. RedBalloon.work is a job site designed to get us back to what made American businesses successful: free speech, hard work, and having fun. If you are a free speech employer who wants to hire employees who focus on their work and not identity politics, then post a job on RedBalloon. If you are an employee who is being censored at work or is being forced to comply with the current zeitgeist, post your resume on RedBalloon and look for a new job. RedBalloon.work, the job site where free speech is still alive!
To use your FLF discount code, please do the following steps:
Create an employer account.
You get 2 active postings for a month automatically.
For more postings or for postings beyond the first month, click on the pricing tab and purchase one of our posting subscriptions.
Don't forget to put in discount code FLF2021 before placing the order. Discount codes cannot be applied retroactively.
This is why you support CrossPolitic, because of crap like this:
Listen to Reverend Walter Kim, President of the National Association of Evangelicals, and serves as Pastor for Leadership for the Trinity Presbyterian Church in Charlottesville, Virginia, as he shares his belief that the COVID-19 vaccines are gifts from God, and that the Christian perspective of "loving thy neighbor" is an important reason to get vaccinated.
Roll Clip: https://youtu.be/OKXi7lEwajA
In many COVID hot spots, a pattern: High concentrations of white evangelicals
As COVID-19 cases surge again, two things are true about many counties considered hot spots: Vaccination rates are low and white evangelical Protestant populations are high, according to a new data analysis.
Concern about vaccine hesitancy or outright anti-vaccine sentiment among white evangelicals has persisted since at least March, when, according to a poll from Pew Research Center, those who said they were Christian and born-again were far more likely than any other religious group to say they definitely or probably would not get a vaccine.
A full 45% of white evangelicals fit this description. The next-closest religious classification (Americans who list their religious affiliation as "nothing in particular") was a full 9 points lower at 36%, which was also the national average.
Russell Moore, a former Southern Baptist Convention official, told Religion News Service: "Evangelical Christians should be leading the way in thanking God for the cure we spent a year praying for. The least we can do is get our shots so that we can carry on our mission in our communities, without fear of getting anyone sick. Our gospel witness should be contagious; we shouldn't be."
Moore (also) told RNS he has spoken with evangelical doctors "discouraged to the point of exhaustion by the low rates of vaccination among sectors of our fellow Christians," despite pleading for people to get vaccinated.
Victory for Freedom: Unexpected State Declares Churches Will Never Close Again
The "Live Free or Die" state struck a blow for religious liberty Tuesday as Republican Gov. Chris Sununu signed a bill designating churches as essential services.
The Associated Press reported that HB 542 "allows such religious organizations to operate to the same degree as essential businesses during a state of emergency."
The legislation specifies, "Nothing in this section shall prohibit the state government from requiring religious organizations to comply with neutral health, safety, or occupancy requirements issued by the state or federal government that are applicable to all organizations and businesses that provide essential services."
Why did New Hamshire have to do this? Doesn't the Constitution of the United States already do this? And where do the categorical definitions of essential and non-essential come from?
Dallas ISD will continue enforcing mask mandate despite Supreme Court's move against Jenkins' order
https://www.dallasnews.com/news/education/2021/08/15/dallas-isd-will-continue-enforcing-mask-mandate/
Dallas ISD will continue to require masks for all students and staff members, despite a decision Sunday by the Texas Supreme Court that temporarily halted Dallas County Judge Clay Jenkins' public health order requiring masks in public schools and businesses.
"Until there's an official order of the court that applies to the Dallas Independent School District, we will continue to have the mask mandate," Superintendent Michael Hinojosa said late Sunday.
But he said he knows the fight isn't over: "After a court rules, then I will comply, if it's not in my favor."
Rena Honea, the president of teacher union Alliance-AFT Dallas, said her organization would support Hinojosa if he decided to defy Abbott's executive order once again.
"Certainly we're disappointed in the ruling, but not surprised," Honea said. "Obviously, this decision is being made with the health and safety of students and employees in Dallas ISD not considered. We'll support him if he will stay strong and do what's right for these families."
Broward County School Board voted to make masks mandatory in classrooms, in defiance of the governor.
https://www.npr.org/sections/coronavirus-live-updates/2021/08/14/1027730035/broward-county-florida-teachers-covid-coronavirus-deaths?utm_campaign=npr&utm_medium=social&utm_term=nprnews&utm_source=facebook.com
How are these districts defying governors orders and state Supreme Court orders, and we can't get the church to even meet when there are no orders?
New Zealand announces it's locking down the entire country … over one Covid case
https://www.cnn.com/2021/08/17/asia/new-zealand-lockdown-one-case-intl-hnk/index.html?utm_medium=social&utm_term=link&utm_content=2021-08-17T10%3A31%3A05&utm_source=fbCNN&fbclid=IwAR0ckXDxfwmxfQgwaiWoUMgVbuI49xEfjpDGqt_AHrLDRTQ1y2QlSDyP-Lk
Fight Laugh Feast Business Network:
Folks- I have been thinking about this since we have started CrossPolitic, and I think it is becoming even more relevant, than when I first thought of it in 2016. As Christians, we need to form a business network, a sort of Christian economy. We have made you aware that our friends at the Babylon Bee have been canceled from Mailchimp, our friends at Gab have been canceled by, I think, 5 banks in the last year, and so on. We of course have no problem doing business with unbelievers, but the time has come that we need to be intentional with working with each other. I want to find a Christian owned bank, a Christian server farm, a Christian owned hospital, and so forth. So, we want to create a business directory, which will probably go in our club portal or something along those lines (not quite sure how we want to deliver this directory yet), but go and sign your business up to www.FLFnetwork.com/business. We have over a 100 business already signed up, and can't wait to reach 5000 businesses, 10,000, etc…
The "mastermind of the regime change" in Afghanistan is a Taliban commander that Obama traded in 2014 for a U.S. deserter, despite the Pentagon warning he was "too dangerous to release"
https://notthebee.com/article/the-mastermind-of-the-regime-change-in-afghanistan-is-a-taliban-commander-that-obama-traded-in-2014-for-a-us-deserter-despite-the-pentagon-warning-he-was-too-dangerous-to-release-
Back in 2014, the Obama administration traded five key Taliban members who were being held in Guantanamo for a U.S. soldier named Bowe Bergdahl who had deserted his post and gotten captured by the Taliban in 2009.
At the time, people railed against Obama for the stupidity of the decision, saying it was supremely dumb to trade five top enemy soldiers for one AWOL sergeant who had abandoned his duties and his oath.
Congressional investigators from the Governmental Accountability Office also determined that the trade was a violation of the law.
No matter, though! Obama said the "Taliban 5" would be kept in Qatar, which definitely isn't known as a middleman for various Islamist groups and sympathizers.
The "Taliban 5" were quickly back in Afghanistan, where all of them – led by former detainee Khairullah Khairkhwa – just orchestrated the entire takeover of the nation.
Our friend, Matt Walsh, tweeted a video out of our State Deparment saying dumb things:
Roll Clip: https://twitter.com/MattWalshBlog/status/1427389269170180109
Well Matt Zeller, former Afghan vet and co-founder of No One Left Behind, had this to say about Biden's "press conference" that Knox played on his News Brief yesterday:
Make sure you catch the mid-week fix today, as we have guest coming on to talk the Afghan debacle.
Closing
This is Gabriel Rench with Crosspolitic News. Support Rowdy Christian media by joining our club at fightlaughfeast.com, downloading our App, and head to our annual Fight Laugh Feast Conference next fall. With your partnership, together we will fight outdated and compromised media, engage news and politics with the gospel, and replace lies and darkness with truth and light. Go to fightlaughfeast.com to take all these actions. Have a great day. Lord bless