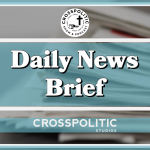 This is Garrison Hardie with your CrossPolitic Daily News Brief for Wednesday, August 24th, 2022.
Club Membership Plug:
Let's stop and take a moment to talk about Fight Laugh Feast Club membership. By joining the Fight Laugh Feast Army, not only will you be aiding in our fight to take down secular & legacy media; but you'll also get access to content placed in our Club Portal, such as past shows, all of our conference talks, and EXCLUSIVE content for club members that you won't be able to find anywhere else. Lastly, you'll also get discounts for our conferences… so if you've got $10 bucks a month to kick over our way, you can sign up now at flfnetwork.com
https://dailycaller.com/2022/08/23/joe-biden-student-loan-forgiveness-announcement/
Biden Reportedly Planning To Issue $10,000 Student Loan Forgiveness For Some Borrowers
President Joe Biden is reportedly set to issue a student-loan announcement Wednesday that could include a $10,000 loan forgiveness plan for borrowers making under $125,000 a year.
CNBC reported that Biden's announcement on student loans could come "as soon as Wednesday." The Wall Street Journal later reported that the administration is in fact making plans for an announcement on that day. The administration has spent months debating the subject of student loan cancellation and officials vowed a decision would come before the end of August.
While the White House has not confirmed official details of Biden's plan, NBC News reported Tuesday that he will likely announce a $10,000 student loan forgiveness for individuals making less than $125,000 a year. Biden is also reportedly planning on extending the current pause on student loan debt payments, NBC News reported, citing sources familiar with the plans.
"The President will have more to say on this before August 31," White House spokesman Abdullah Hasan told NBC News in response to the reports. "As a reminder, no one with a federally-held loan has had to pay a single dime in student loans since President Biden took office, and this Administration has already cancelled about $32 billion in debt for more than 1.6 million Americans — more than any Administration in history."
The White House did not immediately respond to a request for comment from the Daily Caller.
Some members of the Democratic Party are likely to be disappointed with Biden's reported decision. Senate Majority Leader Chuck Schumer and Democratic Massachusetts Sen. Elizabeth Warren, for example, have pushed Biden to cancel upwards of $50,000 in student loan debt. Meanwhile, more left-wing lawmakers like Independent Vermont Sen. Bernie Sanders have called for a full cancellation of student debt, Forbes previously reported.
https://justthenews.com/nation/crime/crime-spiking-upscale-new-york-neighborhoods-nypd-statistics-show
About 36,000 LA Unified Students Missing From First Week of School
About 36,000 students enrolled in the Los Angeles Unified School District (LAUSD)—the second largest school district in the United States—were absent from the first week of school, according to data released by the district.
The data shows 89 percent of students attended the first day of school on Monday, Aug. 15. That number rose slightly to 91.8 percent the following day, climbed to 92.8 percent on Wednesday, and reached its peak at 92.9 percent on Thursday before falling slightly to 91.9 percent on Friday.
The first day's attendance rate was 12 percent up from the 77 percent on the first day of the previous school year.
After nearly half of LAUSD students, or about 200,000, were found in April to be "chronically absent"—defined as having missed more than nine percent of their classes—Superintendent Alberto Carvalho implemented a strategy to reconnect students, including visiting their homes over the summer.
At the time, Carvalho said he planned to launch a program in the 2022–2023 school year that would create a team of counselors tasked with preventing chronic absenteeism though he hasn't announced when the program will start.
The district's high absenteeism rate last year was potentially exacerbated by virtual learning and its COVID-19 protocols, which included a mask mandate for all students and staff, weekly testing for unvaccinated students, and 5 to 10 days of home quarantine for asymptomatic students in close contact with a confirmed coronavirus case.
This school year, the district has loosened most of these restrictions. Though students and staff were required to take a COVID-19 test before returning to campus, weekly asymptomatic testing is no longer required. At-home quarantines for close contacts without symptoms are also no longer required, and masking is now only "strongly recommended," according to updated guidelines released by the district Aug. 2.
https://justthenews.com/nation/crime/crime-spiking-upscale-new-york-neighborhoods-nypd-statistics-show
Crime spiking in upscale New York neighborhoods, NYPD statistics show
While crime is increasing across New York City, upscale neighborhoods are experiencing an even higher spike this year, police department statistics show.
Year to date, the top seven major violent offenses – murder, rape, robbery, felony assault, burglary, grand larceny and motor vehicle grand larceny – have increased by 36.1% from this time period of 2021, according to NYPD statistics.
Manhattan's 6th Precinct, which includes the wealthy neighborhoods of Greenwich Village and the West Village, is seeing an 80.2% increase in the top, seven-major crimes year to date compared to 2021.
Crime has risen 65.5% year to date in the upscale 1st Precinct, which includes SOHO, Tribeca, Wall Street and the World Trade Center.
The increase in those seven crimes is 50.2% so far this year in the most affluent neighborhood in the city, Manhattan's Upper East Side.
Jamal Alnasr, who owns Village Revival Records in Greenwich Village, told CBS News that he has started rarely calling the police because it seems as though anything goes now.
"We need to enforce some laws a little tougher, I guess," he said.
Armored Republic
The Mission of Armored Republic is to Honor Christ by equipping Free Men with Tools of Liberty necessary to preserve God-given rights. In the Armored Republic there is no King but Christ. We are Free Craftsmen. Body Armor is a Tool of Liberty. We create Tools of Liberty. Free men must remain ever vigilant against tyranny wherever it appears. God has given us the tools of liberty needed to defend the rights He bestowed to us. Armored Republic is honored to offer you those Tools. Visit them, at ar500armor.com
https://www.breitbart.com/tech/2022/08/22/trumps-truth-social-app-enjoys-550-increase-in-downloads-following-fbi-raid-of-mar-a-lago/
Trump's Truth Social App Enjoys 550% Increase in Downloads Following FBI Raid of Mar-a-Lago
Former President Donald Trump and his Trump Media & Technology Group reportedly enjoyed a 550 percent increase in downloads of the Truth Social app in the week following the FBI raid of Mar-a-Lago.
The Daily Mail reports that former President Donald Trump's social media app Truth Social saw a huge 550 percent increase in downloads in the week following the FBI raid on his Mar-a-Lago residence earlier this month. Data AI reported that the Truth Social platform has been downloaded approximately 3 million times since its launch.
The app topped the Apple App Store charts in April after a number of technical difficulties with the platform had been resolved. However, despite the major increase in downloads, the app is still dwarfed by social media platforms such as Twitter and Facebook.
On Truth Social, President Trump boasts 3.9 million followers, far less than the 80 million followers he used to have on Twitter. Truth Social saw approximately 2 million downloads in the first two weeks after its launch on February 21, 2022, but due to technical issues including a long wait time to access the site, the app's download rate quickly fell off. Downloads increased in late April when users on waiting lists to access the app were approved to join the platform.
Now it's time for my favorite topic, sports!
https://fox8.com/sports/baker-mayfield-named-starting-qb-for-panthers-vs-browns/
Baker Mayfield named starting QB for Panthers vs Browns
Baker Mayfield will start the Carolina Panthers' Sept. 11 regular-season opener against his former team, the Cleveland Browns.
Panthers coach Matt Rhule made the announcement on the team's website Monday.
Mayfield, acquired in a trade with the Browns earlier this offseason, beat out incumbent starter Sam Darnold for the job. The news was expected as Mayfield had outperformed Darnold during most of training camp.
Elsewhere in the NFL,
LOS ANGELES CHARGERS BECOME FIRST NFL TEAM TO HONOR POLICE ON THE FIELD SINCE 2020
A preseason matchup between the Los Angeles Chargers and Dallas Cowboys featured a presentation Saturday that honored police officers hurt in the line of duty.
Teaming up with Wounded Blue, an organization that highlights damage to police officers hurt on active duty, the Chargers invited members of the organization to the game.
As relayed by Fox News Digital, "Juan Reyes and San Bernardino Sheriff's deputy Marcus Mason fired the 'Heroes Cannon' … to begin the game. Reyes was shot six times during an incident in Studio City, and Mason was wounded in a separate shooting."
"We are honored by the Chargers' support of America's wounded officers," Sutton commented.
"More than 120,000 officers have been attacked in the line of duty over the last 2 years. Too often, America's law enforcement are severely wounded and left to fend for themselves, as 85 percent of departments don't have the resources to deal with the long-term issues they face with their injuries. PTSD and suicide are also at a historic high. Recognizing these officers and providing peer support for them is critical to their recovery."
Amid an increasing amount of violence since the George Floyd-inspired 2020 riots, the NFL has seemingly steered clear of supporting trust and safety between its general audience and pro-police causes.
The Chargers became the first team to invite a pro-police organization since 2020.
This has been your CrossPolitic Daily News Brief. If you liked the show, go ahead and hit that share button down below. If you want to sign up for a club membership, sign up for our conference, or sign up for a magazine subscription, you can do all of that at fightlaughfeast.com, and as always, if you'd like to send me a news story, ask about our conference, or become a corporate partner of CrossPolitic's, email me, at garrison@fightlaughfeast.com. For CrossPolitic News, I'm Garrison Hardie. Have a great day, and Lord bless.