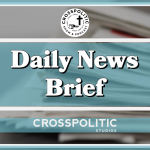 This is Garrison Hardie with your CrossPolitic Daily News Brief for Wednesday, August 30th, 2023.
Fight Laugh Feast Magazine
Our Fight Laugh Feast Magazine is a quarterly issue that packs a punch like a 21 year Balvenie, no ice. We don't water down our scotch, why would we water down our theology? Order a yearly subscription for yourself and then send a couple yearly subscriptions to your friends who have been drinking luke-warm evangelical cool-aid. Every quarter we promise quality food for the soul, wine for the heart, and some Red Bull for turning over tables. Our magazine will include cultural commentary, a Psalm of the quarter, recipes for feasting, laughter sprinkled through out the glossy pages, and more. Sign up today, at fightlaughfeast.com.
https://justthenews.com/government/state-houses/desantis-expands-floridas-state-emergency-hurricane-idalia-make-landfall
DeSantis expands Florida's state of emergency as Hurricane Idalia to make landfall Wednesday
Florida Gov. Ron DeSantis expanded a state of emergency to include more counties as the southern U.S. braces for Hurricane Idalia to make landfall Wednesday.
While 33 of Florida's 67 counties were under the previous executive order, DeSantis' updated order issued Monday now includes 46 counties.
The National Weather Service said Tuesday that Idalia is "expected to rapidly intensify into an extremely dangerous major hurricane" before making landfall.
DeSantis said Monday that Idalia is expected to develop into at least a category 3 hurricane by the time it makes landfall, according to CBS News.
The National Weather Service states that with a category 3 hurricane, "devastating damage will occur," and things such as utilities, trees and well-built homes may incur major damages.
In preparation for Idalia's landfall, DeSantis fully activated the Florida National Guard, and 5,500 are expected to be mobilized to respond to the storm. Additionally, dozens of public schools have closed down and the state government is taking additional steps to ensure people have access to food.
Biden posted Monday on X, the platform formerly known as Twitter, that he spoke with DeSantis "to inform him that we've approved the Emergency Declaration for Florida as they prepare for Hurricane Idalia," and he said, "Florida has my full support as they prepare for Idalia and its aftermath."
https://www.theblaze.com/news/kyle-rittenhouse-sued-by-estate-of-the-child-molester-he-blew-away-in-self-defense
Kyle Rittenhouse sued by estate of the convicted child molester he blew away in self-defense
Kyle Rittenhouse shot three attackers who mobbed him during a leftist riot in Kenosha, Wisconsin, on Aug. 25, 2020. Two of the three are no more. He was cleared of all charges in 2021.
Despite being found not guilty by a jury of his peers, Rittenhouse has since had to fight various efforts to paint him as a villain and to punish him for defending himself.
The most recent attempt comes in the form of a civil lawsuit filed by the convicted child molester Joseph Rosenbaum's estate Friday in the U.S. District Court for the Eastern District of Wisconsin.
Texas Scorecard reported that the suit names Rittenhouse as a defendant along with local sheriff's departments, Kenosha officials, the City of Kenosha, the City of West Allis, and various counties, demanding "compensatory and punitive damages" for the "wrongful death" of Rosenbaum.
The Washington Post noted that Rosenbaum spent most of his adult life in prison after preying upon five preteen boys.
It appears his life on the outside was marked by rage and rootlessness. For instance, one month prior to his demise, Rosenbaum's fiancée, Kariann Swart, pressed charges against him for domestic abuse.
Just hours before catching four bullets, the homeless and bipolar 36-year-old had been released from a hospital following a suicide attempt, reported NPR.
Fresh out of the hospital, Rosenbaum joined in the destructive riots that kicked off in response to the non-fatal police shooting of Jacob Blake, whom state prosecutors indicated had been wanted on a felony warrant and was armed with a knife.
Rittenhouse's lawyers claimed during his murder trial that Rosenbaum attempted to "engage" the youth, at which point Rittenhouse attempted to flee. Rosenbaum gave chase, threw a sack of belongings at him, then, according to witness testimony, attempted to disarm the then-17-year-old by force.
Footage of the incident shows that it was only when the 17-year-old appeared cornered in a car lot did he open fire.
In addition to claiming Rosenbaum was a peaceful protester who "was not a danger to himself or others," the Rosenbaum estate cast Rittenhouse in the lawsuit as a menace who "fired his assault rifle indiscriminately multiple times," despite the 17-year-old's documented restraint and sure aim.
While Rosenbaum can be seen on film chasing down the boy, the suit alleges that "there was no justification for Defendant Rittenhouse to point his weapon at Joseph Rosenbaum."
https://www.foxnews.com/media/federal-judge-dismisses-university-wyoming-students-lawsuit-trans-sorority-member
Federal judge dismisses University of Wyoming students' lawsuit against trans sorority member
University of Wyoming sorority members' lawsuit for the inclusion of a transgender student in their organization was dismissed by a federal judge on Friday.
In March, several current and former members of the University of Wyoming's Kappa Kappa Gamma sorority sued the national sorority to revoke the membership allowing what they described as "peeping" transgender student Artemis Langford. Despite the women's descriptions of Langford's alleged actions, the judge ruled that the school did not violate any policies by allowing the student to join.
"The University of Wyoming chapter voted to admit – and, more broadly, a sorority of hundreds of thousands approved – Langford. With its inquiry beginning and ending there, the Court will not define 'woman' today. The delegate of a private, voluntary organization interpreted 'woman', otherwise undefined in the nonprofit's bylaws, expansively; this Judge may not invade Kappa Kappa Gamma's freedom of expressive association and inject the circumscribed definition Plaintiffs urge," the judge said.
The ruling continued, "Holding that Plaintiffs fail to plausibly allege their derivative, breach of contract, tortious interference, and direct claims, the Court dismisses, without prejudice, Plaintiffs' causes of action."
The lawsuit brought by seven members of Kappa Kappa Gamma claimed that Langford violated sorority policies by joining a sorority despite not being a woman or making efforts to appear female.
https://dailycaller.com/2023/08/29/biden-ukraine-funding-deal/
Biden Seeks Long-Term Military Aid to Ukraine to Prevent Next President From Scaling Back Funding
The Biden administration is seeking to hammer out a long-term Ukraine aid agreement with European allies in hopes of both preventing Russia from gaining an edge on the battlefield and hamstringing a future president's ability to scale back U.S. commitments, The Wall Street Journal reported Tuesday.
The scheme emerged during sideline talks among Group of Seven leaders at a NATO summit in July, and so far involves negotiations between the U.S. and Ukraine, and between the United Kingdom (U.K.) and Ukraine, according to the WSJ. It's an attempt, in part, to convince Russian President Vladimir Putin he can simply wait until a new American administration, as several top GOP political contenders have expressed intention to reduce or eliminate U.S. aid that makes up the brunt of Western support.
Building up Kyiv's defense forces in the long term can theoretically deter Russia from invading again, officials calculated, according to the WSJ.
Former President Donald Trump has maintained a lead in Republican primary candidate polling and could face a second showdown with President Joe Biden in the 2024 election. Trump has claimed he could solve the war "within 24 hours."
At the first Republican primary debate Wednesday, several candidates indicated they would support drawing down aid for Ukraine.
Eighteen countries not belonging to the G-7 wealthy democracies, including the Netherlands and Sweden, have also agreed to the long-term security assistance pledge for Ukraine, according to the WSJ.
European capitals want to cement support and restrict ways countries could renege on pledges, fearing what might happen during a second Trump administration, according to the WSJ. At present, Western European nations lack the industrial and financial capacity to match the billions in annual military aid provided by the U.S.
Since Russia launched a full-scale invasion of Ukraine in February 2022, the U.S. has devoted more than $40 billion worth of weapons and equipment, as well as training and investment into U.S. weapons companies, for the purpose of aiding Ukraine's resistance. The aid has exposed weaknesses in American military readiness and industrial base capacity, provoking criticism that the U.S. should be using those funds to shore up defenses with an eye toward China as the war in Ukraine drags on with no end in sight.
However, the practical workings of the agreement pose significant hurdles to the Biden administration's goals, the WSJ reported, citing officials. A sitting president has limited ability to bind his successor to any initiative or policy.