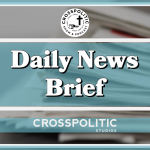 This is Garrison Hardie with your CrossPolitic Daily News Brief for Wednesday, August 31st, 2022. The last day of August is upon us, and that means, Pumpkin spiced coffee drinks are as well… God help us.
FLF Magazine:
We are on a mission to make magazines great again. So, subscribe to our Fight Laugh Feast magazine. This is a quarterly mini-book like experience, packed full of a variety of authors that includes theologically-driven cultural commentary, a Psalm of the quarter, recipes for feasting, laughter sprinkled throughout the glossy pages, and more. Sign your church up, sign your grumpy uncle up, and while you are at it…sign up the Pope, Elon Musks, and Russel Moore.
Disclaimer: This magazine will guarantee various responses and CrossPolitic is not held liable for any of them. Reading the whole magazine may cause theological maturation, possibly encourage your kids to take the Lord's Supper with you, and will likely cause you to randomly chuckle in joy at God's wondrous world. Sign up today! Four issues and $60 per year, that is it. Go to fightlaughfeast.com right now to sign up!.
https://techcrunch.com/2021/01/12/study-finds-around-one-third-of-americans-regularly-get-their-news-from-facebook/
Study finds around one-third of Americans regularly get their news from Facebook
Around a third of Americans regularly get their news from Facebook, according to the latest study from Pew Research Center, whose surveys aim to better understand the current media landscape in the U.S. In the updated report, Pew Research found that around half of U.S. adults, or 53%, said they "often" or "sometimes" use social media to get their news. This is spread out across a number of sites, but Facebook is at the top of the list. Now I'm sure a lot of you already have your alarm bells going off at this point, but don't worry, it gets worse in a bit!
The study found that 36% of U.S. adults said they "regularly" access Facebook to get news. This is a significantly larger percentage than almost any other social media platform, with the exception of YouTube, which is used regularly for news by 23% of U.S. adults.
Beyond that, the percentages are much smaller. Even Trump's preferred platform for communication (well, until recently), Twitter, is only used regularly for news by 15% of U.S. adults, Pew found.
Only around one in 10 Americans or fewer said they regularly got their news from other social media platforms, including Instagram (11%), Reddit (6%), Snapchat (4%), LinkedIn (4%), TikTok (3%), WhatsApp (3%), Tumblr (1%) and Twitch (1%).
Pew notes that the lower percentages for using these sites as a source of news also has to do with the fact that fewer Americans report using these sites at all.
Pew additionally examined the demographic makeup of those who use social media for news, and found that white adults make up the majority of the regular news users for sites like Facebook and Reddit. Both Black and Hispanic adults, meanwhile, made up around a quarter of Instagram's regular users (22% and 27%, respectively.) Facebook was found to also skew toward women (63% versus 35%) when it came to regularly using it getting the news, while Reddit skews toward men (67% versus 29%).
Now, remember how I said it gets worse? Well take a listen to Facebook CEO and lizard-human hybrid, Mark Zuckerberg, on the Joe Rogan Podcast.
Mark Zuckerberg Answers to Facebook's Moderation of Controversial Content-Play 5:02-6:42
I don't know about you, but my b.s. Alarm bells are ringing… Mr. Zuckerberg, you definitely do know the percentage off the top of your head. That's a bold-face-lie. Also, did you catch the part where Mr. Zuckerberg openly admitted the part where the FBI is in the business of fact checking now? That's scary… who fact checks the FBI? Who holds the FBI accountable when they've gone rogue? You have to believe that either the FBI is so inept, or they're lying, and tried to effect the outcome of the election. Who else comes to mind with fact-checking? The World Heath Organization? The CDC? Who's fact checking them? Let's dive into some statistics on the election results…
https://nypost.com/2022/08/26/2020-election-outcome-would-differ-with-hunter-biden-laptop-coverage-poll/
79% say 'truthful' coverage of Hunter Biden's laptop would have changed 2020 election
Nearly four of five Americans who've been following the Hunter Biden laptop scandal believe that "truthful" coverage would have changed the outcome of the 2020 presidential election, according to a new poll.
A similar percentage also said they're convinced that information on the computer is real, with just 11% saying they thought it was "created by Russia," according to the survey conducted by the New Jersey-based Technometrica Institute of Policy and Politics.
And an even higher number — 81% — said US Attorney General Merrick Garland should appoint a special counsel to investigate matters related to the first son's infamous laptop, the existence of which was exclusively revealed by The Post in October 2020.
The poll results, published Wednesday, are based on responses from 437 adults who said they were following the laptop story "very" or "somewhat" closely when they were surveyed online earlier this month, according to the TIPP.
On the subject of the 2020 election, 79% overall said it was "very" or "somewhat" likely that "a truthful interpretation of the laptop" would have resulted in the reelection of former President Donald Trump instead of the election of President Biden.
Among Republicans, 57% were strongly convinced Trump would have won, compared to 48% of independents and just 44% of Democrats.
But majorities in both parties — 89% of Republicans and 61% of Democrats — said they believed the laptop "is real," along with 74% of independents.
I wonder, how the electoral map would have looked with these findings in mind? Hmmmm… I'll leave that to you guys…
Moving on…
https://dailycaller.com/2022/08/30/us-military-ammunition-arming-ukraine/
US Military Running Low On Ammo After Arming Ukraine
Pentagon officials are concerned that U.S. ammunition stocks donated to Ukraine have severely depleted U.S. stocks, weakening U.S. readiness in the event of a conflict, The Wall Street Journal reported Monday.
The Biden administration has drawn much of the over $13 billion in weapons systems and accompanying ammunition the U.S. has provided to Ukraine from existing arsenals, according to the WSJ. While the Department of Defense has declined to disclose the number of ammunition rounds in storage at the beginning of 2022, before the war in Ukraine began, it has taken few steps to replenish depleting stocks, sparking worries that the U.S. may not have the ammunition it needs for its own protection.
The level of 155mm combat rounds, fired by the howitzer weapons system, in U.S. stockpiles has become "uncomfortably low," a Pentagon official told the WSJ. The U.S. has sent 806,000 rounds of the 100-pound explosives to Ukraine as of Aug. 24.
"It is not at the level we would like to go into combat," the defense official told the WSJ. U.S.-supplied howitzers have seen extended use from Ukrainian forces since entering the conflict in late May, Fox News reported.
Last week, the U.S. provided smaller 105mm ammunition to feed Ukraine's howitzers in order to spare 155mm rounds for the U.S., according to the WSJ. The U.S. military most recently employed howitzers in a strike on Iran-backed targets in Syria on Aug. 24.
Depleting U.S. arsenals "was forewarned, including from industry leaders to the Pentagon. And it was easily fixable," Mackenzie Eaglen, a senior fellow at the American Enterprise Institute, told the WSJ.
The Army plans to conduct a "deep dive" into the "ammunitions industrial base" to determine the best way to support Ukraine while retaining necessary supplies for the U.S., Army officials told the WSJ. It has requested an additional $500 million yearly for upgrades to ammunition factories and increasing the threshold on existing production contracts, but has not signed any new contracts.
Officials also said that Chairman of the Joint Chiefs of Staff Gen. Mark Milley authorized monthly reviews of U.S. weapons stores to monitor readiness. However, defense industry leaders said the administration has not clearly communicated the changes in production requirements brought on by U.S. assistance to Ukraine and has not expanded production capacity to make up for the additional munitions needed to replenish stocks.
The Biden administration has requested a record $773 billion defense budget for 2023. While additional funding can alleviate part of the problem, ongoing supply chain issues can make the months or years-long manufacturing process take even longer, according to the WSJ.
Accountable 2U
​​https://Accountable2You.com/FLF
Using a smartphone or computer opens the door to a host of digital temptations. In a world saturated with pornography and other harmful content, what's a Christian to do? We need to take a proactive approach, welcoming transparency in our digital media choices—and Accountable2You makes that easy. Their accountability software shares detailed activity reports from all your devices, and your kids' devices, in real time to the accountability partners that you choose. With accountability in place, your family can effectively guard against temptations online and live with purity and integrity. Learn more and try it free at Accountable2You.com/FLF
https://thepostmillennial.com/oregon-wind-farm-sees-blades-bolts-fly-off-as-failures-mount-report?utm_campaign=64487
Oregon wind farm sees blades, bolts fly off as failures mount: report
A new report has revealed the unreliability of a major Oregon wind farm, discovered after a blade from a windmill detached and flew across the field.
According to The Oregonian, in January, a delivery driver found some broken, industrial-size bolts on the ground near one of Portland General Electric's towering wind turbines but did not know who to tell and used it as a paperweight.
On Feb 1 at 2:11 am, one of the turbine's 11-story tall blades flew the full length of a football field and plowed a 4-feet deep furrow in a wheat field. The heavy-duty bolts that kept the blade attached to the tower scattered like shrapnel.
PGE's flagship wind facility, which opened 15 years ago to expand green energy technology in Oregon and nationally had other warning signs as well according to the outlet but it wasn't until the blade breakdown that the company took action at Biglow Canyon, one of Oregon's largest wind farms, and shut down all 217 turbines for testing, keeping some out of service for four months.
Though industry groups insist that wind farms are very safe and major malfunctions are rare, wind farms are growing older and components are aging.
An investigation by The Oregonian found a massive set of maintenance problems and equipment failures that are reducing electricity generation at Biglow Canyon.
According to the outlet, "there is no effective national, state or county reporting requirement or database tracking safety or operational incidents at wind farms, and only 13 of the largest of Oregon's 48 wind farms are regulated by the state, numbers that include multiple phases of some projects."
Additionally, PGE launched an investigation into the blade throw but has asked the Oregon Department of Energy to keep those confidential until the end of the year because of the possibility of litigation.
To eliminate all its greenhouse emissions, PGE would need to massively increase its renewable energy resources and manage them effectively for decades. However, wind power is heavily dependent on federal subsidies, and according to experts consulted by The Oregonian, "those subsidies are structured in a way that incentivizes operators to skimp on maintenance for older equipment that is no longer eligible."
https://www.boundingintosports.com/2022/08/washington-commanders-rb-brian-robinson-shot-during-attempted-robbery-in-d-c/
And finally, it's time for the topic that I love… sports! Washington Commanders RB Brian Robinson Shot During Attempted Robbery In D.C.
No one is immune from crime in America's cities these days, and this weekend residents of Washington D.C. were especially reminded of that when Washington Commanders running back Brian Robinson, 23, was shot multiple times during an attempted robbery on Sunday.
According to the NFL's Mike Garafolo, Robinson was rushed to the hospital by emergency responders after the violent attack, reporting that "#Commanders RB Brian Robinson is in stable condition after being shot as the victim in an attempted robbery, sources say."
As the news regarding the situation broke, the Washington Commanders followed up by issuing an immediate statement to alert fans that Robinson was alive and safe.
Additional information regarding details from the shooting came later from NFL Network Insider, Tom Pelissero, who was one of the first people to share the information online after receiving a statement from a D.C. Police spokesperson.
According to a report from NBC Washington, Robinson got into an altercation with several suspects shortly after midnight Sunday as they attempted to steal his Dodge Charger SRT Hellcat. It was that altercation which led to the shooting.
Late Sunday night, Commanders Head Coach Ron Rivera met with Robinson and later posted to Twitter that Robinson was in "good spirits" to ease everyone's anxiety regarding his current health.
Robinson is now but one of the many innocent D.C. bystanders who have been victims of violent crime this year alone. According to D.C. Police crime statistics, there have been 126 people killed via homicide just in 2022, which is a 12 percent increase from this time last year.
Violent crimes and cases regarding burglary have also risen five percent since 2021, with robberies up 20 percent, and car thefts up three percent.
Well Praise God this one ended with Robinson walking away.
This has been Garrison Hardie with your CrossPolitic Daily News Brief. If you liked the show, hit that share button down below. If you want to sign up for a club membership, then sign up for our conference with that club discount, and THEN sign up for a magazine, you can do all of that at fightlaughfeast.com. And as always, if you'd like to email me a news story, ask about our conference, or become a corporate partner of CrossPolitic, email me, at garrison@fightlaughfeast.com. For CrossPolitic News… I'm Garrison Hardie. Have a great day, and Lord bless!