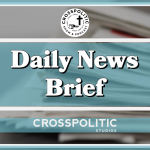 This is Garrison Hardie with your CrossPolitic Daily News Brief for Wednesday, August 3rd, 2022. Today we've got drama overseas, as Nancy Pelosi defies China's warnings, in her visit to Taiwan… Then close to home, the DOJ sues Idaho over law imposing a 'near total ban on abortion'… this and more on this news brief…. But first:
Dropwave
Do you have a podcast, or thinking about starting one? Does your church have a podcast feed for sermons? The Dropwave.io is for you. Cancel culture is like walking on a thin glass bridge over the Grand Canyon. Every step you take could get you killed, I mean canceled. Since the beginning CrossPolitic has been working on being antifragile, so no matter what happens, our content can still be delivered to your tv and to your podcast. This past year, the Waterboy and his friend Jeremi, have been working on building a podcast hosting solution for rowdy platforms like CrossPolitic, so that you can be confident your podcast will never fall through that glass bridge. Dropwave offers seamless onboarding for shows that have been around for years to easy to use solutions for starting your own podcast. Dropwave will track all your show's downloads by city, state, and country, and it offers network and enterprise packages for solutions like the Fight Laugh Feast Network. Free to speak, Free to podcast, free to start your journey now at www.Dropwave.io.
Alright, back to China… they're not happy with Nancy Pelosi… who is though?
https://www.foxnews.com/world/china-furious-pelosi-lands-taiwan-promises-all-necessary-measures-defend-itself
China furious after Pelosi lands in Taiwan, promises 'all necessary measures' to defend itself
The People's Republic of China released a lengthy statement Tuesday condemning the arrival of House Speaker Nancy Pelosi to the island of Taiwan.
China's Ministry of Foreign Affairs published the statement, in which the Chinese government accuses Pelosi, D-Calif., of undermining U.S.-China relations and encouraging the "separatist forces for 'Taiwan independence.'"
Pelosi landed in Taiwan late Tuesday night local time, making her the highest-ranking U.S. official to visit the island since Newt Gingrich in 1997.
"This is a serious violation of the one-China principle and the provisions of the three China-U.S. joint communiqués. It has a severe impact on the political foundation of China-U.S. relations, and seriously infringes upon China's sovereignty and territorial integrity," the Ministry of Foreign Affairs wrote. "There is but one China in the world, Taiwan is an inalienable part of China's territory, and the Government of the People's Republic of China is the sole legal government representing the whole of China."
The People's Republic of China has long claimed sovereignty over Taiwan and the Taiwan Strait, the relatively narrow strip of ocean between the island of Taiwan and the Chinese mainland. The Chinese military has frequently sent planes into the area, testing Taiwan's air defense zone.
The USS Ronald Reagan and a strike group are currently positioned near Taiwan after they left a port in Singapore on Tuesday. A Navy spokesperson confirmed the news but said it was a planned trip.
Pelosi is traveling with a House delegation that includes Democratic Reps. Gregory Meeks of New York, Mark Takano of California, Suzan DelBene of Washington, Raja Krishnamoorthi of Illinois and Andy Kim of New Jersey.
Here's more from Fox News on this developing situation: China issues new threats after Pelosi lands in Taiwan-Play 0:52-2:30
The world awaits… it's going to be interesting to see what our Lord has in store through this situation developing in Taiwan…
Let's shift our eyes back to the U.S. as Idaho is in the news…
https://www.washingtonexaminer.com/news/justice/doj-sues-idaho-over-state-law-near-total-abortion-ban
DOJ sues Idaho over law imposing 'near-total ban' on abortion
The Justice Department filed a lawsuit against Idaho over the state's law banning abortion after six weeks, Attorney General Merrick Garland announced Tuesday.
The legal filing marks the first time President Joe Biden's Justice Department launched a challenge against a state for abortion restrictions since the landmark June 24 Dobbs v. Jackson Women's Health Organization decision overturned a half-century of abortion access precedent, which the president decried as a "realization of an extreme ideology and a tragic error by the Supreme Court."
The suit, filed in the U.S. District Court for the District of Idaho, contends that the federal Emergency Medical Treatment and Labor Act preempts the state law. The federal law requires physicians to perform medically stabilizing abortions in an emergency.
Garland explained there are circumstances in which abortion is "necessary" if a patient is undergoing an unstable condition during pregnancy.
Associate Attorney General Vanita Gupta, who leads the reproductive rights task force, said the DOJ is seeking a declaratory judgment that Idaho's law "violates the supremacy clause of the United States Constitution and is preempted by federal law where it conflicts with EMTALA."
The federal agency's lawsuit noted that the state has "passed a near-absolute ban on abortion," which after taking effect on Aug. 25 will make it a criminal offense to perform an abortion "in all but extremely narrow circumstances."
Health and Human Services Secretary Xavier Becerra also released a statement following the DOJ's announcement, saying the department will continue to partner with the DOJ to enforce federal laws protecting healthcare "including abortions."
Meanwhile, the Idaho Supreme Court is slated to hear arguments Wednesday on challenges over its near-total abortion ban, according to the Idaho Press. Attorneys for Idaho will seek to protect three separate restrictive abortion laws passed by the state.
Ladies and gentleman, please keep our state in your prayers as a legal battle takes center stage. We wish to see this abomination of abortion brought down in Idaho, and this would be a huge step.
https://www.cnn.com/2022/08/01/health/california-newsom-state-of-emergency-monkeypox/index.html
Elsewhere in the US, California and Illinois declare states of emergency over monkeypox outbreak
This is from CNN. The governors of California and Illinois declared states of emergency to bolster their monkeypox vaccination efforts as the virus spreads nationwide.
Monday's declarations come as more than 5,800 probable or confirmed cases of monkeypox have been reported in the US. California had more than 800 cases Tuesday, while Illinois had more than 500, according to data from the US Centers for Disease Control and Prevention.
While the World Health Organization has declared the monkeypox outbreak a public health emergency of international concern, the Biden administration has not issued a nationwide public health emergency declaration.
California is the third and largest state to issue a statewide declaration related to the disease. New York was the first to do so.
California's move allows emergency medical services personnel throughout the state to administer FDA-approved monkeypox vaccines, expanding the pool of people able to inoculate residents against the virus even as a vaccine shortage persists.
Illinois' declaration also will make more resources available to combat the virus, Gov. J.B. Pritzker said. The Chicago and state public health departments announced Illinois' first presumptive case June 2.
Monkeypox is a poxvirus, related to smallpox, that usually causes pimple- or blister-like lesions, as well as flu-like symptoms such as fever, headaches, muscle aches, chills and respiratory symptoms, according to the CDC.
And guys, great news, I found out a great way to avoid Monkey Pox, here it is… don't be gay! Be heterosexual, and find a godly man or woman to marry, and you're home free! Yes I realize it's probably not that simple. But anyways…
California has received more than 61,000 vaccine doses so far and distributed more than 25,000, according to the governor's news release. Los Angeles County has received its own vaccine allocation, and state officials said California will make additional allocations in the coming weeks.
Last week, Sodom… oh wait I mean, San Francisco became the first major US city to declare a local health emergency on monkeypox.
Now hidden towards the bottom of CNN's article is this following paragraph: "A large number of cases in this outbreak have been in men who have sex with men, including gay and bisexual men, and public health officials are focusing their prevention efforts on this group. The virus is not unique to this community, but the nature of its close-contact spread has led to a disproportionate impact."
Following the emergency declaration in California, Equality California, a major LGBT rights nonprofit organization, applauded the governor's move, noting in a statement that the virus "continues to disproportionately affect gay, bisexual and queer men here in California and across the country."
Hey speaking of gays, are you being discriminated against at your work place because you hold to the Bible? Then you need to talk to my friends at RedBalloon.work.
Redballoon
Not so long ago, the American dream was alive and well. Employees who worked hard were rewarded, and employers looked for people who could do the job, not for people who had the right political views. RedBalloon.work is a job site designed to get us back to what made American businesses successful: free speech, hard work, and having fun. If you are a free speech employer who wants to hire employees who focus on their work and not identity politics, then post a job on RedBalloon. If you are an employee who is being censored at work or is being forced to comply with the current zeitgeist, post your resume on RedBalloon and look for a new job. redballoon.work, the job site where free speech is still alive!
Alright, enough of that happy stuff from our friends at reballoon, let's get back to our corrupt society!
https://dailycaller.com/2022/08/01/phillip-magness-facebook-recession-fack-check/
'Orwellian Hellscape': Top Economist Says Facebook Fact-Checked Recession Claim To Cover For White House
A top economist slammed Facebook's "Orwellian" fact-checking system after he was given a "partly false" rating for stating the U.S. entered a recession.
Dr. Phillip Magness, the research and education director at the American Institute for Economic Research, shared a screenshot of a recent post from July 24 that Facebook fact-checked.
"Independent fact-checkers reviewed the photo and said it was partly false," the fact-check read. "Facebook added a notice to the post."
Magness called the fact-check "Orwellian."
"We live in an Orwellian hell-scape," Magness posted. "Facebook is now 'fact-checking' anyone who questions the White House's word-games about the definition of a recession."
Magness furthered his assertion in a recent Wall Street Journal (WSJ) op-ed that the U.S. is, in fact, in a recession, and that the Biden administration is trying to cover it up by "playing word games."
Newly released data shows the real GDP decreased at an annual rate of 0.9% in the second quarter of 2022, marking the second consecutive quarter of negative GDP growth. While the National Bureau of Economic Research (NBER) uses several factors to determine whether the U.S. is in a recession, economist Julius Shiskin wrote in 1974 that two consecutive quarters of declining GDP is a good rule of thumb to define a recession, with that definition becoming somewhat of a standard.
The White House has gone out of its way to deny that the economy is in a recession, with President Joe Biden declaring Thursday the state of the economy "doesn't sound like a recession."
The White House also posted a blog that said the NBER indicated there is a "strong growth in the U.S. economy" and therefore the current state of things does not indicate a recession.
Things have become so confusing that Wikipedia had to place a pause on editing the term "recession" after the definition was altered 41 times within roughly one week. Users repeatedly deleted the technical definition that described a recession as having two consecutive quarters of negative GDP growth.
So, you guys know me… I love to end my segments with my favorite topic, sports! Well today I'm not going to talk about sports, I'm going to talk about NASCAR. Oh zinger! Now I know… I know… your body goes through a lot of stress in NASCAR, I get it… let's just get into the story…
Ty Dillon After Getting Run Over By Kyle Larson: "Luckily The Good Lord Was Keeping An Eye Out For Me, Keeping Me Safe"
Ty Dillon thanked God for keeping him safe after Kyle Larson slammed into during the events of the NASCAR Cup Series race at Indianapolis Motor Speedway.
Larson ran over Dillon going around 170 mph coming into the sharp right hand turn 1. As Larson attempted to make the corner with Dillon on his outside, he launched over the curb into Dillon's door.
Kyle Larson has issue, slams into Ty Dillon at Indy– Play 1:35-2:26
Well Thank God both drivers were okay. As I've said before you can find all of the articles and sources for our newsbriefs in the show notes, and you'll be able to see the crash for yourselves, and it could have been a lot worse.
This has been your CrossPolitic Daily News Brief… If you liked the show, hit that share button for me would ya? If you want to sign up for a club membership, sign up for our conference, or become a magazine subscriber, you could do all of that at fightlaughfeast.com, and if you want to reach out to me about corporate partnerships, our conference, or just a news story you want me to cover, email me at [email protected]… For CrossPolitic news, I'm Garrison Hardie. Have a great day, and Lord bless.