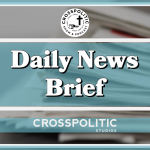 CrossPolitic Daily News Brief for Wednesday 08/04/2021
Plug
"In the beautiful town of Moscow, ID, Erber Automotive is looking for Christians to join forces and wage war together on broken cars. Since Adam's fall, cars have been suffering at the hand of the second law of thermodynamics, starting with that very first Eden Model 1 that Adam puttered out of the garden. Paul said that all creation groans, and he'd never even heard a poor car owner on the side of the road with a steaming engine! At Erber Auto, you'll work to make auto repair fun for customers with bouncy castles, motorcycle cruises, and honest service. Most importantly, you'll work alongside Christians to show entropy the Uno reverse card!
Erber Auto is looking for a shop manager/service writer, and is always looking for resumes from qualified and experienced technicians, who are ready to do battle with the forces of evil, or at least metal fatigue. They have 2 positions to fill at competitive salaries. Please send your resume to [email protected]"
Twitter: May 17, 2013
@NYGovCuomo
There should be a zero tolerance policy when it comes to sexual harassment & must send a clear message that this behavior is not tolerated.
Cuomo violated federal, state laws as he sexually harassed multiple women, NY attorney general says
https://www.cnbc.com/2021/08/03/ny-gov-andrew-cuomo-sexual-harassment-report.html?__source=sharebar%7Cfacebook&par=sharebar
According to Chris Cuomo over at CNN…kidding CNBC:
New York Gov. Andrew Cuomo sexually harassed at least 11 women and then retaliated against a former employee who complained publicly about his conduct, according to a bombshell report released Tuesday by state Attorney General Letitia James.
The monthslong probe concluded that Cuomo "sexually harassed multiple women and in doing so violated federal and state law," James said at a press conference. Her office noted, however, that there were no specific penalties tied to the report.
The 165-page report, which comprises interviews with 179 witnesses and a review of tens of thousands of documents, also said that Cuomo's office was riddled with fear and intimidation and was a hostile work environment for many staffers.
Cuomo harassed members of his own staff, members of the public and other state employees, one of whom was a state trooper on his protective detail, the report alleges. He engaged in nonconsensual touching, groping, kissing and hugging, and made inappropriate comments toward numerous women, according to the report.
Mariann Wang, a lawyer for two accusers, Alyssa McGrath and Virginia Limmiatis, said in a statement, "Cuomo's misogyny and abuse cannot be denied."
"He has been doing this for years, without any repercussions. He should not be in charge of our government and should not be in any position of power over anyone else," Wang's statement said.
Debra Katz, an attorney for former Cuomo aide Charlotte Bennett, echoed Wang, saying Cuomo and other complicit staff "must resign immediately."
"If he does not, the New York State Assembly must accept the Attorney General's findings and begin taking the appropriate steps to remove him from office," Katz said in a statement."
Biden calls on Cuomo to resign after sexual harassment findings
https://www.axios.com/biden-cuomo-resign-sexual-harassment-fbf75920-c6cb-4179-8625-c175dac2db8d.html
All U.S. House and Senate Members Representing New York Call for Gov. Cuomo's Resignation Following AG Report
https://www.foxnews.com/politics/cuomo-sexual-harrassment-resignation-calls-democrats-republicans
Putting Nick Saban's new $84.8 million contract into context
https://www.al.com/alabamafootball/2021/08/putting-nick-sabans-new-848-million-contract-into-context.html
"Nick Saban has another new contract with the University of Alabama.
This one runs through the 2028 season, tacking three years onto the last refresh in 2018. A lot has changed in those three years and money only continues to grow for a coach coming off his seventh national title.
Back in 2017, Saban's contract update was worth $65.2 million over the eight years it spanned. Then 14 months later, another new deal was worth $73.8 million over eight years.
That number is up to $84.8 million over the eight years covered on this new deal. Of that total, $4 million comes in five separate season-completion bonuses of $800,000 apiece following the 2021-2025 seasons. The other $80.8 million is mostly the talent fee that increases by $400,000 yearly while the base salary remains $275,000.
Public records show Saban was paid a total of $9,227,934 and 18 cents by UA in 2020. That includes a monthly paycheck of $692,059.07 with a $90,000 bonus paid in February and another $900,000 in December.
The monthly paycheck under the new contract is now $725,383.41 and that began with his March 31 statement. His year-to-date pay for 2021 is $6,015,217 including an $875,000 bonus paid in February. That includes an $800,000 national title bonus.
It's all part of the financial arms race within college athletics. Alabama football's coaching salaries rose 33% over the past five years from $14.0 million to $18.7 million last year as revenues continue to grow. Alabama athletics brought in $189.3 million in the last fiscal year before the COVID-19 pandemic ate an estimated $75 million in revenue in Fiscal Year 2021."
Way to go higher education.
Plug
Go to https://dimepayments.com/flf.
2nd Ad
"If you run a business or non-profit organization that takes credit card payments, then you know all about the high fees and the headaches from payment processors. Even worse, these companies often oppose everything we stand for.
That's why you need Dime Payments.
Dime provides the easiest credit card and ACH processing on the market. Whether you're accepting payments for your business or online donations for your church or organization, Dime has you covered with a custom-solution that's low-cost, secure, honest, and simple.
Don't let Big Tech cancel your payments, and don't fund their efforts to undermine your values. Check out our friends over at Dime today."
N.Y.C. becomes first major U.S. city to mandate vaccination proof for indoor dining, gyms
https://www.nbcnews.com/news/us-news/nyc-becomes-first-major-u-s-city-mandate-vaccination-proof-n1275807
Roll video.
Here come the COVID governor press conferences again😱😱😱
Jim Crow Laws are here again.
Black market vax cards are going to spike.
Round two of the crazy masks Karens coming our way:
Wear masks around your kids in the house?
Media silent on bombshell Wuhan lab report as GOP lawmaker sounds alarm: 'Greatest cover-up in human history'
https://www.foxnews.com/media/media-silent-on-bombshell-wuhan-lab-report
According to Fox:
The mainstream media was silent on alarming findings from the House Foreign Affairs Committee Republicans' probe into the possible origins of COVID-19 on Monday, despite one lawmaker calling it the "greatest cover-up in human history."
The bombshell findings made the most detailed case yet that the coronavirus pandemic resulted from a leak from a Wuhan virology lab, but CNN, MSNBC, ABC News, NBC News and CBS News all failed to cover the report.
Fox News contributor Joe Concha said there are multiple reasons why corporate media has shielded Americans from the news.
Concha said that finding the origins of the pandemic is "the most important investigation we can do of our lifetimes" because history will repeat itself if we don't learn how the pandemic began.
"Up until earlier this summer … Facebook would suppress, censor any post about COVID originating in a lab in Wuhan, China. Why is that the job of a social media giant like that? And many in the media and Democratic party called it misinformation," Concha said. "Now, suddenly it's a real possibility. Even Democrats are conceding that."
Many of the key points from the report focused on activities in and around Wuhan that appeared to indicate the virus may have been circulating in China as early as September, well before the World Health Organization's Country Office in the People's Republic of China picked up a press statement on December 31, 2019, by the Wuhan Municipal Health Commission from their website on cases of "viral pneumonia" in Wuhan.
In September, the Wuhan lab's genetic sequencing database was taken offline in the middle of the night, which according to McCaul, showed they were trying to "hide" or "cover up" something of significant concern."
Closing
This is Gabriel Rench with Crosspolitic News. Support Rowdy Christian media by joining our club at fightlaughfeast.com, downloading our App, and head to our annual Fight Laugh Feast Conference next fall. With your partnership, together we will fight outdated and compromised media, engage news and politics with the gospel, and replace lies and darkness with truth and light. Go to fightlaughfeast.com to take all these actions. Have a great day. Lord bless