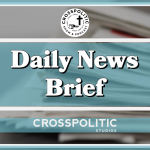 Happy Advent! If you want to send us Christmas cards, drawings form your kids to hang up and add to our Christmas decorations, please email us at Contact@fightlaughfeast.com for our physical address.
Folks, we have a lot of exciting things planned for 2022, and we are praying God blesses it all. Our club member support is key to our ability to battle it out with mainstream media, and grow as a force to be reckoned with. As you know during Advent, anyone who signs up to become an annual club member or above will get our Christmas man box. Current club members can just hit the upgrade button for this, or you can login to your club portal and just buy the Christmas man box. Of course we do these promotions to encourage you to support us, and we want to bless you as you are blessing us, and so we are grateful for all the help we can get. Also, we have a lot of people reach out to us that want to support us in creative ways, you know like help us by our own studio, church support, business partnerships, etc… and if that is the case, just email me at waterboy@CrossPolitic.com and glad to chat.
One thing I am excited about, is we are working on a 3 or 4 city tour this spring, where we will be doing a one night live show on a Thursday or Friday night at a local movie theater or venue. If you are interested in booking us in your city, reach out. We already have some cities we are going to be coming too, and we will release our tour schedule as we confirm locations. This will be a night with the CrossPolitic gang, our comedian John Branyan, and special guest. So be on the lookout for our spring tour schedule.
One more thing I want to tell you about before I get into the news. We are going to be producing a sort of Fight Laugh Feast QVC style show on the second Tuesday of every month. We have some many friends and companies that send us t shirts, jewelry, beard oil, even bitcoin, well we dont have room to plug everyones gifts on our show, so in the spirit of facilitation Christian businesses to work with…and that you might want to do business with, we are going to do a show once a month highlighting all the businesses that send us free merch to sport. If you want your products to show up in this show, please email Anna at Anna@FightLaughFeast.com, and dont forget to include your company logo and website…Anna will get back to you with any details needed. Merry Christmas
Michigan shooting:
https://www.khq.com/news/authorities-student-kills-3-wounds-6-at-michigan-school/article_dec7aaec-41ad-5d7c-b72b-68cd78aecaea.html?fbclid=IwAR1D44wWeZ-I26PIcyLZZfDHusYax0Vmn6V2eEQ5zgQ2YHozapyT-u8R-Jg
According to KHQ:
"Authorities say eight people were wounded in an attack at a Michigan high school in which three students were killed.
Oakland County Undersheriff Mike McCabe said at a news conference that two of the wounded were undergoing surgery as of 5 p.m. Tuesday and that the six others were in stable condition. He identified the three students who were killed as a 16-year-old boy and two girls, ages 14 and 17.
Authorities say they received a flood of 911 calls shortly before 1 p.m. about an attack at Oxford High School in Oxford Township, a community of about 22,000 people roughly 30 miles (48 kilometers) north of Detroit.
McCabe said deputies took the shooting suspect — a 15-year-old sophomore — into custody without incident within five minutes of arriving at the school. He said the suspect's parents visited him where he's being held and advised their son not to talk to investigators, as is his right.
He said as far as he knows, the suspect had no prior run-ins with law enforcement."
Public schools are not safe for your kids.
Dr. Oz, celebrity physician, launches campaign for Senate in Pa. as a Republican
https://www.nbcnews.com/politics/elections/dr-oz-celebrity-physician-launches-campaign-senate-pa-republican-n1285109?cid=sm_npd_nn_fb_ma
"Dr. Mehmet Oz, a physician known to national TV audiences, announced Tuesday that he will run for Senate in Pennsylvania as a Republican, throwing more uncertainty into the closely watched primary.
"We are angry at our government and at each other," Oz wrote in guest column published by The Washington Examiner. "We have not managed our crises as effectively as past generations. During the pandemic, I learned that when you mix politics and medicine, you get politics instead of solutions. That's why I am running for the U.S. Senate: to help fix the problems and to help us heal."
Oz, in a video tweeted Tuesday afternoon, specified that he is seeking the Republican nomination.
Pennsylvania's Senate battle became a spectacle last week when former President Donald Trump's endorsed candidate, Sean Parnell, ended his campaign after his estranged wife was granted sole legal custody of their children in a case where she alleged abuse. Parnell denied the accusations.
"Pennsylvania needs a conservative who will put America first," Oz, echoing Trump, said in his announcement video.
Oz, a graduate of the University of Pennsylvania's medical school and Wharton School who as recently as 2020 lived in New Jersey, registered to vote in Pennsylvania last year at the home of his in-laws, The Philadelphia Inquirer reported."
La County Sheriff Holding His Ground:
https://twitter.com/BillFOXLA/status/1465507928241176580/photo/1
Can a city declare itself a republic? Calif. town just did
According to News Nation Now:
Fed up with COVID-19 regulations and vaccine mandates, the leaders of one California city have decided to take matters into their own hands. Oroville's City Council overwhelmingly voted to declare the town a "constitutional republic" earlier this month.
What that means, according to the declaration, is: "Any executive orders issued by the State of California or by the United States federal government that are overreaching or clearly violate our constitutionally protected rights will not be enforced by the City of Oroville against its citizens."
What does it mean in practice? Oroville's mayor told the East Bay Times it "doesn't change anything."
"It's simply reminding people what kind of government we live under and that they do have personal choices and freedoms," Mayor Chuck Reynolds told the Times.
Proponents of the constitutional republic told reporters they were especially upset with California's requirement that children 12 and older eventually get vaccinated against COVID-19 in order to attend school. However, even after this vote, schools in Oroville will still be regulated (and largely funded) by the state.
Oroville isn't the only California city to try and take a stand against the state's COVID-19 policies. Earlier in the pandemic, two towns decided to defy Gov. Gavin Newsom's shutdown orders for certain businesses, reports the Los Angeles Times. They lost some funding from the state as a result, according to the paper.
The desire to secede isn't unique to California, either. The Washington Times and a USA Today columnist noticed the trend in 2020, pointing out that rural pockets of blue states are often the ones who want out. A few Virginia counties said they wanted to join their more conservative friends in West Virginia, but Adam Dean, a history professor at the University of Lynchburg, called the prospect of getting approval from both state legislatures and Congress "extremely unlikely."
Some residents in southern Oregon and far northern California have also been trying to form a 51st state of Jefferson for nearly 80 years. But as The New York Times reports, the creation of the new state would not only require California and Oregon to give the OK — Congress would have to sign off, too.
So can a city decide it's fed up with its home state and go it alone? The short answer is no, at least not by merely putting the matter to a city council vote.
In theory, the city's citizens could take up arms and go to war to fight for independence. But it would literally take a civil war. And since cities don't have armies, it's easy to see why even a large metropolis would be easily outmatched — not to mention Oroville, California: population 20,000.
Werkz: DNB
Shan and his team at Werkz specialize in concealed carry holsters for pistols with lights. They believe every defensive pistol should have a light and a holster. They currently offer holsters for 1,274 pistol and light combinations, plus can help outfit your pistol with a light. Use their holster finder at Werkz.com/CrossPolitic and be prepared to defend day and night.
Biden Bans Travel to South America:
If you recall, Biden tweeted this when Trump banned travel from China:
Well now that Biden banned travel to/from South America, it is not racist, because Jen Psaki said so:
Roll clip: https://twitter.com/BreitbartNews/status/1465411536801914881
File this under New Zealand has left the reservation:
LA begins enforcing strict mandate requiring proof of vax
https://abcnews.go.com/Health/wireStory/la-begins-enforcing-strict-mandate-requiring-proof-vax-81457466?cid=social_fb_abcnp
According to ABC news:
"Enforcement began Monday in Los Angeles for one of the strictest vaccine mandates in the country, a sweeping measure that requires proof of shots for everyone entering a wide variety of businesses from restaurants to theaters and gyms to nail and hair salons.
While the latest order aimed at slowing the spread of the coronavirus took effect Nov. 8, city officials spent the past three weeks providing business owners the information and resources business they need to comply.
"Nobody wants to penalize anyone," said Sharon Tso, the city's Chief Legislative Analyst, whose office drafted the enforcement rules. "That's why we've been prioritizing education."
A first offense will bring a warning but subsequent ones could produce fines running from $1,000 to $5,000. Inspectors with the Department of Building and Safety will enforce the mandate, and the city hopes to eventually get assistance from the LA County Department of Public Health, Tso said. She didn't immediately know if any warnings or citations were issued on Monday.
Los Angeles is among a growing number of cities across the U.S., including San Francisco and New York City, requiring people show proof of vaccination to enter various types of businesses and venues. But rules in the nation's second-most-populous city, called SafePassLA, apply to more types of businesses and other indoor locations including concert halls, museums and convention centers.
A sign reminding customers to be prepared to show their vaccine cards hangs at the Muddy Paw Coffee Shop in the Eagle Rock neighborhood, where owner Darren Laborie said he's thankful that the vast majority of his regulars have happily complied with the shifting regulations over the past year and a half.
"We have to adapt to whatever rules are coming at us. And our customers go along with us," Laborie said. Those that don't want to wear a mask or show vaccine proof can sit in the outdoor patio or take their coffees and pastries to go, he said.
One year ago, Los Angeles was becoming the state's epicenter of the worst spike of the pandemic in California. By January an average of 500 people were dying statewide every day.
To guard against another spike in cases, deaths and hospitalizations, the LA City Council voted 11-2 last month for the ordinance that requires people 12 and older to be fully vaccinated to enter indoor public spaces including sports arenas, museums, spas, indoor city facilities and other locations. Retail stores and shopping malls are exempt.
Negative coronavirus tests within 72 hours of entry to those establishments would be required for people with religious or medical exemptions for vaccinations. Customers without proof can still use outdoor facilities and can briefly enter a business to use a restroom or pick up a food order.
Business trade groups have said the mandate will sow confusion and could present safety concerns for employees tasked with checking customers' vaccination status. Laborie shares concerns that the rules could place "an undue burden" on small business owners.
"A lot of businesses can't afford to have employees spending their time at the front door all the time. They just don't have the staffing," he said.
Melanie Bolen happily showed her vaccine card before having lunch inside Fred 62, an upscale diner in the city's Los Feliz neighborhood.
"I mean, I'm fine with that," Bolen said. "If that's what's needed to help get things over with this pandemic, I'm all for it."
While many cold-weather states are seeing sharp increases in cases, California's per capita rate has been among the nation's lowest for two months and that has kept hospitalizations relatively low after a late-summer surge.
In the last two weeks, Los Angeles County hospitalizations have fallen about 10%, mirroring the statewide trend. State forecasts show a continuing decline through Christmas.
Among LA county's roughly 10 million people, 82% of eligible residents now have received at least one COVID-19 vaccine dose and 74% of those eligible are fully vaccinated, according to public health officials."
Remember that in 2021, where we had lockdowns and access to a vaccine, we had more COVID deaths this year, than we did in 2020. Lockdowns don't work, the vaxx don't work, and all these health bureaucracies need to go!
Twitter Crackdown: Video And Photo Sharing Banned Without Consent Under First Day With New CEO
https://www.dailywire.com/news/twitter-crackdown-video-and-photo-sharing-banned-without-consent-under-first-day-with-new-ceo?utm_source=facebook&utm_medium=social&utm_campaign=benshapiro
According to the Daily Wire:
"One day after Twitter CEO Jack Dorsey resigned from the company he founded about 16 years ago, Twitter, under new CEO Parag Agrawal has issued a new ban that restricts sharing videos or photos without consent on the platform.
The new addition was listed on Twitter's blog on Tuesday, saying, "NEW: media of private individuals without the permission of the person(s) depicted."
The new policy is designed to "help curb the misuse of media to harass, intimidate, and reveal the identities of private individuals, which disproportionately impacts women, activists, dissidents, and members of minority communities."
"Beginning today, we will not allow the sharing of private media, such as images or videos of private individuals without their consent. Publishing people's private info is also prohibited under the policy, as is threatening or incentivizing others to do so," Twitter also noted.
Twitter's guidelines will also leave room for interpretation based on "context."
"Our existing private information policy includes many exceptions in order to enable robust reporting on newsworthy events and conversations that are in the public interest," Twitter's guidelines state."
Lastly, lets get an update on former disgraced Governor Cuomo and his brother "objective journalist" Chris Cuomo:
Roll clip: https://www.today.com/video/chris-cuomo-s-link-with-former-ny-gov-andrew-cuomo-draws-new-focus-127500357987
What strikes me about all this, is that CNN claims to be an objective news source and yet they continue to hire journalist that cover up major news stories, or that masterbate on live company conference calls like Jeffrey Toobin did. CNN really is a cesspool of liars, molesters, and power hungry zealots. They really do hate the truth.
Closing
This is Gabriel Rench with Crosspolitic News. Support Rowdy Christian media by joining our club at fightlaughfeast.com, downloading our App, and head to our annual Fight Laugh Feast Events. With your partnership, together we will fight outdated and compromised media, engage news and politics with the gospel, and replace lies and darkness with truth and light. Go to fightlaughfeast.com to take all these actions. Have a great day. Lord bless