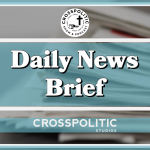 This is Garrison Hardie with your CrossPolitic Daily Newsbrief for Wednesday, December 14th. 2022… Happy hump day everyone! I hope you and yours are having a week full of blessings thus far, and before we get to the news… just a reminder…
Club Membership Plug:
Its Christmas, join our club. During December, the first 75 people to upgrade or join our Gold or Platinum club membership will get our 32OZ Kodiak Christmas water bottle and a free subscription to our Fight Laugh Feast Magazine. By joining the Fight Laugh Feast Army, not only will you be aiding in our fight to take down secular & legacy media; but you'll also get access to content placed in our Club Portal, such as past shows, all of our conference talks, and EXCLUSIVE content for club members that you won't be able to find anywhere else. Lastly, you'll also get discounts for our conferences… We don't have the big money of woke media, and so our club members are crucial in this fight. So, join the movement, join our army, and you can sign up now at fightlaughfeast.com.
https://www.cnbc.com/2022/12/13/lawmakers-unveil-bipartisan-bill-that-aims-to-ban-tiktok-in-the-us.html
Lawmakers unveil bipartisan bill that aims to ban TikTok in the U.S.
A new bill from a bipartisan group of lawmakers, if passed, would ban TikTok in the U.S. after years of broad concern across the Trump and Biden administrations about potential Chinese government influence on the company.
Social media stocks including Meta and Snap were positive Tuesday when the news broke. Meta shares were up more than 6% and Snap was up more than 3% as of late morning.
TikTok, owned by Chinese company ByteDance, has raised fears in the U.S. that Chinese government officials could gain access to U.S. user data under Chinese law that could compel the company to hand over information. TikTok has insisted U.S. user data is safely stored outside of China, which it says should keep it out of reach of government officials.
But the company's reassurances have done little to turn down the heat on TikTok. The Committee on Foreign Investment in the U.S. is in talks with the company about how to resolve some of the data concerns, though a solution has reportedly been delayed. FBI Director Christopher Wray testified before Congress recently that he's "extremely concerned" about the Chinese government's potential influence through TikTok on U.S. users.
The new bill, introduced by Sen. Marco Rubio, R-Fla., and Reps. Mike Gallagher, R-Wisc., and Raja Krishnamoorthi, D-Ill., would ban "all transactions from any social media company in, or under the influence of, China, Russia, and several other foreign countries of concern," according to a press release.
The ANTI-SOCIAL CCP ACT — which stands for Averting the National Threat of Internet Surveillance, Oppressive Censorship and Influence, and Algorithmic Learning by the Chinese Communist Party — explicitly names ByteDance and TikTok as subject to the restrictions in the bill, "unless and until the date on which the President certifies to Congress that the company no longer meets any of the conditions described," such as being subject to "substantial influence" by a country of concern.
"It is troubling that rather than encouraging the Administration to conclude its national security review of TikTok, some members of Congress have decided to push for a politically-motivated ban that will do nothing to advance the national security of the United States," a TikTok spokesperson said. "We will continue to brief members of Congress on the plans that have been developed under the oversight of our country's top national security agencies—plans that we are well underway in implementing—to further secure our platform in the United States."
https://thepostmillennial.com/breaking-desantis-to-investigate-covid-vaccine-related-injuries?utm_campaign=64487
DeSantis to investigate Covid vaccine-related injuries
During a Tuesday morning roundtable with health regarding Covid-19 mRNA vaccine accountability, Florida Governor Ron DeSantis announced that he will be petitioning for a statewide grand jury to investigate "any and all wrongdoing in Florida with respect to Covid-19 vaccines."
https://twitter.com/i/status/1602711034921619461 – Play Video
Speaking in regards to the information that came about during the beginning of the pandemic in 2020, where people were told to stay inside but George Floyd protestors were allowed to congregate in large groups, DeSantis announced a "panel of experts" who will "counteract nonsense when it's coming out of these institutions" like the CDC.
Speaking of the CDC!
https://www.newsmax.com/newsfront/cdc-mask-tripledemic/2022/12/12/id/1100143/
CDC Urging Return to Masks Amid 'Tripledemic'
The Centers for Disease Control and Prevention again is urging people to wear masks indoors.
The reason for encouraging mask use is what health officials are calling a "tripledemic:" the flu, respiratory syncytial virus (RSV), and COVID-19.
The CDC's Dec. 8 report said that 13.7% of Americans live in communities rated "high" for COVID-19 community levels, up from 4.9% the previous week, The Hill reported.
An additional 38.1% of Americans are in "medium" areas and 48.2% are in "low" areas.
"[We] encourage you to wear a high quality, well-fitting mask to prevent the spread of respiratory illnesses, most especially for those in the 5% of the population currently living in counties with high COVID-19 community level," Dr. Rochelle Walensky said last week during a conference call.
"CDC continues to recommend masking for anyone choosing to travel by plane, train, bus, or other form of public transportation, or for anyone who may be immunocompromised or increased risk of severe disease."
The Hill reported that several major cities are mulling a return to masking mandates.
More than 10 counties in California fall under the "high" areas.
Los Angeles County health officials are recommending that everyone wear masks indoors. Hospitals in LA saw an average of 1,245 COVID-positive patients every day — a nearly 20% jump from previous week.
"When you put on your mask for these few weeks during this surge, it is about the people of LA County. It is about every individual, every visitor, our health care workers, essential workers and other people who serve. In addition to vaccination, it is one of the easiest things everyone can do right now," Barbara Ferrer, Los Angeles County director of public health, wrote in a Dec. 9 press release.
In New York, state officials urged schools to return to indoor masking to curb the spread of respiratory illnesses, and a health advisory notice alerted hospitals, local health departments, emergency rooms and labs to prepare for rapidly rising cases of respiratory illness.
Not only do they want you to mask up, but they're coming for our guns too!
https://www.theepochtimes.com/states-tighten-second-amendment-rules-as-scotus-lifts-restrictions_4915179.html?utm_source=partner&utm_campaign=BonginoReport
States Tighten Second Amendment Rules as SCOTUS Lifts Restrictions
Despite a list of pro-gun rulings by the U.S. Supreme Court over the past 13 years, Rev. Mark Knutson of Portland, Oregon, who has been advocating against gun access, gives one reason for his support of stricter firearms laws.
"This will save lives," says Knutson, a pastor at Augustana Lutheran Church and chairman of the "Lift Every Voice Oregon—YES on Measure 114" campaign.
Knutson was the chief petitioner of the campaign in support of Oregon Measure 114, which narrowly passed in the midterm election in November. He described the campaign as "grassroots" and said it was in response to the recent shootings in the United States.
It was a well-funded campaign based on reports filed with the Oregon Secretary of State's office. "Lift Every Voice Oregon" spent just shy of $2.4 million.
The top three contributors to the campaign were Connie Ballmer of Bellevue, Washington, who contributed $750,000. Ballmer is an Oregon native and married to former Microsoft CEO Steve Ballmer. Together, they have started several organizations to support charitable and political causes.
The National Education Association, a teacher's union, contributed $500,000, and the 1630 Fund contributed $250,000. The 1630 Fund is described by the website Influencewatch.org as a possible "dark money" fund that supports progressive causes.
When asked about the fund, Knutson pointed out that, as a 501c4, it is not required to disclose its donors. He said the fund was set up to help progressive political campaigns.
In Oregon, Measure 114 requires Oregonians apply for a permit to purchase firearms, along with background checks and certification from the purchaser for passing an approved safety course. The law also requires the state police to compile a firearms database, and prohibits the sale of magazines that can hold more than ten rounds of ammunition.
Tom King, president of the New York State Rifle and Pistol Association, is involved in a Second Amendment battle on the opposite side of the country. He denies that safety is motivating New York state officials.
"It's about intimidation," King said.
His organization sued New York state over its previous requirement that concealed weapons permit applicants show "proper cause," or in other words, a legitimate reason for applying for a concealed firearm permit. According to King, the law was to disarm the populace while making exceptions for the wealthy and politically connected. The original case made its way to the U.S. Supreme Court this year.
In New York State Rifle and Pistol Association v. Bruen, the Supreme Court decided last June that the proper cause requirement was unconstitutional. The court also held that Second Amendment regulations must align with constitutional text and history. In other words, since the Constitution did not mention "proper cause" and historically this had not been required, the state could not require it either.
Almost immediately, Gov. Kathy Hochul called the legislature into session to pass the Concealed Carry Improvement Act. The act removed mention of "proper cause" but expanded all other requirements. An applicant's social media will be scrutinized, and must provide contact information for a list of close family and friends. The CCIA also requires 16 hours of training, including two hours of training on a firing range.
In addition, the new law expanded the government's list of "sensitive places" where it sought to prohibit the carrying of firearms. This includes private property unless the property owner posts a sign granting permission or has given express permission to the permit holder.
Pro-Second Amendment groups, including Virginia-based Gun Owners of America, sued the state and a judge found several elements of the new law unconstitutional. However, that judge's ruling is on hold as state officials vow to continue the fight.
Armored Republic
The Mission of Armored Republic is to Honor Christ by equipping Free Men with Tools of Liberty necessary to preserve God-given rights. In the Armored Republic there is no King but Christ. We are Free Craftsmen. Body Armor is a Tool of Liberty. We create Tools of Liberty. Free men must remain ever vigilant against tyranny wherever it appears. God has given us the tools of liberty needed to defend the rights He bestowed to us. Armored Republic is honored to offer you those Tools. Visit them, at ar500armor.com
https://thepostmillennial.com/new-zealand-bans-cigarettes-for-all-those-born-after-2009?utm_campaign=64487
New Zealand bans cigarettes for all those born after 2009
Kiwis born after 2009 will not be able to purchase legal cigarettes, according to a new law by Jacinda Ardern's Labour party that seeks to make the country smoke-free.
The law would grandfather tobacco use to those born before January 1 of 2009, reports the Daily Mail. This would mean that 50 years from now, one would have to be 63 or older to buy cigarettes in New Zealand.
Health authorities are aiming to make the country smoke-free by 2025.
The law will also reduce the number of retailers who can sell tobacco by 90 percent, which would leave just 600 stores.
New Zealand's associate minister of health said that the legislation seeks to ban cigarettes from use, saying that "There is no good reason to allow a product to be sold that kills half the people that use it.
"And I can tell you that we will end this in the future, as we pass this legislation," she continued.
The New Zealand health system hopes that billions of dollars will be saved by cutting smoking, as it causes cancer, increases blood pressure, strokes, and causes a variety of other diseases.
Lawmakers voted to pass the legislation 76 to 43.
New Zealand's right-wing ACT party, which voted against the bill, said that corner stores would go out of business without cigarettes to sell.
Statistics New Zealand has found that 8 percent of New Zealand adults smoked daily, down from 16 percent a decade ago. 8.3 percent of adults vape daily, an increase of 1 percent from six years ago. Indigenous Maori populations smoke more than the average New Zealander, with around one-fifth reporting that they smoke.
That's the news for today… but before I end today's newsbrief… I want to stop and take a moment to talk about someone who is likely very dear to some of you… Mike Lawyer… Just before I came to do this newsbrief, I received a church email that announced that Dr. Lawyer, had passed away, and has gone to glory, to be with his wife Eileen, and with our creator, whom with no doubt is saying, well done, my good and faithful servant. Dr. Lawyer was a faithful counselor to many in the Moscow community, but also to many around the world, who would always ask the question, "where is God in all this?" To me… Mike was more than just a counselor… he was a dear friend, and a father figure. He came into my life during a dark time, and God used him as a tool to reshape me in Christ's image. Mike, all I can say is I love you, and my heart aches at your passing. But I am comforted to know that you are in glory with our creator and Eileen.