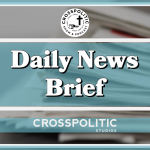 MPs unanimously agree to pass bill banning conversion therapy in Canada – December 1, 2021
Auschwitz Survivor Warning Signs, Fight Canadian Christian Persecution, How US Freedom is Essential
Senate moves forward on raising debt ceiling by $2.5T
The amount is expected to carry spending until after the 2022 midterms, preventing another standoff over the debt limit until after elections.
https://www.politico.com/news/2021/12/14/democrats-raise-debt-ceiling-524204
https://www.usatoday.com/story/news/health/2021/12/14/covid-symptoms-40-coronavirus-cases-asymptomatic-study-finds/6495693001/
More than 40% of people with COVID-19 never show symptoms, study finds. What experts have learned about these cases.
Dime Payments:
Dime Payments is a Christian owned processing payment business. Every business needs a payment process system, so please go to https://dimepayments.com/flf and sign your business up. Working with them supports us. They wont cancel you, like Stripe canceled President Trump. They wont cancel you, like Mailchimp canceled the Babylon Bee. Check them out. At least have a phone call and tell them that CrossPolitic sent you. Go to https://dimepayments.com/flf.
The NFL distributed a memo to all teams Monday night, announcing Tier 1 and 2 personnel are now mandated to receive a Covid booster shot by Dec. 27.
Big Hospital Chains Drop Vaccine Mandates for Health Workers
With the federal requirement in limbo because of legal challenges, some major multistate hospital systems have stopped enforcing their own policies.
Toyota, lagging rivals, outlines plans to expand sales of electric vehicles.
Dec. 14, 2021Updated 1:57 p.m. ET