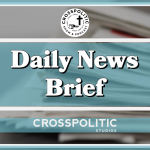 This is Garrison Hardie with your CrossPolitic Daily Newsbrief for Wednesday, December 21st. 2022… Happy hump day everyone! I hope you and yours are having a week full of blessings thus far, and that any Christmas travel plans you have are going as smoothly as possible… before we get to the news… just a reminder… our wives will launch this Friday. So stay tuned for that everyone. Easily one of our more popular shows! So stay tuned… By the way…
Club Membership Plug:
Its Christmas, join our club. During December, the first 75 people to upgrade or join our Gold or Platinum club membership will get our 32OZ Kodiak Christmas water bottle and a free subscription to our Fight Laugh Feast Magazine. By joining the Fight Laugh Feast Army, not only will you be aiding in our fight to take down secular & legacy media; but you'll also get access to content placed in our Club Portal, such as past shows, all of our conference talks, and EXCLUSIVE content for club members that you won't be able to find anywhere else. Lastly, you'll also get discounts for our conferences… We don't have the big money of woke media, and so our club members are crucial in this fight. So, join the movement, join our army, and you can sign up now at fightlaughfeast.com.
https://www.foxnews.com/media/harris-blames-republicans-border-crisis-unwillingness-engage-any-meaningful-reform
Harris blames Republicans for border crisis: 'Unwillingness to engage in any meaningful reform'
Vice President Kamala Harris blamed Republicans for the border crisis during an interview with NPR on Monday and said they were unwilling to engage on the issue.
"And sadly, what we have seen in particular, I am sad to say, from Republicans in Congress is an unwillingness to engage in any meaningful reform that could actually fix a lot of what we are witnessing," Harris told NPR.
Harris, who was tapped by President Biden to address the root causes of the border crisis and effectively became the "border czar" in 2021, told NPR that the White House plans to increase technology and provide more agents to help at the southern border.
Harris told NBC's "Meet the Press" in September that the border is secure.
"The border is secure, but we also have a broken immigration system, in particular, over the last four years before we came in, and it needs to be fixed," she told NBC's Chuck Todd.
The Supreme Court temporarily blocked an order that would lift Title 42's restrictions that allowed border officials to deter migrants throughout the COVID-19 pandemic. The order was set to expire on Wednesday.
Nineteen states asked the court to keep Title 42 in place as immigration is expected to surge when the measure expires.
White House press secretary Karine Jean Pierre said she was unable to lay out what Harris' work on the border crisis looks like during a press briefing on Monday.
https://townhall.com/tipsheet/madelineleesman/2022/12/20/el-paso-20k-migrants-n2617350
20,000 Migrants Were Waiting Near El Paso for Title 42's Expiration
This week, 20,000 migrants were reportedly waiting for Title 42 to end so they could cross the border into the United States, El Paso Mayor Oscar Leeser said this week.
Title 42 was scheduled to expire on Wednesday, Dec. 21. The order had been in place since 2020 that allowed Border Patrol to expel migrants at the southern border due to the COVID-19 pandemic.
According to the New York Post, Leeser said on Monday that the shelters on the other side of the border were "completely full" as migrants awaited for Title 42's removal.
Reportedly, Border Patrol has used Title 42 to turn away thousands of migrants trying to enter through the U.S.-Mexico border since its implementation under President Trump in 2020
https://thepostmillennial.com/stanford-adds-american-to-harmful-language-list?utm_campaign=64487
Stanford proposes adding 'American' to 'harmful language' list
In May, Stanford University developed the "Elimination of Harmful Language Initiative" to replace certain words and phrases on its website with approved alternatives.
The list of soon-to-be banned terms includes the label "American," which Stanford argues is too US-centric and ignorant of the other forty-one countries that also exist in the region. The university suggests "US citizen" as an alternative.
Stanford grouped their list of words and phrases into eight categories, "Ableist, Ageism, Culturally Appropriative, Gender-based, Imprecise Language, Institutionalized Racism, Person-First, and Violent."
The list, which was recently password protected following backlash, was widely shared and criticized on social media.
Author and ardent feminist Christina Hoff Sommers blasted the university over the terms included in the "Gender-Based" category.
"Don't use 'preferred pronouns'," she tweeted, citing the list, "because 'that suggests non-binary gender identity is a choice'."
Also included on that portion of the list is the phrase "balls to the wall," which Stanford argues "attributes personality traits to anatomy."
As one user pointed out, however, the "balls" in this case are not testicles, making the university's suggestion laughable.
The phrase is widely acknowledged to have originated among fighter pilots, who when making their planes go faster would have to push the throttle levers, which were topped with balls, to the wall of the dashboard.
Terms under other categories include "handicap parking," "addict," and "Karen," which Stanford suggests should be replaced with "accessible parking," "person with a substance abuse disorder," and "demanding or entitled White woman," res
"It's the iron law of academic writing," the Wall Street Journal quipped. "Why use one word when four will do?"
According to Stanford, the list was compiled over an 18-month period in "collaboration with stakeholder groups," and is encouraged to be utilized by all students and staff.
https://www.theepochtimes.com/judge-approves-10-million-settlement-for-health-care-workers-fired-over-covid-19-vaccine-mandate_4932982.html?utm_source=partner&utm_campaign=BonginoReport
Judge Approves $10 Million Settlement for Health Care Workers Fired Over COVID-19 Vaccine Mandate
A U.S. judge approved a multimillion-dollar settlement on Dec. 19 for workers who were fired by an Illinois health care system for refusing to get a COVID-19 vaccine.
About 500 workers who were terminated or, after seeing their exemption requests denied, got a COVID-19 vaccine, will receive compensation as part of the $10.3 million settlement, a preliminary version of which was first announced in July.
U.S. District Judge John Kness, a Trump appointee overseeing the lawsuit brought by the workers, issued verbal approval for the settlement during a hearing, lawyers for Liberty Counsel and NorthShore University Healthsystem said. Kness plans to release a written judgment in the next week.
In a brief statement emailed to The Epoch Times after Kness's approval, NorthShore wrote, "We are pleased with the Court's approval of a supportive resolution to this matter and continue to prioritize the health and safety of our patients and team members."
Harry Mihet, vice president of legal affairs for Liberty Counsel, said in a statement that the group was "pleased to finally get the court's final approval of this classwide settlement for these health care workers who were unlawfully discriminated against and denied religious exemptions from the COVID shot mandate."
"This case should set a precedent for other employers who have violated the law by denying religious exemptions for their employees," he said.
Liberty Counsel, a legal group that brings cases of alleged religious discrimination, was representing the 13 named plaintiffs in the case. The group successfully won class certification for all workers who were denied religious exemptions, a group that was initially believed to be 499 former and current workers but swelled after the preliminary settlement agreement to at least 519.
As of Dec. 12, 493 class members had submitted claims for a piece of the settlement.
Each worker who was fired stands to receive $24,225. Each worker who remained at the company stands to receive $3,725.
The named plaintiffs are in line to receive an extra $20,000. Those payments, described as service awards, will provide compensation for the plaintiffs helping advise on court filings, gathering documents, and serving as lead plaintiffs "in a sensitive case involving personal health choices and religious beliefs over a matter of intense public debate, even when it was uncertain whether they would have to disclose their identities to the public," according to a recent filing.
Three workers objected to the settlement, but both parties urged the judge to disregard the objections, which were largely based on pay the trio felt they were owed after being fired.
Marzena Novak, one of the objectors, said her actual losses from being fired and losing pay approached $140,000.
Like many health care systems, NorthShore imposed a vaccine mandate on employees in 2021.
NorthShore told workers that they could file a request for a religious exemption using a form that said the worker in question needed to provide "a description of my sincerely held religious principle or practice that guides my objection to receiving the required vaccination." Northshore explicitly instructed applicants to not fill out lengthy answers.
NorthShore initially approved some of the exemption requests but then reversed the decisions and denied "all or virtually all of them," according to filings from the plaintiffs. Officials said the employees failed to meet the standard for religious exemptions.
Employees who wanted a second look were told to file an appeal that included their vaccination history since they were 18. NorthShore then said that any religious objections based on "aborted fetal cell lines, stem cells, tissue, or derivative materials" would result in denials because those products were "not in NorthShore administered vaccines." All of the COVID-19 vaccines available in the United States have links to aborted fetal cell lines.
The plaintiffs said the treatment violated the Civil Rights Act, which requires employers to treat workers similarly, and the Illinois Health Care Right of Conscience Act, which forbids discrimination on the basis of "right of conscience."
NorthShore repeatedly denied that it violated the law.
The system also stated that it was "an undue hardship" to let unvaccinated staff work at NorthShore and that "it initially denied many exemption requests and that on appeal it reconsidered some decisions and chose not to challenge that the requests were made based on sincerely held religious beliefs."
Accountable2You
Is your smartphone a tool in the service of Christ, or a minefield of distractions and temptations?
With soul-killing seductions just a few taps away, our families and churches must embrace biblical accountability on our digital devices.
Accountable2You makes transparency easy on all your family's devices, by sharing app usage and detailed browsing history—including "Incognito" mode—with your spouse, parent, or chosen accountability partner.
Accountable2You helps your family to proactively guard against temptation, so you can live with integrity for God's glory! Learn more and try it for free at Accountable2You.com/FLF