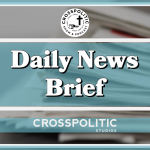 This is Garrison Hardie with your CrossPolitic Daily Newsbrief for Wednesday, December 7th, 2022.
Before I get to the news today, how about a little on this day in history?
On December 7, 1941, Japanese planes attacked the United States Naval Base at Pearl HarborExternal, Hawaii Territory, killing more than 2,300 Americans. The U.S.S. Arizona was completely destroyed and the U.S.S. Oklahoma capsized. A total of twelve ships sank or were beached in the attack and nine additional vessels were damaged. More than 160 aircraft were destroyed and more than 150 others damaged.
A hurried dispatch from the ranking United States naval officer in Pearl Harbor, Admiral Husband Edward Kimmel, Commander in Chief of the United States Pacific Fleet, to all major navy commands and fleet units provided the first official word of the attack at the ill-prepared Pearl Harbor base. It said simply: AIR RAID ON PEARL HARBOR X THIS IS NOT DRILL.
The following day, in an address to a joint session of Congress, President Franklin Roosevelt called December 7, 1941 "a date which will live in infamy." Congress then declared War on Japan, abandoning the nation's isolationism policy and ushering the United States into World War II. Within days, Japan's allies, Germany and Italy, declared war on the United States, and the country began a rapid transition to a wartime economy by building up armaments in support of military campaigns in the Pacific, North Africa, and Europe.
So there ya go, a little history for you guys on this Wednesday morning.
Let's start the news off with this:
https://www.foxnews.com/politics/vladimir-putin-bans-all-lgbt-propaganda-far-reaching-move
Vladimir Putin bans all 'LGBT propaganda' in far-reaching move
Russian President Vladimir Putin signed legislation banning all LGBT "propaganda" on Sunday, according to Russian media.
The far-reaching bill prohibits the creation or sharing of content depicting nontraditional sexual relations, gender reassignment and pedophilia in a positive lights, according to state-run media. The law reportedly extends to social media platforms, as well as mass media like films and advertisement.
The law also has a provision pertaining to minors and empowers to country's media watchdog to implement systems preventing minors from viewing such content.
The law went into effect the same day it was signed, on Sunday.
Putin has long waged a political war against the LGBT movement in Russia, and his allies have in the past cited the movement's success in the U.S. as an excuse for expansive actions.
State Duma Chairman Vyacheslav Volodin, who authored the bill, cited trends in the U.S. and Europe as a reason to pass it in November.
"He cited data from opinion polls, according to which 16% of Europeans aged 14 to 29 identify themselves as LGBT," the Duma reported at the time. "And in the U.S. state of Maryland, the number of students who have not decided on their gender due to the promotion of non-traditional relationships has grown almost six times in two years and today makes up 45% of all students in the state."
The Duma did not cite where it received the polls, and it was not immediately clear if the polls are in fact accurate.
Violations of the new law are mostly punished with fines, ranging from $800 for citizens infringing on the lowest tier to $160,000 for legal entities that infringe on the highest tier, which is pedophilia.
Now moving on to our stellar economy:
https://www.breitbart.com/economy/2022/12/06/u-s-trade-deficit-rises-5-4-to-four-month-high/
U.S. Trade Deficit Rises 5.4% to Four-Month High
The nation's trade deficit widened 5.4 percent in October to a four-month high of $78.2 billion, data from the Commerce Department showed Tuesday.
This was lower than expected. Economists had forecast the deficit would rise to around $80 billion.
The October increase in the goods and services deficit reflected an increase in the goods deficit of $6.1 billion to $99.6 billion and an increase in the services surplus of $2.1 billion to $21.4 billion. The U.S. is typically a net exporter of services to the rest of the world and an importer of goods.
So far this year, the goods and services deficit is up $136.9 billion, or 19.9 percent, from the same period in 2021. Exports increased $415.3 billion or 19.8 percent. Imports increased $552.2 billion or 19.8 percent.
Economic weakness around the globe, particularly in Europe, has softened demand for U.S. energy imports, including natural gas and petroleum products. Crude oil exports, however, grew by $1.6 billion. The numbers are not adjusted for inflation so the declines also reflected the recent weakening of the dollar against many other currencies
.Exports of consumer goods were also lower, led by a decline in pharmaceuticals due to lower demand for drugs to treat or prevent infection of China's coronavirus.
The U.S. spent more on imported cars and pharmaceuticals. Imports of cell phones, toys, games, and sports equipment slipped lower.
Let's check in on our southern border:
https://dailycaller.com/2022/12/06/ice-biden-immigration-border/
ICE Is Massively Misreporting How Many Illegal Immigrants Are Being Released With GPS Trackers
Immigration and Customs Enforcement (ICE) is significantly misreporting the number of illegal immigrants released into the country with GPS tracking technology by nearly 600%, according to an internal document exclusively obtained by the Daily Caller News Foundation.
ICE disclosed privately to participants of a closed-door event about the agency's "Alternatives to Detention" Thursday, attended by ICE Director Tae Johnson along with several agency officials and non-profits, that 8,118 illegal immigrants are monitored with GPS tracking through the program as of Nov. 14. Publicly, however, ICE says on its website that 56,805 illegal immigrants are monitored by GPS as of Nov. 19.
Former ICE Chief of Staff Jon Feere, who now serves as director of investigations at the Center for Immigration Studies (CIS), believes that the Biden administration is seeking to appease groups that have fought ICE detention, such as the American Civil Liberties Union (ACLU), which was listed as an attendee at Thursday's event. The ACLU has a campaign on its website titled "SHUT DOWN THE ICE DETENTION MACHINE," which encourages the public to email Department of Homeland Security (DHS) Secretary Alejandro Mayorkas to urge ICE against any new detention contracts.
The ACLU didn't immediately respond to a request for comment.
The program given to the Thursday event's attendees also showed that ICE underreported illegal immigrants without tracking technology by more than 18,000%, as previously reported by the DCNF. ICE disclosed to the attendees that as of Nov. 14 there are 49,459 illegal aliens that aren't monitored with any tracking equipment, while its own website says that as of Nov. 19 there are 266.
The Biden administration continues to see record numbers of migrants illegally cross the southern border, with U.S. Customs and Border Protection (CBP) encountering over 2.3 million in fiscal year 2022 and more than 230,000 in October.
Story Real Estate:
Home. It's where you build your legacy. Where traditions are started, seeds are planted, meals are shared, and stories are told. Home is where you prepare to go out into the world. Finding the home that's perfect for your family is a big job.
Story Real Estate is Moscow's top real estate team. They give people real estate advice all over the country. Family homes, investments, land, new construction, or commercial— they know real estate.
If you've thought about a move to Moscow or anywhere in the country, reach out to get connected with a Story Real Estate agent. Wherever you're going, they can help guide you Home. Visit storyrealestate.com.
How about a word from our friends across the pond?
https://www.dailyfetched.com/uk-government-approves-climate-lockdown-trials-for-2024/
UK Government Approves Climate Lockdown Trials for 2024
Residents would be confined to their local neighborhood and would not be able to leave unless they requested permission from the government.
As part of the climate lockdown plan, the '15 minute cities' would place electronic gates on key roads in and out of the city, so the government would be instantly alerted by anyone trying to leave.
Those who request permission to leave their city would be profiled by the government, which would make a decision on whether to let that person out.
Under the new scheme, residents would be permitted to leave their zone a maximum of 100 days per year, according to reports.
However, every resident must register their car details with the government, enabling them to be tracked via smart cameras around the city.
As Vision News reported:
Oxfordshire County Council, which is run by Labour, the Liberal Democrats, and the Green Party, secretly decided to divide up the city of Oxford into six '15 minute' districts in 2021 soon after they were elected to office. None of the councilors declared their intention of imprisoning local residents in their manifestos of course, preferring to make vague claims about how they will 'improve the environment instead.
Every resident will be required to register their car with the County Council, which will then monitor how many times they leave their district via number plate recognition cameras. And don't think you can beat the system if you're a two-car household. Those two cars will be counted as one, meaning you will have to divide up the journeys between yourselves. 2 cars, 50 journeys each; 3 cars, 33 journeys each and so on.
Under the new rules, your social life becomes irrelevant. By de facto, Councils dictate how many times per year you can see friends and family. You will be stopped from fraternizing with anyone outside your district, and if you want a long-distance relationship in the future, forget it; you are confined to dating only those within a 15-minute walk of your house.
A single person's life will be at the mercy of Communists in the central office, dictating the same draconian rules we had to avert the last crisis, a mild flu virus so deadly 80% of people didn't even know they had it.
An entirely new social structure is being imposed on Oxford's residents ( and more cities are to follow) under the lie of saving the planet. but what it really is, is a plan for Command and Control. There will be permits, penalties and even more ubiquitous surveillance. Council officials will determine where you can go and how often, and will log every time you do. 15-minute cities, or 15 minute prisons?
According to an article on The World Economic Forum's website, '15 minute' cities are a powerful tool for action:
Would Paris's Mayor Anne Hidalgo have pushed for progressive urban design without this framing? Undoubtedly. But with COVID-19 and its variants keeping everyone home (or closer to home than usual), the 15-minute city went from a "nice-to-have" to a rallying cry. Meeting all of one's needs within a walking, biking, or transit distance was suddenly a matter of life and death. The pandemic created an urgency around equitable urbanism that sidelined arguments about bike lanes and other "amenities" that have roiled communities for years.
Such calls for draconian measures to fight climate change are nothing new.
In November 2020, the Red Cross declared climate change is a more significant threat than COVID, saying it should be confronted with "the same urgency."
Meanwhile, Bill Gates demanded dramatic measures to stop climate change, arguing it would be worse than the pandemic.
Former governor of the Bank of England, Mark Carney, said that climate deaths would dwarf those of the pandemic.
So what is the solution? More lockdowns.
Politicians and government know that fear helps the public to accept dramatic curtailing of freedoms, especially with vague promises of safety. The COVID lockdowns proved this. So now power-hungry bureaucrats can utilize the precedents for more comprehensive lockdowns in the future.
And finally, from California:
https://thepostmillennial.com/california-english-teacher-says-proper-grammar-is-white-supremacist-refuses-to-teach-it?utm_campaign=64487
California English teacher says proper grammar is 'white supremacist,' refuses to teach it
A California high school English teacher claimed that she undermines "white supremacy" in her classroom by educating students about the overemphasis placed on writing rules and grammar usage.
According to Fox News, as a tenured English teacher at Oroville High School, Marta Shaffer began this school year by teaching parts of linguistics as a way of "fighting white supremacy in my classes." She posted on TikTok that her goal was to be "inclusive of all kinds of ways we use the language."
https://twitter.com/i/status/1599466639740706816 – Play Video
Schaffer said in another video obtained by the outlet that a student's "codes" – how they speak at home or with friends – is "just as important, if not more than important," than a boss's expectations of how their employee communicate.
"Just because your teachers, your professors, and your boss may expect you to write and speak in a certain way that may not be natural to you, does not mean that your more natural… languages are not important. They are just as important, if not more important than the 'language of respectability.'"
Schaffer said she feels like a "cringe white lady" when "teaching students of color" about linguistics.
Hey something we can both agree on ms. schaffer!