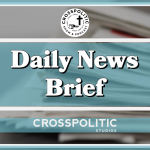 Daily News Brief for Wednesday February 3rd, 2021
In this brief we will talk more corona, Biden nominations, conservative gaslighting, and more. But first: 
If you have a news story you think we might need to cover, please send articles and links to news at crosspolitic dot com. Also, we started a news aggregator website: www.DeftWire.com.
Two National Events: Fight Laugh Feast Rally in Rapid City, South Dakota, April 29, 30, May 1 & the Fight Laugh Feast Conference in Nashville, TN, October 14-16. Why a rally in South Dakota in April? Because we want to stand with Kristi Noem – the only Governor in the Union to not overstep her authority. And we also want to encourage you wherever you are. Many churches are not meeting, many Christians feel all alone. But you're not alone. So the theme of the Rally in South Dakota is Love God, Sing Psalms, Defy Tyrants. Gather with likeminded Christians who love freedom, confess Jesus Christ is Lord, and be equipped to stand firm in these insane days. Go to FLFNetwork.com/Rally. 
Coronavirus lockdowns were "unfocused overreaction," shielded the wealthy without protecting the poor, Stanford doctor says
https://disrn.com/news/covid-lockdowns-were-unfocused-overreaction-shielded-the-wealthy-without-protecting-the-poor
"Lockdowns imposed in response to the COVID-19 pandemic have been an "unfocused overreaction" that failed to protect the poor but have helped the rich, Stanford University Professor of Medicine Dr. Jay Bhattacharya told journalist Megyn Kelly recently.
"I've come to think of it as trickle-down epidemiology. We've used the lockdowns to protect the rich, whereas we essentially expose the — like in California for instance, it's the poor areas that have had the high death rates from COVID." Bhattacharya said during an episode of The Megyn Kelly Show. "The lockdowns haven't protected people living in places where there's high poverty. Minority populations, especially Hispanics, have been hard hit. Fifty percent of people who have had COVID deaths are Hispanic in California."
Bhattacharya is a co-author of The Great Barrington Declaration, a document published in 2020 that calls for the end of COVID-19 lockdowns because of their "devastating effects on short and long-term public health." To date, nearly 41,000 medical doctors and roughly 13,500 medical and public health workers have signed the document."
Share Plug
Is CrossPolitic a blessing to you? We hope so, and we would appreciate your support. There are three…four ways you can help us, and they are all fun ways:
First, one of the most significant ways you can help us (and we need a LOT of help!) is by sharing this news brief or your favorite show with someone you think would appreciate it. Tell someone about the Fight Laugh Feast App. 
Secondly, become a Fight Laugh Feast Club Member. We are building a platform that Lord-willing cannot be cancelled by big media. And your support is helping to make that possible. 
Thirdly, subscribe to our Fight Laugh Feast Magazine. Our goal here, is to give you a quarterly mini-book-like experience with various authors, one them, a Psalm of the quarter, a recipe of the quarter, and something to place on your coffee table that would drive Tim Keller crazy. Thanks to all of you who have already taken these steps, and we are excited for what God has in store for 2021. 
Number of Americans vaccinated against COVID-19 now greater than number who have been infected
https://disrn.com/news/number-of-americans-vaccinated-against-covid-19-now-greater-than-number-who-have-been-infected
"More Americans have been vaccinated against COVID-19 than have been officially diagnosed with the illness, according to data from Bloomberg.
Bloomberg's Vaccine Tracker showed that as of Monday afternoon, 26.5 million people had received at least a first dose of the vaccine. The nation has seen 26.3 million diagnoses of COVID-19 in total.
Currently, about 1.34 million people are receiving the vaccine in the United States on a daily basis, more than any other nation, Bloomberg reports. Fewer than 2% of the U.S. population has received both doses of the vaccine, while fewer than 8% has received a single dose."
Bail fund backed by Kamala Harris freed same rioter twice – now he's been charged again
https://www.foxnews.com/politics/bail-fund-kamala-harris-thomas-moseley
"A man who was twice bailed out of jail in separate cases by a fund supported by Vice President Kamala Harris has been arrested again while under investigation for another possible case, Minnesota prosecutors said.
According to the Hennepin County Attorney's office, Thomas Moseley, 29, had been arrested and released in cases involving allegations that include damaging a police precinct in August and rioting in December. He was arrested again on Jan. 27, just 22 days after his latest release. During that span, he is also suspected of trying to illegally purchase a gun, and officers are investigating that matter."
"In the two previously mentioned cases," the new criminal complaint says, referred to property damage and gun possession charges, "the Defendant was able to secure unconditional release after the Minnesota Freedom Fund posted $5,000 cash in addition to a bond that had been previously secured. In a third now-pending case, the Defendant was then charged with Riot in the Second Degree from an event that occurred on December 31, 2020."
The complaint goes on to say that in that case, the Minnesota Freedom Fund again secured Moseley's release, that time posting $60,000 bail. 
Biden Administration Update
-Pete Buttigieg is now Transportation Secretary. The Senate confirmed Buttigieg's nomination by a vote of 86 to 13. 
https://www.foxnews.com/politics/doj-official-former-colleague-hunter-biden-defense-attorney
The newly selected acting head of the Justice Department's criminal division is a former colleague of the attorney now representing Hunter Biden in the face of a DOJ investigation.
Nicholas McQuaid joined the DOJ in January after spending the past several years as a partner in the New York office of law firm Latham & Watkins. Also a partner in that office is Christopher Clark, who was reported by Law.com in December to be representing the president's son.
No Confirmations Needed:
Special Presidential Envoy for Climate
John Kerry
Director, Domestic Policy Council
Susan Rice
A Study Touted As A Blow To Conservatives' Complaints About Big Tech Censorship Was Funded By A Major Biden Donor
https://dailycaller.com/2021/02/01/craig-newmark-disinformation-conservative-joe-bide/
A study from New York University released on Monday that dismisses conservative allegations of Big Tech bias and calls for President Joe Biden to establish a Digital Regulatory Agency was funded by Craig Newmark, a billionaire tech titan who donated $100,000 to Biden's campaign victory fund.
The study, entitled "False Accusation: The Unfounded Claim that Social Media Companies Censor Conservatives," also defends decisions by Facebook and Twitter to both ban President Donald Trump from their platforms last month, and to limit circulation of a story from The New York Post weeks before the election about emails from Hunter Biden's laptop.
The report says that Facebook and Twitter made "reasonable decisions" in both instances.
It also states that the New York Post story about Biden's laptop was based on "stolen material," a claim that Hunter Biden himself has not made.
The study, which was first touted in a story in The Washington Post, also accuses conservatives of pushing "political disinformation" through their accusations that tech companies harbor anti-conservative bias.
"The false bias narrative is an example of political disinformation, meaning an untrue assertion that is spread to deceive. In this instance, the deception whips up part of the conservative base, much of which already bitterly distrusts the mainstream media," reads the study, authored by Paul M. Barrett and J. Grant Sims of the NYU Stern School of Business.
Conservatives' allegations of bias are based on "distortions and falsehoods," Barrett and Sims wrote.
The researchers asserted that conservatives' claims of bias warrants the creation of a Digital Regulatory Agency, which would oversee social media companies.
"The false claim of anti-conservative bias has contributed to widespread distrust in the platforms' willingness and ability to govern their sites," the researchers said.
"As an alternative, expanded jurisdiction and funding for social media oversight could be given to an existing agency, such as the Federal Trade Commission or Federal Communications Commission."
Closing
This is Gabriel Rench with Crosspolitic News. Support Rowdy Christian media by joining our club at fightlaughfeast.com, downloading our App, and head to our annual Fight Laugh Feast Conference next fall. With your partnership, together we will fight outdated and compromised media, engage news and politics with the gospel, and replace lies and darkness with truth and light. Go to fightlaughfeast.com to take all these actions. Have a great day. Lord bless