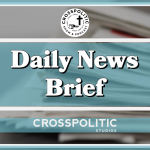 This is Garrison Hardie with your CrossPolitic Daily Newsbrief for Wednesday, February 15th, 2023.
Fight Laugh Feast Conference – Ark Encounter
This year, our Fight Laugh Feast Conference is at the Ark Encounter in Kentucky on The Politics of Six Day Creation. The politics of six day creation is the difference between a fixed standard of justice and a careening standard of justice, the difference between the corrosive relativism that creates mobs and anarchy and the freedom of objectivity, truth, and due process. The politics of six day creation establishes the authority and sufficiency of God's Word for all of life: from what is a man or a woman, when does human life begin, and how is human society best organized?
Come hear Ken Ham, Pastor Doug Wilson, Dr. Ben Merkle, Dr. Gordon Wilson, me and more, and of course a live CrossPolitic show! Mark your calendars for October 11th-14th, as we fight, laugh, and feast, with beer & psalms, our amazing lineup of speakers, our Rowdy Christian Merch, and a Sabbath Feast to wrap up the occasion. Maybe an infant baptism while we're at it?
https://www.zerohedge.com/political/ohios-apocalyptic-chemical-disaster-rages
"Get The Hell Out Of There" – Ohio's Chemical Disaster Rages On
While the US government is dispensing millions of dollars in resources to treat balloons as an existential crisis, a small town in Ohio finds itself engulfed in what actually looks like the apocalypse. Perhaps by design, all of the drama surrounding violations of US airspace by Chinese spy initiatives has done well to keep what is becoming one of the worst environmental disasters in recent memory from getting any headlines.
The chaos began early last week when a train of more than 100 cars derailed in East Palestine, Ohio near the state's border with Pennsylvania with roughly 5,000 residents. The accident launched fifty of those hundred freight cars from the tracks. Twenty of the freight cars on the train were carrying hazardous materials, ten of which were derailed. While the accident had no fatalities, of those ten cars, five contained pressurized vinyl chloride, a highly flammable carcinogenic gas.
https://youtu.be/DHiXZUgQEwc – Play Video
In order to address the volatile scenario around the crash site, the Ohio Emergency Management Agency executed its plan of venting the toxic gas with a controlled burn in order to evade an uncontrolled explosion which presented the risk of catastrophic damage. "Within the last two hours, a drastic temperature change has taken place in a rail car, and there is now the potential of a catastrophic tanker failure which could cause an explosion with the potential of deadly shrapnel traveling up to a mile," Gov. Mike DeWine warned in statement explaining the decision to take action to avert widespread devastation.
However, that operation sent large plumes of smoke containing vinyl chloride, phosgene, hydrogen chloride, and other gases into the air as the flames from the controlled burn raged on for days. Phosgene in particular is a highly toxic gas that can cause vomiting and respiratory trouble. The toxicity of phosgene gas is so potent that it was previously used as a chemical weapon during the First World War.
https://twitter.com/i/status/1625155991724605440 – Play Video
The hazardous airborne chemicals prompted officials to issue mandatory evacuation and shelter-in-place orders within a one-mile radius of where the train derailed. Those orders forced nearly 2,000 residents of East Palestine out of their homes. Despite the public safety risk in proximity to the crash site, over 500 people within the parameters of the evacuation order refused to leave their homes. However, those orders were lifted on February 8th, allowing residents to return to the area adjacent to the disaster.
Dead fish are being pulled from rivers outside East Palestine, Ohio.
The trucks doing the work are labeled EnviroScience, an Ohio-based company that provides "time-sensitive solutions to environmental challenges."
https://twitter.com/i/status/1625214717945057282 – Play Video
Amanda Breshears found her chickens dead ten miles from East Palestine.
https://twitter.com/i/status/1625214716443504641 – Play Video
Holzer's concerns were echoed by reports from other residents who described similar conditions near their own properties. One of those residents was Katlyn Schwarzwaelder, the operator of a local dog kennel in nearby Darlington, Pennsylvania. The catastrophe caused her to leave her home despite the fact that it lies more than 10 miles away from the site of the controlled burn. After fleeing to Boardman, Ohio, 15 miles away from the derailment, Schwarzwaelder stated she received multiple reports of dead chickens, fish, and other animals from friends and acquaintances. One affected resident told Schwarzwaelder that they let their 2-year old dog out to use the bathroom only for it never to return. When they embarked upon a search for their missing pet, they found it dead in their yard.
Testimony from Holzer, Schwarzwaelder, and others paints a drastically different picture than the official narrative tailored by officials who assured residents that the situation was under control. The poor air quality presents short and long term health risks to the public considering the carcinogenic effects of the chemicals. Carcinogens like vinyl chloride can cause cancer in organs including the liver, according to Kevin Crist, a professor of chemical and biomolecular engineering who also serves as the Director of Ohio University's Air Quality Center.
The magnitude of this story has been seemingly scrubbed from the public view as national media outlets continue to run sensationalist headlines about issues that look innocuous in comparison. It is an instance of history being rewritten in real time, setting a precedent that would allow victims of other widespread devastation to be swept under the rug. However, the scenes of the horror engulfing this small town in America's heartland may prove to make this disaster impossible to ignore, rightfully putting the spotlight on the shortcomings of state and federal agencies tasked with emergency response management whose continued lack of accountability enables them to fail the American public time and time again.
Before I move on, I want to remind everyone, that the federal government isn't who we should be relying on. All their authority was granted by our creator. It's our Lord and savior Jesus Christ who our faith must lie upon. So we take our prayer requests about Ohio to our Lord.
CrossPolitic Email List:
Are you subscribed to our CrossPolitic email list? If you're not you really should be. Being subscribed to our email list means you won't miss any updates about CrossPolitic or the Fight Laugh Feast Network! You'll hear about what's on the schedule for the week, live events, conference updates, Rowdy Christian Merch, updates from other shows within the Fight Laugh Feast Network, and you'll hear from sponsors on the show, as they seek to take dominion for God's Kingdom in the business world. To subscribe, simply enter your email address at the bottom of the page at fightlaughfeast.com. Again, that's fightlaughfeast.com.
https://www.yahoo.com/now/us-sell-26-million-more-200426064.html?guccounter=1&guce_referrer=aHR0cHM6Ly9ib25naW5vcmVwb3J0LmNvbS8&guce_referrer_sig=AQAAAIRfGaa1QNkAfNxqnKns3HFDpurTPZEMAJQbZHkm9Kd8dvCnqjRS3cHiKD959zLzu9NcskeVkzAiZKU6-n5SA1uQw2mlegpwCbky6OuwDVOwvPMNPu1RNebs3YtTmaKn3QVrOwnVrhWKovrJhtBzNcYaY6q1wDmiRxlbXfOk4Udi
US to Sell 26 Million More Barrels From Strategic Oil Reserve
The Biden administration plans to sell more crude oil from the Strategic Petroleum Reserve, fulfilling budget directives mandated years ago that it had sought to stop as oil prices have stabilized.
The congressionally mandated sale will amount to 26 million barrels of crude, according to people familiar with the matter. The sale is in accordance with a budget mandate enacted in 2015 for the current fiscal year, said a spokesperson for the Department of Energy.
The Energy Department has sought to stop some of the sales required by 2015 legislation so that it can refill the emergency reserve, which currently has about 371 million barrels. After this latest release, the reserve will dip to about 345 million.
Biden officials decided last year to tap 180 million barrels from the strategic reserve in an effort to ease supply issues after Russia invaded Ukraine, upending global oil flows and sending crude above $100 a barrel. Some Republicans have criticized the Biden administration for that drawdown, which was the biggest release ever and helped drain the SPR to its lowest level since 1983. Critics admonished the move as a political stunt intended to combat rising gasoline prices ahead of midterm elections.
Biden officials have since spoken with energy companies about purchasing oil to refill the SPR when prices approach $70 a barrel.
The latest release comes after Russia unveiled plans to curtail production by half-a-million barrels a day next month to retaliate against sanctions. Russia's move, which was downplayed by the European Union, follows China's rapid economic reopening with the scrapping of Covid-19 restrictions. The SPR release may give pause to the OPEC+ alliance, which earlier said that global oil markets remain balanced.
So how did the market react?
The US House last month passed legislation meant to curb the Energy secretary's ability to use the reserve unless the government increases the amount of federal lands available for gas and oil drilling.
Other congressionally required releases — about 140 million barrels slated for fiscal years 2024 through 2027 — were canceled at the Energy Department's behest after lawmakers in December approved a provision in a giant spending bill.
West Texas Intermediate, the US benchmark for crude, fell 1% to trade near $79 a barrel after the announcement of more barrels.
https://thepostmillennial.com/breaking-suspect-in-michigan-state-university-shooting-found-dead-from-self-inflicted-gunshot-at-least-3-people-killed?utm_campaign=64487
Suspect in Michigan State University shooting found dead from self-inflicted gunshot, at least 3 people killed
The suspect in the Michigan State University shooting was found dead off campus late Monday night from an apparent self-inflicted gunshot wound.
MSU Police Interim Deputy Chief Chris Rozman said, "There is no longer a threat on campus and the shelter-in-place has been lifted."
Police had earlier described the suspect as a "black male, shorter in stature, red shoes, jean jacket, wearing a baseball cap that is navy with a lighter brim." Rozman said the deceased individual matched the description of the suspect but did not reveal the suspect's identity.
During a press conference late Monday night, Rozman said 3 people had been killed and 5 have been hospitalized. The victims, some in critical condition, were transported to Sparrow Hospital.
Police responded to reports of an active shooting at Michigan State University in East Lansing Monday night and students were ordered to shelter in place.
The incident took place at 8:18 pm inside Berkey Hall the location of MSU's Department of Sociology on the northern boundary of the campus. The shelter-in-place order went out at 8:31 pm telling students to stay inside and barricade themselves.
"Run, Hide, Fight. Run means evacuate away from danger if you can do so safely, Hide means to secure-in-place, and Fight means protect yourself if no other option," MSU said in the alert.
According to authorities, the suspect walked to the MSU Union, approximately 19 minutes away from the initial shooting site and opened fire.
Hundreds of officers from the FBI, ATF, Michigan State Police, and other agencies are still assisting on campus. All campus activities have been canceled for 48 hours and authorities have asked people not to come to the campus on Tuesday.
Now that was some heavy subject matter, so let's go ahead and end with this… this is the fight laugh feast network afterall!
https://www.theguardian.com/uk-news/2023/feb/14/man-facing-jail-over-theft-of-almost-200000-cadbury-creme-eggs
Man facing jail over theft of almost 200,000 Cadbury Creme Eggs
A chocolate thief is facing jail after admitting he stole almost 200,000 Cadbury Creme Eggs in a heist worth more than £31,000.
Joby Pool, 32, dubbed "the Easter bunny" by police, used a stolen lorry cab to make off with chocolate after breaking into a Telford industrial unit with a metal grinder on Saturday.
He is expected to be jailed for about two years next month, after pleading guilty to theft and criminal damage.
Opening the facts of the case on Tuesday, prosecutor Owen Beale told Kidderminster magistrates court: "I don't know if you have seen the news recently – there was a load that was stolen and on the trailer was Cadbury's products, a large number of Creme Eggs."
He said Pool, a self-employed ground worker, used a tractor unit that had been stolen in the Yorkshire area in October to tow away the trailer full of chocolate, which was then driven away, eventually reaching the northbound M42.
Pool was spotted by police and "gave up at junction 11 and walked towards the police with his hands up. He was arrested and the load was recovered".
"This clearly wasn't spur-of-the-moment offending, if I can put it like that, because he had taken with him a tractor unit and he had to know that the load was there in the first place," said Beale.
Magistrates were told Pool, from West Yorkshire, was previously convicted of theft, handling stolen goods and driving while disqualified in 2019.
Beale said: "This is clearly an organised criminal matter. You don't just happen to learn about a trailer with that kind of value being available."
Defence solicitor John McMillan, told the court that Pool understood a substantial sentence was likely.
In a series of tweets on Monday, West Mercia police described the incident as an "eggs-travagent theft" of a "chocolate collection box".
"Shortly after the theft a vehicle, presumably purporting to be the Easter bunny, was stopped northbound on the M42 and a man was arrested on suspicion of theft," they said.
Pool will be sentenced at Shrewsbury crown court on 14 March.