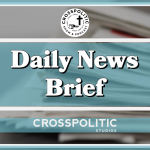 Would you have turned down $1 million severance in exchange for my voice.
Go to https://crosspolitic.com/libertytour/ to follow our tour dates and go to FLFNetwork.com to join our club.
Jennifer Sey Was Levi's Brand President. She Quit So She Could Be Free.
https://bariweiss.substack.com/p/yesterday-i-was-levis-brand-president?r=wjy6f
"In 2008, when I was a vice president of marketing, I published a memoir about my time as an elite gymnast that focused on the dark side of the sport, specifically the degradation of children. The gymnastics community threatened me with legal action and violence. Former competitors, teammates, and coaches dismissed my story as that of a bitter loser just trying to make a buck. They called me a grifter and a liar. But Levi's stood by me. More than that: they embraced me as a hero.
Things changed when Covid hit. Early on in the pandemic, I publicly questioned whether schools had to be shut down. This didn't seem at all controversial to me. I felt—and still do—that the draconian policies would cause the most harm to those least at risk, and the burden would fall heaviest on disadvantaged kids in public schools, who need the safety and routine of school the most."
She spoke out against COVID lockdowns and that is when the calls from corporate started coming:
"In the summer of 2020, I finally got the call. "You know when you speak, you speak on behalf of the company," our head of corporate communications told me, urging me to pipe down. I responded: "My title is not in my Twitter bio. I'm speaking as a public school mom of four kids."
But the calls kept coming. From legal. From HR. From a board member. And finally, from my boss, the CEO of the company. I explained why I felt so strongly about the issue, citing data on the safety of schools and the harms caused by virtual learning. While they didn't try to muzzle me outright, I was told repeatedly to "think about what I was saying."
Then…
In the fall of 2021, during a dinner with the CEO, I was told that I was on track to become the next CEO of Levi's—the stock price had doubled under my leadership, and revenue had returned to pre-pandemic levels. The only thing standing in my way, he said, was me. All I had to do was stop talking about the school thing.
Every day, a dossier of my tweets and all of my online interactions were sent to the CEO by the head of corporate communications. At one meeting of the executive leadership team, the CEO made an off-hand remark that I was "acting like Donald Trump." I felt embarrassed, and turned my camera off to collect myself.
In the last month, the CEO told me that it was "untenable" for me to stay. I was offered a $1 million severance package, but I knew I'd have to sign a nondisclosure agreement about why I'd been pushed out.
The money would be very nice. But I just can't do it. Sorry, Levi's."
It is a long article, but I recommend it. Glad to see people living on conviction and not allowing their freedom to speak bought off.
Sandy Hook families settle with gun maker in historic first
https://abcnews.go.com/US/sandy-hook-families-settle-remington-marking-1st-time/story?id=82881639
According to ABC News:
"Remington Arms agreed Tuesday to settle liability claims from the families of five adults and four children killed in the massacre at Sandy Hook Elementary School, according to a new court filing, marking the first time a gun manufacturer has been held accountable for a mass shooting in the U.S.
Remington agreed to pay the families $73 million.
The settlement comes over seven years after the families sued the maker of the Bushmaster XM15-E2S semiautomatic rifle that was used in the 2012 mass shooting in Newtown, Connecticut.
The rifle (Adam) Lanza used was Remington's version of the AR-15 assault rifle, which is substantially similar to the standard issue M16 military service rifle used by the U.S. Army and other nations' armed forces, but fires only in semiautomatic mode.
The families argued Remington negligently entrusted to civilian consumers an assault-style rifle that is suitable for use only by military and law enforcement personnel and violated the Connecticut Unfair Trade Practices Act through the sale or wrongful marketing of the rifle.
Remington, which filed for bankruptcy protection in July 2020, had argued all of the plaintiffs' legal theories were barred under Connecticut law and by a federal statute — the Protection of Lawful Commerce in Arms Act — which, with limited exceptions, immunizes firearms manufacturers, distributors and dealers from civil liability for crimes committed by third parties using their weapons."
This is a horrible settlement and sets a bad precedent. Should car manufacturing, knife companies, lawn mowing companies get sued because of the negligence of the owner? Here is the logic, if you are big pharma and pushing and emergency vaccination that was forced upon you by the government, you can't sue the government or big pharma. But if you own a gun, someone steals that gun and uses it to shoot up a school, well Remington can get sued. Follow the logic?
Prince Andrew agrees to settle sexual assault lawsuit
https://abcnews.go.com/International/prince-andrew-agrees-settle-sexual-assault-lawsuit/story?id=82903190
According to ABC News. Epstein didn't kill himself, I mean…
Prince Andrew has agreed to settle a sexual assault lawsuit from Virginia Giuffre, according to a letter filed Tuesday from her lawyer David Boies.
The sum of the settlement is not being disclosed, and the letter to the court says Prince Andrew "intends to make a substantial donation to Ms. Giuffre's charity in support of victims' rights."
"Prince Andrew has never intended to malign Ms. Giuffre's character, and he accepts that she has suffered both as an established victim of abuse and as a result of unfair public attacks," the letter reads. "It is known that Jeffrey Epstein trafficked countless young girls over many years. Prince Andrew regrets his association with Epstein, and commends the bravery of Ms. Giuffre and other survivors in standing up for themselves and others."
MORE: Prince Andrew to be deposed in civil lawsuit
Giuffre had alleged that Jeffrey Epstein trafficked her to Prince Andrew, who she claimed took advantage and sexually abused her when she was under 18.
Prince Andrew had repeatedly denied the allegation and attacked Giuffre's credibility and motives.
Earlier this month, Prince Andrew agreed to a March deposition in this case. This came after a federal judge in New York rejected his arguments to dismiss the case in January.
Giuffre and Epstein settled a civil lawsuit for $500,000 in 2009, which was the basis for Prince Andrew's argument to have the case dismissed.
Democrats Framed And Spied On Trump While He Was President? I don't believe, accept I do. But first:
CWWI DNB:
Cornerstone Work & Worldview Institute's vision is to see a community of businesses, churches, mentors, and instructors working together to provide our young people options beside the credentials game of our current culture. They desire to see confident students with integrity and a godly backbone that understand all things are subject to Christ and are trained to be competent on the job. Their mission is to build Kingdom culture in the workplace by equipping their Christian students with a Trinitarian worldview and vocational competencies. Visit their website: cornerstonework.org to learn how to enroll in their program or partner with them in their mission.
Democrats Framed And Spied On Trump While He Was President
https://thefederalist.com/2022/02/14/special-counsel-democrats-framed-and-spied-on-trump-while-he-was-president/
Margot Cleveland over at the Federalist writes:
"Enemies of Donald Trump surveilled the internet traffic at Trump Tower, at his New York City apartment building, and later at the executive office of the president of the United States, then fed disinformation about that traffic to intelligence agencies hoping to frame Trump as a Russia-connected stooge.
A tangential filing on Friday in the criminal case against former Hillary Clinton campaign lawyer Michael Sussmann revealed these new details uncovered by Special Counsel John Durham's investigation. The revelation came in the middle of a 13-page motion Durham's prosecutors filed in the criminal case against Sussmann. The special counsel's office charged Sussmann in September 2021, in a one-count indictment of lying to James Baker during a meeting Sussmann had with the then-FBI general counsel in the weeks leading up to the 2016 election.
Special Council "Durham began with the charge, noting as "factual background" that Sussmann, while serving as counsel to the Clinton campaign, met with FBI General Counsel Baker at FBI headquarters and provided Baker "purported data and 'white papers' that allegedly demonstrated a covert communications channel between the Trump Organization and a Russian-based bank."
According to the motion, Joffe did more than have his associates mine internet traffic at Trump Tower, Trump's residential apartment building, and the executive office of the president of the United States—he gave that data to Sussmann, who provided it to the CIA during a February 9, 2017 meeting. During that meeting, Sussmann gave the CIA "data which he claimed reflected purportedly suspicious DNS lookups by Trump Tower, Trump's residential apartment building, the EOP, and a healthcare provider, of internet protocol or IP addresses affiliated with a Russian mobile phone provided."
According to Friday's motion, Sussmann told the CIA during this meeting "that these lookups demonstrated that Trump and/or his associates were using supposedly rare, Russian-made wireless phones in the vicinity of the White House and other locations.""
Trump issued a statement: "declaring "the latest pleading from Special Counsel Robert Durham provides indisputable evidence that my campaign and presidency were spied on by operatives paid by the Hillary Clinton Campaign in an effort to develop a completely fabricated connection to Russia." "This is a scandal far greater in scope and magnitude than Watergate," Trump continued, adding that "those who were involved in and knew about this spying operation should be subject to criminal prosecution.""
Commie Blackface Trudeau actually admires China…not surprising. Roll Clip:
https://twitter.com/RapidFire_Pod/status/1493413794554564615?s=20&t=pQbzaO9O5805fgU3xiEdjQ
Protesters Double Down After Trudeau Invokes Unprecedented Emergency Powers, Threatens Bank Accounts
https://www.dailywire.com/news/exclusive-these-very-powers-are-why-we-are-here-canadian-protesters-dig-their-heels-in-against-trudeaus-crackdown
According to the Daily Wire:
Trudeau announced in a press conference Monday afternoon that he was authorizing the federal government's use of the Emergencies Act, a law passed in the late 1980s to take the place of the War Measures Act. The act strengthens Canadian law enforcements' ability to fine and imprison violators and ensures the operation of "essential services" such as towing rigs, Trudeau said during his press conference. It also empowers banks and financial institutions to freeze the accounts of any person or business suspected of being involved with an "illegal blockade."
David Paisley said
"No one really cares about any new announcement. I mean the police have been breaking the law long before any emergency power. They were taking our fuel away. They were arresting people for purely having jerry cans or having empty tanks of fuel," he said.
"They've already been doing these 'emergency powers' and all it does is make people dig their heels in more," Paisley added. "The irony … is that these very powers and threats are why we are here."
Paisley goes onto say:
"[The Trudeau government] underestimated the determination and the intelligence of those here, and so everyone still here on the ground, they're basically willing to give their lives for this – peacefully of course," Paisley said.
"They're prepared to drain every last dollar, even from frozen bank accounts," he added later.
"You come and sit in the driver's seat for a few hours and you'll be able to fill up your wallet again. It's incredible. People are just handing you fifties, hundreds, packs of hundreds. A friend of mine received a Bible and when he opened it up it had 500 cash inside the bible," Paisley said.
"The more the government tries to stomp this out, the more and more it causes people to rise up and say 'this is wrong, and I side with these truckers,'" he said. "These steps from the government have simply hardened the determination of the great men and women down here, so I'm not really concerned at all. We'll have lots of new friends when we all get tossed in prison together."
Closing
This is Gabriel Rench with Crosspolitic News. Support Rowdy Christian media by joining our club at fightlaughfeast.com, downloading our App, and head to our annual Fight Laugh Feast Events. With your partnership, together we will fight outdated and compromised media, engage news and politics with the gospel, and replace lies and darkness with truth and light. Go to fightlaughfeast.com to take all these actions. Have a great day. Lord bless