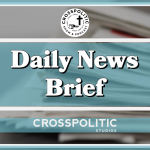 In this brief we talk Texas snow storms, Florida opening public schools, CDC changing guidelines again, and Teacher unions are a political party??? But first: 
If you have a news story you think we might need to cover, please send articles and links to News@CrossPolitic.com. Not only do we use these articles on our Daily News Briefs, but the also often make their way on to our news aggregator website: www.DeftWire.com. Lastly, if your company would like to advertise on our Daily News Brief, please reachout to Contact@FightLaughFeast.com for options. 
According to CNN:
https://www.cnn.com/2021/02/15/weather/historic-cold-outbreak-statistics/index.html
A historic cold outbreak has led in the coldest air in decades across the United States, reaching all the way to the Rio Grande and bringing record amounts of snow and ice to the Deep South.
Here are some of the records that have been broken across the United States by the cold weather as well as some of the more interesting statistics recorded due to the extreme temperatures.
There was a 130-degree spread in temperatures across the US yesterday, from 90 degrees in Florida to 40 below zero in Wisconsin and Minnesota.
The outbreak is bringing the coldest air in decades to many locations across the central United States:
-Dallas dipped to 5 degrees, the coldest temperature the city has seen since 1989.
-Oklahoma City hit 6 degrees below zero, the city's coldest temperature since 1989, and the wind chill reached a record 29 degrees below zero.
-Austin and San Antonio in Texas both had single-digit temperatures for the first time since 1989.
-Corpus Christi, Texas, dipped down to 17 degrees, the coldest it's been there since 1989.
-Rapid City, South Dakota has had five consecutive nights of 12 degrees below zero. The last time this happened was in 1943.
-The wind chill dipped to 32 degrees below zero in Kansas City, Missouri, the lowest since 1989.
-Monday's high of 3 degrees below zero and a low of 21 degrees below zero was the coldest day in Omaha, Nebraska, in 25 years.
Ok, so it is cold. But I don't remember rolling blackouts in Texas back in 1989. What happened? 
Tucker on Texas Green New Deals
https://www.foxnews.com/opinion/tucker-carlson-texas-green-new-deal-climate-catastrophe
Play Video til 48 second mark.
According to the Western Journal
https://www.westernjournal.com/polar-vortex-proving-exactly-green-energy-disaster-americas-power-grid/?utm_source=facebook&utm_medium=huckabee&fbclid=IwAR2VjK_692fbIQDH6Z_K81wGZ4zTb3eHj9U30zaCeTXMyepNN6osTXlL-5Y
In Texas, freezing temperatures and winter precipitation have caused some of the state's wind turbines to seize up, costing 12,000 megawatts in power on an already taxed state grid, according to the Austin American-Statesman.
In addition, The Dallas Morning News reported that 2 million Texans did not have power Monday due to the stress on the state's power supply and the necessary implementation of rolling blackouts.
The conservative think tank Center of the American Experiment has revealed that wind turbines in Minnesota and North Dakota built by Minnesota Power, Otter Tail Power and Xcel Energy will not only stop producing electricity but may also start consuming it.
In order to prevent damage to the motor, the turbines are heated to keep the components and their fluids from freezing. During the 2019 polar vortex, that safeguard drew 2 megawatts from the power grid.
Even for solar panels, which actually perform better in colder temperatures, the problem of ice and snow blocking out the light with no efficient way to clear each panel could render them useless.
Texans Forced To Cut Open Cattle With Lightsabers And Climb Inside For Warmth
https://babylonbee.com/news/texans-forced-to-cut-open-cattle-with-lightsabers-and-climb-inside-for-warmth
But hey kill the Keystone Pipeline project, put up more inefficient wind turbines, manufacture more electric cars, and while we are at it, lets put more solar panels up in the cloudy great northwest. 
Speaking of electric cars…
https://carbuzz.com/news/toyota-ceo-has-harsh-words-about-electric-vehicles
The CEO of Toyota said this:
"The current business model of the car industry is going to collapse," he said. "The more EVs we build, the worse carbon dioxide gets… When politicians are out there saying, 'Let's get rid of all cars using gasoline,' do they understand this?"
Massachusetts climate official proposes targeting regular people who heat their homes: 'We have to break your will'
https://www.washingtonexaminer.com/news/climate-official-regular-people-break-will
A Massachusetts climate official said people who heat their homes and fuel their cars will need to have their "will" broken in order to combat emissions and climate change.
"I know one thing that we found in our analysis is that 60% of our emissions come from … residential heating and passenger vehicles," said David Ismay, Massachusetts, undersecretary for climate change, during a virtual meeting with the Vermont Climate Council. "Let me say that again: 60% of our emissions that need to be reduced come from you, the person on your street, the senior on fixed-income. Right now, there is no bad guy left, at least in Massachusetts, to point the finger at and turn the screws on and now break their will, so they stop emitting. That's you. We have to break your will."
Share Plug
Is CrossPolitic a blessing to you? We hope so, and we would appreciate your support. There are three…four ways you can help us, and they are all fun ways:
First, one of the most significant ways you can help us (and we need a LOT of help!) is by sharing this news brief or your favorite show with someone you think would appreciate it. Tell someone about the Fight Laugh Feast App. 
Secondly, become a Fight Laugh Feast Club Member. We are building a platform that Lord-willing cannot be cancelled by big media. And your support is helping to make that possible. 
Thirdly, subscribe to our Fight Laugh Feast Magazine. Our goal here, is to give you a quarterly mini-book-like experience with various authors, one them, a Psalm of the quarter, a recipe of the quarter, and something to place on your coffee table that would drive Tim Keller crazy. Thanks to all of you who have already taken these steps, and we are excited for what God has in store for 2021.
As the CDC changes its guidelines to opening public schools…again, while Gov. DeSantis says Florida schools are open for business, and have been since August:
https://thepostmillennial.com/watch-florida-gov-de-santis-slams-cdc/
Play video: 
Oregon Dept. of Education: Asking Students To 'Show Their Work' In Math Class Is A Form Of White Supremacy
https://www.dailywire.com/news/asking-students-to-show-their-work-in-math-class-is-a-form-of-white-supremacy
A mathematics guide sent out to Oregon schools tells educators that asking students to show their work in math class is a form of white supremacy. 
In an email sent out by the Oregon Department of Education, teachers were encouraged to enroll in a course called "A Pathway to Equitable Math Instruction." The course came with an 82-page instructional guide that lists the ways in which white supremacy is perpetuated in math class. 
"White supremacy culture infiltrates math classrooms in everyday teacher actions," the guide reads. "Coupled with the beliefs that underlie these actions, they perpetuate educational harm on Black, Latinx, and multilingual students, denying them full access to the world of mathematics."   
Examples of classroom actions that allegedly perpetuate white supremacy include asking students to show their work, focusing on getting the right answer, tracking student success, and grading students. 
Chicago Mayor Says Teachers Union Acting Like 'Political Party'
https://dailycaller.com/2021/02/15/chicago-mayor-teachers-union-lori-lightfoot-political-party/
According to The New York Times, Lightfoot said.
"When you have unions that have other aspirations beyond being a union, and maybe being something akin to a political party, then there's always going to be conflict," 
When asked what she believes the CTU's aims are beyond typical union-based collective bargaining, Lightfoot said "they'd like to take over not only Chicago Public Schools, but take over running the city government. That'll play itself out over time. I don't really spend time, and certainly not in the middle of a pandemic, worrying about the politics. But politics intrudes, always," The New York Times reported.
Two National Events: Fight Laugh Feast Rally in Rapid City, South Dakota, April 29, 30, May 1 & the Fight Laugh Feast Conference in Nashville, TN, October 14-16. Why a rally in South Dakota in April? Because we want to stand with Kristi Noem – the only Governor in the Union to not overstep her authority. And we also want to encourage you wherever you are. Many churches are not meeting, many Christians feel all alone. But you're not alone. So the theme of the Rally in South Dakota is Love God, Sing Psalms, Defy Tyrants. Gather with likeminded Christians who love freedom, confess Jesus Christ is Lord, and be equipped to stand firm in these insane days. Go to FLFNetwork.com/Rally. 
Closing
This is Gabriel Rench with Crosspolitic News. Support Rowdy Christian media by joining our club at FightLaughFeast.com, downloading our App, and head to our annual Fight Laugh Feast Conference next fall. With your partnership, together we will fight outdated and compromised media, engage news and politics with the gospel, and replace lies and darkness with truth and light. Go to FightLaughFeast.com to take all these actions. Have a great day. Lord bless