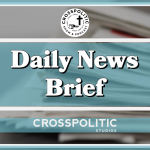 This is Garrison Hardie with your CrossPolitic Daily Newsbrief for Wednesday, February 1st, 2023. Ladies and gentleman, did you know that you can sign up for our Fight Laugh Feast Conference, happening at the Ark Encounter this year? Well now you can! Head on over to fightlaughfeast.com, and you can sign up today! That's fightlaughfeast.com.
https://www.dailywire.com/news/u-s-surgeon-general-warns-13-years-old-is-too-young-to-join-social-media
U.S. Surgeon General Warns 13-Years-Old Is Too Young To Join Social Media
U.S. Surgeon General Vivek Murthy believes children 13 years old are too young to join social media platforms, citing kids are still "developing their identity," and such engagement can create a distorted sense of themselves.
Murthy, who has served as surgeon general under the Obama and the Biden administrations, signaled the warning in an interview with CNN, noting adolescents should only be allowed to access the platforms until they were 16 years old at the earliest.
"It's a time, you know, early adolescence, where kids are developing their identity, their sense of self," Murthy said. "It's a time where it's really important for us to be thoughtful about what's going into how they think about their own self-worth and their relationships, and the skewed and often distorted environment of social media often does a disservice to many of those children."
Social media giant platforms such as TikTok, Instagram, and Twitter require a minimum age of 13 to join.
Murthy further noted the issue with addictive algorithms, which pits youth against Big Tech.
"You have some of the best designers and product developers in the world who have designed these products to make sure people are maximizing the amount of time they spend on these platforms," he said. "And if we tell a child, use the force of your willpower to control how much time you're spending, you're pitting a child against the world's greatest product designers."
"And that's just not a fair fight," he added. "And so that's why I think our kids need help."
The Journal of the American Medical Association published a study earlier this month which sampled 178 12-year-olds from three public middle schools in North Carolina and reviewed how often the minors check social media platforms like Facebook, Instagram, and Snapchat.
Researchers found individuals with habitual checking behaviors showed initial hypoactivation but increasing sensitivity to potential social cues over time. Nonhabitual individuals, however, showed initial hyperactivation and decreasing sensitivity.
Dr. Adriana Stacey told CNN using social media releases a "dopamine dump" and compared the addictiveness of smartphones to cocaine.
Surgeon General Murthy called on parents to band together to prevent their children from logging on to social media platforms until they're at least 16 years old.
Seattle Public School District officials filed a lawsuit earlier this month against several social media platform owners, including Facebook and TikTok, for allegedly intentionally cultivating and creating a mental health crisis among the youth and have caused a public nuisance affecting Seattle Public Schools.
President Joe Biden drew attention to social media platforms in his 2022 State of the Union Address, alleging the harm social media has wrought on American youth should implore all to "hold social media platforms accountable for the national experiment they're conducting on our children for profit."
The Biden administration & General Murthy took fire howewver, due to what appears to be inconscistencies in their rules.
He told "CNN Newsroom" host Pamela Brown that parents should look to push back the age at which their children begin using social media platforms to make sure kids "don't get exposed to harm early."
Last March, Murthy addressed a directive from Texas Gov. Greg Abbott, R., effectively cutting gender-affirming care for minors in his state, taking to Twitter to write, "Yesterday afternoon in Austin, I met with transgender youth and their parents to hear how they are coping in light of the state's recent directive equating gender-affirming care to child abuse."
"The pain and fear in their voices was heartbreaking. Parents and kids are terrified about being separated. They described repeated attacks on their families at traumatic… LGBTQ+ youth were already at increased risk of suicide and other mental health struggles. We should be seeking to provide them with support and medical care….
"Forcing parents to choose between following medical advice for their child and risking an investigation from the state is simply not right. The government shouldn't be interfering with decisions between doctors and patients," he continued.
https://www.theepochtimes.com/border-patrol-agents-told-to-not-chase-all-vehicles-that-flee_5022784.html?utm_source=partner&utm_campaign=BonginoReport
Border Patrol Agents Told to Not Chase All Vehicles That Flee
Texas—Border Patrol agents will soon be limited in chasing vehicles that flee from them, under new rules unveiled in January and set to take effect in May.
Agents must determine that vehicular pursuits are "necessary and objectively reasonable" under the rules, and can terminate a pursuit at any time without fear of questioning from superiors.
Agents are being told that they must consider factors such as "the seriousness of the reason" for a pursuit and weather conditions when deciding whether to chase a fleeing vehicle that failed to stop at a checkpoint or port of entry—the official places to enter the United States from Mexico and Canada.
"A Vehicular Pursuit is considered Necessary when an Authorized Officer/Agent concludes there is an immediate need to apprehend a subject as part of their enforcement duties based on the totality of the known facts and circumstances," the rules state.
A pursuit meets the "objectively reasonable" standard when the government's interest in apprehending the persons or people in the fleeing vehicle "clearly outweighs the Foreseeability of Risk to the public, officers/agents, other law enforcement, and vehicle occupants," the rules state.
Agents must evaluate the interest and the potential risk when choosing whether to pursue a fleeing vehicle and continue the evaluation during the chase. They must also alert a supervisor "as soon as feasible" during a pursuit and immediately terminate the chase if the supervisor does not authorize it to continue, or orders it stopped.
If a chase is terminated, agents must pull their vehicle over to signal to the public and the fleeing driver that the chase has ended, according to the rules. They must alert superiors. They can then start driving again in the last known direction of the fleeing vehicle to check for "crashes, potential flight on foot, to determine if the Subject Vehicle was abandoned, or for any other incident."
The rules also suggest alternatives to vehicular pursuits, such as tracking with airplanes.
Troy Miller, who became acting Customs and Border Protection commissioner in late 2022 after the ouster of Chris Magnus, said that vehicular pursuits "pose inherent risks—to members of the public, officers and agents, and vehicle occupants" and that the new policy "acknowledges these risks and shifts our Agency's overall approach to a risk-based model when it comes to pursuits."
Magnus stressed that the policy does not bar vehicular pursuits but "provides a clear framework" for weighing the risks associated with pursuits against the benefits.
https://hotair.com/tree-hugging-sister/2023/01/30/florida-taking-the-first-steps-to-become-26th-constitutional-carry-state-n527375
Florida taking the first steps to become 26th constitutional carry state
The speaker of the Florida House announced lawmakers had filed the bill this morning.
Florida lawmakers' promise to introduce legislation allowing permitless concealed carry of firearms, called "Constitutional Carry" by proponents, has been met. At a Monday morning press briefing, House Speaker Paul Renner (R-Palm Coast) and other gathered lawmakers announced House Bill 543, which would allow weapons and firearms without a license for concealment.
The proposed bill was written by Rep. Chuck Brannan (R-Lake City), with state Sen. Jay Collins (R-Tampa) writing the companion legislation for the Florida Senate. Gov. Ron DeSantis said in December that he was committed to the legislation passing and urged state lawmakers to propose it.
Under the proposed bill, Floridians would no longer need to apply for a license for concealed carry. The state of Florida already allows firearm purchases for those 21 and older without need of state application, aside from federal requirements for background checks.
Should the bill pass, the regulation of concealed carry permits, handled by the Florida Department of Agriculture and Consumer Services, would end.
Gov. DeSantis voices support for Constitutional Carry in Florida-Play Video
https://thepostmillennial.com/new-york-hotel-mobbed-by-illegal-migrants-who-refuse-to-leave?utm_campaign=64487
New York hotel mobbed by illegal migrants who refuse to leave
Illegal aliens standing outside of the Watson Hotel in New York's Hell's Kitchen district on Sunday night refused to leave for a new shelter, causing police to mobilize.
More than 50 migrants were outside of the hotel, along with activists who were handing out food and water.
City officials said that single men were supposed to be brought to a new shelter at the Brooklyn Cruise Terminal that would provide the same services that they were receiving at the hotel. The city bus arrived, but only a small number of migrants hopped on the bus. Most decided to stay outside the hotel on West 57th Street. Activists claimed that migrants were being relocated from the hotel. One activist was quoted telling the New York Post that they were prepared to stay overnight.
A dozen police were originally stationed at the Watson hotel, with police remaining on-scene until around midnight as migrants were still surrounding the entrance of the hotel.
The Brooklyn Cruise Terminal is a new mega shelter that can house as many as 1,000 single adult men, Mayor Eric Adams said last week.
https://nationalpost.com/pmn/news-pmn/crime-pmn/suicide-bomber-breaches-high-security-in-pakistan-mosque-kills-59
And now in world news… Suicide bomber breaches high security in Pakistan mosque, kills 59
A suicide bomber blew himself up inside a crowded mosque in a highly fortified security compound in Pakistan on Monday, killing 59 people, the latest attack by resurgent Islamist militants targeting police.
The attacker appeared to have passed through several barricades manned by security forces to get into the "Red Zone" compound that houses police and counter-terrorism offices in the volatile northwestern city of Peshawar, police said.
Many of the 170 wounded people were in critical condition.
The death toll rose to 59 after several people succumbed to their wounds, hospital official Mohammad Asim said in a statement.
The bombing happened a day before an International Monetary Fund mission to Islamabad to initiate talks on unlocking funding for the South Asian country's economy, which is enduring a balance of payments crisis.
Prime Minister Shehbaz Sharif condemned the attack.
The bomber detonated his load at the moment hundreds of people lined up to say their prayers, officials said.
"We have found traces of explosives," Khan told reporters, adding that a security lapse had clearly occurred as the bomber had slipped through the most secured area of the compound.
An inquiry was under way into how the attacker breached such an elite security cordon and whether there was any inside help.
Story Real Estate:
Home. It's where you build your legacy. Where traditions are started, seeds are planted, meals are shared, and stories are told. Home is where you prepare to go out into the world. Finding the home that's perfect for your family is a big job.
Story Real Estate is Moscow's top real estate team. They give people real estate advice all over the country. Family homes, investments, land, new construction, or commercial— they know real estate.
If you've thought about a move to Moscow or anywhere in the country, reach out to get connected with a Story Real Estate agent. Wherever you're going, they can help guide you Home. Visit storyrealestate.com.
And now it's time for my favorite topic.. Sports!
The superbowl is all set ladies and gentleman… The Eagles started proceedings as they took on the San Francisco 49ers:
San Francisco 49ers vs. Philadelphia Eagles | 2023 NFC Conference Championship Game Highlights
Play 5:45-5:56

Play 6:45-6:58

Play 8:57-9:09
The Philadelphia Eagles demolished the San Francisco 49ers 31-7, as they're headed back to the Superbowl…
The AFC Championship game between the Bengals & Chiefs was much closer, and had a lot of drama…Cincinatti Bengals vs. Kansas City Chiefs | 2023 AFC Championship Game Highlights
Cincinatti Bengals vs. Kansas City Chiefs | 2023 AFC Championship Game Highlights
Play 5:20-5:33

Play 14:47-15:09

Play 15:33-16:33
Man do I love sports…