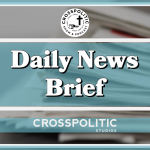 This is Garrison Hardie with your CrossPolitic Daily Newsbrief, for Wednesday, February 22nd, 2023.
Fight Laugh Feast Conference – Ark Encounter
This year, our Fight Laugh Feast Conference is at the Ark Encounter in Kentucky on The Politics of Six Day Creation. The politics of six day creation is the difference between a fixed standard of justice and a careening standard of justice, the difference between the corrosive relativism that creates mobs and anarchy and the freedom of objectivity, truth, and due process. The politics of six day creation establishes the authority and sufficiency of God's Word for all of life: from what is a man or a woman, when does human life begin, and how is human society best organized?
Come hear Ken Ham, Pastor Doug Wilson, Dr. Ben Merkle, Dr. Gordon Wilson, me and more, and of course a live CrossPolitic show! Mark your calendars for October 11th-14th, as we fight, laugh, and feast, with beer & psalms, our amazing lineup of speakers, our Rowdy Christian Merch, and a Sabbath Feast to wrap up the occasion. Maybe an infant baptism while we're at it?
https://redstate.com/bobhoge/2023/02/21/retailers-to-shut-down-over-800-big-box-stores-as-inflation-anemic-sales-and-interest-rates-create-perfect-storm-n706431
Retailers to Shut Down Over 800 Big-Box Stores as Inflation, Anemic Sales and Interest Rates Create Perfect Storm
The retail world continues its downward spiral, as holiday sales failed to meet expectations and wary consumers are keeping their wallets in their pockets due to rampant inflation and soaring interest rates.
While 2022 Christmas holiday sales did increase from the prior year; it's just that expectations were primed for an even higher increase after two years of the pandemic.
The end result: over 800 big-box stores are slated to shut down across the country in 2023.
Bed Bath & Beyond, Walmart, Gap, and Party City are among the big names who will be downsizing. Bath & Beyond, which narrowly escaped bankruptcy proceedings earlier this month, is the biggest loser, aiming to cut its number of stores to 480 when it once had over 1,500 locations.
At least 416 stores have been identified for closure, along with all 65 of its locations in Canada. Thirty-five will close in California alone.
Next up is homegoods outlet Tuesday Morning, which will close 265 stores as it struggles to survive through bankruptcy proceedings. Once again, California will be hardest hit, with 30 stores shutting their doors.
Macy's, Big Lots, JCPenny, and even Amazon Fresh grocery stores also have plans to shutter locations.
What's going on here? CNBC explains:
For retailers, the shopping season's results reflect the challenges ahead. As Americans continue to pay higher prices for groceries, housing and more month after month, they are racking up credit card balances, spending down savings and having fewer dollars for discretionary spending.
Plus, retailers are following years of extraordinary spending. During the Covid pandemic, Americans fought boredom and used stimulus checks by buying loungewear, throw pillows, kitchen supplies, home theater systems and more.
Party City, the ubiquitous entertainment supply chain, has filed for bankruptcy and is in the process of auctioning off many of its leases. NJBIZ reports:
A month after filing for Chapter 11 bankruptcy protection, Party City Holdco Inc. is looking to shrink its retail footprint as part of an expedited financial restructuring.
In a Feb. 16 filing with U.S. bankruptcy court, the Woodcliff Lake-based operator of 800-plus stores said it is working with A&G Real Estate Partners to auction off leases for 12 underperforming locations in six states. In coming weeks, additional lease auctions will follow, with the total number of closures depending on the outcome of ongoing negotiations with landlords, according to A&G.
Unfortunately, this is not a new trend. CVS, Rite-Aid, Kroger, Nordstrom, and Best Buy have also been quietly culling their stores over the last several years. Another factor: many locations are closing simply because they're not safe to operate as lax laws and woke prosecutors have turned many spots into virtual free-for-alls for organized shoplifters.
https://nypost.com/2023/02/21/border-patrol-begs-for-help-after-record-migrant-surge-from-canada/
Border Patrol now begs for help to stop 800% surge of migrants sneaking in from Canada
The Border Patrol is begging agents to volunteer in the north after a staggering nearly-850% surge of mostly-Mexican migrants illegally crossing into the US from Canada.
The agency's Swanton Sector in Vermont — covering parts of upstate New York and New Hampshire — requested a "quick turnaround" of agents from the already overwhelmed southern border to make their way north to volunteer for at least a month starting next week.
Help is needed to control the "strain caused by the surge" of "primarily Mexican migrants with no legal documents," Swanton's Chief Patrol Agent Robert Garcia wrote in a memo obtained this week by Fox News.
"Due to the increased numbers, stations are task saturated with processing large groups, which has contributed" to more migrants being able to slip into the country, the memo notes.
The request came a week after Garcia reported that crossings had reached "historic highs" — even as temperatures plummet to deadly lows of minus-four degrees.
His sector said that the current fiscal year — which started in October — "demonstrates an approximate 846% increase in encounters and apprehensions compared to the same period" in the previous year.
In fact, the first four months of the current fiscal year have seen more encounters than the whole of the previous two years combined.
Last month, agents recorded 367 apprehensions and encounters — more than the total of the past 12 Januarys combined, which was 344.
The desperate conditions in the south have also seen a steady flow of agents transferred there from the north, creating part of the "vulnerability," Clem said
He blamed electronic travel authorization for allowing migrants to travel "basically visa-free" from Mexico to Canada.
The Swanton sector has seen families with young kids, even infants, crossing, and late last year provided life-saving aid in separate incidents in Vermont and upstate New York, Garcia said.
https://thepostmillennial.com/don-lemon-to-undergo-formal-training-after-sexist-remarks-about-nikki-haley-will-be-back-on-cnn-wednesday?utm_campaign=64487
Don Lemon to undergo 'formal training' after sexist remarks about Nikki Haley, will be back on CNN Wednesday
Don Lemon is set to return to the air on Wednesday after beign removed from CNN This Morning over sexist comments he made about Republican presidential candidate Nikki Haley's age.
https://twitter.com/i/status/1626263301758898176 – Play Video
The longtime host will reportedly be taking part in "formal training" to help him understand why what he said was wrong.
According to Brian Stelter, CNN CEO Chris Licht sent a memo to staff on Monday outlining the situation.
Lemon said in a tweet: The reference I made to a woman's "prime" this morning was inartful and irrelevant, as colleagues and loved ones have pointed out, and I regret it. A woman's age doesn't define her either personally or professionally. I have countless women in my life who prove that every day.
Smart Pricing Table:
Do you own a business and write a lot of proposals? If so, you should check out SmartPricingTable.com.
Smart Pricing Table allows you to create quick and accurate proposals; and it's loaded with features like recurring fees, quantities and line item upsells. When your prospect is ready, they can e-sign and you're off to the races.
Visit SmartPricingTable.com and mention Cross Politic to get 25% off your first 2 months
https://thepostmillennial.com/project-veritas-hemorrhages-twitter-followers-after-release-of-founder-james-okeefe?utm_campaign=64487
Project Veritas HEMORRHAGES Twitter followers after release of founder James O'Keefe
On Monday, Project Veritas lost over 80,000 followers on social media after it was announced company founder James O'Keefe was removed from the organization, which he founded in 2011, after the board placed him on paid leave earlier in February.
According to Social Blade, a social media analytics website, the live tally as of 4:30 pm showed Project Veritas had lost almost 80,000 followers on Twitter.
Since February 16, on YouTube, Project Veritas has lost over 10,000 followers.
A February 6 memo leaked from 16 Project Veritas employees detailed their problems with the news organization's founder and claimed he exhibited "cruel behavior."
"James has become a power drunk tyrant and he is exactly who he pontificates on who we should be exposing," wrote one of the employees.
Initial reporting on Monday from Neil McCabe of OAN claimed O'Keefe had resigned. Later, RC Maxwell from Project Veritas said O'Keefe was in fact removed from his role as CEO by the Board.