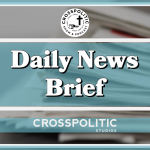 Hi, this is Garrison Hardie with your CrossPolitic Daily News Brief, for Wednesday, February 23rd, 2022. Today, you'll hear about the potential of truckers descending on DC, it's about time! The Chinese Social Credit System, and basketball, is actually a contact sport! First, let's go to DC.
DC prepares for possible US 'Freedom Convoy,' officials request National Guard troops
https://www.foxnews.com/us/dc-prepares-apparent-us-trucker-convoy-ottawa-protest-ends
We've been covering a lot of the Freedom convoy in Canada, well now, Washington, D.C., appears to be preparing for thousands of truckers who plan to descend on the U.S. capital in the coming days.
State and local law enforcement have called in support from the National Guard In anticipation of the massive convoy in the D.C. area between late February and late March, a government source told Fox News on Tuesday.
Two tow trucks were spotted early Tuesday parked along the D.C.'s National Mall at 7th and D Street and at 12th and C Street Southwest. The owner of the towing company told Fox News via phone that the city of D.C. hired them for "public work" that could last up to 10 days.
The owner said they were specifically hired ahead of the trucking protest, and they've been instructed to clear any vehicles that illegally block the D.C. streets. He said they have no idea when the truckers might arrive.
Joe Rogan guest plays a TERRIFYING video exposing coming "digital ID" dystopia:
Just a warning, there's a little bit of language in here:
joe rogan guest plays scary video exposing coming quot digital id quot dystopia scloudtomp3downloadePlay 0:06-2:19
Joe's guest mentioned two items: What's going on in the UK, and the Chinese Social Credit System.
Let's take them one at a time. According to msn.com: The Bank of England has called on ministers to decide whether a central bank digital currency should be "programmable", ultimately giving the issuer control over how it is spent by the recipient.
https://www.msn.com/en-gb/money/other/bank-of-england-tells-ministers-to-intervene-on-digital-currency-programming/ar-AALhtDP
Tom Mutton, a director at the Bank of England, said during a conference on Monday that programming could become a key feature of any future central bank digital currency, in which the money would be programmed to be released only when something happened.
He said: "You could introduce programmability – what happens if one of the participants in a transaction puts a restriction on [future use of the money]?
"There could be some socially beneficial outcomes from that, preventing activity which is seen to be socially harmful in some way. But at the same time it could be a restriction on people's freedoms."
He warned that the Government would be required to intervene and make the final decision.
Mr Mutton said: "That is a really delicate debate that needs to be had. It is not something we can settle ourselves, that is for the Government to lead on."
Yes, because if there's anything we've learned over the past year or two, is that we can trust the government to lead on that front. Great point Tom!
China's 'social credit' system ranks citizens and punishes them with throttled internet speeds and flight bans if the Communist Party deems them untrustworthy
https://www.businessinsider.com/china-social-credit-system-punishments-and-rewards-explained-2018-4
This is from the Business Insider: The Chinese Communist Party has been constructing a moral ranking system for years that will monitor the behavior of its enormous population — and rank them all based on their "social credit."
The "social credit system," first announced in 2014, is "an important component part of the Socialist market economy system and the social governance system" and aims to reinforce the idea that "keeping trust is glorious and breaking trust is disgraceful," according to a 2015 government document.
The article continues, Bad driving and debt could get you downgraded in the social ranking system:
Like private credit scores, a person's social score can move up and down depending on their behavior. Examples of infractions include bad driving, smoking in non-smoking zones, buying too many video games, and posting fake news online… we'd be in jail over there I can tell you that much.
They can also clamp down on luxury options — many are barred from getting business-class train tickets, and some are kept out of the best hotels.
This video, posted by freelance journalist James O'Malley, includes an example of an announcement on a bullet train from Beijing to Shanghai warning people not to misbehave — or else their "behavior will be recorded in individual credit information system."
https://twitter.com/i/status/1056811593177227264 Play whole video
All of what I just read through, highlights the importance of Christians, coming together, and building an independent, Christian economy… and on that note, I'd like to tell you about one of our corporate partners, The Mission of Armored Republic is to Honor Christ by equipping Free Men with Tools of Liberty necessary to preserve God-given rights. In the Armored Republic there is no King but Christ. We are Free Craftsmen. Body Armor is a Tool of Liberty. We create Tools of Liberty. Free men must remain ever vigilant against tyranny wherever it appears. God has given us the tools of liberty needed to defend the rights He bestowed to us. Armored Republic is honored to offer you those Tools. Visit them, at ar500armor.com
Michigan Men's Basketball Coach, Juwan Howard, slaps Wisconsin Assistant Joe Krabbenhoft:
Juwan Howard Strikes Joe Krabbenhoft After Michigan-Wisconsin GamePlay 0:00-1:01
Who said basketball isn't a contact sport?
https://www.cbssports.com/college-basketball/news/michigan-vs-wisconsin-fight-did-wolverines-coach-juwan-howard-deserve-his-five-game-suspension/
According to CBS Sports, On Monday, the Big Ten announced penalties for the altercation, including a five-game suspension and $40,000 fine for Michigan coach Juwan Howard. In addition Wisconsin coach Greg Gard was fined $10,000 for violating the conference's sportsmanship policy, but was not suspended.
The Big Ten also suspended three players one game for the altercation following the Badgers' 77-63 win on Sunday with Michigan's Moussa Diabate and Terrance Williams II, and Jahcobi Neath of Wisconsin sitting out their team's next game.
This isn't the first time that Juwan Howard has had an altercation as a head coach though… Last year, during the Big 10 Championship, Howard got ejected from a game against Maryland, and had to be held back by assistant coaches and players.
Maryland also alleges that Howard told Maryland head coach, Mark Turgeon, "I'll F–king kill you".
Howard retorted that Turgeon had charged him, and explained quote: "I don't know how you guys were raised but how I was raised by my grandmother and also by Chicago. I was raised by Chicago, I grew up on the South Side, when guys charge you, it's time to defend yourself."
Are you starting to sense a pattern here? This pattern starts to beg the question… should Juwan Howard still have this job? Of course, you have to remember in this day and age, Michigan would probably be labeled as racist were they to fire a black coach, especially in the wake of the NFL being sued by a disgruntled former Dolphins coach, Brian Flores. … Howard has released a statement since his suspension saying quote:
"After taking time to reflect on all that happened, I realize how unacceptable both my actions and words were, and how they affected so many. I am truly sorry."
"I am offering my sincerest apology to my players and their families, my staff, my family and the Michigan fans around the world. I would like to personally apologize to Wisconsin's assistant coach Joel Krabbenhoft and his family, too."
"Lastly, I speak a lot about being a Michigan man and representing the University of Michigan with class and pride. I did not do that, nor did I set the right example in the right way for my student-athletes. I will learn from my mistake and this mistake will never happen again. No excuses!"
You know what that reminded me of? I state my regret. (The Office)-Whole video
Ah, anything for an Office reference.
Thanks for tuning in for this episode of the CrossPolitic Daily News Brief. If you haven't already, you should download our app! Type in Fight Laugh Feast into your favorite app store, and if you are a CEO who wants to have your company be a corporate partner with us, let's talk… email me at garrison@fightlaughfeast.com. Have a great rest of your day, and we'll see you tomorrow!