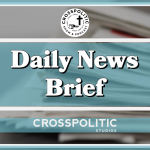 This is Gabriel Rench with your CrossPolitic Daily News Brief for Wednesday February 24th, 2021
WE are going to talk more COVID data, Merick Garland is either dumb or he should not be our attorney general, and Oh Canada. 
You guys have been great sending all your news articles to news@CrossPolitic.com, and don't forget a lot of those articles end up on our amazing Drudge replacement:  www.DeftWire.com. Lastly, if your company would like to advertise on our Daily News Brief, please reach out to contact@fightlaughfeast.com for options. 
As Toby pointed out yesterday, Merick Garland is Biden's Attorney General Nominee, well he was having a little trouble answering basic questions: 
Garland "This is a difficult question"
https://twitter.com/DailyCaller/status/1363927397339455492?s=20
Play clip
Dr. Fauci advises Americans to avoid dining out or going to movies even after full vaccination
https://disrn.com/news/dr-fauci-advises-americans-to-avoid-dining-out-or-going-to-movies-even-after-full-vaccination
According to Disrn.com:
"Infectious disease expert Dr. Anthony Fauci advised Americans who have received the coronavirus vaccine to still be very wary about dining out or going to the movies. This is true even if the individual has received both injections of the vaccine, he said.
"I still do not do dining indoors and I still do takeout," Fauci, who has been vaccinated, said. "I want to continue to support the restaurants in my neighborhood that I would normally go to."
The statement came at a briefing one day after Fauci announced Sunday morning that he believes Americans will possibly need to wear facemasks into 2022 on a protracted course to "normality."
"When it goes way down, and the overwhelming majority of the people in the population are vaccinated, then I would feel comfortable in saying you know we need to pull back on the masks, we don't need to have masks," Fauci counseled.
The United States recently passed 500,000 coronavirus-related deaths according to the Centers for Disease Control and Prevention."
The American Journal of Medicine now recommends HCQ
https://www.sciencedirect.com/science/article/pii/S0002934320306732
Clinical Significance
COVID-19 hospitalizations and death can be reduced with outpatient treatment.
Principles of COVID-19 outpatient care include: 1) reduction of reinoculation, 2) combination antiviral therapy, 3) immunomodulation, 4) antiplatelet/antithrombotic therapy 5) administration of oxygen, monitoring, and telemedicine.
Future randomized trials will undoubtedly refine and clarify ambulatory treatment, however we emphasize the immediate need for management guidance in the current crisis of widespread hospital resource consumption, morbidity, and mortality.
The 3rd paragraph is says this: 
"On May 14, 2020, after about 1 million cases and 90,000 deaths in the United States had already occurred, the National Institutes of Health (NIH) announced it was launching an outpatient trial of hydroxychloroquine (HCQ) and azithromycin in the treatment of COVID-19.6 A month later, the agency announced it was closing the trial because of the lack of enrollment with only 20 of 2000 patients recruited.7 No safety concerns were associated with the trial. This effort serves as the best current working example of the lack of feasibility of outpatient trials for COVID-19."
But that is not really how the HCQ controversy shook out. You had governors, including ours in Idaho, literally banning HCQ from being used for treatment. And then just back in October the NIH literally prohibited "early treatments nationwide for COVID-infected patients, except those already hospitalized and requiring oxygen". https://www.americasfrontlinedoctors.com/nih-limiting-early-treatment/
But I digress. 
"The currently completed retrospective studies and randomized trials have generally shown these findings: 1) when started late in the hospital course and for short durations of time, antimalarials appear to be ineffective, 2) when started earlier in the hospital course, for progressively longer durations and in outpatients, antimalarials may reduce the progression of disease, prevent hospitalization, and are associated with reduced mortality."
But then there is this little gem:
"A typical HCQ regimen is 200 mg bid for 5 days and extended to 30 days for continued symptoms. A minimal sufficient dose of HCQ should be used, because in excessive doses the drug can interfere with early immune response to the virus."
Remember back in April when people were arguing that HCQ was actually detrimental for COVID patience, well that was because they were loading patience up in HCQ 800 to 2000 mgs. Which is never how it has been prescribed. 
(Azithromycin) has been commonly used in COVID-19 studies initially based on French reports demonstrating markedly reduced durations of viral shedding, fewer hospitalizations, and reduced mortality combination with HCQ as compared to those untreated.
The study ends with this sentence: 
"We have proposed an algorithm based on age and comorbidities that allows for a large proportion to be monitored and treated at home during self-isolation with the aim of reducing the risks of hospitalization and death."
But the WHO still says on their website that HCQ does not help: https://www.who.int/emergencies/diseases/novel-coronavirus-2019/advice-for-public/myth-busters#chloroquine
FDA cautions against use of hydroxychloroquine or chloroquine for COVID-19 outside of the hospital setting or a clinical trial due to risk of heart rhythm problems
https://www.fda.gov/drugs/drug-safety-and-availability/fda-cautions-against-use-hydroxychloroquine-or-chloroquine-covid-19-outside-hospital-setting-or
Is CrossPolitic a blessing to you? We hope so, and we would appreciate your support. We are excited to be building out an army of club members, and there are now literally thousands of you, so join the Fight Laugh Feast army and follow these steps below:
First, one of the most significant ways you can help us (and we need a LOT of help!) is by sharing this news brief or your favorite show with someone you think would appreciate it. Tell someone about the Fight Laugh Feast App. 
Secondly, become a Fight Laugh Feast Club Member. We are building a platform that Lord-willing cannot be cancelled by big media. And your support is helping to make that possible. 
Thirdly, subscribe to our Fight Laugh Feast Magazine. Our goal here, is to give you a quarterly mini-book-like experience with various authors, one them, a Psalm of the quarter, a recipe of the quarter, and something to place on your coffee table that would drive Tim Keller crazy. Thanks to all of you who have already taken these steps, and we are excited for what God has in store for 2021.
Fourthly, and more on this below, come Fight Laugh Feast with us at our events. 
Numerous senior officials from the Public Health Agency of Canada do not care about the data:
https://twitter.com/GMRench/status/1363543818600030210?s=20
Play video
Speaking of Canada. Are you following Grace/Life? 
GraceLife Church defies closure order yet again, holds service in violation of COVID-19 rules
https://edmontonjournal.com/news/local-news/gracelife-church-defies-closure-order-yet-again-holds-service-in-violation-of-covid-19-rules?utm_term=Autofeed&utm_medium=Social&utm_source=Facebook#Echobox=1613946679
According to the Edmonton Journal:
"A steady steam of cars drove into GraceLife Church Sunday morning, packing the parking lot ahead of the 10:45 a.m. service. By approximately 10:30 a.m., drivers were being told the church had reached its fire code capacity and no one else was being allowed inside. Those who could not go inside were encouraged to watch the service online.
On Sunday, inside the church, associate pastor Jacob Spenst read letters of encouragement from other churches, which celebrated GraceLife Church as "representing the Lord to Canada and the world."
There were at least one marked and two unmarked police vehicles parked on the roads outside of GraceLife Church. In a statement, the Alberta RCMP acknowledged that on Sunday "observations were made that the church held a service beyond the designated capacity" and said an update will be provided next week."
Lastly, this is a foreshadow of what is to come with the pending Equality Act trying to make its way through the house and the Senate:
https://www.southwestmichiganfirst.com/
Southwest Michigan First is an organization of privately funded economic development advisors who act as the catalyst for economic success in Southwest Michigan. Founded in 1999 on the principle that the most powerful force for change is a well-paying job, the organization works across all industries throughout the seven counties making up the Southwest Michigan Region.
Community-driven, Southwest Michigan First is committed to company growth, government and education alignment, acceleration of its vibrant core communities, talent development and communication of its regional advantages.
Lee Chatfield was hired as the CEO of Southwest Michigan First. Chatfield, who came to Southwest Michigan First after completing a six year term in the Michigan House of Representatives, but guess what, Lee Chatfiled has historically not been aligned with systems, policies and beliefs supporting LGBTQ+ rights. Lee stepped down this past week from Southwest Michigan, because of pressure from large employers in the region. If people don't speak up now, what will be coming from the possible implementation of the Equality Act will be worse. More on this later, as we will be tackling the Equality Act in the coming weeks. 
Two National Events: Fight Laugh Feast Rally in Rapid City, South Dakota, April 29, 30, May 1 & the Fight Laugh Feast Conference in Nashville, TN, October 14-16. Why a rally in South Dakota in April? Because we want to stand with Kristi Noem – the only Governor in the Union to not overstep her authority. And we also want to encourage you wherever you are. Many churches are not meeting, many Christians feel all alone. But you're not alone. So the theme of the Rally in South Dakota is Love God, Sing Psalms, Defy Tyrants. Gather with likeminded Christians who love freedom, confess Jesus Christ is Lord, and be equipped to stand firm in these insane days. Go to flfnetwork.com/rally
Closing
This is Gabriel Rench with Crosspolitic News. Support Rowdy Christian media by joining our club at fightlaughfeast.com, downloading our App, and head to our annual Fight Laugh Feast Conference next fall. With your partnership, together we will fight outdated and compromised media, engage news and politics with the gospel, and replace lies and darkness with truth and light. Go to fightlaughfeast.com to take all these actions. Have a great day. Lord bless