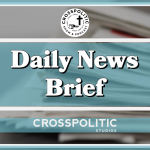 This is Garrison Hardie with your CrossPolitic Daily Newsbrief for Wednesday, February 8th, 2023.
Rowdy Christian Merch Plug:
If you're a fan of CrossPolitic, or the Fight Laugh Feast Network, then surely, you know we have a merch store right? Rowdy Christian Merch is your one-stop-shop for everything CrossPolitc merchandise. We've got T-Shirts, hoodies, hats, but we've also got specialty items like backpacks, mugs, coffee, even airpod cases! Visit Rowdy Christian Merch at rowdychristian.com, and buy that next gift, or a little something for yourself. Again, that's rowdychristian.com.
An update on the situation in Turkey & Syria:
https://www.theepochtimes.com/earthquake-death-toll-crosses-5000-as-turkey-experiences-285-aftershocks_5039212.html?utm_source=partner&utm_campaign=BonginoReport&src_src=partner&src_cmp=BonginoReport
Earthquake Death Toll Passes 7,200 as Turkey Experiences 285 Aftershocks
The death toll from the earthquakes in Turkey and Syria have exceeded 7,200, with thousands more injured, infrastructure crumbling, and rescue groups struggling to bring aid to the victims.
In Turkey, at least 5,434 people are confirmed dead. In Syria, state news agency SANA reported at least 1,832 deaths. Combined, at least 7,266 people have died in Turkey and Syria.
In total, at least 3,749 people are estimated to have been injured in Syria. Turkey's injured are estimated to be over 30,000. The World Health Organization (WHO) warned that the death toll could rise to around 20,000 in the coming days.
The first quake, with an epicenter in the Pazarcik district of Turkey's southern Province, had a magnitude of 7.8. A second quake of 7.6 magnitude hit the same region nine hours later, worsening the situation. Turkey experienced 285 aftershocks.
U.S. President Joe Biden "noted that U.S. teams are deploying quickly to support Turkish search and rescue efforts and coordinate other assistance that may be required by people affected by the earthquakes, including health services or basic relief items," a readout of Biden's conversation with Turkish President on Jan. 6 said.
The earthquakes have caused widespread devastation in Turkey. A video shared on Twitter shows innumerable buildings turned to rubble, with only a few tall buildings still standing. Another video shows a building crashing down while people run for safety.
In Turkey's southern region, which is home to some of the worst-hit cities, damaged roads and poor internet connections are hampering rescue attempts. In some places, freezing winter weather is also posing a challenge. Families were forced to sleep in cars lined up in the streets. Families wrapped themselves in blankets and gathered around fires to keep themselves warm. The Disaster and Emergency Management Presidency of Turkey (AFAD) is said to have deployed 13,740 search and rescue personnel as well as over 300,000 blankets, 100,000 beds, and 41,000 tents to the region. According to Organ Tatar, an official from AFAD, 5,775 buildings have been destroyed by the quake.
"The infrastructure is damaged, the roads that we used to use for humanitarian work are damaged, we have to be creative in how to get to the people … but we are working hard," U.N. resident coordinator -told Reuters.
The earthquake on Monday is Turkey's deadliest since a quake of similar magnitude hit the country in 1999 and killed over 17,000 people.
https://www.dailyfetched.com/massive-human-trafficking-bust-sees-368-arrested-131-rescued-in-california-2/
Massive Human Trafficking Bust Sees 368 Arrested, 131 Rescued in California
Three hundred sixty-eight people have been arrested, and 131 victims rescued in large-scale human trafficking operation by a multi-agency task force in California.
Los Angeles Police Department (LAPD) Chief Michel Moore said: "We know that the sex trade is a prolific one that exists throughout this state and throughout our nation."
"It's an ugly scar against this great country that exists too oftentimes in plain sight," he added.
Operation Reclaim and Rebuild occurred between Jan. 22 and Jan. 28 in nine counties, including Los Angeles, Orange, and San Bernardino, Kiro7 reported.
Various federal, state, and local law enforcement agencies teamed up for the effort, including the LAPD, the Los Angeles County Sheriff's Department, and the Los Angeles County District Attorney's Office.
Victims of human trafficking, including ages ranging from 13 to 52, including children.
Investigators worked with victim advocacy groups to provide resources "to help [victims] escape from this life-threatening environment," he said.
Investigators responded to advertisements offering sexual services and visited massage parlors suspected of being involved in sex trafficking.
Among those arrested included pimps and panderers, Moore said.
The victims, most of whom were kidnapped, face "threat of death" or coercion and are isolated from their former support to become dependent on the trafficker, Moore added.
https://thepostmillennial.com/death-tourism-oregon-becomes-national-destination-for-assisted-suicide?utm_campaign=64487
'Death tourism': Oregon becomes national destination for assisted suicide
Individuals residing in states that outlaw euthanasia, such as Texas, have started traveling to Oregon to gain assistance in their suicide, making the state the first "death tourism" destination in the US.
According to the Daily Mail, Dr. Nicholas Gideonse, the director of End of Life Choices Oregon, recently admitted to assisting a man from Texas with Lou Gehrig's disease who came to the doctor's Portland clinic in achieving suicide and said that "for a small number of patients who otherwise qualify or are determined to go through that and who have the energy and the resources … it has started to happen."
According to Oregon's official website, the state passed its Death with Dignity Act in 1997, "which allows terminally ill individuals to end their lives through the voluntary self-administration of lethal medications, expressly prescribed by a physician for that purpose." The law enabled terminally ill patients expected to die within six months to request fatal drugs from doctors that the patient then takes and self-administers. In 2021, 238 people committed suicide via the program, and 383 doses of fatal drugs were prescribed by doctors.
There was originally a restriction for people out-of-state but in 2021 Dr. Gideonse sued Oregon to lift the restriction, which was granted in 2022.
Currently, if a resident from another state wants to go to Oregon for the fatal drugs, they are placed on a 15-day waiting period. In that time paperwork is processed and two doctors along with witnesses must sign off on the request for suicide by prescription. The expansion of Death with Dignity to out-of-staters is not yet law in Oregon but is expected to be codified this year with House Bill 2279.
The law resembles Canada's state-sponsored euthanasia program known as medical assistance in dying (MAiD), originally intended for those with physical illnesses where death was a reasonable inevitability although it has been amended to allow those with mental health issues to apply.
Dr. Gideonse's original lawsuit was over neighboring residents of Washington who wanted suicide drugs and has expanded to residents from further states, including those with strict laws against euthanasia.
The executive director of the Patients Rights Action Fund, a group pushing back against Oregon's law, Matt Vallière, said "You end up in this Wild West scenario where people take the drugs back to their home states, and there are a lot more questions than there are answers about what would happen after that."
Dr. Gideonse, who also has campaigned for legalizing psilocybin to treat depression, has connections with the Compassion & Choices group which "grew out of the 1980s right-to-die movement of the Hemlock Society and Jack Kevorkian — the pathologist and notorious 'Dr Death' who assisted scores of suicides and was ultimately convicted of murder," reports the Daily Mail.
Tucker Carlson & Charles Camosy spoke on this very subject.
https://rumble.com/v1adg4j-charles-camosy-on-the-way-assisted-suicide-is-increasingly-being-pushed.html – Play Video
Classical Conversations
Classical Conversations supports homeschooling parents by cultivating the love of learning through a Christian worldview in fellowship with other families. They provide a classical Christ-centered curriculum, local like-minded communities across the United States and in several countries, and they train parents who are striving to be great classical educators in the home. For more information and to get connected, please visit their website at ClassicalConversations.com. Again that's ClassicalConversations.com.
https://freebeacon.com/coronavirus/this-study-could-be-scientific-nail-in-the-coffin-for-masks/
This Study Could Be 'Scientific Nail in the Coffin' for Masks
One of the largest and most comprehensive studies on the effectiveness of masks found they do almost nothing to reduce the spread of respiratory viruses.
The study reviewed 78 randomized control trials—experiments that have long been considered "the gold standard" for medicine—which assessed the effectiveness of face masks against flu, COVID-19, and similar illnesses. It found that wearing masks "probably makes little or no difference" for the general public, no matter what kind of mask is used. Even N95 masks, considered the most effective at filtering airborne particles, showed no clear benefit for health care workers.
The study was published on January 30 by the Cochrane Library, a world-renowned medical database that is famous for its high-quality evidence reviews. It comes as a battering ram to the recommendations of the U.S. public health establishment, which urged children as young as two to wear masks throughout the pandemic.
https://www.fox10phoenix.com/news/person-stuck-on-the-side-of-downtown-phoenix-building-says-phoenix-fire-dept
'Pro-life Spiderman' taken into custody after scaling former Chase tower in Phoenix
https://www.youtube.com/watch?v=QcaLtpAM0fE – Play 0:00-1:22
And that's your news for today…