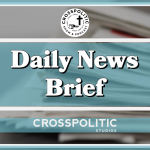 Daily News Brief for Wednesday, February 9th, 2022
We got a great Liberty Tour coming up! March 16th we will be in Fortworth with special guest Dr. Peter McCollough, Chad Prather, and Pastor Doug Wilson, April 7th we will be in Rapid City with Larry Elder, you hear that right, Uncle Gary, and Comedian John Branyan, and in May we will be in Phoenix, AZ. Tickets will go on sale exactly one month before each event, and club members will get early access to buy first.
Speaking of club members, If you want to see more of this sort of thing, please consider joining the Fight Laugh Feast Club. For less than a few coffees a month, you can help us build a rowdy Christian media response to liberal legacy media, big tech, and build a Christian megaphone for the truth. Go to flfnetwork.com and click on "join the club." Club members are the lifeline of what we do, so please consider joining the parade.
While Governor Newsom, former President Barack Obama, and Stacy Abrahms were all caught maskless this week around their subservient peons, who were forced to wear masks around them, Blackface Prime Minister Justin Trudeau is even more unaware than they are. Roll Clip:
https://twitter.com/disclosetv/status/1490845442426679298
"Individuals are trying to blockade our economy, our democracy, and our fellow citizens' daily lives. It has to stop." Tyrants are not the kind of people who are self-aware, otherwise they actually might not be tyrants.
I get videos texted to me every day, showing the peacefulness of the protest, from crowds gathering to worship to hockey games in the street. Keep it up Truckers, you are making those who love freedom proud!
I reported last week on the John Hopkins study that demonstrated lockdowns did not work, and were actually more harmful than helpful. Well Whitehouse press secretary Jen Psaki didn't want to answer any questions about the study, while at the same time claiming Biden is not anti-lockdown. Roll clip: 17:05 to 18:30
https://www.youtube.com/watch?t=1025&v=LutGYMkWZr8&feature=emb_imp_woyt
Cruz Takes Action In Pushing Federal Agency To Investigate GoFundMe For Canceling Freedom Convoy
https://www.dailywire.com/news/cruz-takes-action-in-pushing-federal-agency-to-investigate-gofundme-for-canceling-freedom-convoy
Remember last week Go Fund Me canceled the Trucker Convoy fundraiser, and that the fund had amassed over $10M CAD? Well Ted Cruz going after Go Fund Me, and "sent a letter to the Federal Trade Commission asking that the FTC open an investigation into GoFundMe into whether they've committed deceptive trade practices. "Because when people gave money, they gave money under the promise it would go to the Freedom Convoy, not to whatever left-wing political ideology GoFundMe and other Silicon Valley companies support. They are deceiving consumers and it is wrong."
Also a number of other conservative states are looking into going after Go Fund Me for deceptive practices:
Missouri Attorney General Eric Schmitt said:
"It's totally unacceptable for @gofundme to siphon over $9M in donations sent to support #TruckersForFreedom2020 & funnel it to causes it supports. "I will be investigating these deceptive practices. Donors should be given a refund.#TruckersConvoy2022 #TruckersForFreedom."
Florida Governor Ron DeSantis tweeted out: "It is a fraud for @gofundme to commandeer $9M in donations sent to support truckers and give it to causes of their own choosing."
"I will work with @AGAshleyMoody to investigate these deceptive practices — these donors should be given a refund."
In response, Florida Attorney General Ashley Moody tweeted "I'm sick and tired of corporations imposing their political will on unsuspecting consumers. As always, I will work with @GovRonDeSantis to ensure Floridians are protected."
How did liberals get so dominant in big tech? They run social media, google, email, phones, and so much more. I am grateful for GiveSendGo.com, a Christian competitor of GoFundMe. They are coming in for the rescue, have created a fundraiser for the Trucker Convoy that has already garnered over $6M.
GuitarSuccess4U:
Have you always wanted to play guitar but didn't know where to start? Learning to play the guitar can be a lonely, confusing and expensive experience. But it doesn't have to be that way. Fight Laugh Feast member David Harsh has created a unique, online monthly membership, that has community, a clear success path, and it's super affordable. Several of our listeners have joined this membership, and they are having a blast! Maybe it's time for you to hop on board! When you join this membership, you can learn at your own pace, from home, alongside a community of guitarists including worship leaders, hobbyists, retirees, stay-at-home moms and more. Through video lessons, worksheets, and weekly Zoom calls, David will take you step-by-step towards becoming the musician you were made to be. GuitarSuccess4U is only $29 a month – that's less than a dollar a day, and a fraction of the cost of guitar lessons. Learn more and join now at GuitarSuccess4U.com. That's "Guitar Success," the number "4" and the letter "U," dot com. Join today and get 5 instant bonuses to help accelerate your progress! Head on over to GuitarSuccess4U.com to start your guitar journey. That's Guitar Success, the number "4" and the letter "U," dot com.
Horowitz: The Pentagon's RESPONSE to the explosive DOD medical data is an even bigger story than the data
https://www.theblaze.com/op-ed/horowitz-the-pentagons-response-to-the-explosive-dod-medical-data-is-an-even-bigger-story-than-the-data
Folks, this news piece is not getting any air time from Lamestream media, because it crushes their the vaccine narrative. This is, I think, a huge story. I have had multiple friends and listeners contact me in the last week regarding this news coverup, and I have even talked to some of the whistleblowers involved. Apparently the force vaccine requirements in the military, have caused serious spikes in "neurological, cardiovascular, oncological, and reproductive health categories."
The military has very good data on the health of their soldiers and it is all tracked in a database called Defense Medical Epidemiology Database (DMED). Well the military released its 2021 data, and their initial released showed an over 900% increase in Disease and Injury reports.
The military is now back tracking on the data release, and Pentagon spokesman Maj. Charlie Dietz had this to say:
"Comparing the DMED database to the source data contained in DMSS, Armed Forces Health Surveillance Division discovered that the total number of medical diagnoses from 2016-2020 that were accessible in DMED represented only a small fraction of actual medical diagnoses for those years. In contrast, the 2021 total number of medical diagnoses were up to date in DMED. Comparison of 2021 to 2016-2020 resulted in the appearance of significant increased occurrence of all medical diagnoses in 2021 because of the under-reported data for 2016-2020. Armed Forces Health Surveillance Division has taken DMED offline to identify and correct the root-cause of the data corruption,".
In other words, they are saying 2021 data is correct, but the years 2016 through 2020's Disease and Injury report were under reported by 900%.
Daniel Horwitz over at the Blaze put it this way:
https://www.theblaze.com/op-ed/horowitz-the-pentagons-response-to-the-explosive-dod-medical-data-is-an-even-bigger-story-than-the-data
"The silence both from the media and congressional members of the House and Senate Armed Services Committees is astounding. One of two things is true: Either there was mass vaccine injury in the military, or our military has been very unhealthy and the Pentagon completely lost control over epidemiological surveillance of these health issues for years. Either way, this is the story of the year."
I hope to have more on this in the coming weeks, including interviews with some of the whistleblowers. Tune into our midweek fix tonight at 7pm, as we will be interviewing Colonel Kevin Hall on his battle with the force vaccine requirements in the military. The story is insane.