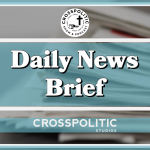 This is Garrison Hardie with your CrossPolitic Daily Newsbrief for Wednesday, January 11th, 2023. It's hump day everyone! How's everyone's week been thus far… good? Good!
Rowdy Christian Merch Plug:
If you're a fan of CrossPolitic, or the Fight Laugh Feast Network, then surely, you know we have a merch store right? Rowdy Christian Merch is your one-stop-shop for everything CrossPolitc merchandise. We've got T-Shirts, hoodies, hats, but we've also got specialty items like backpacks, mugs, coffee, even airpod cases! Visit Rowdy Christian Merch at rowdychristian.com, and buy that next gift, or a little something for yourself. Again, that's rowdychristian.com.
https://www.foxnews.com/politics/house-republican-files-articles-impeachment-dhs-sec-mayorkas
House Republican files articles of impeachment against DHS Sec. Mayorkas
Texas Republican Rep. Pat Fallon has filed impeachment articles against Homeland Security Secretary Alejandro Mayorkas, delivering on a promise he made last week before the 118th Congress was officially sworn in.
The articles of impeachment against Mayorkas for "high crimes and misdemeanors," known as House Resolution 8, were introduced by Fallon in the House on Monday and have been referred to the House Judiciary Committee.
Last week, Fallon vowed to file impeachment articles against Mayorkas after the Congress was sworn in. The effort from Republicans in the House is one of many that the new GOP majority will take as it works to fight the Biden administration on issues related to immigration and the southern border crisis.
While there is currently no text available for the impeachment articles filed against Mayorkas, Fox News reported last week that Fallon's first article alleges that Mayorkas has failed to faithfully execute the "Secure the Fence Act of 2006." The article says that law requires the secretary of Homeland Security to "maintain operational control over the entire international land and maritime borders of the United States."
The second article alleges that Mayorkas, "in violation of his constitutional oath, willfully provided perjurious, false, and misleading testimony to Congress." To back up that charge, the article quotes Mayorkas' testimony during April 26 and Nov. 15 congressional hearings in which he said the border was secure.
The final of the three articles charges that Mayorkas "publicly and falsely slandered" border agents who were accused – but later cleared – of whipping Haitian migrants in Del Rio, Texas, in 2021.
Mayorkas on Sunday said he will not resign over his handling of the border crisis and insisted he will be ready for future investigations by House Republicans while continuing to fulfill his daily responsibilities.
https://dailycaller.com/2023/01/10/kevin-mccarthy-adam-schiff-eric-swalwell-ilhan-omar-committees/
Reps. Adam Schiff, Eric Swalwell, Ilhan Omar To Officially Be Kicked Off Intelligence, Foreign Affairs Committees
Speaker of the House Kevin McCarthy confirmed Monday night that Democratic California Reps. Adam Schiff and Eric Swalwell will be removed from the House Intelligence Committee and the House will vote on the removal of Minnesota Rep. Ilhan Omar from the Foreign Affairs Committee.
In February, McCarthy told the Daily Caller that if he is elected Speaker that he intends to strip Omar from the Foreign Affairs Committee and Swalwell and Schiff from the Intelligence Committee. On Monday, McCarthy confirmed to The Associated Press (AP) that he would be moving forward with that decision, saying both Swalwell and Schiff should not have seats on the committee.
McCarthy has said Swalwell's reported relationship with a Chinese spy and Schiff's defense of the Steele dossier are some of the reasons they should be removed from the committee. McCarthy has said Omar's anti-Semitism is a reason she should be removed from Foreign Affairs.
"Swalwell can't get a security clearance in the private sector. I'm not going to give him a government security clearance. Schiff has lied to the American public…," McCarthy told The AP.
The Daily Caller contacted Swalwell, Schiff, and Omar's offices about McCarthy's decision to move forward and have them removed from committee assignments to which they did not immediately respond.
https://thepostmillennial.com/breaking-andrew-tate-to-remain-in-romanian-jail-after-losing-appeal?utm_campaign=64487
Andrew Tate to remain in Romanian jail after losing appeal
Former kickboxer and controversial social media personality Andrew Tate lost his appeal against not being held for 30 days at a Romanian detention center. Andrew, along with his brother Tristan, were detained last month pending a criminal investigation into alleged human trafficking and organizing a crime group.
A document from the judge who instated the 30-day detention wrote that "the possibility of them evading investigations cannot be ignored" and the suspects could "leave Romania and settle in countries that do not allow extradition," reports Mirror.
"In this sense, I would like to point out, at least from this point of view, I am also somehow amazed, there is not a single piece of evidence apart from the victim's statement that leads to the idea that a crime of rape was committed. In my view, there is no evidence to the formation of an opinion of reasonable suspicion regarding the commission of offenses provided for and punishable by criminal law. In this case we are talking about human trafficking and organized crime," said the Tate brothers' lawyer Eugen Vidineac.
https://thepostmillennial.com/oregon-pledges-to-affirm-sex-changes-for-kids-as-reading-proficiency-plummets?utm_campaign=64487
Oregon pledges to affirm sex changes for kids as reading proficiency plummets
On Thursday, the Oregon Department of Education released guidance for schools to better support "Gender Expansive Students" that include bathroom and pronoun policies aligned with radical gender ideology and include links for minors to seek "gender-affirming healthcare"
LibsofTikTok posted "Oregon Dept of Education released new guidelines on affirming LGBTQ+ students. They promote the use of pronouns, using bathrooms based on gender identity, and support 'gender affirming care' for minors. It also provides links to kids with info on 'tucking' & 'chest binding'."
Oregon Department of Education Director Colt Gill said, "It is our responsibility to move beyond mere tolerance and inclusion toward respectful, affirming, and celebratory school communities where all students belong and succeed."
The new guidance comes as a growing number of Oregon students are falling behind in their reading proficiency.
According to Oregon Live, "A staggering 61 percent of third graders and 54 percent of seventh graders aren't fully proficient at reading, including 30 percent of seventh-graders found to be substantially below grade level" in the Beaver State.
The measures of success according to the guidance include telling students, "You have the ability to change your first name in your school record and student information system, without legal documentation" and "You have the ability to change your sex/gender marker in your school record and student information system."
"You have the ability to use school restrooms and changing rooms that align with your gender identity or safety needs," according to the guidance.
The guidance also includes informing students they can "date who you want, if you want" and can form student groups focused on LGBTQ2SIA+.
The plan offers textbooks and guidance to students so they can learn "inclusive and affirming information about the LGBTQ2SIA+" community and inform the students they can participate in "sports, PE, and school activities according to your gender identity."
"If you are 15 or older, you have the ability to seek gender-affirming healthcare from an Oregon medical provider," according to the list of resources, which also remind students they can seek mental health resources if they are 14 or over and get birth control if they are "any age."
The guidance provides a detailed list instructing students where they can receive "gender affirming care" that includes details on "tucking" and "chest binding."
The recent guidance release is part of Oregon's larger LGBTQ2SIA+ Student Success Plan that was developed in 2020 "amidst the global COVID-19 pandemic."
Classical Conversations
Classical Conversations supports homeschooling parents by cultivating the love of learning through a Christian worldview in fellowship with other families. They provide a classical Christ-centered curriculum, local like-minded communities across the United States and in several countries, and they train parents who are striving to be great classical educators in the home. For more information and to get connected, please visit their website at ClassicalConversations.com. Again that's ClassicalConversations.com.