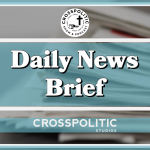 Folks, as the news cycles run on the standard diet of crack, Fauci, and Resident Biden, it warms my heart to know that Jesus is King over the circus we have created. It is our hope in 2022 to bring you tons more Christ-centered commentary and content that is not fear driven, but Spirit driven, and we hope all our shows and events this year are a blessing to you in your family. Our spring schedule is starting to shape up, as it looks like we will be coming to Texas, South Dakota, and Arizona. Then there is our Fight Laugh Feast Conference in October. We hope to have all the dates and locations out by the end of the month, so stay tuned! So, in the meantime join our club, and you will be the first to find out.
Rand Paul Hits Fauci Again:
In a hearing yesterday, Senator Rand Paul got to spar with Fauci again, and boy the sparks went flying:
<Roll Clip: Start to the 1:07 mark>
<https://www.youtube.com/watch?v=iGIa6bhwMDA>
Senator Rand Paul grew a pair in this pandemic and we need more of that kind of rigorous challenges to our accepted narratives. Follow the show notes in the app and listen to that whole interview, it is well worth it.
Forget that a State of emergency was declared in Virginia this week after a record COVID-19 surge. Quebec is going kookoo over the vax. This was brought to my attention by a listener in Quebec, who said he would now like to move out of Quebec. Ouch
The Vaccine is the Key:
<https://beta.ctvnews.ca/local/montreal/2022/1/11/1_5735536.html>
<Play Clip: 1:21 to 2:04 mark>
Quebec Premier François Legaul said the vaccine is the key to fighting the virus? What? Riddle me this. After two years of lockdowns, clowntown masking, and after a year of access to vaccines, why are COVID cases surging? I mean if the vaccine is the key right?
The Reformed Sage DNB:
Founded in 2018, The Reformed Sage exists to edify Christians with products and services that build the kingdom of God and proclaim the gospel to all. We have created products that are unique, useful, beautiful, and humorous. We have wood art, engraved wall art, apparel, drinkware, decals, stamps, and much more. We also regularly make custom merchandise at wholesale prices for churches, ministries and businesses that want to add or expand their product offerings in turn increasing revenue. Please use promo code FLF22 for 10% off your first order.
AND HAPPENING NOW: All apparel is marked down until Super Bowl Sunday! (No promo code necessary) Shirts: $20 Hoodies: $30 and more! They are changing apparel vendors and removing some designs. We do not know at this time what color/sizing options we will have available come March 1. So, if there is an apparel combo you want (design/size/color) better grab it before it is gone for good! This sale ends on February 6th.
House Republicans call for oversight into Biden's 'failed' COVID-19 response
<https://thehill.com/homenews/house/589087-house-republicans-call-for-oversight-into-bidens-failed-covid-response>
According to the Hill:
"House Minority Whip Steve Scalise (R-La.) and Rep. James Comer (R-Ky.) on Monday called on House Democrats to hold a hearing on what they said was President Biden's failed handling of the COVID-19 pandemic.
The letter, sent as Congress is set to begin a legislative year likely to be defined by the midterm elections, shows Republicans believe they can use the pandemic and Biden's handling of it to go on offense in November.
"President Biden's first year in office was one full of broken promises. He promised to 'shut down the virus.' He promised 'by next Christmas [2021]…I think that there'll be significantly fewer people having to be socially distanced [and] have to wear masks…' He promised to 'improve the availability of tests.' He promised to not 'demand that [the vaccine] be mandatory.' And he promised he had a national plan to 'get this virus under control,'" Scalise and Comer wrote in their letter to House Majority Whip James Clyburn (D-S.C.) and Rep. Carolyn Maloney (D-N.Y.).
"He failed on all accounts," they wrote."
Scalise goes on to point out three particular areas where he thinks President Biden has failed:
"providing enough at-home coronavirus tests, abandoning his own national plan and politicizing the vaccine"
No Republicans. Just no. Scalise is right to point out that Biden is politicizing the vaccine, that is true. But one of the areas that he thinks Biden has failed in, is not providing at-home coronavirus test. Just no. Just stop Republicans. It amazes me how Democrats can eventually get Republicans to do anything. Imagine a republican before the pandemic saying he would like to create legislation that would bring seasonal flu tests directly to your front door.
Unrelated but related: In an interview with ABC's David Muir, Biden said that everyone was caught off guard with the omicron variant and "Nobody saw it coming. Nobody in the whole world".
One of Coke's most-popular sodas is becoming a boozy beverage
<https://www.cnn.com/2022/01/06/business/fresca-alcoholic-drink-launch/index.html>
According to CNN:
"Coca-Cola is tapping into the canned cocktail craze with a boozy version of its Fresca soda.
In a partnership between Corona brewer Constellation Brands and Coke, the companies will launch Fresca Mixed, a spirit-based cocktail, later this year.
Fresca is the second non-alcoholic drink owned by Coke to be turned into a spiked version. In 2020, it successfully launched Topo Chico hard seltzer. Imagery and nutritional information for Fresca Mixed hasn't yet been released.
Constellation (STZB) and Coke said they are launching the product because Fresca is "experiencing a surge in popularity," because it's zero-calorie and has no sugar, making the 64-year-old beverage an optimal choice as a mixer."
I think John MacAruther should be paid some commission on this growth:)
And because of faithful pastors, like John MacArthur and Jacob Reaume, not shutting down their churches, people are getting fed, the gospel is being preached, and the broken are finding Jesus and real Christian community. Listen to this testimony at Trinity Bible Chapel in Canada…you know of the churches dealing with millions in fines:
<Roll Clip:>
<https://www.facebook.com/grench/posts/10159616072540970>
Closing
This is Gabriel Rench with Crosspolitic News. Support Rowdy Christian media by joining our club at fightlaughfeast.com, downloading our App, and head to our annual Fight Laugh Feast Events. With your partnership, together we will fight outdated and compromised media, engage news and politics with the gospel, and replace lies and darkness with truth and light. Go to fightlaughfeast.com to take all these actions. Have a great day. Lord bless