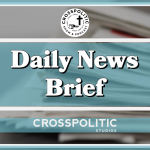 This is Garrison Hardie with your CrossPolitic Daily Newsbrief for Wednesday, January 18th, 2023.
Club Membership Plug:
Let's stop and take a moment to talk about Fight Laugh Feast Club membership. By joining the Fight Laugh Feast Army, not only will you be aiding in our fight to take down secular & legacy media; but you'll also get access to content placed in our Club Portal, such as past shows, all of our conference talks, and EXCLUSIVE content for club members that you won't be able to find anywhere else. Lastly, you'll also get discounts for our conferences… so if you've got $10 bucks a month to kick over our way, you can sign up now at fightlaughfeast.com.
Now, let's go to Italy!
The Godfather Theme Song– Play 0:07-0:20
https://nationalpost.com/pmn/news-pmn/crime-pmn/arrest-of-last-godfather-deals-new-blow-to-ailing-sicilian-mafia
Arrest of 'last godfather' deals new blow to ailing Sicilian mafia
ROME — The arrest of Sicilian mafia boss Matteo Messina Denaro deals a powerful blow to the mythology of the Cosa Nostra, toppling a symbol of the group's resistance to police efforts to break up organized crime.
Messina Denaro, 60, was Italy's most wanted mafia boss and had been on the run for three decades. He had been sentenced in absentia to a life term for his role in the 1992 murders of anti-mafia prosecutors Giovanni Falcone and Paolo Borsellino.
His arrest comes almost 30 years to the day after police caught Salvatore "Toto" Riina, Cosa Nostra's biggest figure of the 20th century, and marks the last step in efforts to dismantle the group's historical clan leadership.
Experts describe Cosa Nostra, its fame amplified by movies such as "The Godfather," as an ailing crime group facing several difficulties, including competition in the highly lucrative drugs market.
Although Cosa Nostra retains control of its Sicilian territory and a capacity to infiltrate the broader economy, it has been supplanted by groups such as the Calabrian 'Ndrangheta in the drugs trade.
Sergi said it was not clear who would step in to replace Messina Denaro in what is now a more factionalised mafia.
https://www.theepochtimes.com/biden-administration-urges-judges-to-lift-stay-on-cdcs-airplane-mask-mandate_4990674.html?utm_source=partner&utm_campaign=BonginoReport
President Joe Biden's administration in a court hearing on Jan. 17 urged judges on a federal appeals court to overturn a ruling from a lower court that struck down the administration's airplane mask mandate.
The U.S. Centers for Disease Control and Prevention (CDC) had "good cause" to impose the mandate and bypass the notice- and comment period required by the Administrative Procedure Act (APA), Brian Springer, an attorney for the government, told judges of the U.S. Court of Appeals for the 11th Circuit.
At the time the mandate was imposed, in early 2021, "there were variants that had just been detected that showed signs of increased transmissibility, and people were starting to travel again," Springer said. "In those circumstances, the CDC had good cause to issue this order, particularly when the CDC detailed the reasons why in this particular environment, namely in the transportation sector and in transportation settings, COVID had a specific tendency to spread among people who are traveling together because they're standing together in lines and sitting together on conveyances."
One of the judges expressed skepticism with the line of thinking, accusing the CDC of issuing "boilerplate" language to impose the mandate without a notice and comment period. Under a ruling in a separate case, boilerplate statements that COVID-19 exists and that there's a public emergency aren't sufficient to satisfy the "good cause" exception to the APA. Springer disagreed, saying the CDC's statement provided rationale that met the standard.
U.S. District Judge Kathryn Kimball Mizelle, a Trump appointee, said in her 2022 ruling that the CDC violated the APA by only issuing a single conclusory sentence to support ducking the notice requirements.
She noted that at the time the order was issued, around a year had passed since the beginning of the pandemic, and COVID-19 cases in America were on the decline.
Brent Hardaway, arguing for Health Freedom Defense Fund, which brought the case, said that the mandate was "very strange" given that airplanes and many airports already had mandates in place, in addition to the decline in cases.
Other portions of the hearing went over arguments as to whether the CDC has the authority to mandate masks.
U.S. code gives the federal government the power to enforce regulations judged as "necessary to prevent the introduction, transmission, or spread of communicable diseases from foreign countries into the States or possessions, or from one State or possession into any other State or possession."
The government, to enforce such measures, "may provide for such inspection, fumigation, disinfection, sanitation, pest extermination, destruction of animals or articles found to be so infected or contaminated as to be sources of dangerous infection to human beings, and other measures, as in his judgment may be necessary," the statute says.
In striking down the CDC's moratorium on evictions, the Supreme Court found that the agency overstepped the authority outlined in the law. But the court also said the law empowered the CDC to impose measures that "directly relate to preventing the interstate spread of disease by identifying, isolating, and destroying the disease itself."
https://www.dailyfetched.com/study-finds-journalists-are-now-among-the-most-distrusted-groups-in-the-world/
Study Finds Journalists Are Now among the Most Distrusted Groups in the World
According to The Edelman Trust Barometer, more than two-thirds of respondents worried that journalists and reporters are "purposely trying to mislead people by saying things they know are false or gross exaggerations."
Out of all the groups presented, the percentage of journalists is the highest.
The findings also show that the percentage is the highest among the groups presented, with one percentage point above government leaders.
The newest finding is eight points higher than last year, proving that people are rapidly losing trust in the media.
However, when the question was phrased differently, journalists fared slightly better.
Out of the groups presented, Government leaders ranked the lowest at 42%, with journalists coming in second with 46%.
The most trusted groups were scientists and fellow coworkers, at 75% and 74%, respectively.
The new findings reflect the gorwing lack of trust in media.
Of those surveyed, 46% said media divided society, compared to just 35% who said media are a unifying force.
There were also concerns about the weaponization of fake news, with over three-quarters of respondents saying they were concerned about it.
President Ronald Reagan extolled the central role of the media in American democracy.
"Since the founding of this nation, freedom of the press has been a fundamental tenet of American life," Reagan said on Oct. 6, 1983.
"There is no more essential ingredient than a free, strong, and independent press to our continued success in what the Founding Fathers called our 'noble experiment' in self-government."
However, the media has changed a lot since then, becoming an entity that is no different from a Government lobbyist.
https://www.washingtonexaminer.com/restoring-america/fairness-justice/illinois-counties-not-enforce-assault-weapon-ban
More than 70 Illinois counties say they will not enforce state 'assault weapon' ban: Report
Illinois sheriffs of almost 80 counties are refusing to enforce the state's " assault weapons " ban that was recently signed into law by Gov. J.B. Pritzker .
Pritzker signed the Protect Illinois Communities Act into law on Jan. 10, which bans the distribution and sale of "assault weapons," high-capacity magazines, and switches in Illinois. Those who own such guns are expected to register them with Illinois State Police by Jan. 1, 2024.
However, at least 74 sheriff's departments have publicly stated they will not enforce the ban, stating it infringes on the Second Amendment, according to ABC News.
Edwards County Sheriff Darby Boewe wrote in a statement that part of his duty is to protect the right to keep and bear arms.
"The right to keep and bear arms for defense of life, liberty, and property is regarded as an inalienable right by the people," Boewe wrote. "Therefore, as the custodian of the jail and chief law enforcement officer for Edwards County, that neither myself or my office will be checking to ensure that lawful gun owners register their weapons with the State, nor will we be arresting or housing individuals that have been charged solely with noncompliance of this act."
The statement was drafted by Illinois Sheriffs' Association Executive Director Jim Kaitschuk, according to ABC News, and sent out to sheriff's departments to use or make edits if desired.
DuPage, Sangamon, and Iroquois counties are among the 74 departments that have released similarly modified statements. Iroquois County Sheriff Clinton Perzee said he would not use his jails to detain people exercising their civil rights, according to the Lake and McHenry County Scanner.
At an event in Quincy on Jan. 12, Pritzker told the crowd that law enforcement needs to enforce the law or leave the field.
Several counties have reportedly designated themselves "Second Amendment sanctuary cities," something that Pritzker dismissed at the Quincy event.
https://www.dailywire.com/news/good-things-will-happen-brendan-fraser-chokes-up-after-critics-choice-win
'Good Things Will Happen': Brendan Fraser Chokes Up After Critic's Choice Win
During the peak of his success, being one of the highest-paid actors of the time for blockbusters like The Mummy, George of the Jungle and Bedazzled, Fraser completely disappeared from the movie scene.
While the movie was all action-packed fun with Fraser portraying the tough and oh so handsome Rick O'Connell, the actor suffered several major injuries during the shooting of the three films. During the filming of The Mummy in 1999, Fraser was almost choked to death during his hanging scene in the opening of the movie, as per The Things. His co-star Rachel Weisz recalled that he stopped breathing and even needed CPR.
And that was just one mishap. The injuries he received from the ancient Egyptian-themed films led to multiple surgeries including a laminectomy, a back procedure to relieve pressure on the spinal cord or nerves; a partial knee replacement; more back surgeries to bolt compressed spinal pads together; vocal cord repair and other procedures, as per People magazine.
Just as his professional life took a hit, his private life also resulted in a blow when his ex-wife, Afton Smith, split from him in 2007. Fraser was then required to pay around US$900,000 for child support, as per the New York Post. Six years after the divorce, Fraser allegedly asked the court to reduce the payment as he said he was no longer able to afford the hefty sum due to lack of work.
Fast forward to today…
Fraser broke down in tears during his acceptance speech during Sunday evening's Critic's Choice Awards.
Fraser was nominated for his performance as Charlie — a morbidly obese teacher who was attempting to repair his damaged relationship with his daughter (played by Sadie Sink) while eating himself to death — in "The Whale," and he took home the Best Actor prize.
Fraser was clearly already emotional when his name was announced, and everyone at his table got to their feet and cheered. The applause continued as he made his way to the stage, stopping only to offer hugs and handshakes to a few people along the way.
Once Fraser took the stage, it was clear that he was not going to make it through the speech without his emotions getting the best of him.
https://twitter.com/i/status/1614819071098343426 – Play Video
New Saint Andrews:
Today's culture shifts like sand. But New Saint Andrews College is established on Christ, the immovable rock. It is a premier institution that forges evangelical leaders who don't fear or hate the world. Guided by God's Word, they take the world back because they're equipped with the genius of classical liberal arts and God-honoring wisdom, thanks to a faculty dedicated to academic rigor and to God's kingdom.Find out more, at nsa.edu/
And finally, it's time for my favorite topic, sports!
The Cincinatti Bengals advanced to the semi-finals of the AFC conference playoffs, and this play had a lot to do with it:
Baltimore Ravens vs. Cincinnati Bengals | 2022 Super Wildcard Weekend Game Highlights-Play 10:23-10:41
The Bengals defeat the Ravens 24-17 in a close game.
The Bengals advance and will take on the Buffalo Bills… the team they were playing when Damar Hamlin suffered his terrifying injury.
The Bills by the way…
Miami Dolphins vs. Buffalo Bills | 2022 Super Wild Card Weekend Game Highlights– Play – 15:05-15:47
The Bills hold off a feisty Dolphins' team and win 34-31.