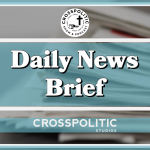 Daily News Brief for Wednesday January 19th, 2022
If you want to see more of this sort of thing, please consider joining the Fight Laugh Feast Club. For less than a few coffees a month, you can help us build a rowdy Christian media response to liberal legacy media, big tech, and build a Christian megaphone for the truth. Got to flfnetwork.com and click on "join the club."
'No Authority To Do It': Wisconsin Judge Bans Ballot Drop Boxes, Ballot Harvesting
https://www.dailywire.com/news/no-authority-to-do-it-wisconsin-judge-bans-ballot-drop-boxes-outlaws-ballot-harvesting
According to the Daily Wire:
"A Waukesha County judge ruled Thursday that ballot drop boxes cannot be used in the state of Wisconsin, asserting that the Wisconsin Elections Commission has "no authority" to permit the drop boxes.
"It's all good and nice, but there's no authority to do it," said Waukesha County Circuit Court Judge Michael Bohren.
Judge Bohren made the determination in response to a lawsuit filed by voters represented by the conservative Wisconsin Institute for Law and Liberty (WILL), The Federalist explained Monday.
Some 500 drop boxes were set up across the state, collecting tens of thousands of absentee ballots in the 2020 general election.
Judge Bohren said a finalized injunction was forthcoming "ordering the state Elections Commission to withdraw long-standing advice to municipal clerks around the state that says they can use absentee ballot drop boxes," according to the Milwaukee Journal Sentinel.
The ruling is expected to be appealed."
Our political leaders used the concept of the pandemic to get all sorts of illegal things to pass. In the name of your health, you need ballot drop boxes. In the name of protecting you from dying, you need mail-in ballots. In the name of your health, you need stimulus money. As Christians, we must resolve to never be driven by a spirit of fear, because if you allow for that, than the government will take advantage of that and infringe as far as they can on you rights as you allow them to.
Justice delayed is justice denied: Jack Phillips has 'now been in courts defending his freedom nearly a decade.'
https://thefederalist.com/2022/01/17/lgbt-activists-have-been-using-courts-to-harass-this-christian-baker-for-ten-years/
This is an important article written by Joy Pullman over at the Federalist.
"Jack Phillips is an American. His nation's supreme law claims to protect his inalienable rights to free speech and to freely practice his faith. Yet for ten years, these same rights have been effectively suspended by a state legislature and multiple courts, despite a 2018 win in the U.S. Supreme Court.
Phillips, who lives in the Denver, Colorado suburb of Lakewood, was first prosecuted for faithful Christianity in 2012. He was hauled into Colorado's non-judicial Civil Rights Commission, then later into real courts, for offering to sell a gay couple anything in his bakery, Masterpiece Cakeshop, except a custom cake celebrating homosexual acts. He's still in court now.
His ten-year battle, Phillips said in a Jan. 14 phone interview, "had profound effects on me and my faith. My faith is much stronger now, my family is much closer. First coming out, there were death threats and things, hateful phone calls and emails. There was a time when my wife was afraid to come to the shop because you didn't know what you would expect."
In 2018, the U.S. Supreme Court found Phillips was essentially the victim of government entities prejudiced against Christians and other traditional religions, noting the personal hostility expressed against him by commission members.
"Colorado officials compared Jack's plea for religious freedom to some of the worst things in American history, such as the Holocaust and slavery," noted Phillips's current lawyer, Jacob Warner, in a phone interview. Warner works for the Alliance Defending Freedom, which has defended Phillips pro bono in court. "The Supreme Court didn't need to reach the free speech issue because of that animosity and that left the door open for other litigation."
Immediately after the Supreme Court decision in Phillips's first case, LGBT activists hauled Phillips back into court, not once but twice more, again with clear personal animus. In the current case, a lawyer named Autumn Scardina claims the right to force Phillips to draw a picture of Satan smoking marijuana and to bake a cake celebrating transgender mutilation. Not being able to force others into expressing things they don't believe, Scardina claims, constitutes discrimination against LGBT people.
According to court documents, Scardina has sought for many years to harm Phillips due to his religious beliefs and public stand on their behalf. During trial, for example, Scardina said the goal of this suit was to "correct" the "errors of [Phillips's] thinking.""
While there is a lot to point out here, it is important to note that liars are hateful people, and with hate comes violence. The LGBT+-= community, along with this activist lawyer, want blood and will not stop, even after the Supreme Court dropped the original case again Jack because of "personal hostility expressed against him by commission members". But here is the other thing to note here. We really need Christians to become judges. In my local case, having a righteous judge makes all the difference. I did a little research in Idaho, and found out that our judicial system leans left. In Idaho! If we are going to have a healthy state in the next 40 years, than we need to have righteous judges who genuinely fear God. Like I said, Joy wrote a good piece, so follow the links in the notes to get to her article.
Classical Conversations DNB:
Classical Conversations supports homeschooling parents by cultivating the love of learning through a Christian worldview in fellowship with other families. We provide a classical Christ-centered curriculum, local like-minded communities across the United States and in several countries, and we train parents who are striving to be great classical educators in the home. For more information and to get connected, please visit our website at ClassicalConversations.com. Classical. Christian. Get Connected. Get Community. https://www.classicalconversations.com/
They are hiring too: https://cchomeoffice.com/jobs-2/
How billions in pandemic relief funds went to everything but pandemic relief
https://justthenews.com/politics-policy/coronavirus/covid-con-part-2-how-billions-pandemic-relief-funds-went-everything
Just in the News is doing a multi-part series on where the pandemic money has actually been sent. The Republicans and Democrats passed about $5 trillion in stimulus money in less than one year. So, since we are in the middle of a "pandemic", you would think all that money went to all the devastating losses from COVID, medical needs to combat the pandemic, and developing the 25th booster shot. Ah but never waste a crisis, as Rahm Emanuel would say.
I pulled out the highlights, if I can call it that:
-about $86 billion to save private unions' multiemployer retirement funds
-$192 million and $419 million in emergency U.S. taxpayer funding to at least 125 Chinese firms with links to the Chinese Communist Party
-Kentucky is devoting $250 million to water and sewer infrastructure projects across the state
-Colorado plans to put $550 million of its federal funds toward affordable housing and home ownership efforts and another $380 million for transportation, infrastructure, parks, and agriculture
-New Jersey only allocated only 27% of its federal pandemic relief for public health
-Millions were used for COVID-19 bonuses, teacher pay raises, and even to cover payroll. For example, Detroit Public Schools using $60 million of its pandemic relief funds to give out bonuses and Connecticut spending $21.1 million on "personal services-salaries" and $2.6 million on employee benefits.
-Washington state is using $340 million of its pandemic relief to provide one-time cash grants of $1,000 for illegal immigrants, according to the state's Recovery Plan Performance Report
-Colorado put $1 billion toward fortifying the state budget and maintaining fiscal integrity
-San Jose also devoted $3.7 million to an "Environmental Resilience Corp,"…and Another $1.4 million is going to clean up parks
I dug a little bit in my town, and know that at least three of my local city council raked in hundreds of thousands of dollars. This data is public and you can research who got what in your town. https://www.covidmoneytracker.org/ is a helpful example for this.
California weighing proposal that could double its taxes
https://www.foxbusiness.com/economy/california-proposal-double-taxes
According to Fox:
"California lawmakers unveiled a new bill at the beginning of the year that would establish a single-payer health care system – an ambitious plan that would be funded by nearly doubling the state's already-high taxes.
A new analysis from the Tax Foundation, a non-partisan group that generally advocates for lower taxes, found that the proposed constitutional amendment would increase taxes by roughly $12,250 per household in order to fund the first-of-its-kind health care system. In all, the tax increases are designed to raise an additional $163 billion per year, which is more than California raised in total tax revenue any year before the pandemic.
California would also expand the payroll tax paid by employees who earn more than $49,990 in annual income if they work for a company that has more than 50 workers. Walczak noted the plan could deter small businesses from expanding by inadvertently creating a tax cliff. For instance, if a company that had 49 workers earning $80,000 each hired one additional employee, they would suddenly create a tax bill of more than $90,000.
The taxes would fund government-run health care for all Californians, which supporters say would offset the costs of higher taxes and would save money in the long run."
One of the best things imbedded in our state structure, is that if your state is going commie on you, you can pick up and move to a freer state. Listen to U-Haul Vice President Stuart Shoen has to say about this: Roll Clip
I just hope all these people who are fleeing California have learned their lesson.
Closing
This is Gabriel Rench with Crosspolitic News. Support Rowdy Christian media by joining our club at fightlaughfeast.com, downloading our App, and head to our annual Fight Laugh Feast Events. With your partnership, together we will fight outdated and compromised media, engage news and politics with the gospel, and replace lies and darkness with truth and light. Go to fightlaughfeast.com to take all these actions. Have a great day. Lord bless