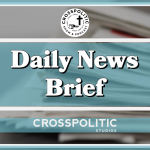 This is Gabriel Rench with your CrossPolitic Daily News Brief for Wednesday, January 20th, 2021. Happy inauguration day. Some trust in kings, others in horses, but we trust in the Lord our God.
Remember: If you have a news story you think we might need to cover, please send articles and links to [email protected]
But first, and I rarely do a plug at the beginning of a daily news brief, I think this is more important than ever. The democrats have the House, Senate, and Executive Branch for the next two years, and possibly four years. As you have begun to see, the democrats are going to use their power in the next two years to cancel conservatives from big tech, financial processing companies like Stripe, book publishers canceling conservative Senators like Josh Hawley, stripe your first Amendment rights, 2nd amendment rights, and more. Everything is on the table, and COVID is the potion that they will use to accomplish their goals.
This is why it is so important that you join our club, subscribe to our magazine, and join us at our events this year. Our club membership is central to delivering our content without the threat of being canceled. We need thousands of club members to be able to compete with mainstream media, and we cannot do this without you. We need an army of club members supporting us, so we can freely declare the Lordship of Christ over politics. When joining our club, you will get a Fight Laugh Feast club t-shirt (made by Rowdy Christian Clothing), access to our club portal, and more as you upgrade your club membership. Go to www.FightLaughFeast.com to join!
Just so this is not totally self serving, if you don't join our club, join Babylon Bee and Discrn.com club…find some Christian media arms to support, get behind them, and encourage them to be strong and courageous as we fight mainstream media.
Biden to roll back Trump's pro-life policies, introduce new pro-abortion legislation
https://disrn.com/news/biden-to-rollback-trumps-pro-life-policies-introduce-new-pro-abortion-legislation
The incoming administration of President-elect Joe Biden is preparing a widespread disbanding of pro-life policies enacted under the Trump administration, in addition to new legislation that would expand abortion rights under federal law.
The rollback would include revoking the Mexico City Policy – which restricts U.S. taxpayer dollars from sponsoring abortions in other nations – in addition to restoring Title X money to clinics such as Planned Parenthood that provide abortions or refer people to abortion providers.
Biden is expected to also revive the contraceptive coverage mandate of Obama's Affordable Care Act, which forces employers to cover birth control, including "emergency contraceptives," which are abortifacients that kill a newly formed embryo.
In addition, Biden has promised to "codify" abortion into federal law in an effort to prevent any potential Supreme Court overturn of Roe v. Wade and combat the increasing number of state policies that seek to protect the life of the unborn.
Both Biden and Congressional Democrats have also discussed repealing the Hyde Amendment in 2021, which would allow taxpayer dollars to be directly used for aborting children.
Planned Parenthood CEO Alexis McGill Johnson called Biden's plans "tremendously exciting."
"We have a ton of work to do to undo the harm over the last four years, but knowing we have champions there who understand what needs to happen in the first 100 days is tremendously exciting," Johnson said.
Pro-life groups lamented the planned policy changes.
"It's certainly disheartening, but we aren't going to give up, and we will do whatever we can to stop abortion from being promoted," said Carol Tobias, president of the National Right to Life Committee.
Biden has also received pushback from the Catholic Church, of which he claims membership. Last week, New York Cardinal Timothy Dolan said that Catholics would continue to be "hung up" on abortion.
"Actually, we're obsessed with the dignity of the human person and the sacredness of all human life!" said Dolan. "Yes, the innocent, helpless life of the baby in the womb, but also the life of the death row prisoner, the immigrant, the fragile elderly, the poor, and the sick."
Joe Biden Picks Pennsylvania Health Secretary Dr. Rachel Levine To Be Assistant Health Secretary
https://philadelphia.cbslocal.com/2021/01/19/biden-picks-pennsylvania-health-secretary-rachel-levine-to-be-assistant-health-secretary/
"President-elect Joe Biden has chosen Pennsylvania Health Secretary Dr. Rachel Levine to be assistant secretary of health. She would be the first openly transgender federal official if confirmed by the U.S. Senate.
Biden said Dr. Levine will bring steady leadership and essential expertise that is needed.
A pediatrician and former Pennsylvania physician general, Levine was appointed to her current post by Democratic Gov. Tom Wolf in 2017, making her one of the few transgender people serving in elected or appointed positions nationwide. She won past confirmation by the Republican-majority Pennsylvania Senate and has emerged as the public face of the state's response to the coronavirus pandemic."
Two National Events: Fight Laugh Feast Rally in Rapid City, South Dakota, April 29, 30, May 1 & the Fight Laugh Feast Conference in Nashville, TN, October 1-3. Why a rally in South Dakota in April? Because we want to stand with Kristi Noem – the only Governor in the Union to not overstep her authority. And we also want to encourage you wherever you are. Many churches are not meeting, many Christians feel all alone. But you're not alone. So the theme of the Rally in South Dakota is Love God, Sing Psalms, Defy Tyrants. Gather with likeminded Christians who love freedom, confess Jesus Christ is Lord, and be equipped to stand firm in these insane days. Go to FLFNetwork.com/Rally.
Spain's elderly get second COVID-19 shot as infection rates soar
https://www.newsbreak.com/news/2146909331904/spains-elderly-get-second-covid-19-shot-as-infection-rates-soar?s=oldSite&ss=i0
Faced with new record infection rates, Spain has begun giving second shots of coronavirus vaccines to elderly nursing home residents, while a court in Seville ruled on Monday that one home could inoculate a resident against her family's wishes.
"Though vaccination is voluntary in Spain, a court in the southern city of Seville authorised a nursing home to vaccinate a severely incapacitated 86-year-old woman, despite her son's objections, in the second such ruling in a week.
The judge presiding over the case said protecting public health must take precedence over the family's concerns. "It appears to be the only effective option to adequately safeguard her life against the real risk of developing a serious COVID-19 infection," the ruling read."
Behind a Secret Deal Between Google and Facebook
https://www.nytimes.com/2021/01/17/technology/google-facebook-ad-deal-antitrust.html
"In 2017, Facebook said it was testing a new way of selling online advertising that would threaten Google's control of the digital ad market. But less than two years later, Facebook did an about-face and said it was joining an alliance of companies backing a similar effort by Google.
Facebook never said why it pulled back from its project, but evidence presented in an antitrust lawsuit filed by 10 state attorneys general last month indicates that Google had extended to Facebook, its closest rival for digital advertising dollars, a sweetheart deal to be a partner.
Details of the agreement, based on documents the Texas attorney general's office said it had uncovered as part of the multistate suit, were redacted in the complaint filed in federal court in Texas last month. But they were not hidden in a draft version of the complaint reviewed by The New York Times.
Executives at six of the more than 20 partners in the alliance told The Times that their agreements with Google did not include many of the same generous terms that Facebook received and that the search giant had handed Facebook a significant advantage over the rest of them.
Google and Facebook accounted for more than half of all digital advertising spending in 2019. In addition to displaying advertising on their own platforms, such as Google's search engine and Facebook's home page, websites, app developers and publishers rely on the companies to secure advertising for their pages.
Adam Heimlich, the chief executive of Chalice Custom Algorithms, a marketing and data science consulting company, said the deal gave Facebook so much advantage that it was like allowing the social network to "start every tournament in the finals."
Perhaps the most serious claim in the draft complaint was that the two companies had predetermined that Facebook would win a fixed percentage of auctions that it bid on.
"Unbeknown to other market participants, no matter how high others might bid, the parties have agreed that the gavel will come down in Facebook's favor a set number of times," the draft complaint said. A Google spokeswoman said Facebook must make the highest bid to win an auction, just like its other exchange and ad network partners".
Share Plug
Is CrossPolitic a blessing to you? One of the most significant ways you can help us is by sharing this news brief or your favorite show with someone you think would appreciate it. Tell someone about the Fight Laugh Feast App. And last of all, become a Fight Laugh Feast Club Member. We want to grow the Fight Laugh Feast Network into a full blown News and Entertainment Network, coming at you with truth, goodness, and beauty. Thanks to all of you who have already shared our content and become club members.
Donald Trump records farewell speech saying this 'is only just beginning', extends best wishes to Biden administration
https://www.abc.net.au/news/2021-01-20/donald-trumps-farewell-speech-ahead-of-inauguration/13072068
The best is yet to come.
Closing
This is Gabriel Rench with Crosspolitic News. Support Rowdy Christian media by joining our club at fightlaughfeast.com, downloading our App, and head to our annual Fight Laugh Feast Conference next fall. With your partnership, together we will fight outdated and compromised media, engage news and politics with the gospel, and replace lies and darkness with truth and light. Go to FightLaughFeast.com to take all these actions. Have a great day. Lord bless