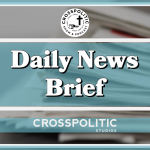 Are you ready for the CrossPolitic West Coast Liberty Tour? You probably aren't because I am now just telling you. We are going to be in three cities, filming three live shows, with a number of amazing guest. Mark your calendars for March 16th in Fort Worth, TX, April 7th in Rapid City, SD, middle of May most likely for Phoenix, AZ.
Tickets will go on sale a month before each event, and will got fast, I mean fast. Our guest in Fort Worth include Dr. Peter McCullough, Blaze tv personality and current candidate for Governor in Texas- Chad Prather, and Pastor Doug Wilson. Tickets go on sale February 15th and CrossPolitic club members will get first dibs at selling out our venue in Fort Worth. Website links and details will be up soon, so mark your calendars, join the club, and we will see you in Fort Worth!
Biden administration withdraws COVID vaccine mandate for businesses
https://www.krem.com/article/news/health/coronavirus/vaccine/osha-withdraws-vaccine-mandate-large-employers/507-a90a90aa-f454-4b4d-a85e-ac210636a6e9
According to KREM News:
"The U.S. Occupational Safety and Health Administration has announced that it will be formally withdrawing the Biden administration's vaccine and testing mandates at private workplaces."
But according to the Daily Wire, OSHA is leaving a possible back door open for future revisions to remake the rule.
https://www.dailywire.com/news/osha-continues-to-pursue-vaccine-mandate-despite-supreme-court-loss
"Although OSHA is withdrawing the Vaccination and Testing ETS as an enforceable emergency temporary standard, OSHA is not withdrawing the ETS to the extent that it serves as a proposed rule under section 6(c)(3) of the Act, and this action does not affect the ETS's status as a proposal under section 6(b) of the Act or otherwise affect the status of the notice-and-comment rulemaking commenced by the Vaccination and Testing ETS. See 29 U.S.C. 655(c)(3)," the memo said, signaling the agency's intent to revise and remake the rule.
Michigan State University allows nearly 15,000 basketball fans at sold-out games but shuts down in-person learning in January
https://www.theblaze.com/news/michigan-state-university-basketball-remote-classes
"Michigan State University won't allow for in-person learning until the final day of January, but at the same time had no problem opening up the school's arena for nearly 15,000 screaming fans to attend every Spartans' home basketball game this month.
On Dec. 31, Michigan State University president Samuel L. Stanley Jr. announced in a letter that the school's spring 2022 semester would commence on Jan. 10 virtually and continue to be remote-learning until Jan. 31.
"Given this intense surge in cases, we now feel the best decision for our campus is to start classes primarily remotely on Jan. 10 and for at least the first three weeks of the semester," writes Stanley – who uses the preferred pronouns of "he" and "him" in the letter.
MSU student Blake Maday told Fox News "The fact that students can fill the (Breslin Center) packed shoulder to shoulder for hours before the game, for the entirety of the game and be together for, you know, probably three hours at night with no social distancing, not even including all the outsiders being brought in to campus for the game, it's wildly hypocritical".
Dan Olsen – the deputy spokesperson for Michigan State University – issued a statement to Fox News regarding the situation.
"Athletics events are optional events that students or the public can attend, unlike classes which are required for our students to progress toward their degree and graduate," Olsen said. "Our decision to start the first three weeks remotely was difficult and was influenced by two key factors. One factor was the uncertainty at the time of Omicron and having some time to understand it and its impact better.""
CWWI Ad:
This ad is for those looking for something other than a four-year college degree. College is great! But it's not for everyone.
Cornerstone Work & Worldview Institute seeks to fill that gap.
Our mission is to build kingdom culture in the workplace through our integrative program of worldview instruction and on-the-job skills training under the guidance of mentors.
We offer courses in Bible, theology, and economics as well as business, project management, and marketing and more.
And we provide our students with internships with one of our business partners so they can learn and gain practical skills.
We invite you to join our mission to provide Christians another educational opportunity.
Together we can help our students grow confident in their faith and competent in their labor.
Visit us at cornerstonework.org to learn more, to enroll, or to partner with us.
John Stockton's Interview in the Spokane Review went Viral:
https://www.spokesman.com/stories/2022/jan/23/in-wide-ranging-qa-john-stockton-talks-gonzaga-sus/
This was a good interview, and so read the whole thing, but what was most encouraging about it, is the fact that John is willing to stand up for what he believes is right, despite the strain he knew this would be on relationships. Stockton is ranked in the top 75 all time greatest NBA players, and no amount of accolades are with the cost of truth.
S-R: What was your initial reaction to the onset of the pandemic in 2020? It really started the week of the WCC Tournament. Gonzaga plays in the title game then suddenly the NCAA Tournament is shut down. How long does it take to form opinions on everything that's going on, with the lockdowns and eventually vaccines, masks and everything else?
Stockton: "It's pretty quick. I remember writing a paper trying to have some influence where I may have it, right when it all started with Rudy Gobert testing positive. With the Utah Jazz, which is obviously very close to home. Here he is warming up before the game, he doesn't even feel bad and the world shuts down. Then one university after another university until the conferences shut down and the tournament shuts down. Not one additional piece of evidence was offered for why each one did it. To me it's perplexing, but yeah, right from the start I was contemplating it, thinking it through and seeking out more and more information."
S-R: A counterpoint to that: The CDC reported this week that booster shots are 90% effective at preventing hospitalization with the omicron variant.
Stockton: "Almost everybody I know that currently has COVID or has recently tested for COVID has been double-vaxxed and boosted. My personal experience says otherwise. Statistics from South Africa, from Scotland, from the UK who's now, their prime minister recently said we're not doing the mandates anymore. Came out publicly and said that. Those are indicators to me that we're not getting the true story. The numbers in South Africa are significantly better in multiples than they are in the United States where they haven't taken on those mandates where we have."
S-R: When you say your personal experience, do you mean your personal experience with having COVID?
Stockton: "With people that I know personally that have COVID, that have tested positive recently. Whether it's omicron, whatever COVID is these days, is they've all been – almost all have been double vaccinated plus the booster. So I look at it more as a side effect than I look at it as an outbreak of COVID."
S-R: You were raised Catholic. The Pope has called it a moral obligation to receive the vaccine. What's your response to that and does that impact your decision at all?
Stockton: "No. No, it doesn't."
S-R: Any way you could elaborate on that?
Stockton: "I think we count on certain people in certain institutions to stand up to what's best for us and it's disappointing when those things don't happen."
Abdul-Jabbar says Stockton vaccine comments make athletes look like 'dumb jocks'
https://thehill.com/blogs/in-the-know/in-the-know/591014-abdul-jabbar-says-stockton-vaccine-comments-make-athletes-look
Roll Clip: end at 35 seconds.
Stockton didn't make athletes look like dumb jocks. Lebron did we he defended China over Hong Kong. Coach Steve Kerr makes jocks look dumb every time he pulls his mask down durring a game to communicate with his players. It was incredibly dumb to watch young, super athletic basketball players, play hard and physical, and when subing out of the game they would go sit in chairs six feet apart. This dumb jock list could go on, and I am sure you are thinging of some arbitrary dumb rules as I list these above. You Abdul-Jabbar wont point these out, because he is not thinking clearly, and he doesn't have permission to think clearly. Once someone like Stockton starts to think and say things outside of the liberal COVID narrative, they will call you dumb, stop enaging with logical arguments, and shut their ears and then light their hair on fire. Because that to them is logical.
Biden "Doocy" Gaffe:
https://www.washingtonexaminer.com/news/biden-calls-peter-doocy-to-clear-the-air-after-calling-fox-reporter-a-stupid-son-of-b
I need to set this clip up before you hear it. Peter Doocy, Fox Whitehouse correspondent, asked Biden on the way out of a press conference if he "thinks inflation is a political liability"? And here is President in Chief, the guy big evan was saying is the nicer alternative to President Trump, well here is what Biden had to say in response: Roll clip
"What a stupid son of a bitch". Remember the definition of a political gaffe "is what they really think, but accidently say". The liberals really do believe conservatives, and even more so, Christian conservatives, are stupid.
Peter Doocy then ends up on Sean Hannity later that night, and here is what he had to say in response to Biden's gaffe: Roll Clip
https://twitter.com/FoxNews/status/1485807133492793347?ref_src=twsrc%5Etfw%7Ctwcamp%5Etweetembed%7Ctwterm%5E1485807133492793347%7Ctwgr%5E%7Ctwcon%5Es1_&ref_url=https%3A%2F%2Fwww.washingtonexaminer.com%2Fnews%2Fbiden-calls-peter-doocy-to-clear-the-air-after-calling-fox-reporter-a-stupid-son-of-b
Hilarious, Peter Doocy was glad that Biden was actually talking…finally.
Closing
This is Gabriel Rench with Crosspolitic News. Support Rowdy Christian media by joining our club at fightlaughfeast.com, downloading our App, and head to our annual Fight Laugh Feast Events. With your partnership, together we will fight outdated and compromised media, engage news and politics with the gospel, and replace lies and darkness with truth and light. Go to fightlaughfeast.com to take all these actions. Have a great day. Lord bless