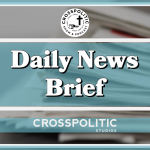 This is Gabriel Rench with your CrossPolitic Daily News Brief for Wednesday, January 27, 2021.
Today you will hear about Fauci's double speak, recall Newsilinni, Seattle's economic incompetence, Biden's signs more executive orders in first week more than previous 4 presidents combined, and Sanders running for governor? 
Remember: If you have a news story you think we might need to cover, please send articles and links to [email protected]
Two National Events: Fight Laugh Feast Rally in Rapid City, South Dakota, April 29, 30, May 1 & the Fight Laugh Feast Conference in Nashville, TN, October 14-16. Why a rally in South Dakota in April? Because we want to stand with Kristi Noem – the only Governor in the Union to not overstep her authority. And we also want to encourage you wherever you are. Many churches are not meeting, many Christians feel all alone. But you're not alone. So the theme of the Rally in South Dakota is Love God, Sing Psalms, Defy Tyrants. Gather with likeminded Christians who love freedom, confess Jesus Christ is Lord, and be equipped to stand firm in these insane days. Go to FLFNetwork.com/Rally
Masks dont work:
Fauci said so back in March:
Video: https://youtu.be/PRa6t_e7dgI
Video: Double Masks: 5min
https://www.cnbc.com/2021/01/25/dr-fauci-double-mask-during-covid-makes-common-sense-more-effective.html
"So if you have a physical covering with one layer, you put another layer on, it just makes common sense that it likely would be more effective," Fauci told TODAY. "That's the reason why you see people either double masking or doing a version of an N95."
Seattle City Council approves $4 per hour mandatory pay boost for grocery workers during COVID-19 pandemic
https://www.seattletimes.com/seattle-news/politics/seattle-city-council-approves-4-per-hour-mandatory-pay-boost-for-grocery-workers-during-covid-19-pandemic/
Grocery store workers in Seattle should soon get an extra $4 an hour for the duration of the coronavirus pandemic, as the Seattle City Council approved legislation Monday requiring large grocers to immediately start offering hazard pay.
The legislation, introduced just last week, passed 8-0 Monday, clearing a requirement that it receive a three-quarter supermajority in order to go into effect immediately. Mayor Jenny Durkan called the policy "a strong step forward in Seattle's recovery."
The new requirement applies to grocery companies with more than 500 employees worldwide and to stores larger than 10,000 square feet. It does not apply to convenience stores or farmers markets.
Covered businesses will have to pay their retail employees $4 an hour on top of the pay they currently receive as long as the city's coronavirus civil emergency, first declared in early March of last year, remains in effect. The legislation says the City Council intends to reconsider the policy after four months, but that is nonbinding.
Alarmed by student suicides during the pandemic, Las Vegas is reopening its schools.
https://www.nytimes.com/live/2021/01/24/world/covid-19-coronavirus#alarmed-by-student-suicides-during-the-pandemic-las-vegas-is-reopening-its-schools
"Since schools in Clark County, Nev., shut their doors because of the pandemic last March, an early-warning system that monitors students' mental health episodes has sent more than 3,100 alerts to district officials, raising alarms about suicidal thoughts, possible self-harm or cries for care.
By December, 18 students had taken their own lives — double the number of the entire previous year. One left a note saying he had nothing to look forward to. The youngest was 9.
While it may not be possible to conclusively link all the suicides in and around Las Vegas to the school closings, they have pushed the Clark County district, the nation's fifth largest, toward bringing students back as quickly as possible. This month, the school board gave the green light to phase in the return of some elementary school grades and groups of struggling students even as greater Las Vegas continues to post huge numbers of coronavirus cases and deaths."
Share Plug
Is CrossPolitic a blessing to you? We hope so, and we would appreciate your support. There are three…four ways you can help us, and they are all fun ways:
First, one of the most significant ways you can help us (and we need a LOT of help!) is by sharing this news brief or your favorite show with someone you think would appreciate it. Tell someone about the Fight Laugh Feast App. 
Secondly, become a Fight Laugh Feast Club Member. We are building a platform that Lord-willing cannot be cancelled by big media. And your support is helping to make that possible. 
Thirdly, subscribe to our Fight Laugh Feast Magazine. Our goal here, is to give you a quarterly mini-book-like experience with various authors, one them, a Pslam of the quarter, a recipe of the quarter, and something to place on your coffee table that would drive Tim Keller crazy. Thanks to all of you who have already taken these steps, and we are excited for what God has in store for 2021. 
Activists report 1.2 million signatures to recall California governor
https://thehill.com/homenews/state-watch/535698-activists-report-gathering-12-million-signatures-in-effort-to-recall
Activists say 1.2 million people have signed a petition to remove California Gov. Gavin Newsom (D) from office over their frustrations with his response to the coronavirus pandemic.
California requires 1.5 million signatures in order for the recall to appear on the ballot.
The Wall Street Journal reports supporters of the recall have raised more than $1.7 million in the effort.
"Californians are hurting, and we've had a dramatic failure of leadership from the governor," said Kevin Faulconer (R), a former San Diego mayor. "The governor's actions are harming lives and livelihoods, people are at their wits' end and they want to do something about it."
California has been one of the hardest-hit states by the pandemic. It has more than 3.1 million cases of COVID-19, and has suffered 37,121 deaths, according to statistics kept by Johns Hopkins University.
Speaking on behalf of Newsom's office, political adviser Dan Newman told the Journal that the recall effort was being led by supporters of former President Trump.
"Trump supporters want California taxpayers to waste $100 million on a special election redo, mere months before a regularly scheduled election," said Newman.
Sarah Huckabee Sanders announces bid for Arkansas governor
https://www.politico.com/news/2021/01/25/sarah-huckabee-sanders-arkansas-governor-campaign-462095
Former White House press secretary Sarah Huckabee Sanders formally launched her 2022 campaign for Arkansas governor on Monday, releasing a roughly eight-minute video that leaned heavily on her tenure as former President Donald Trump's top spokesperson.
The 38-year-old Republican political operative, whose father is former Arkansas Gov. Mike Huckabee, was expected to enter the race this week. If Sanders continues to tether her candidacy to the former president, her fate in the GOP gubernatorial primary could serve as one of the first real tests of Trump's staying power in Republican politics in the aftermath of his four years in office.
In her announcement video, Sanders claimed to have "been tested under fire, successfully managing one crisis after another" in what she described as "one of the most difficult, high-pressure jobs in all of government." As White House press secretary, "I took on the media, the radical left and their cancel culture, and I won," she said.
Sanders, who has never held elected office, emphasized the need for "a new generation of leadership" in Little Rock and called for "law and order" to counter the "radical left's solution" of imposed "government control and censorship from the top down."
Most Senate Republicans join Rand Paul effort to dismiss Trump's 2nd impeachment trial
https://www.axios.com/trump-impeachment-trial-vote-to-dismiss-aea0532c-731b-41b8-be75-e7abb800e5a9.html?utm_source=twitter&utm_medium=social&utm_campaign=organic&utm_content=1100
Forty-five Senate Republicans, including Minority Leader Mitch McConnell, supported an effort to dismiss former President Trump's second impeachment trial.
Why it matters: The vote serves as a precursor to how senators will approach next month's impeachment trial, making it highly unlikely the Senate will vote to convict. The House impeached Trump for a second time for "incitement of insurrection" following events from Jan 6. when a pro-Trump mob stormed the Capitol.
Sen. Rand Paul (R-Ky.) raised a point of order on Tuesday afternoon to hold a vote on the constitutionality of the impeachment trial, now that Trump is out of office.

Majority Leader Chuck Schumer then asked for a vote to "table" the motion, thus killing Paul's point of order, and that measure passed 55-45.

Five Republicans — Sens. Susan Collins (Maine), Lisa Murkowski (Alaska), Mitt Romney (Utah), Ben Sasse (Neb.) and Pat Toomey (Pa.) — joined all Democrats to table Paul's point of order.

Minority Leader Mitch McConnell voted no, supporting Paul.
What they're saying: Earlier in the day, Paul indicated the vote would show "we're basically wasting our time" by impeaching Trump now that he's out of office.
"I think there will be enough support on it to show there's no chance they can impeach the president. If 34 people support my resolution that this is an unconstitutional proceeding, it shows they don't have the votes."

17 Republicans would need to join all Democrats in order to convict Trump.
What's next: Senators, who will serve as jurors during the trial, were sworn in Tuesday but the actual trial begins the week of Feb. 8. Sen. Patrick Leahy (D.-Vt.), the most senior Democrat in the Senate and president pro tempore, will preside over the trial.
Amazon claims in-person vote only way to ensure 'valid, fair' union election
https://www.theblaze.com/news/amazon-opposes-mail-in-voting-union-election
Amazon is reportedly attempting to prohibit employees at an Alabama warehouse from participating in an upcoming unionization vote with mail-in ballots.
Amazon filed an appeal with the National Labor Relations Board on Thursday over the agency's decision permitting the nearly 6,000 employees who work inside Amazon's Bessemer, Alabama, warehouse to participate in the unionization election through mail-in ballots.
Instead, Amazon wants the election to be conducted in-person.
From the Washington Post:
Amazon argued in one of two filings that the agency's pandemic-voting policy is flawed, in part because it fails to define what a covid-19 "outbreak" actually is. That guidance "reflected assumptions developed comparatively earlier in the pandemic — before scientific understanding of the virus and possible precautions had developed to where it is today," Amazon says in the filing.
In fact, Lisa Henderson, the acting regional director of the NLRB's Atlanta office, told Amazon that requiring the unionization vote to be conducted in-person "could disenfranchise voters who have covid-19 or are concerned about contracting the disease," the Post reported.
Amazon spokesperson Heather Knox told CNN in a statement that Amazon is fighting for an in-person election because it is "the best approach to a valid, fair and successful election is one that is conducted manually, in-person, making it easy for associates to verify and cast their vote in close proximity to their workplace."
Closing
This is Gabriel Rench with Crosspolitic News. Support Rowdy Christian media by joining our club at fightlaughfeast.com, downloading our App, and head to our annual Fight Laugh Feast Conference next fall. With your partnership, together we will fight outdated and compromised media, engage news and politics with the gospel, and replace lies and darkness with truth and light. Go to FightLaughFeast.com to take all these actions. Have a great day. Lord bless