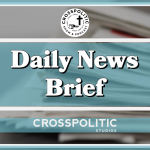 This is Garrison Hardie with your CrossPolitic Daily Newsbrief for Wednesday, December 4th, 2023… Happy new year everyone! I hope you and yours are having a week full of blessings thus far, and that you all had an excellent Christmas and new year!
With that in tow… let's start with the first ad read of the year!
Club Membership Plug:
Let's stop and take a moment to talk about Fight Laugh Feast Club membership. By joining the Fight Laugh Feast Army, not only will you be aiding in our fight to take down secular & legacy media; but you'll also get access to content placed in our Club Portal, such as past shows, all of our conference talks, and EXCLUSIVE content for club members that you won't be able to find anywhere else. Lastly, you'll also get discounts for our conferences… so if you've got $10 bucks a month to kick over our way, you can sign up now at fightlaughfeast.com.
https://thepoliticalinsider.com/fbi-paid-twitter-3-4-million-to-ban-accounts-for-misinformation/
FBI Paid Twitter $3.4 Million to Ban Accounts for 'Misinformation'
The Federal Bureau of Investigation paid Twitter $3.4 million to ban or suspend accounts for "foreign influence" and "misinformation" on the social media platform.
The FBI has been policing speech on the social media site for years, eventually paying Twitter the money as reimbursement for the work, The New York Post reported.
The inner workings of Twitter and its cooperation with federal authorities have been coming out in tranches released by independent journalist Matt Taibbi — what have become known as the Twitter Files — since business magnate Elon Musk took over Twitter.
Taibbi has been tweeting and The Post has been reporting screenshots of emails between the FBI and Twitter staff, with FBI flagging specific accounts for alleged "civic misinformation policy violations," "spam behaviors," "platform manipulation," and "ban evasion," asking Twitter to suspend or ban users.
The files show that Twitter held monthly meetings with the FBI, Department of Homeland Security, the Justice Department and the Office of the Director of National Intelligence, The Post reported.
The FBI and other federal agencies focused on social media after the 2016 election, Taibbi noted on Twitter, as the FBI's social media task force grew to 80 agents and Department of Homeland Security worked with outside security contractors and think tanks "to pressure Twitter to moderate content."
https://www.thetimes.co.uk/article/rapper-zuby-identifies-as-female-to-smash-weightlifting-record-98b7086ml
Rapper Zuby identifies as female to smash weightlifting record
He has become an unlikely feminist icon: the weightlifting hip-hop artist and Oxford graduate who set out to demonstrate that athletes who are genetically male should not be competing alongside women.
The rapper, whose stage name is Zuby, was filmed last week smashing the British women's deadlift record, in which the weights are raised from the ground to thigh level, while he said he was "identifying as a woman". The video has had almost 1m views on Twitter.
The 32-year-old later beat the UK women's bench press record too, joking that his work was "strong, stunning and brave".
It comes amid a debate about the participation of transgender athletes in sport.
Critics including the tennis champion Martina Navratilova, who is a long-term campaigner for LGBT…
https://www.washingtonexaminer.com/news/idaho-murder-suspect-arrives-in-pennsylvania-court
Idaho murders suspect Bryan Kohberger arrives in Pennsylvania court for extradition hearing
The suspect in the quadruple murders at the University of Idaho arrived on Tuesday in court in Pennsylvania, where he is expected to waive extradition and be transported to Idaho for a criminal trial.
Bryan Kohberger, 28, arrived at the Pennsylvania court in handcuffs Tuesday morning and is scheduled to appear before a judge at 3:30 p.m., according to the Daily Mail. The hearing won't be livestreamed, but a group of journalists and photographers will be permitted inside.
Kohberger, who is accused of killing four university students in their off-campus home in November, is expected not to challenge his extradition to Idaho, with his state-appointed attorney calling Tuesday's hearing a "formality proceeding." Kohberger is likely to plead not guilty in the case, and his attorney has said he "believes he's going to be exonerated."
Kohberger was arrested on Friday in connection to the quadruple slayings, with police saying they don't expect to make any other arrests in the case. Kohberger has been charged with four counts of first-degree murder, as well as felony burglary.
"We believe we have our guy, the one that committed these murders," Moscow Police Chief James Fry told ABC News on Saturday.
https://abcnews.go.com/US/video/guy-idaho-murders-police-chief-96025071 -Play Video
In order to be extradited, law enforcement need only prove that Kohberger is the person on the Idaho arrest warrant and that he was in the area at the time of the murders, according to Monroe County Chief Public Defender Jason LaBar.
Kohberger is a doctoral student studying criminal justice at the Washington State University campus in Pullman, which is roughly 15 minutes away from the University of Idaho. The suspect had driven home to Pennsylvania with his father for the holidays, with the pair returning to the state around Dec. 17, according to LaBar.
It's still unclear Kohberger's connection to the victims in the quadruple slayings, and police have not identified a motive. The probable-cause affidavit that would provide these details is not set to be released until Kohberger arrives in Idaho.
Washington State University identifies Kohberger as a Ph.D. student in its department of criminal justice and criminology. He completed his first semester in its criminal justice program earlier this month, the university said.
A white Hyundai Elantra spotted near the victims' house around the time of the crime is believed to be Kohberger's, Fry said.
Police had previously said they believe the occupant had "critical" information in the case. Police do not believe anyone else was in the car at the time, Fry said.
Law enforcement personnel seized the car from Kohberger's parents' Pennsylvania home and it is being processed, according to Fry.
Law enforcement sources told ABC News that police identified Kohberger as a suspect, at least in part, by using DNA technology, and police then tracked the grad student to Pennsylvania through his car.
Moscow police's only other prior interaction with Kohberger was a traffic citation for not wearing a seatbelt, which was issued while he was in the white Elantra, Fry said. The chief said he cannot release whether the suspect has any prior criminal history elsewhere.
Dime Payments
Dime Payments is a Christian owned processing payment business. Every business needs a payment process system, so please go to https://dimepayments.com/flf and sign your business up. Working with them supports us. They wont cancel you, like Stripe canceled President Trump. They wont cancel you, like Mailchimp canceled the Babylon Bee. Check them out. At least have a phone call and tell them that CrossPolitic sent you. Go to https://dimepayments.com/flf.
Now it's time for my favorite topic… sports!
https://www.foxnews.com/sports/bills-damar-hamlin-collapses-field-medical-staff-appear-administer-cpr
Damar Hamlin suffered cardiac arrest during game, heartbeat restored on field, Bills say
Buffalo Bills safety Damar Hamlin suffered cardiac arrest following a hit in Monday night's game against the Cincinnati Bengals causing him to collapse on the field, the team said Tuesday.
The Bills said Hamlin's "heartbeat was restored on the field and he was transferred to the UC Medical Center for further testing and treatment."
"He is currently sedated and listed in critical condition," the team said.
The scary incident occurred with 5:58 remaining in the first quarter and Cincinnati leading the game, 7-3. The Bengals were on their second drive of the game when quarterback Joe Burrow threw a pass to Tee Higgins. Bills safety Hamlin came over to make a tackle to end the play.
Hamlin was on the ground for a while as he received CPR from the medical staff on the ground before he was put into the ambulance. Hamlin was being rushed to the University of Cincinnati Medical Center.
Joe Buck & Troy Aikman described the incident on ESPN:
https://www.youtube.com/watch?v=SJMzWmKZ2gA -Play Video