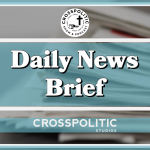 Daily News Brief for Wednesday, January 5th 2022
Happy New Year! It is good to be back in the studio, after a busy Christmas break. During our time off, we actually were in the studio several times working on our 2022 show production, and every year we hope to continue to bring you better and better content along with a better show experience. We hope our shows bless you, and as they do, we ask that you share them, pass them along, and join our club or become a corporate sponsor to support our efforts. We are fighting legacy media that is just about hell-bent on destroying anything that resembles Christian culture and influence, so please support us as we fight, laugh and feast in 2022.  
Before I bring you Senator Rand Paul's New Year Resolution, Pastor Wilson's reasons for the 2020 rigged elections, and more, I want to you make you aware of CrossPolitic's New Saint Andrews Scholarship for women! Last year we released our first scholarship for men, and as promised, we now bring you our scholarship for freshmen women:
God has blessed CrossPolitic enormously, particularly through our club members, and we have committed ourselves to blessing others. We want to give back some of what we've been given.
Fight Laugh Feast New St. Andrews College Women's Scholarship: Beginning Fall 2022
In the interest of promoting a hard-hitting, thoroughly biblical education for life, CrossPolitic Studios is very excited to present: The Fight Laugh Feast "Beastmode Homemaker" Scholarship for qualified first year female students who have been accepted to New St. Andrews College. This scholarship will fund almost half a young woman's annual tuition for four years.
Because CrossPolitic wants to encourage young women to prepare themselves to take dominion and be fruitful through beastmode homemaking this scholarship is specifically offered to qualified young women.
How to be considered for the Fight Laugh Feast "Beastmode Homemaker" Scholarship:
1. Apply to New St. Andrews College and receive official notification that you have been accepted.
2. Write a short essay (~1000) words explaining why you are the woman to receive this scholarship. This essay should be thoughtful, good humored, feminine, and well-written. The essay should include reasons how you believe a New St. Andrews College education will equip you to live for Jesus and defy the enemies of God. The essay should be sent to %%%% Address, Moscow, Idaho. All applications for the Fight Laugh Feast Scholarship must be received by February 1.
3. The CrossPolitic wives (Annie, Sharron, and Jenny) will review all applications and if there is a worthy applicant, we will schedule an interview with up to the top three candidates, and the CrossPolitic Guys will announce the winner of the scholarship on a CrossPolitic Show with great fanfare sometime by April 1st of the year prior to the student's entrance to the college.
4. The scholarship is for full-time, matriculating first year females (as defined by God and old-fashioned biology) at New St. Andrews College (because they know biology better than the Supreme Court) and automatically renews for up to four years. The scholarship is contingent on remaining such a student in good standing (academically, morally), and living like a faithful Christian in our community. The scholarship may be revoked at any time by the CrossPolitic gods, should a young woman prove to be unworthy of this honor.
How are your New Year's Resolutions going? Have you joined our club as part of your New Year Resolutions? Well Senator Rand Paul is making some pretty easy new year resolutions, by quitting big tech. In his oped in the Washington titled:
My New Year's resolution: I'm quitting YouTube
<https://www.washingtonexaminer.com/opinion/op-eds/my-new-years-resolution-im-quitting-youtube>
He says he wants to get rid of toxic relationships:
"I have come to the realization that my relationship with YouTube is dysfunctional.
Sure, I can get millions of views. But why should I allow anonymous "fact-checkers" to censor my fully sourced, fact-based content? They don't want to challenge or debate me with opposing views, they just want my silence."
He goes on to say:
"Many in Congress, on the Left and the Right, want to break up or regulate Big Tech, but few of these loud voices have actually stepped up and quit using Big Tech.
So today, I announce that I will begin an exodus from Big Tech. I will no longer post videos on YouTube unless it is to criticize them or announce that viewers can see my content on rumble.com.
Why begin with YouTube? Because they're the worst censors.
Any time I state that cloth masks do not stop the virus from spreading, as in this Denmark study, Florida school comparison, and Vietnamese study, YouTube deletes the video. I always cite studies and scientific sources such as those listed here, but instead of allowing free and open debate with others who might argue flaws in those studies or cite opposing ones, YouTube simply silences me."
In his followup press release, Senator Paul says:
<https://www.paul.senate.gov/news/dr-rand-paul-announces-he-quitting-youtube>
"As a libertarian leaning Senator, I think private companies have the right to ban me if they want to, however, those of us who believe that truth comes from disputation and that the marketplace of ideas is a prerequisite for innovation should shun the close-minded censors and take our ideas elsewhere, which is exactly what I'm doing."
Over the last year, YouTube has continued to wage its dangerous, anti-progress of science war against free speech, choosing to act in lockstep with government and ban videos posted by Dr. Paul that dared to contradict the government's position. These videos included conversations with journalists where he discussed the efficacy of masks, particularly cloth masks, and a video explaining the science behind why cloth masks don't work."
I am glad to see public figures, like Senator Rand Paul and Joe Rogan, take a stand against big tech. I think over the years, social media will be come more and more decentralized as more and more alternative options pop-up, and we hope, through the Fight Laugh Feast Network, that we can build massive community of like-minded Christians we can lock arms with, encourage each other, and build Christian communities throughout the US. As Elon Musk said "twitter is not real", and there is a funny truth he is getting there, and so what we want to see is real Christian communities popup that are antifragile, they love Jesus, and know how to Fight Laugh and Feast like Christians.
Pastor Doug Wilson recently wrote a blog post titled: "An Election With More Rigging Than a Five-Masted Clipper Ship", and while you should read the whole post (linked to in your notes in our app), here is a meaty snippet that I don't want you to miss about the Trump presidency and the 2020 rigged election:
"This whole sorry business started with the presidential campaign in 2016, and the surprise election of Trump. Under Obama, our national intelligence community targeted and illegally spied on the Trump campaign. Rigged. No one who did that is currently in jail. Rigged. Bogus opposition research sponsored by the Clinton campaign was picked up by the FBI, knowing it to be bogus, and yet it was used to hamstring the Trump administration for years. Rigged. Hillary cooked up the Russian collusion story and the media bought it big time. Rigged. Hillary claimed that the election was stolen from her without accusations that she was undermining democratic norms, and yet Trump is accused when he said the same thing. Rigged. And what Hillary said was false and what Trump said was true, and these are strange words. Rigged. After the 2016 election, the titans of Big Tech vowed to do everything in their power to prevent the same thing from happening in 2020, and they were good on their word. Rigged. Canceling accounts, banning ads, banning stories, and shadow banning through algorithms. Rigged. Millions of dollars ("Zuck bucks") were poured into efforts to change election laws and procedures all over the country, without an opportunity to institute safeguards for the new systems. Rigged. Third party partisan groups were given oversight of election processes. Rigged. Deadly riots happened all over the country, with promises of many more if Trump won again. Rigged. The COVID panic provided the perfect opportunity to alter standard procedures for the sake of "safety," including how close to the counting poll watchers could get. Rigged. Because of this deadly virus we had to have new procedures (like mail-in voting) right away. Rigged. Lawsuits brought to challenge common sense things like signature verification. Rigged. Courts refusing to hear the inevitable complaints on the merits, preferring to dodge responsibility by appealing to "process" or "standing." Rigged. This craven rejection of responsibility went up to and included SCOTUS. Rigged. Illegal changes made to voting deadlines by secretaries of state, instead of legally by the state legislatures. Rigged."
Dime Payments:
Dime Payments is a Christian owned processing payment business. Every business needs a payment process system, so please go to https://dimepayments.com/flf and sign your business up. Working with them supports us. They wont cancel you, like Stripe canceled President Trump. They wont cancel you, like Mailchimp canceled the Babylon Bee. Check them out. At least have a phone call and tell them that CrossPolitic sent you. Go to https://dimepayments.com/flf.
Remember our interview with Jeff Drubin and Davis Younts, JAG lawyer, that we did several months ago regarding Navy Seals dealing with the forced vax mandates? Well, according to Fox News:
<https://www.foxnews.com/politics/judge-issues-stay-against-vaccine-mandate-for-navy-seals-seeking-religious-exemption?fbclid=IwAR2JZLth2DeYMAS7URW-8NnGQCmjbD1Jz6ephwMPckaF6EFdST_O1c7VIvk>
"Judge Reed O'Connor, the U.S. District Court Judge for the Northern District of Texas, issued the stay in response to a lawsuit filed by First Liberty Institute in November on behalf of 35 active-duty SEALs and three reservists seeking a religious exemption".
Judge O'Connor, from Texas, did I mention that, said in his ruling:
""The Navy service members in this case seek to vindicate the very freedoms they have sacrificed so much to protect. The COVID-19 pandemic provides the government no license to abrogate those freedoms. There is no COVID-19 exception to the First Amendment. There is no military exclusion from our Constitution."
General Council for First Liberty Institute Mike Berry, who is re
"Forcing a service member to choose between their faith and serving their country is abhorrent to the Constitution and America's values…Punishing SEALs for simply asking for a religious accommodation is purely vindictive and punitive. We're pleased that the court has acted to protect our brave warriors before more damage is done to our national security."
Pentagon spokesman John Kirby, when asked about the stay said: "We are aware of the injunction and are reviewing it."
The forced vax cases are from over, so be in prayer for what is going on. In a lot of ways, this is not only an attack on our nation's constitution, but the courts do not shutdown Biden's mandates, it will open up the door for all sorts of government shenanigans. You think forced vaccinations are bad, just wait for the forced sterilization of faithful Christians because your kids are a threat to demos, I mean democracy.
U.S. reports over 1 million new daily Covid cases as omicron surges
<https://www.cnbc.com/2022/01/04/us-counts-over-1-million-new-daily-covid-cases-in-global-record-.html>
According to CNBC, are they a legit news service, well nevermind they are mostly quoting John Hopkins, so I will proceed. A new COVID record. Over one million new daily COVID cases!
CNBC says:
"A total of 1,082,549 new coronavirus cases were reported Monday, according to data compiled by Johns Hopkins University, as the highly infectious omicron variant continues to spread throughout the country.
The new daily tally brings the total number of cases confirmed in the U.S. since the start of the pandemic to 56,189,547. In total, the virus has caused at least 827,748 deaths across the country."
Can we talk about "with" or "from" yet. How about the efficacy of the vaccine? Or that masks dont work? We will infact, but you have to tune into our Mid-week Fix tonight at 7pm PAC. Yes we are back, and can't wait to bring you our new year of shows, live events, conference, and more to you in 2022. We have lots of plans, but we only want God to build our house, unless we labor in vain.
Closing
This is Gabriel Rench with Crosspolitic News. Support Rowdy Christian media by joining our club at fightlaughfeast.com, downloading our App, and head to our annual Fight Laugh Feast Events. With your partnership, together we will fight outdated and compromised media, engage news and politics with the gospel, and replace lies and darkness with truth and light. Go to fightlaughfeast.com to take all these actions. Have a great day. Lord bless