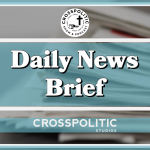 This is Garrison Hardie with your CrossPolitic Daily News Brief for Wednesday, July 12th, 2023.
Olive Tree Biblical Software:
Discover why more than a million people use the free Olive Tree Bible App as their go-to for reading, studying, and listening to the God's Word.
Start by downloading one of many free Bibles and start taking notes, highlighting verses, and bookmarking your favorite passages. You can read at your own pace, or choose from a large selection of Reading Plans, including the Bible Reading Challenge. When you are ready to go deeper into your studies, Olive Tree is right there with a large selection of study Bibles, commentaries, and other helpful study resources available for purchase. There's also an extensive bookstore allows you to build your digital library one book at a time and Olive Tree's sync technology lets you pick up where you left off on your tablet, pc or phone and get right to studying on another supported device.
Now here's the best part – You can start with the Olive Tree Essentials Bundle for FREE. Visit www.olivetree.com/FLF and download it today! 
We start things off in China!
https://dailycaller.com/2023/07/10/chinese-military-kindergarteners-war-bootcamps/
The Chinese Military Is Training Kindergarteners For War In Bootcamps Across The Country
The Chinese military is training kindergarteners to handle firearms and fight like soldiers in boot camps across China this summer, according to dozens of school social media accounts.
The boot camps feature combat training for boys and girls with a wide variety of toy weapons including knives, grenades, rifles and shoulder-fired missiles, and require the children to adopt military behavior, such as saluting, the schools' social media posts show. The rise in the militarization of China's youth appears to follow a 2019 Chinese Communist Party (CCP) Central Committee push for increased "National Defense Education" and a related effort directing schools to hold National Defense Education activities in 2022, according to government documents.
Uniformed People's Liberation Army (PLA) soldiers oversaw all of the kindergarten boot camps. The boot camps were located in major Chinese cities, such as Beijing, Nanjing and Shenzhen, and were also run in more than half a dozen provinces.
The programs featured roughly the same sequence of activities, according to a DCNF review of posts from the participating kindergartens.
The boot camps generally began with basic military etiquette and proceeded to teach various military skills ranging from combat to emergency medical training. Additionally, a number of these programs also taught the children about famous PLA heroes and martyrs, according to the schools' accounts.
In May 2023, faculty members and more than 80 children of numerous provinces assembled on the playground for the opening ceremony of their school's week-long National Defense Education camp, all wearing matching camouflage fatigues.
"INHERIT THE RED GENE, CARRY FORWARD PATRIOTIC FEELINGS, LOVE CHINA, LITTLE SOLDIER," declared a large PLA banner, which partially hid the kindergarten's playset.
Uniformed PLA soldiers then performed a flag-raising ceremony, with all attendants singing the Chinese national anthem, the social media post stated.
"We solemnly swear to love the motherland from now on, to dedicate our hearts to working together to build the dream of a powerful country," the children then pledged, according to the social media post. "Even if I fall to the ground I will continue onward!"
PLA soldiers then taught the kindergarten recruits how to groom themselves and make their beds in accordance with military standards, before drilling them in how to stand at attention, stand at ease and salute.
Experts say recent efforts to militarize China's youth are part of the CCP's ideological goals.
Now compare that to the U.S., where students are regularly pushed into ideologies that despise everything the Founding Father's did.
https://notthebee.com/article/just-unfathomable-disney-world-is-just-about-empty-during-summer-vacation-season?fbclid=IwAR2ZgkovaL7WZCwrL8WVQuUm3MNqIpPK8z9WvOLKpsRIph9epbgE0Xknj4E
"Just unfathomable": Disney World is "just about empty" during summer vacation season
It takes real skill to drive this many customers away.
The July 4th weekend was a 10-year-low for the massive company's Disney World amusement park in Orlando, but all the parks have been suffering recently.
According to the Wall Street Journal, Park visitors in recent weeks have had significantly lower wait times to get on rides, according to data from Touring Plans, a company that tracks wait times at major amusement parks, including Disney World and Disneyland in California. Industry analysts say shorter wait times generally correlate with smaller crowds.
The average posted wait time at the Magic Kingdom park in Florida — which has a special fireworks display on July 4 — was 27 minutes this year for the holiday, down from 31 minutes in 2022 and 47 minutes in 2019, the Touring Plans analysis shows.
"It's something that nobody would have predicted — just unfathomable," says Len Testa, a computer scientist who runs Touring Plans. Testa says wait times rose in the following days.
The Journal offers an assortment of potential reasons for the lull: Cruises and European vacations are back after the pandemic, Disney isn't offering much new, and Disney wants to slim down the crowds for richer guests anyway.
But unlike the journalist class, most of America understands the two primary reasons:
Your wallet is hurting
Disney went woke
https://thehill.com/blogs/blog-briefing-room/4085828-a-record-share-of-americans-are-living-alone/
A record share of Americans is living alone
Nearly 30 percent of American households comprise a single person, a record high.
Scholars say living alone is not a trend so much as a transformation: Across much of the world, large numbers of people are living alone for the first time in recorded history.
"It's just a stunning social change," said Eric Klinenberg, a sociologist at New York University and author of the book "Going Solo." "I came to see it as the biggest demographic change in the last century that we failed to recognize and take seriously."
Homo sapiens is a social animal. Historians tapped ancient census rolls to show that our species has lived in groups for as long as such records have existed, stretching back at least to 1600.
The U.S. Census shows that "solitaries" made up 8 percent of all households in 1940. The share of solo households doubled to 18 percent in 1970 and more than tripled, to an estimated 29 percent, by 2022.
The solo-living movement intersects with several other societal trends. Americans are marrying later, if at all. The nation is aging. The national birthrate is falling. People are living longer — or they were, until the pandemic arrived.
More than anything, perhaps, the rise of single-person households is about women entering the workforce and achieving economic self-sufficiency. The share of adult women participating in the labor force reached 50 percent around 1980.
Historically speaking, "you don't really see people living alone until women have control of their own lives and their own bodies," Klinenberg said.
Researchers see a marked downside to living alone, especially for older Americans, for people who live outside thickly settled cities and for pretty much anyone who is not alone by choice.
A New York Times report on aging solitaries concluded that, "while many people in their 50s and 60s thrive living solo, research is unequivocal that people aging alone experience worse physical and mental health outcomes and shorter life spans."
The nation's declining birth rate and aging population portend a time when America doesn't have enough working-age citizens to sustain the national economy or to support the spiraling health care needs of its oldest citizens. The rise of single-person households can be seen as both a cause and effect of those challenges.
"I think it's something we should be worried about," said Wendy Wang, director of research at the Institute for Family Studies, a conservative thinktank. "If we have fewer and fewer children, that means we have fewer people to work, to be consumers, to pay taxes."
Wang notes that low fertility rates are a global problem. Indeed, solo households are far more common across much of Europe than in the United States. According to United Nations data, solitaries make up 39 percent of households in Denmark, 45 percent in Finland, 42 percent in Germany, 38 percent in the Netherlands, 39 percent in Norway and 40 percent in Sweden.
Even now, living alone is not quite so common in the United States as the data suggest. While nearly 30 percent of households comprise a single person, far fewer than 30 percent of Americans live in them.
Roughly 13 percent of American adults live alone, research shows. Breaking down that figure by age groups, the population of solitaries rises from 4 percent of adults at ages 18-24 to 9 percent at 25-34, dips to 8 percent at 35-44, then rises again, to 12 percent at 45-54, 17 percent at 55-64 and 26 percent at 65 and up.
Living alone is much more common in large cities. Singles now make up more than 40 percent of households in Atlanta, Seattle, San Francisco, Minneapolis and Denver, according to a paper by the British historian Keith Snell. Half of all Manhattan dwellings are one-person residences. Snell identified a Midtown Census tract where 94 percent of households comprised a single person.
At younger ages, men outnumber women in one-person households. Young men are far more likely than young women to be single, and they tend to marry later.
The gender gap in solitary living closes with age. In the retirement years, women are more likely than men to live alone.
That statistic is partly about women outliving husbands, and partly about "grey divorce," the rising rate of marriages that dissolve after age 50. The grey divorce rate has doubled since 1990.
"It used to be that if people were married for 30 years and they entered their 60s, basically, they were going to stay married," said Barbara Risman, a distinguished professor of sociology at the University of Illinois Chicago. "You would pass the risk of divorce. No one is ever past the risk of divorce anymore."
Through much of the 20th century, marriage was so universal that the very act of living alone carried a stigma.
The share of Americans who had not married by age 40 hovered below 10 percent from 1950 through 1980, according to a Pew Research analysis. The figure has soared in recent decades, reaching 25 percent in 2021, a record high.
The share of Americans in prime marriage years who are actually married has dwindled from about two-thirds to around half since 1990, Pew data show. Nearly two-fifths of Americans are "unpartnered," neither married nor cohabiting.
Researchers consider living alone a risk factor for loneliness and social isolation, conditions associated with a host of physical and mental maladies, from heart disease to obesity to anxiety and depression.
Men tend to fare less well than women in single-person households, said Louise Hawkley, a researcher at the NORC thinktank who studies loneliness and social isolation. – Perhaps because we're meant to be taking dominion & building families…
Now for my favorite topic… sports!
https://www.foxnews.com/sports/us-soccer-star-megan-rapinoe-support-trans-athlete-uswnt-roster-i-see-trans-women-as-real-women
US soccer star Megan Rapinoe would support trans athlete on USWNT roster: 'I see trans women as real women'
U.S. women's soccer icon Megan Rapinoe has been a public advocate for the inclusion of transgender athletes in women's sports, and ahead of what will be her final World Cup appearance before retiring, the one-time Golden Boot winner said she would "absolutely" support having a trans woman on the USWNT roster.
Even if that meant replacing a biological female.
In an interview with Time published Monday, Rapinoe recalled highlights from her lengthy career, including her battles both on and off the pitch. She was asked specifically about her push to defend transgender athletes' participation in women's sports.
"We as a country are trying to legislate away people's full humanity," she told the outlet.
Rapinoe was one of 40 professional athletes to co-sign a letter to House lawmakers in April in opposition of the Protection of Girls and Women in Sports Act, arguing that the bill would exclude women and girls from getting "mental and physical health benefits."
"It's particularly frustrating when women's sports is weaponized," Rapinoe said in the interview. "Oh, now we care about fairness? Now we care about women's sports? That's total bulls—. And show me all the trans people who are nefariously taking advantage of being trans in sports. It's just not happening."
Rapinoe was asked specifically if she would support a trans woman playing on the United States Women's National Team, even if it meant replacing a biological female. The OL Reign star said she would, but added that she did not view the act as "taking a 'real' woman's place."
"Absolutely," she told Time. "'You're taking a 'real' woman's place,' that's the part of the argument that's still extremely transphobic. I see trans women as real women. What you're saying automatically in the argument—you're sort of telling on yourself already—is you don't believe these people are women. Therefore, they're taking the other spot. I don't feel that way."
Rapinoe will make her final World Cup appearance this month as the United States Women's National Team heads to Australia and New Zealand with the hopes of making history: becoming the first women's or men's team to win a three-peat.
The 38-year-old soccer star announced over the weekend her plans to retire at the conclusion of the 2023 National Women's Soccer League season.