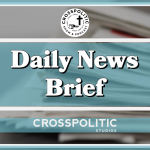 This is the Waberboy with your Daily News Brief for Wedneesday July 13, 2022
Gold River Trading Co.
Are you tired of buying sugary drinks and coffee from large woke corporations? Throw a tea party!
Gold River Trading Co. is an American company that offers premium alternatives for Americans who enjoy a delicious cup of tea. Start your day with Gold River's invigorating American Breakfast Blend, cool down with a pitcher of crisp & refreshing Iced Tea, or unwind with Chamomile Herbal tea. Explore a variety of high-quality blends and enjoy a healthy, flavorful alternative from an American company that shares your values.
Go to goldriverco.com and save 10% off all orders using discount code CROSSPOLITIC at checkout.
On July 8th President Biden was supposed to sign an executive order regarding reproductive rights, and the order would direct Health and Human Services to take action…but there is one problem. He neer signed an executive order.
Go to the Federal Registry, you can't find it!
https://www.federalregister.gov/presidential-documents/executive-orders/joe-biden/2022
But what they have released is a Fact Sheet…that has literally no authority:
FACT SHEET: President Biden to Sign Executive Order Protecting Access to Reproductive Health Care Services
https://www.whitehouse.gov/briefing-room/statements-releases/2022/07/08/fact-sheet-president-biden-to-sign-executive-order-protecting-access-to-reproductive-health-care-services/
Today, President Biden will sign an Executive Order Protecting Access to Reproductive Health Care Services. This Executive Order builds on the actions his Administration has already taken to defend reproductive rights by:
-Safeguarding access to reproductive health care services, including abortion and contraception;
-Protecting the privacy of patients and their access to accurate information;
-Promoting the safety and security of patients, providers, and clinics; and
-Coordinating the implementation of Federal efforts to protect reproductive rights and access to health care.
HHS:
https://www.hhs.gov/about/news/2022/07/11/following-president-bidens-executive-order-protect-access-reproductive-health-care-hhs-announces-guidance-clarify-that-emergency-medical-care-includes-abortion-services.html
Since the plan was announced, HHS has taken the following actions:
Met with Michigan Governor Gretchen Whitmer, Oregon Governor Kate Brown, and Maine Governor Janet Mills and state attorneys general to discuss state-specific concerns.
HHS will take additional actions in the coming days.
Pig-Heart Transplants in Two Brain-Dead People Offer Chance to Improve Tests for Pig Viruses
https://www.wsj.com/articles/pig-heart-transplants-in-two-brain-dead-people-offer-chance-to-improve-tests-for-pig-viruses-11657638000
According to WSJ:
Two brain-dead individuals received genetically modified pig-heart transplants, part of growing efforts by scientists who want to improve tests on pig organs for pig viruses and gather data that could help launch clinical trials of animal-to-human organ transplants.
Scientists at NYU Langone Health, where the research studies took place in June and July, said the pig hearts were flown from a facility hundreds of miles away and then transplanted into two recently deceased individuals, Lawrence Kelly, 72, a former welder from Beaver Meadows, Pa., and Alva Capuano, 64, a former teacher from New York City.
Mr. Kelly was driving alone in his car when he suffered a heart attack, according to his fiancée, Alice Michael. Ms. Capuano, who had been the recipient of a kidney transplant from her son many years ago, had a heart attack while at home, said her husband, Richard Capuano.
Both individuals were later declared brain-dead and maintained on ventilators. Their families agreed to donate their bodies to science, to take part in the research studies. In the U.S., brain death is defined as the irreversible cessation of all brain function, even if heart and lung activity can be maintained with machines.
The pig hearts weren't immediately rejected by the recipients' bodies and functioned for the duration of the three-day studies, according to Nader Moazami, surgical director of heart transplantation at NYU Langone Health, who led the pig-heart procedures. The data haven't been published yet or peer-reviewed.
The issue was highlighted by the recent case of David Bennett, a 57-year-old handyman from Hagerstown, Md., whose pig-heart transplant was conducted at the University of Maryland Medical Center in Baltimore. The emergency procedure was aimed at extending the critically ill man's life. Mr. Bennett died in March, 60 days after the transplant surgery.
Fight Laugh Feast Magazine
Our Fight Laugh Feast Magazine is a quarterly issue that packs a punch like a 21 year Balvenie, no ice. We don't water down our scotch, why would we water down our theology? Order a yearly subscription for yourself and then send a couple yearly subscriptions to your friends who have been drinking luke-warm evangelical cool-aid. Every quarter we promise quality food for the soul, wine for the heart, and some Red Bull for turning over tables. Our magazine will include cultural commentary, a Psalm of the quarter, recipes for feasting, laughter sprinkled through out the glossy pages, and more. Sign up today, at fightlaughfeast.com.
Euro, dollar a penny away from parity for first time in 20 years
https://www.foxbusiness.com/economy/euro-dollar-penny-away-from-parity-first-time-20-years
For the first time in nearly two decades, the exchange rate between the euro and the U.S dollar is about equal.
The euro dropped to a 20-year low on Monday, approaching parity with the dollar on fears that an energy crisis in the European Union could drag the region into a recession. The euro traded at around $1.007 on Monday afternoon in the U.S, down roughly 15% from the start of the year.
The parity between the two currencies comes as Russia shut off a key pipeline – Nord Stream 1 – carrying gas to Germany for annual maintenance. While the routine work that includes "testing of mechanical elements and automation systems" is scheduled to end on July 21, German officials fear the suspension of Russian gas could last longer than anticipated because of the war in Ukraine.
The strong U.S. dollar is good news for Americans traveling to Europe this summer, who can expect to pay less for a plethora of goods while they are overseas.
Atlanta Fed GDP Tracker Still Negative Even After Blowout Jobs Number
https://www.breitbart.com/economy/2022/07/08/atlanta-fed-gdp-tracker-still-negative-even-after-blowout-jobs-number/
The jobs number for June was much better than expected but not good enough to push the Atlanta Fed's real-time GDP tracker back into positive territory.
The Department of Labor said the U.S. economy added 372,000 jobs in the month of June, far better than the 250,000 expected. Wholesaler inventories grew by 1.8 percent in May, slightly lower than the initial estimate of two percent.
The growth of employment and inventories was not enough to overcome the disappointing news in the weeks preceding it. The real-time GDP tracker run by the Federal Reserve, called GDPNOW, fell into negative territory weeks ago and remains there even now. On Friday afternoon, it registered a 1.2 percent contraction in the economy in the second quarter.
If that turns out to be right, this would be the second consecutive quarterly contraction. In the minds of many, that constitutes a recession—even if the official arbiters of recessions at the National Bureau of Economic Research may not declare it to be a recession because unemployment remains so low.
The odds are that the Atlanta Fed's tracker will not rise into positive territory. There are only three more readings left before the official read of second quarter GDP is published on July 28th.
On July 27th, we'll get the final read. It will include figures from estimates of manufacturing in June, likely to show evidence of the contraction that has shown up in surveys. The final data source that will inform that GDPNOW estimate will be the Advance Economic Indicators, which are an amalgam of what we learned from inventory and trade data.
In short, GDPNOW is more likely to fall than rise. Big upside surprises in the economic data could turn it around but that looks unlikely.
Housing Could Provide More Fuel for Inflation
https://www.wsj.com/articles/housing-could-provide-more-fuel-for-inflation-11657618231
Climbing housing costs are set to keep inflation elevated this year, creating another challenge for Federal Reserve officials who want to see signs that price pressures are easing before slowing their interest-rate increases.
Overall annual inflation rose to 8.6% in May, while core inflation, which excludes volatile food and energy costs, hit 6%, according to the Labor Department's consumer-price index. The June figures are set to be released Wednesday.
Rising fuel costs and supply-chain disruptions from Russia's war against Ukraine added to inflation that was already high due to surging demand from the economy's reopening and aggressive government stimulus. Annual housing inflation, as measured in the CPI, hit a recent low in early 2021 at 1.4% and it has since rebounded, to 5.4% in May, well above the annual average of 3.5% between 2015 and 2019.
Because of the way the Labor Department captures rental prices, rent inflation could continue to rise this summer before peaking at around 6.5% over the next several months, said David Wilcox, a senior economist at Bloomberg Economics and the Peterson Institute for International Economics. That would be a 36-year high.
Fed rate increases have led to a broad pullback in financial risk taking, sending up borrowing costs and leading to stock-market declines. Mortgage rates have recently jumped to a 14-year high, and home builders and real-estate agents are reporting a significant pullback in sales.
But demand for rental housing could continue to rise, keeping rents high. "These rent-based components in the inflation indices are likely to prove relatively impervious to the tightening in financial conditions we're seeing right now," said Mr. Wilcox.
Other inflation forecasters see less scope for an additional, large run-up in housing inflation. Based on recent data, Omair Sharif, head of the advisory firm Inflation Insights LLC, expects housing inflation to rise to 6% by the end of the year. Meanwhile, he expects other service prices, such as for health insurance, to drop at the end of the year, providing enough downward pressure to monthly inflation readings to more than offset any strength from housing.
This is Gabriel Rench with your CrossPolitic Daily News Brief.