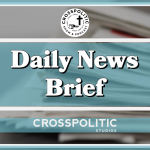 You can find us on EDIFI, Itunes, Youtube, Facebook, Direct TV, Xfinity, and most importantly our App!
Plug: Fight Laugh Feast Conference in Lebanon, TN, just outside of Nashville.
Sex is inherently political. What you do in the privacy of the bedroom never stays there. It always impacts the world. A culture is either built on the fruitfulness of a godly union between one man and one woman, or else it dies from self-inflicted fruitlessness and sexual rebellion against God. Worldview matters, the nuclear family matters, definitions of male and female matter, godly children matter. Our sexual choices and values are building and cultivating a particular kind of public square. Join us in Lebanon, TN with Pastor Douglas Wilson, Voddie Baucham, Doug TenNapel, David Bahnsen, and then on Saturday will have 9 SWAT talks with over 20 speakers arming you to go out into the world to take dominion with your gifts and abilities. Registration is live now: flfnetwork.com/politics-of-sex/ Seating is limited!
Scholarships for Fight Laugh Feast Conference…
Texas' Abbott says Dems who 'fled' state over elections bill will be arrested upon return
https://www.foxnews.com/politics/texas-abbott-says-dems-who-fled-state-over-elections-bill-will-be-arrested-upon-return.amp
According to FOX news:
"Gov. Greg Abbott, the Texas Republican, criticized state Democrats who fled to Washington, D.C., on Monday in an effort to deprive the Legislature of a quorum, thus the ability to vote on the GOP's sweeping elections overhaul bill.
(Abbot said:)
"Once they step back into the state they will be arrested and brought back to the Capitol and we will be conducting business," he said.
Republicans argue the contentious bill would provide greater election security, while Democrats charge it would suppress voter turnout of minorities. (How?)
The exodus was the second time that Democratic lawmakers have staged a walkout on the voting overhaul, a measure of their fierce opposition to proposals they say will make it harder for young people, people of color and people with disabilities to vote.
But like last month's effort, there remains no clear path for Democrats to permanently block the voting measures, or a list of other contentious GOP-backed proposals up for debate.
"We have special sessions that last 30 days," Abbott said. "And the governor calls them, and I will continue calling special session after special session because over time it is going to continue until they step up to vote."
As they arrived in Washington Monday evening, the lawmakers said they would not be swayed."
Texas House Votes to Send Law Enforcement to Find, Return Absent Dems
https://www.newsmax.com/newsfront/texas-state-house-voting-laws/2021/07/13/id/1028467/
According to News Max:
"Texas state House members reportedly voted 76-4 to send law enforcement to find and return absent Democrats "under warrant of arrest, if necessary," a day after dozens left the state in an effort to kill election legislation, The Wall Street Journal reported.
The body cannot approve legislation without a two-thirds quorum of its 150 members…
"Public pressure is going to get them to return to Texas — I don't think it will come to them being handcuffed," GOP stateRep. Matt Shaheen told the Journal.
While Texas Democrats have promised to stay in Washington until the end of the special session Aug. 7, Abbott could continue to call special sessions to pass the voting bill. Democrats acknowledged the only long-term solution was federal legislation.
"We can't stay here indefinitely," said Democrat state Rep. Rhetta Bowers, the Journal reported. "Texas Democrats will use everything in our power to fight back. But we need Congress to act now."
Former U.S. Rep. Beto O'Rourke encouraged Twitter followers Monday to support the lawmakers, writing "These courageous public servants have put it all on the line for our democracy & the right to vote."
As of Monday evening, O'Rourke tweeted Democrats had raised over $142,000."
Biden Labels GOP Voting Laws Greatest Threat to American Democracy Since Civil War
https://news.yahoo.com/biden-labels-gop-voting-laws-195454651.html
According to Yahoo news:
"Speaking from the National Constitutional Center in Philadelphia on Tuesday, President Biden forcefully condemned the wave of election integrity laws recently passed in red states, calling the laws an "assault" on the right to vote and the "most significant threat" to the U.S. since the Civil War."
Play clip: https://twitter.com/DailyCaller/status/1415027212504473601
Dime Payments
"If you run a business or non-profit organization that takes credit card payments, then you know all about the high fees and the headaches from payment processors. Even worse, these companies often oppose everything we stand for.
That's why you need Dime Payments.
Dime provides the easiest credit card and ACH processing on the market. Whether you're accepting payments for your business or online donations for your church or organization, Dime has you covered with a custom-solution that's low-cost, secure, honest, and simple.
Don't let Big Tech cancel your payments, and don't fund their efforts to undermine your values. Check out our friends over at Dime today." Go to https://dimepayments.com/flf.
Speaking of election integrity:
Michigan Supreme Court again tells state board to certify Unlock Michigan
https://www.detroitnews.com/story/news/politics/2021/07/09/michigan-supreme-court-unlock-michigan-order-state-canvassars-certify-petitions-repeal-1945-law/7920744002/
According to Detroit News:
"For the second time, the Michigan Supreme Court on Friday directed the Board of State Canvassers to certify Unlock Michigan's petition signatures and advance the group's proposal to the state Legislature.
On June 11, the state's highest court initially ruled the board had to sign off on the campaign's signatures to repeal the 1945 law that bolstered Democratic Gov. Gretchen Whitmer's initial response to the COVID-19 pandemic. But an opposition group called Keep Michigan Safe filed a motion for reconsideration.
In response to that motion, the Michigan Supreme Court again ordered the Board of State Canvassers to approve the signatures. The court said the investigatory powers of the Board of State Canvassers are limited and the bipartisan panel "has a clear legal duty to certify the petition."
Fred Wszolek, spokesman for Unlock Michigan, on Friday touted the decision.
The Board of State Canvassers has a meeting scheduled for Tuesday when the Unlock Michigan petitions could be considered.
"The Board of State Canvassers needs to do its job on Tuesday and certify the Unlock Michigan petition, finally," Wszolek said. "Over a half million Michigan voters demanded the repeal of the Emergency Powers Act abused by Governor Whitmer for so long, and now their demand will be satisfied."
Mark Fisk, spokesman for Keep Michigan Safe, said his group was "extremely disappointed" by the court decision.
"Unlock Michigan is a brazen political power grab that will put people's lives at risk and undermine our economy by hamstringing leaders trying to act during public health emergencies for generations to come," Fisk said.
If the Board of State Canvassers certified Unlock Michigan's petitions on Tuesday, the GOP-controlled Legislature could approve the policy this month.
The Michigan Senate is scheduled to be in session on Thursday. The House has session days tentatively scheduled for Wednesday, Thursday and July 21.
Senate Majority Leader Mike Shirkey, R-Clarklake, has been "pretty emphatic that when we get it we will vote on it," his spokeswoman Abby Walls said Friday."
Global Corporate Tax Probably Won't Happen Before 2022, Treasury Secretary Says
https://dailycaller.com/2021/07/12/department-of-the-treasury-g20-organization-for-economic-cooperation-and-development-janet-yellen-facebook-google/
According to the Daily Caller:
"U.S. Treasury Secretary Janet Yellen said Sunday that the global corporate tax rate might not be ready for consideration by Congress until the spring of 2022, Reuters reported.
G-20 finance ministers and central bank governors endorsed a deal that would allow countries worldwide to tax large, profitable multinational corporations, but Yellen warned that a separate Organization for Economic Co-operation and Development (OECD) tax deal was on a "slightly slower track" than the proposed global corporate tax of 15% previously agreed upon by over 130 nations which she plans to introduce to Congress first, Reuters reported.
Leaders met in Venice, Italy, to discuss the changes, but Congress might face challenges in passing legislation because a two-thirds majority will likely be needed in the Senate for the international treaty, Yellen said, Reuters reported. Yellen's comments at a news conference following the meeting suggested the tax adjustments and OECD tax deal might happen in a two step process, which she broke down into two pillars.
"Congressional support…will hinge on protecting American workers and the U.S. tax base," Republican Sen. Mike Crapo of Idaho, the senior Republican on the Finance Committee and Republican Rep. Kevin Brady of Texas, from the House Ways and Means Committee, wrote in a letter to Yellen on Thursday, the WSJ reported. "Other countries have shown that they will aggressively seek to gain market share and strip away our tax base, so U.S. negotiators must be equally aggressive in defending American interests."
"I respect her a great deal," Brady told reporters in regard to Yellen, but said "I think there are too many competing interests here for them to finalize a deal that would be agreeable to Congress," the WSJ reported.
The second pillar, which Yellen said she hoped would happen more swiftly was a minimum tax implemented into a budget reconciliation bill in Congress this year, which could be passed with a simple majority and without Republican support, Reuters reported.
The next step, referred to as the first pillar, might happen more slowly, Yellen said, Reuters reported. It would end unilateral taxes on digital services and implement a new system that would allow large companies, such as Google and Facebook to be taxed in places that they sell products and services and not just where they have headquarters or intellectual property, Reuters reported.
Closing
This is Gabriel Rench with Crosspolitic News. Support Rowdy Christian media by joining our club at fightlaughfeast.com, downloading our App, and head to our annual Fight Laugh Feast Conference next fall. With your partnership, together we will fight outdated and compromised media, engage news and politics with the gospel, and replace lies and darkness with truth and light. Go to fightlaughfeast.com to take all these actions. Have a great day. Lord bless