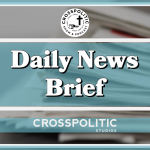 CrossPolitic Daily News Brief for Wednesday July 20, 2022
FLF Conference Plug:
Folks, our upcoming Fight Laugh Feast Conference is just 4-months away from happening in Knoxville TN, October 6-8! Don't miss beer & psalms, our amazing lineup of speakers which includes George Gilder, Jared Longshore, Pastor Wilson, Dr. Ben Merkle, Pastor Toby, and we can't say yet…also dont miss our awesome vendors, meeting new friends, and stuff for the kids too…like jumpy castles and accidental infant baptisms! Also, did you know, you can save money, by signing up for a Club Membership. So, go to FightLaughFeast.com and sign up for a club membership and then register for the conference with that club discount. We can't wait to fellowship, sing Psalms, and celebrate God's goodness in Knoxville October 6-8.
Reps. Omar, Adams among 16 members of Congress arrested during abortion protest near Supreme Court
https://www.foxnews.com/politics/reps-omar-adams-arrested-abortion-protest-supreme-court
Multiple members of Congress including Reps. Ilhan Omar, D-Minn., and Alma Adams, D-N.C., were arrested by Capitol Police Tuesday afternoon outside the Supreme Court building during an abortion rights protest.
Adams' staff confirmed her arrest in a tweet from her official account. Omar's office confirmed her arrest to WCCO.
In a tweet, Omar remained defiant.
"Today I was arrested while participating in a civil disobedience action with my fellow Members of Congress outside the Supreme Court. I will continue to do everything in my power to raise the alarm about the assault on our reproductive rights!" she wrote.
Capitol Police warned demonstrators that they would be taking action.
"It is against the law to block traffic, so officers are going to give our standard three warnings before they start making arrests," Capitol Police tweeted.
Minutes later, they announced that "[s]ome of the demonstrators are refusing to get out of the street, so we are starting to make arrests."
Capitol Police later tweeted that they arrested 34 people in total, including 16 members of Congress.Video from the scene showed Rep. Alexandria Ocasio-Cortez, D-N.Y., being led away by police with her arms crossed behind her back, though no handcuffs were visible.
Amazon Sues Administrators of More Than 10,000 Facebook Groups Over Fake Reviews
https://www.wsj.com/articles/amazon-sues-facebook-group-administrators-over-fake-reviews-11658222818
Amazon.com AMZN 3.91%▲ Inc. said it filed a lawsuit against the administrators of what it says are more than 10,000 Facebook groups used to coordinate fake reviews of Amazon products.
Those in charge of the Facebook groups solicit the reviews for items ranging from camera tripods to car stereos in exchange for free products or money, Amazon said in a statement.
The activity, which is against Amazon's rules, occurs across Amazon's stores in the U.S., U.K., Germany, France, Italy, Spain and Japan, the company said. Such bogus reviews are typically used to boost products' ratings and increase the likelihood customers buy them.
The lawsuit represents "proactive legal action targeting bad actors," Amazon Vice President Dharmesh Mehta said in the statement.
Amazon has for years been dogged by inauthentic reviews. During the pandemic, consumers have flocked to e-commerce platforms, and with that has come growing review manipulation and customer frustration. The U.K.'s antitrust regulator last year launched an investigation into whether Amazon and Alphabet Inc. unit Google are doing enough to eliminate fake reviews.
One of the Facebook groups, called "Amazon Product Review," had more than 43,000 members. Facebook removed the group this year, Amazon said, adding that it evaded Facebook's detection by changing letters in phrases that might set off Facebook's alarms.
Amazon didn't disclose the names of the Facebook group administrators or their locations.
The Seattle-based company said it filed the suit in Washington state's King County Superior Court.
"Groups that solicit or encourage fake reviews violate our policies and are removed," said a spokeswoman for Facebook's parent company, Meta Platforms Inc. META 5.11%▲ "We are working with Amazon on this matter and will continue to partner across the industry to address spam and fake reviews."
Federal Tax Collections Set Record Through June
https://www.cnsnews.com/article/washington/terence-p-jeffrey/3835390000000-federal-tax-collections-set-record-through-june
The federal government hauled in a record $3,835,390,000,000 in total taxes in the first nine months of fiscal 2022 (October through June), according to the Monthly Treasury Statement.
That was up $502,438,730,000—or 15.07 percent—from the then-record $3,332,951,270,000 (in constant June 2022 dollars) that the federal government collected in taxes in the first nine months of fiscal 2021.
The record $3,835,390,000,000 in total taxes that the federal government collected in the first nine months of this fiscal year included $2,135,472,000,000 in individual income taxes; $1,125,464,000,000 in social insurance and retirement receipts; $61,035,000,000 in excise taxes; $24,032,000,000 in estate and gift taxes; $74,181,000,000 in customs duties; and $109,154,000,000 in what the Treasury calls "miscellaneous receipts."
At the same time that it was collecting this record $3,835,390,000,000 in total taxes, the federal government spent $4,350,457,000,000. Thus, the federal government ran a deficit of $515,067,000,000 in the first nine months of the fiscal year.
The Department of Health and Human Services spent the most money of any federal agency during the first nine months of the fiscal year, expending $1,191,470,000,000. The Social Security Administration spent the second most: $952,222,000,000. The Department of the Treasury spent the third most: $944,194,000,000. (This included $520,955,000,000 in interest on Treasury Debt Securities and $423,239,000,000 on other expenses.)
The Department of Defense—Military Programs spent the fourth most: $531,079,000,000.
Dropwave
Do you have a podcast, or thinking about starting one? Does your church have a podcast feed for sermons? The Dropwave.io is for you. Cancel culture is like walking on a thin glass bridge over the Grand Canyon. Every step you take could get you killed, I mean canceled. Since the beginning CrossPolitic has been working on being antifragile, so no matter what happens, our content can still be delivered to your tv and to your podcast. This past year, the Waterboy and his friend Jeremi, have been working on building a podcast hosting solution for rowdy platforms like CrossPolitic, so that you can be confident your podcast will never fall through that glass bridge. Dropwave offers seamless onboarding for shows that have been around for years to easy to use solutions for starting your own podcast. Dropwave will track all your show's downloads by city, state, and country, and it offers network and enterprise packages for solutions like the Fight Laugh Feast Network. Free to speak, Free to podcast, free to start your journey now at www.Dropwave.io.
Democrats boosted a MAGA longshot in the Pa. gov's race. Now he's got a real shot at winning.
https://www.politico.com/news/2022/07/19/mastriano-pennsylvania-governor-race-00046423
Jackie Kulback was just one of the Pennsylvania GOP leaders who was worried in May when Doug Mastriano clinched the Republican primary for governor.
Mastriano was a MAGA state senator who worked to overturn the 2020 presidential election and Kulback thought he would struggle to win the critical battleground state in the fall. But she's feeling differently these days.
"The higher the gas prices go, the more electable Mastriano is," said the chair of the Cambria County Republican Party. "Honestly, I feel this is Mastriano's campaign to lose."
In the immediate aftermath of Pennsylvania's messy gubernatorial primary — which included an ill-fated, last-minute attempt by the GOP establishment to stop Mastriano — many Democrats and Republicans in Pennsylvania thought the race was all but over. Attorney General Josh Shapiro, the Democratic nominee, is a first-class fundraiser with a record of winning tough statewide races. He emerged unscathed from the Democratic primary after clearing the field.
Mastriano, on the other hand, has a shoestring campaign, regularly antagonizes members of his own party, and is known for his far-right views on hot-button issues. He chartered buses to the U.S. Capitol on Jan. 6, where he appears to have been part of a crowd that crossed barricades. He believes in no exceptions for an abortion ban. He has said that the state legislature has the power to appoint presidential electors, and as governor, he would have the power to "decertify" election machines. When Mastriano pulled out a win in the primary, many national Republicans kept their distance and, privately, assumed Shapiro would waltz to the governor's mansion.
But as the political environment has worsened for Democrats across the country, the gubernatorial race in Pennsylvania has begun to look more competitive than either party expected. Polls show Mastriano behind Shapiro by only three to four percentage points, which is within the margin of error. Though many still have doubts about Mastriano's ability to run a successful campaign, that has made Pennsylvania Republicans more optimistic — and served as a wake-up call for Democrats, particularly in the wake of Roe v. Wade being overturned.
"I have the feeling that the race is too close, and that there is this very vocal group that Mastriano has behind him, and that Shapiro has got a lot of work to do," said Pat Moulton, a retired nurse who attended a meet-and-greet with Shapiro in northeastern Pennsylvania last week. "As a Democrat, it's frighteningly close."
Biden Energy Advisor Makes Revealing Comments While Discussing Gas Prices on CNN
https://townhall.com/tipsheet/katiepavlich/2022/07/19/pain-is-the-point-white-house-vows-to-accelerate-devastating-energy-transition-n2610453
President Joe Biden's Special Coordinator for International Energy Affairs Amos Hochstein made an appearance on CNN Tuesday morning as gas prices continue to bust the budgets of American families.
During his remarks, Hochstein said the White House does not want oil and gas companies embarking on new projects and that they are working to accelerate the current, extremely painful and unaffordable transition to alternative energy.
"It's about making a choice between what is the short term and the medium term so we can make sure we have enough oil and gas to support us through the transition and what are the kind of steps we don't want the oil and gas industry to take that would have longterm consequences when we don't want new major projects that would take 20-30 years that would become profitable," Hochstein said. "So we have to make that differentiation to make sure the American consumer has what it needs to grow, grow our economy and the global economy, but not take steps and endanger the climate work that we're trying to do to make sure that we're on a better footing to accelerate the transition."
Climate Czar John Kerry is flying around the world repeating these similar talking points: Roll clip https://twitter.com/RNCResearch/status/1549032353028268032
This is Gabriel Rench with Crosspolitic News. Support Rowdy Christian media by joining our club at fightlaughfeast.com, downloading our App, and head to our annual Fight Laugh Feast Events. If this content is helpful to you, please consider becoming a Fight Laugh Feast Club Member, join our army and support our fight! We are trying to build a cancel-proof media platform, and we need your help. Join today and get a discount at the Fight Laugh Feast conference in Knoxville, TN and have a great day. Have a great day. Lord bless