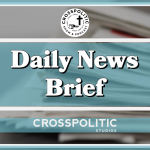 Daily News Brief for Wednesday, July 21, 2021
Robinhood coming to Wall Street? Rand Paul is beastmode, and we still can't stop talking about COVID.
But first, if you want to advertise, become a corporate sponsor, or become a vendor at our conference, please email Garrison at ads@FightLaughFeast.com.
Also, if you want to donate to our conference scholarship fund to our conference, please email Anna at Contact@FightLaughFeast.com.
Plug: Fight Laugh Feast Conference in Lebanon, TN, just outside of Nashville.
Sex is inherently political. What you do in the privacy of the bedroom never stays there. It always impacts the world. A culture is either built on the fruitfulness of a godly union between one man and one woman, or else it dies from self-inflicted fruitlessness and sexual rebellion against God. Worldview matters, the nuclear family matters, definitions of male and female matter, godly children matter. Our sexual choices and values are building and cultivating a particular kind of public square. Join us in Lebanon, TN with Pastor Douglas Wilson, Voddie Baucham, Doug TenNapel, David Bahnsen, and then on Saturday will have 9 SWAT talks with over 20 speakers arming you to go out into the world to take dominion with your gifts and abilities. Registration is live now: flfnetwork.com/politics-of-sex/ Seating is limited!
Rand Paul/Fauci Clip
Texas Democrats' escape to block voting bill will cost around $1.5 million, legislator says
https://www.nbcnews.com/politics/politics-news/texas-democrats-escape-block-voting-bill-will-cost-around-1-n1274262
According to the NBC News:
"Denying Republicans a quorum to enact voting restrictions will cost Texas Democrats north of $1 million, according to the state legislator leading the fundraising effort.
More than 50 Democratic members of the state House fled Austin for Washington, D.C., last Monday, paralyzing the House just as the GOP was advancing sweeping changes in elections during a special session. Under the Texas Constitution, the Legislature requires a quorum of two-thirds of lawmakers to be present to conduct state business in either chamber.
The price of keeping the Democrats out of Texas through Aug. 7, when the session expires, is expected to be around $1.5 million, state Rep. Armando Walle said in an interview.
Walle said the pair of private charter jets the majority of legislators took to Washington cost more than $100,000, while housing, food and other transportation costs will make up the bulk of other expenses.
Who is paying for the exodus has been an open question, as the legislators fled in a hurry without a fundraising plan.
The charter jets were paid for by wire transfer from the state House Democratic Caucus just hours before takeoff Monday afternoon, after NBC News reported that the legislators were planning to leave town, a caucus staffer with knowledge of the matter said.
Legislators make $600 a month, as well as a per diem for each day in session. Republican House Speaker Dade Phelan has asked the runaway Democrats to return their $221 per diem, which at least one member said didn't appear possible to do.
The Texas Democrats plan to spend the week meeting with national voting rights advocates and labor leaders, election officials and other Democrats as they seek to keep the pressure on Congress to pass federal voting legislation."
Spokane-area leaders announce plan to distribute hundreds of millions in federal money
https://www.krem.com/article/money/spokane-area-leaders-announce-plan-to-distribute-hundreds-of-million-in-federal-money/293-0fec6c45-613c-4023-9f85-8c6fac4a120b
According to KREM.com:
"Spokane County and its cities received more than $100 million in federal stimulus money from the American Rescue Plan passed under President Joe Biden. Now, local leaders are developing a plan to spend it.
Mayor Nadine Woodward, alongside Spokane County Commissioners Josh Kerns and Al French, Spokane City Council Members Candice Mumm and Michael Cathcart, and several other stakeholders, announced in a joint press conference Monday that they'll seek extensive public input on where the funds should go.
Spokane County was given $101 million, the City of Spokane just shy of $81 million, and the City of Spokane Valley $16 million.
Local leaders were excited about the windfall, but also said they wanted to be sure the money isn't wasted.
"It's a one-time opportunity, so we cannot squander this," said French.
If anything, they want to make sure these dollars are used to help make even more.
"We look at these moneys going to restore services, to make businesses and families whole again, but also those strategic investments that will pay off dividends down the road," said Woodward.
Some priorities articulated included continuing COVID prevention efforts, refunding programs that were cut back during the pandemic, and making Spokane better-prepared for any future COVID-like emergencies."
Dime Payments
Folks- I am excited to let you know about our new partnership with Dime Payments. Dime Payments is a Christian owned processing payment business. Every business needs a payment process system, so please go to https://dimepayments.com/flf and sign your business up. Working with them supports us. They wont cancel you, like Stripe canceled President Trump. They wont cancel you, like Mailchimp canceled the Babylon Bee. Check them out. At least have a phone call and tell them that CrossPolitic sent you. Go to https://dimepayments.com/flf.
Senate Dems propose women to register for military draft
According to American Military News:
"A Democrat Senator is proposing that all women in the U.S. be required to register with the Selective Service System, which maintains information on those who can be called up to serve in the military through the draft.
Senate Armed Services Chair Jack Reed (D-RI) has prepared draft language for a provision to be added in the upcoming annual National Defense Authorization Act, that would require all Americans to add their names to the list of potential draftees, regardless of their sex. Reed shared the proposed legislation with Politico, which reported on the matter on Monday.
Reed's proposed legislation comes more than a month after the U.S. Supreme Court declined to consider a case challenging the constitutionality of the existing male-only draft. In a friend of the court brief, President Joe Biden's administration urged the court to instead let Congress handle the matter legislatively, rather than have the court render an opinion on the draft.
The language of Reed's proposed provision calls for applying the draft registration requirement to "All Americans" and strikes previously male-specific references from the existing legislation governing the military draft."
Bitcoin drops back below $30,000, heads toward new low for the year
https://www.cnbc.com/2021/07/20/bitcoin-btc-falls-below-30000-as-cryptocurrency-market-plunges.html
According to CNBC:
The price of bitcoin dropped below $30,000 late Monday night for the first time since Jun. 22, dragging other digital coins lower with it.
Bitcoin is trading in the $29,000 range, about 3% lower on the day, according to Coin Metrics. Ether is down 1.25% and XRP fell 4%. Even with the plunge bitcoin is up 2.3% for the year, according to CoinDesk data. Ether and XRP are both up about 140% for the year.
The plunge came amid news that the New Jersey Attorney General issued a Cease and Desist Order against the New Jersey-based crypto services firm BlockFi, ordering it to stop offering interest-bearing accounts, according to Forbes and later confirmed on Twitter by the company CEO.
At one point early Tuesday, about $89 billion was wiped off the entire cryptocurrency market in a 24-hour period. Since bitcoin's all-time high of nearly $65,000 in mid-April, its price has plunged over 50%.
Robinhood warns trading frenzy is slowing as it seeks $35 billion IPO valuation
https://nypost.com/2021/07/19/robinhood-wants-to-be-valued-as-high-as-35b-in-blockbuster-ipo/
Remember the Gamestop controversy? You know Robinhood, who is supposed to represent the little man, protected the big Wallstreet corporate interest?
Well know they are going to become part of Wall Street:
According to NyPost:
https://nypost.com/2021/07/19/robinhood-wants-to-be-valued-as-high-as-35b-in-blockbuster-ipo/
The popular trading app — which has been used by legions of rookie investors in this year's "Reddit Rally" — could be valued as high as $35 billion and raise as much as $2.3 billion in its upcoming initial public offering, according to an amended prospectus filing on Monday.
The anticipated slowdown would come after a bumper year for the company that saw its number of accounts more than double. The Menlo Park, Calif.-based company estimates they now have almost 22.5 million funded accounts, up from 9.8 million a year ago.
In the first quarter, Robinhood posted a loss of $6.26 a share on revenue of $522.2 million as it was forced to raise $3 billion in cash to stanch a liquidity crisis spurred by frenzied trading in GameStop and other fast-moving stocks.
Still, Robinhood said it expects to price its stock between $38 and $42 a share, according to Monday's filing. A $40 stock price would bring in $2 billion and value the company at $33 billion, according to Monday's filing. The company, which will list on Nasdaq under the ticker "HOOD," will sell 52.4 million shares and its founders will look to cash in 2.6 million shares.
In a nod to its retail investors, Robinhood is setting aside around 30 percent of its shares so users can buy stock at its listing price before it begins trading.
However, the company will be seeking most of its capital from institutions and will begin the process of pitching investors, known as a roadshow, this week. Lead underwriters for the deal include Goldman Sachs, Citigroup, and JPMorgan.
Closing
This is Gabriel Rench with Crosspolitic News. Support Rowdy Christian media by joining our club at fightlaughfeast.com, downloading our App, and head to our annual Fight Laugh Feast Conference next fall. With your partnership, together we will fight outdated and compromised media, engage news and politics with the gospel, and replace lies and darkness with truth and light. Go to fightlaughfeast.com to take all these actions. Have a great day. Lord bless